HAVE YOU SEEN THE NEW MXA: JAM-PACKED FULL OF STUFF
Click on images to enlarge
Yep, that is Sean Collier's Kawasaki KX500 on the cover. This is the newest version of his "Beast" machine. Expect to see a lot of it at the World Two-Stroke Championship, World Vet Championship, Day in the Dirt and at the Glen Helen National Two-Stroke Challenge. Until then, see a lot of it in the April issue of MXA now!
The 2017 Yamaha YZ250 is still a great machine, as it was in 2016, 2015, 2014, 2013, 2012, 2011, 2010, 2009, 2008, 2007 and 2006, but there is a limit to our patience with Yamaha's glacial R&D program. Two-strokes are hot at KTM and Husky, but "used too strokes" are hot at Yamaha. We explain why and what Yamaha has to do to sell new smokers.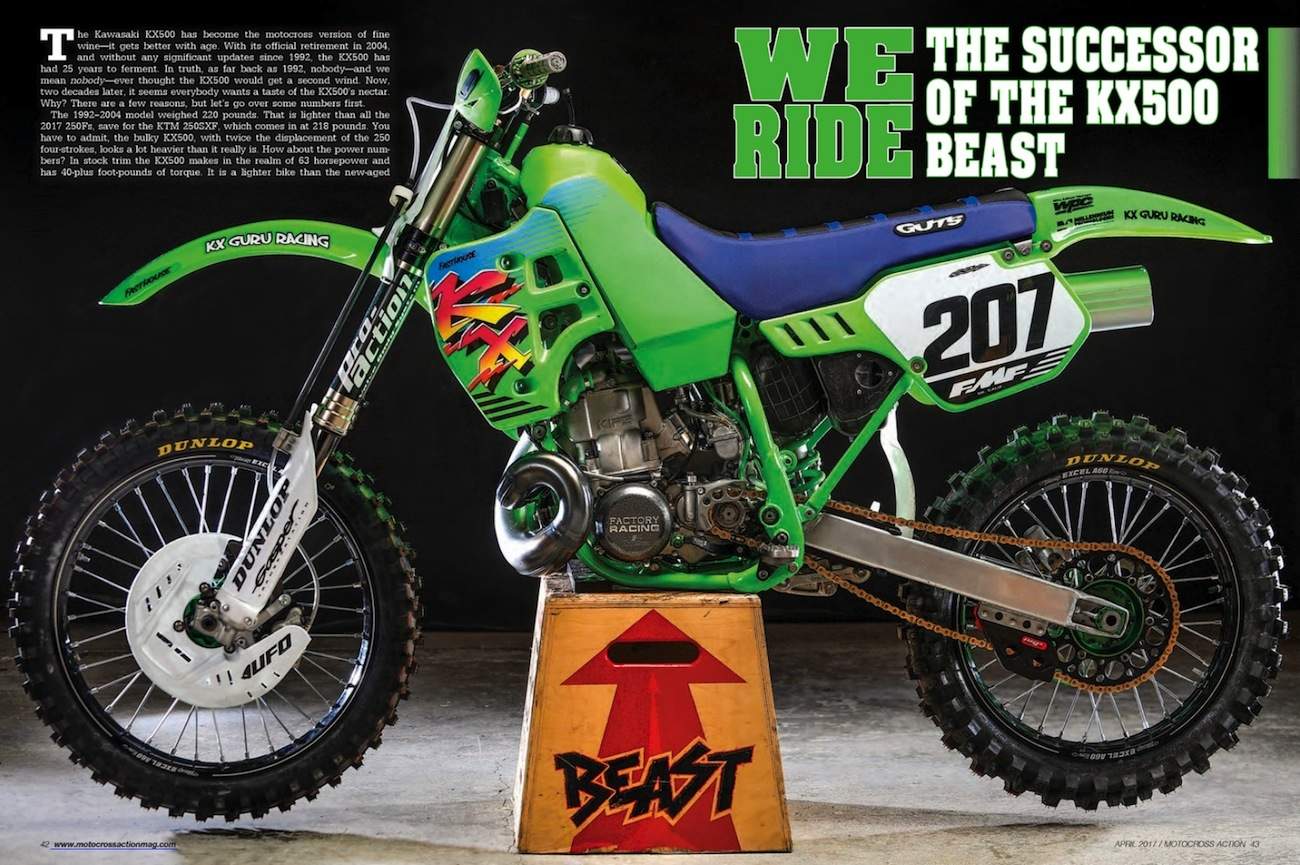 No old bike has ever found such fame and interest so many years after it went off sale. And, no bike as mediocre as brand-new Kawasaki KX500s were when they were new, has ever become such a prized possessions as it got older. If you have a used KX500 in the garage—you are sitting on a gold mine.
Meet a man who was there from the beginning of KTM's explosion as a powerhouse brand—from the Jeremy McGrath days through the development of the 350SXF into the era of Cairoli, Roczen, Musquin, Herlings and the future. Dirk Gruebel knows everything about the orange invasiony.
We couldn't get our hands on Joey Savatgy's personal Pro Circuit Kawasaki KX250F (he's been using it lately), but we could scrape up an armored car full of cash to have Pro Circuit build us as close a replica as possible. It's not a true works bike from Pro Circuit's inner sanctum, but it's as close as common folk will ever get.
You gotta love this Daryl Ecklund photo from the San Diego Supercross. Everything on the right side of the photo looks normal. Tickle (20), Wilson (15), Anderson (21) and Tomac are hard on it. But, to the left, Blake Baggett shows all of them how to grab a really big handful of 450cc power. Suffice it to say that Blake's bike got to the first turn without him.
The 2017 TM 300FI-MX is the greatest 300cc four-stroke motocross bike made. Nothing from Honda, Yamaha, Suzuki, Kawasaki, KTM or Husqvarna can touch the 2017 TM 300FI-MX is this category. Of course, there is an obvious reason why TM owns this class. Can you guess what it is?
That guy who lives down the street is a wonderful source of tech info—if you don't mind him being wrong 3 out of 5 times. To find out the real facts, you need to contact the MXperts.
We are the absolute kings of rummaging through Ricky Carmichael's secret stashes, hiding places and forgotten treasures. When we came upon his dusty 2005 Suzuki RM250 we couldn't help but convince him to clean it up and roll it out for the world to see. We are proud to show you the last two-stroke to win an AMA Championship.
If you think this a story about the 1986 Motocross des Nations you are wrong — wonderfully wrong. Instead, this is the true story behind three men, with their own agendas, who were forced to be teammates. It chronicles the rivalries, pettiness and triumphs they reached before it all fell apart for all three of them. And yes, most of it revolved around the 1986 MXDN. You gotta read this story!
You're probably too young to remember a Rickman Metisse. Too young to even know what a Westlake Conversion was. But, you're never too young to appreciate moments in motocross history where brands, men and the direction of the sport changes. That is what the Rickman brothers did during the era of the "Big British Singles."
Greg Albertyn is a great motocross racer. He chased his dream from South Africa to Europe to the Superbowl of Motocross. Read what he has to say about the journey and its setbacks—and, of course, the glory.
Bones Bacon is the suspension tuner with the most AMA Pro wins ever. Hard to believe that his suspension magic has won over 250 AMA races. Even more amazing is that Bones is willing to share his knowledge with you every month in MXA. You'll find this month's article to be instantly relatable.
We could win lots of cash in bar bets, (if we went to bars), by asking motocross know-it-alls this question, "What is Gregorite?" You'll be surprised by the answer.
The age of invention is not behind us, but back in the day the sport was full of passionate men willing to push the envelope —even on the smallest items — like the Luft Racing hydraulic/pneumatic chain tensioner.
The MXA wrecking crew races seven bikes a week —and we are constantly changing the race sag to suit the test rider of the moment. You would assume that means setting the sag seven times, but since we swap bikes between motos, it is more like 14 times a day. This is the tool we use. It eliminates math errors from whoever we get to help us. A great product that has been made even better with the V2 model.
Do you subscribe to MXA? You should. We know that you think that print magazines are dead and that the internet will fill the void, but most of the stuff in the current issue of MXA won't appear on the web for several months, if at all. If you want to know it, you need to read it now!
Luckily, you can get all of MXA on your iPhone, iPad, Kindle or Android by going to the Apple Store, Amazon or Google Play. Better yet get the Digital desktop version at https://hi-torque.com/product/motocross-action-digital-edition/ for $9.99 a year.
The MXA test riders prefer the print version and not just because it is delivered by a uniformed employee of the U.S. Government, but because for only $19.99 you get 12 issues and a free $25 Gift Card from Rocky Mountain ATV/MC. That means that there is a profit to be made in this deal for you. For the Print magazine go to: https://hi-torque.com/product/motocross-action/