SEEWER & GEERTS WIN CZECH GRAND PRIX: RED PLATE CHANGES HANDS AGAIN IN 250 GP
450 CLASS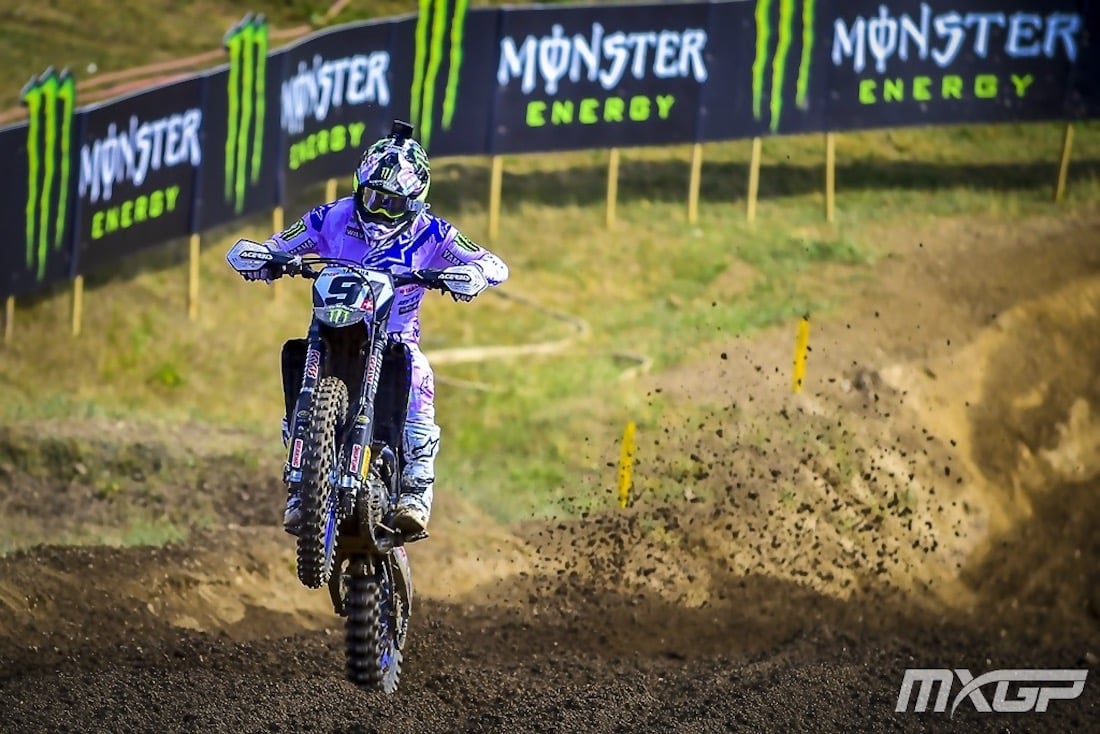 Jeremy Seewer (91)has been winning as of late, but he lost way too many points in the first half of the season to be close to the points leader—Tim Gajser.

Jeremy Seewer won the Czech Republic MXGP of Loket with a 1-2 over Maxime Renaux's 3-2 and Tim Gajser's with 2-3 scores. Gajser still has a massive lead in the MXGP championship points. Tim Gajser's  stranglehold on the 450 Championship, may bemade all that better by the rumor that the MXGP series may be shortened from 19 rounds to 18 rounds (which would leave only five GPs left in the series).
450 CZECH REPUBLIC GRAND PRIX RESULTS
1. Jeremy Seewer (Yam)……1-2
2. Maxime Renaux (Yam)…3-1
3. Tim Gajser (Hon)…2-3
4. Glenn Coldenhoff (Yam)…4-4
5. Jorge Prado (Gas)…10-5
6. Calvin Vlaanderren (Yam)..6-6
7. Mitch Evans (Hon)…6-7
8. Brian Bogers (Hus)…10-8
9. Mattia Guadagnini (Gas)…8-11
10. Valentin Guillod (Gas)…13-9
250 CLASS
The 250 class comes down to a two-man duel between Jago Geerts and Tom Vialle, but this week Tom Vialle had lapper problems and ended up with a 10th in the first moto. The Red Plate will go back to Geerts next week in at Lommel.
Yamaha's Jago Geerts took the victory at the Czech250  Grand Prix in Loket and continued his see-saw battle with Tom Vialle over who gets the Red Plate. Geerts went 3-1 and Vialle went 10-2. Thibalt Benistant was second overall with 1-4 and Simon Laengenfelder used a 3-2 to get third overall. Vialle finished with 10-2 scores. The next Grand Prix is on July 24 at Lommel, Belgium.
250 CZECH REPUBLIC GRAND PRIX RESULTS
1. Jago Geerts (Yam)…3-1
2. Thibault Benistant (Yam)…1-4
3. Simon Laengenfelder (Gas)…2-3
4. Kevin Horgmo (Kaw)….4-5
5. Tom Vialle (KTM)…10-2
6. Kay DeWolf (Hus)…6-7
7. Mikkel Haarup (Kaw)…8-8
8. Liam Everts (KTM)…7-9
9. Stephen Rubini (Hon)…5-12
10. Andrea Adamo (Gas)…7-10
2022 WORLD MOTOCROSS CHAMPIONSHIP POINTS STANDINGS
2022 450 WORLD CHAMPIONSHIP POINTS STANDINGS
(After 13 of 19 rounds)
1. Tim Gajser (Hon)…577
2. Jeremy Seewer (Yam)…452
3. Jorge Prado (Gas)…442
4. Maxime Renaux (Yam)…410
5. Glenn Coldenhoff (Yam)…399
6. Ruben Fernandez (Hon)…342
7. Pauls Jonass (Hus)…287
8. Brian Bogers (Hus)…287
9. Calvin Vlaanderren (Yam)…268
10. Jeremy Van Horebeeck (Bet)…239
2022 250 WORLD CHAMPIONSHIP POINTS STANDINGS
(After 13 of 19 rounds)
1. Jago Geerts (Yam)…543
2. Tom Vialle (KTM)…535
3. Simon Laengenfelder (Gas)…437
4. Kevin Horgmo (Kaw)..390
5. Mikkel Haarup (Kaw)…358
6. Thibault Benistant (Yam)…347
7. Andrea Adamo (Gas)…337
8. Stephen Rubini (Hon)…302
9. Kay de Wolf (Hus)…273
10. Isak Gifting (Gas)…255