SHANE MCELRATH INTERVIEW: 3-POINTS, 2-RACES & HIS 450 SUPERCROSS CAREER IN LIMBO
SHANE MCELRATH INTERVIEW: 3-POINTS DOWN, 2 RACES LEFT WITH HIS 450 SUPERCROSS CAREER ON THE LINE
In spite of Covid-19, Supercross in year 2020 has prevailed and we have seen awesome racing across the 450SX, 250SX West and 250SX East divisions since Supercross has resumed in Salt Lake City, Utah. The 250 East Coast series has the closest points gap between the leaders with only three-points separating. While this class may not have the full depth of the West Coast Championship, or the 450 Supercross class, current points leader Chase Sexton, and Star Yamaha's Shane McElrath have provided some of the most intense battles. The two were tied in points going into the most recent 250 East event where Sexton was able to win and gain the slight, three-point lead over McElrath, who had won the two previous rounds. To add even more pressure, Chase Sexton already has a factory 450 contract with HRC Honda for 2021 while Shane McElrath currently doesn't have a job or motorcycle lined up for him to ride next year. The Star Yamaha team would like to keep Shane for another season, but they only race the 250 class and with the AMA advancement rule, Shane will no longer be eligible for the 250SX class after the 2020 season. With only two rounds left in this ultra-important Championship, we checked in with Shane McElrath to see what's running through his mind.
By Jim Kimball
SHANE HOW HAS IT BEEN RACING THESE FINAL SUPERCROSS ROUNDS IN SALT LAKE CITY? It has been pretty nice. The team rented a big Air B&B for the month up here. We are actually about 15 miles south of Salt Lake City up against the mountain. We are in a quiet little neighborhood, and it is a pretty big house, so the whole team is staying here together. The weather here has been hot for the most part, except for a few days, when it has been cold and rainy. The air is really clear up here, and the scenery is really good. It has been really cool just to change up our schedule and change up our routine. Being up here at altitude too, we have had to adjust things a little bit, by just backing down on our training. We make sure that we are rested because we have short breaks in between the races. Honestly, it has been a lot of fun so far.
Shane leading Chase through the whoops at the muddy, Round 13 race in SLC.
I WOULD IMAGINE THAT ONE BENEFIT IS THAT YOU ARE NOT FLYING SO MUCH. Yes, if they were still just on weekends, we would probably fly because we would not stay somewhere for seven weeks. Honestly, it has been really nice not having to fly, everything is really close here. if you lived in Southern California, it would be like racing Anaheim every three days, except here you are like only twenty minutes from the stadium.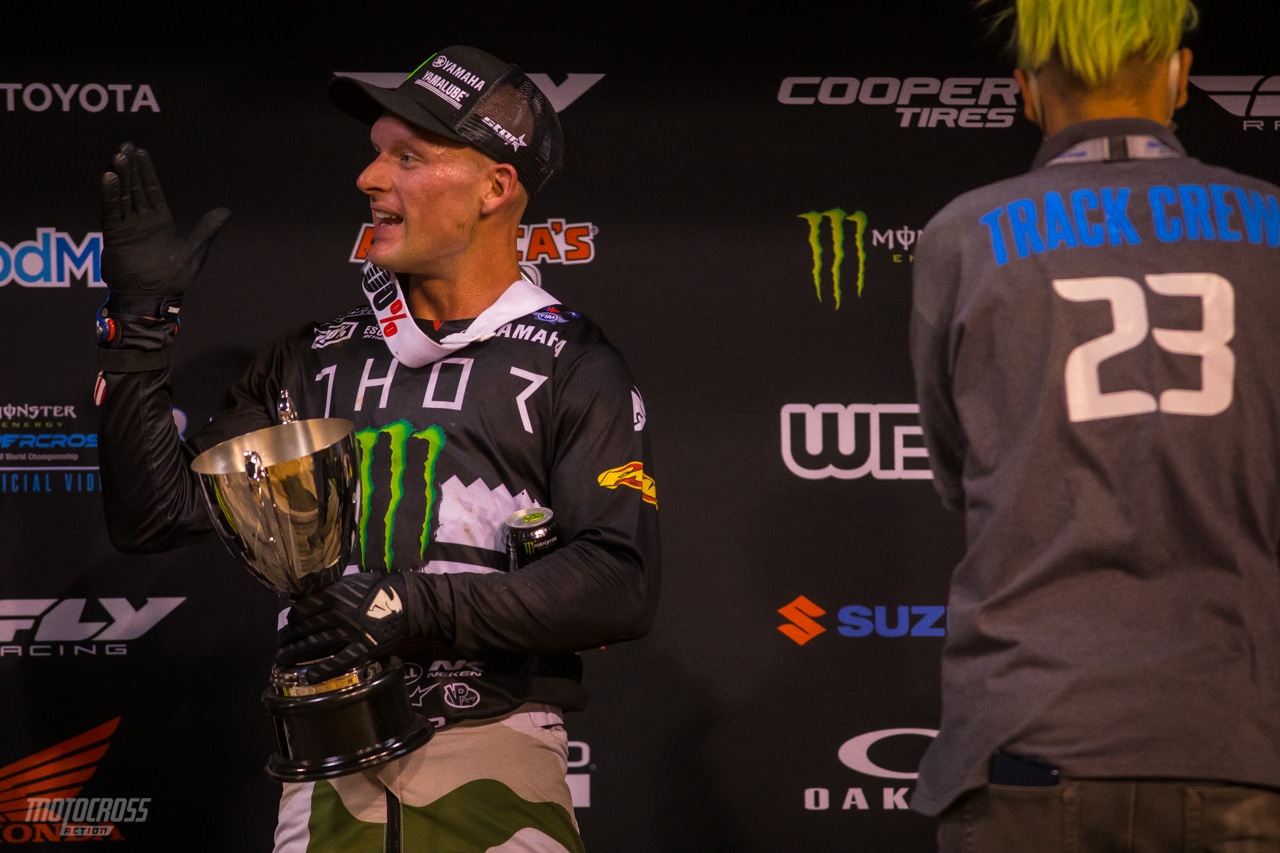 Shane won the first two 250 East Coast races in Salt Lake City and finished second at the third one. The 250 East riders line up again on Wednesday June 17th.
HOW HAS IT BEEN RACING SO FREQUENTLY? It has changed a little bit but at the same time, we race Sunday, Wednesday and Sunday, so it is somewhat like a normal week of racing and riding. It is honestly pretty similar, except for the fact that in between races it is all recovery because race day is really important. We are making sure, especially from Sunday to Wednesday with only two days off, that we recover.
WHAT DO YOU DO ON THOSE OFF DAYS? Monday is a really low day, maybe a recovery spin and then Tuesday is really a light load because you are still recovering. But you are also trying to open up your body for Wednesday, so that Sunday to Wednesday break is really short. From Wednesday to Sunday, we have an extra day. But now that we are up here and having frequent races at altitude, we have to be careful and make sure that we recover fully. Again, race day is the most important day, so we just have to be on top of it then.
Shane McElrath and Chase Sexton have been at the front of the start a lot in SLC.
DID YOUR MINDSET CHANGE DURING THE TIME DOWN? YOU APPEARED MORE CONFIDENT COMING INTO THE SALT LAKE CITY RACES. Not a lot, but I would say that I got stronger mentally, and am more consistent mentally now. Before the last race at Daytona and before COVID-19, results wise we were going backwards. Still, we were actually making a lot of progress with the bike, the team, and with myself. We were gaining a lot of momentum. The results just did not really show that. Now, it is encouraging to be out here racing and getting two first place finishes, and a second place. That is what we train for, what we plan to do, and what I am expected to do. So, it feels good to have done that because that is where I believe that I should be. That extra time with the delay helped me get used to the bike much more and make some changes. So really it has been nice having this long time off to get better as a person, get better as a racer, and now I think it is really showing.
YOU JUST MENTIONED "GETTING BETTER AS A RACER, AND IT SHOWING," THAT DOES APPEAR TO BE WHAT I'M SEEING. Yes, I feel like it. I am three points down now after we were tied going into the last race when it was muddy. It was a bummer to get second, but at the same time, it was a tough track. It was difficult conditions. I did my best. I am three points down which is nothing that can't be overcome. Really, I don't have anything to lose, and I have everything to gain. We have one more race by ourselves, and then one more for the East/West shootout. I believe I can do it. I believe that things are working out for me to do it. I just want to go out there and do my best, and hopefully that is winning the championship.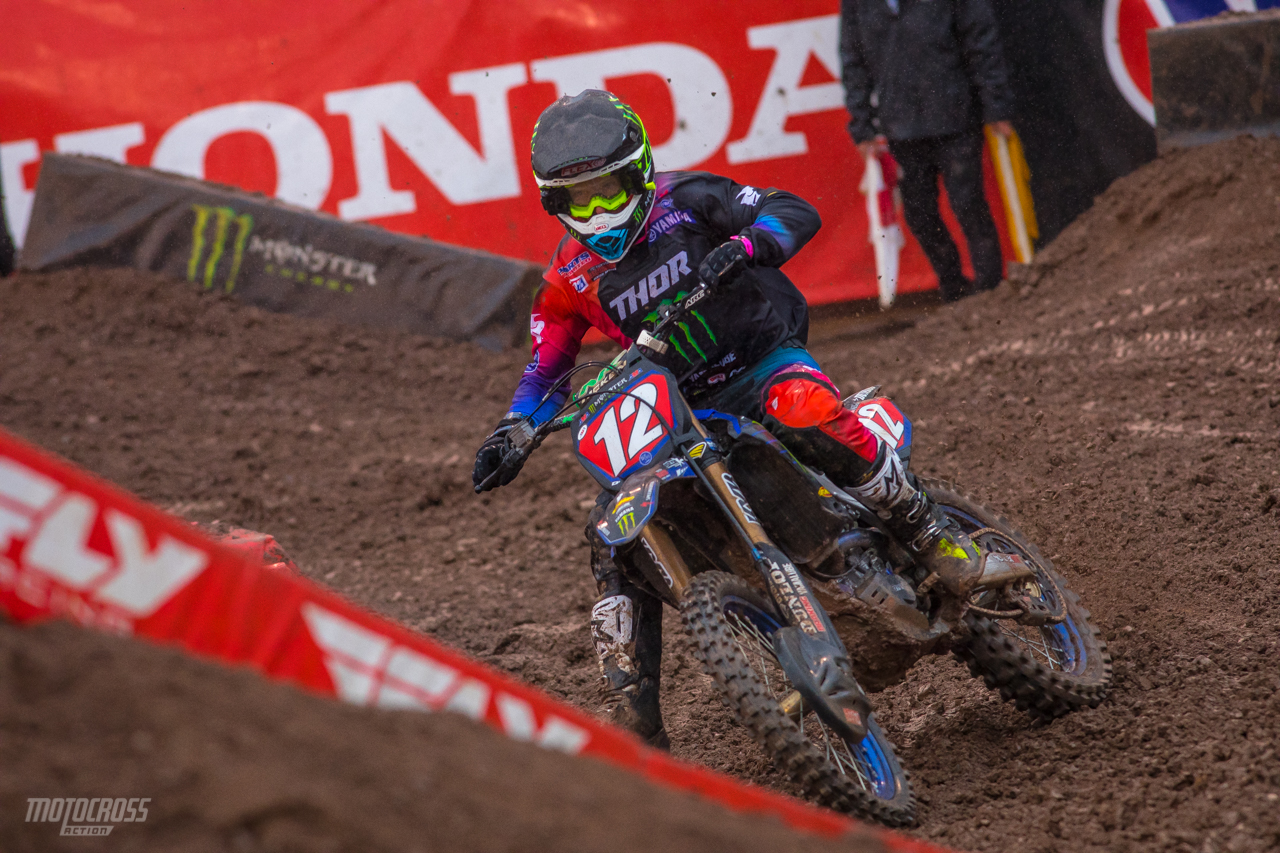 Shane McElrath took the lead from his rival and led the 250 Main Event until Garrett Marchbanks crashed and the red flag came out at Round 13. He led again after the restart, but he eventually went down with a lapped rider and allowed Sexton to take the lead and the win.
AT THE LAST EAST COAST 250 ROUND YOU LOOKED TO BE IN CHARGE UNTIL GARRETT MARCHBANKS WENT DOWN AND THE RED FLAG CAME OUT. WAS IT DIFFICULT TO SEE THE RED FLAG? It was frustrating. At the moment, I honestly thought Chase was right behind me, because I just passed him in the second corner. I was just like focused forward, once the red flag came out and I saw that Chase was not behind me and he was further back, I was like "wow." But it was all good. I just felt "let's line up and do it again." I was happy to pull the holeshot again and to take off, and I felt good. I was pretty excited about it, at least for a short time.
ARE THE LAPPERS AS BAD AS THEY APPEAR? It has honestly been pretty wild. We have never really lapped up that far before. I don't know if it has anything to do with the altitude or what, but it is the same thing in the 450 class too. The top few are just running off and leaving everybody. I honestly don't know what to say for an answer because it is weird and it is not normal at all, especially this bad. The mud itself made it worse at my last race, and that track was also pretty technical. The top few guys were barely doing some of the stuff as it was, so knowing that, there are guys out there that can't do some of the stuff. It just makes it that much worse when you put the mud on top of it, and people going all over the place. Since we have been in Utah, the lappers have been pretty crazy, I really don't know why that is.
We expect these two to battle hard on Wednesday at Round 16 in SLC.
SOME OF THE MEDIA HAS PORTRAYED THAT YOU AND CHASE SEXTON ARE ENEMIES, IS THAT TRUE? I just want to win, it does not matter if it is Chase, it does not matter if it is my best friend down the street or if it were Eli Tomac. With where I am right now, I don't think I could beat Eli, but I sure would try. Chase and I have done some of the Boot Camp Bible studies together. We are not necessarily enemies, but we don't really talk to each other at the track. When I show up, I have a job to do. I want to go out and do my best. I think he is probably the same way, but he is also younger too. I don't really know.
Shane leaning back through a long whoop section in SLC.

JEREMY MARTIN RECENTLY ANNOUNCED THAT HIMSELF AND GEICO HONDA DECIDED TO SIT OUT THE REMAINING 250 EAST COAST SUPERCROSS ROUNDS TO NOT POINT OUT AND BE FORCED UP TO THE 450 CLASS NEXT YEAR. WHAT ARE YOUR THOUGHTS ON THE WHOLE 250 POINTING OUT SYSTEM? Honestly, I think it can be improved. Manufacturers can step up, but it takes more work, and takes more budget above the race teams. OEM wise, there is some money up there. Right now, often the 450 teams put a lot of effort into one guy and have a second guy just to have a rider out there. I think having more 450 guys is perfectly feasible and doable, it would take commitment. The rule is pretty cutthroat because I don't think it allows riders to mature as well as they should. Your question is really tough to answer.
YOU HAVE SAID THAT YOU DON'T HAVE ANYTHING LINED UP FOR THE 450 CLASS NEXT YEAR. ARE YOU ABLE TO PUT THIS OUT OF YOUR MIND AND FOCUS ON THE TASK AT HAND? It is easy right now because I have to. I don't have anything lined up and that is really the big question. I am trying to do my best right now to hopefully get something because at this moment, we don't have anything.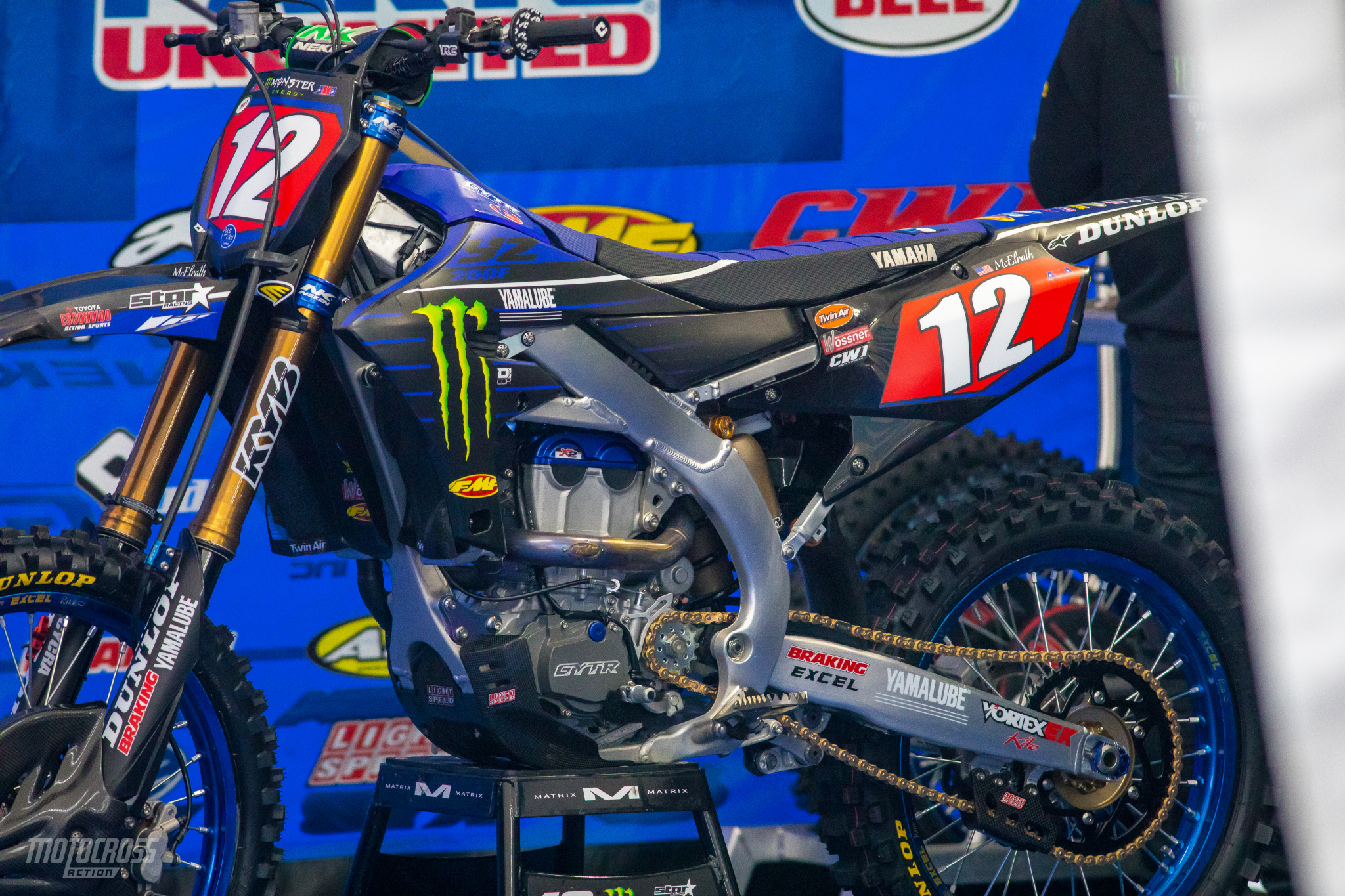 Shane McElrath's Star Racing Yamaha YZ250F. He won't have the red plate on Wednesday as he doesn't have the points lead anymore. 
YOU ARE THREE POINTS DOWN WITH TWO ROUNDS LEFT. CAN YOU STILL WIN THE CHAMPIONSHIP? Yes, honestly, we are in a really good spot right now. I came into Salt Lake ten-points down, then I was tied for the championship after two races, and now I am three-points back. It is really nobody's title yet. I feel that have a good shot at it, because I am the one trailing a little bit. At this point, I don't have anything to lose. We have done all the work that we needed to do with the time that we had. Right now, it is go time for me and my career. I am here to do my best and I think I am ready. As I said, I am a better rider and racer than I was earlier in the season. I think I will do just fine.