SHANE MCELRATH INTERVIEW: FIGHTING FOR HIS FACTORY FILL-IN

SHANE MCELRATH INTERVIEW: FIGHTING FOR A FACTORY SPOT
2020 was one of Shane McElrath's best seasons. Riding for Star Racing Yamaha he finished second in 250 supercross, and third in the 250 outdoor series. Simply put, in most years, Shane would have signed a full factory deal for 2021 and beyond to stay in the 250 class, but he pointed out of his AMA 250 class eligibility and was forced to move up to the 450s for Supercross. Sadly, no 450 factory teams were waiting.
The 27-year-old was able to find a ride with the Smartop/Bullfrog spas/ MCR Honda Supercross team. Unfortunately for Shane, he was sidelined much of Supercross with a back injury. Later signing with the Rocky Mountain KTM team for 2022, it appeared McElrath finally had that comfort of a full year deal to finally make his mark in the 450 class. But once again, his 450 career was derailed with an injury and then with title sponsor Rocky Mountain pulling their support from the team. Now filling in for injured Dean Wilson and Malcolm Stewart on the Rockstar Husqvarna team, Shane is looking to continue to ride for Team Husqvarna for the rest of the summer.
---
BY JIM KIMBALL
SHANE, I HAVE TO BEGIN THAT LUCK WAS NOT ON YOUR SIDE WHEN YOU MOVED TO THE 450 CLASS. YOU ALMOST WN A 250 SUPERCROSS TITLE IN 2020. YOU SIGNED WITH MOTOCONCEPTS FOR 2021 AND WERE INJURED. LATER YOU SIGN WITH THE ROCKY MOUNTAIN KTM TEAM FOR 2022, AND IT FOLDS UP DURING SUPERCROSS. Nothing is easy in our industry. The injury side is probably the biggest part but there is always other stuff going on. Some people get sick. There are a lot of trials that we go through. Since I went to the 450 class, I went from having my best year on 250's to not feeling like I have been able to show what I can do in the 450 class. A lot of it has been injuries, and a little bit has been other issues. 
You must take it all with the good stuff, you can't just be "oh why me?" I just look at it like from a growing perspective. It is hard to be going through trials but at the same time, we can let it get us down, or we can let it change us or grow us. That is especially true as it goes back to my faith, and just reading scripture.
I feel like everything happens for a reason, but obviously it is hard to lean on that when you are going through rough time. Looking back now, I would not change a thing because I love to learn, grow, and with where I am at now, everything I have been through is necessary. I don't really see it as "oh that should not happen, or I should not have gotten hurt."  All that stuff comes with that territory.
Shane has faced many of the trials and tribulations that the spot offers. From getting injured to a team closing its doors, it's not easy when you don't have a guaranteed spot in the future of motocross and Supercross.
WHAT WAS IT LIKE AFTER YOU WERE A FREE AGENT FROM ROCKY MOUNTAIN? I have an agent that represents me from the business side, and he has had a lot of work to do the last years. He knows that I like to have relationships with whoever it is. I like to be able to talk to people. I like to really engage in those conversations. My agent handles all the business side, and a lot of the communication that pertains to contracts is on him. He has been a really big help with me being a free agent, mid-season versus being a free agent during contract season, those are like two different things – two totally different things. It was slow in happening. It was not like "come ride this bike, come ride that bike, come do this".  Everybody was mid-Supercross when we are looking for a ride. Even that close to the end of Supercross, nobody was really focused on outdoors. They were not ready to take that step. They had not even thought that far ahead. I didn't have anything to do. I talked to my trainer who just built me a base training program. 
So, I started training and I started enjoying training again. That was really the first time I got to solely train with no end goal and push my body without having to worry about recovering to be on the motorcycle because I was not riding at the time.  It was a totally new territory that I was in. We are still on a four-race deal, and that is all we know right now. We are going with the flow.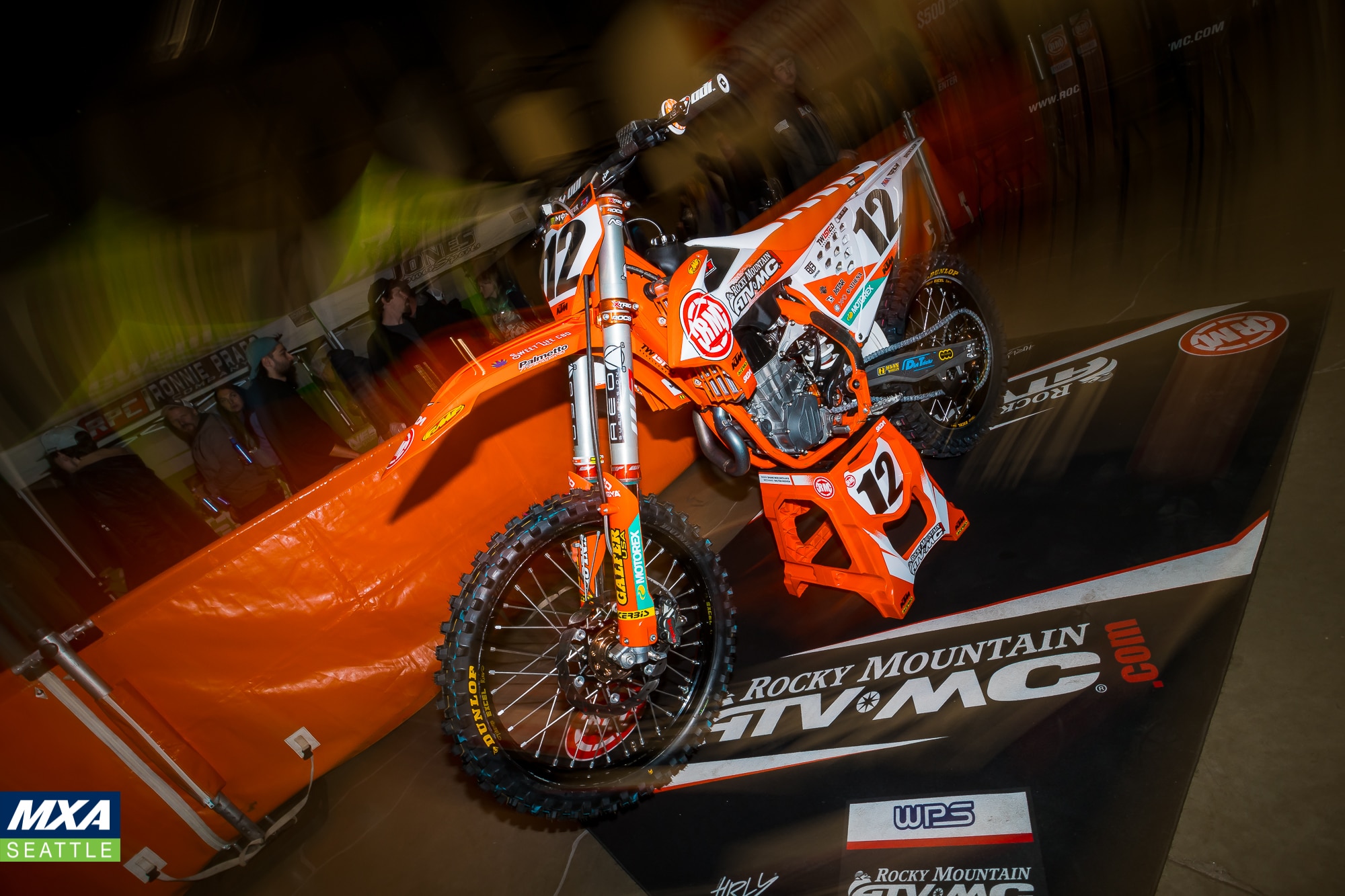 Here sits Shane's bike in the Seattle pits. While out for injury and no more riders, the team had still brought their rig to the race.
HOW WAS IT THE FIRST TIME YOU RODE THE HUSQVARNA? OF COURSE, ITS SIMILAR TO A KTM, BUT YOU WERE ON THE 2022 BIKE, AND NOT THE 2023 LIKE NOW? Honestly for me, it was an easy transition. The previous model had four years on it. There were some complaints with the old/current chassis, and I had heard with the new bike, a lot of those complaints were addressed and fixed. I heard of people that tested the new bike pre-production and said, "this bike is amazing". So, that got me excited. I also really enjoy the steel frame. I don't know if it is because I spent most of my bike on the steel frame, but I feel so comfortable on it and so at home.
I think all throughout Supercross, the Austrian brands had a tough time learning the new bike. It is always hard when you go from one model year bike to another- even the same brand. You try to set it up a little similar, but it does not always equal out. So, I feel like when I got on the bike, it was at a good starting point all ready. We made some changes based on my feedback that made me comfortable on it, so it has honestly been a super easy transition. The overall feel of the bike is the same that as I was on. The balance set up is different, but the characteristics are similar.
Shane's new bike is new to everyone, as the bike underwent a new model release for the 2023 year. Now both the riders and team have to get used to it.
NOW THAT YOU'RE WITHOUT ROCKY MOUNTAIN IN FLORIDA; ARE YOU STILL DOWN SOUTH? Now, no. We got the call from Husqvarna to come out to California to get on the bike, so we came here and are staying with my wife's parents. They live local to Husqvarna. We are there until Highpoint and that is all we know right know. We are not staying in Florida. We still have our house there, but we should know more soon on what is going to happen.  
LET'S TALK ABOUT PALA, YOUR FIRST RACE ON THE NEW ROCKSTAR HUSQVARNA, HOW WAS IT? Honestly, tenth place was a good starting point. Coming off the couch I had minimal time on the bike, so I was dealing with a lot of nerves. I calmed down and started figuring it out a little bit halfway through, but it was just not a very good moto overall. I ended up 11th at the first one but I knew I had a lot more to give and could do that. So, we made a couple of bike changes for the second moto and just way more relaxed, and way more comfortable.

Then I had a good start in the second one also, but I started wheeling, had to back out of it and I got swallowed up on the second start. I was a little disappointed in that, but I rode way better in the second moto, and it was just overall a good starting point for my 450 career outdoors. It was my first race, and you know what, there were a lot of positives to take from the weekend. We got a lot of room to build on top of it, so I am excited about that.  
Shane is currently 11th in the points, sitting behind Garrett Marchbanks. 
WHEN I SEE YOU, I SEE A FANTASTIC STARTER, WITH THE RIGHT FITNESS.  CAN YOU BEAK INTO THE TOP FIVE? I do not think that is farfetched. I think it is something I can work towards. We have been making gradual little changes when we need to and for right now, I am happy and comfortable. the biggest thing now is just time. I was only on the bike for about 2 ½ weeks before we raced it. I think everything is coming together and being at the races is going to continue to get better just with time. 
YOU ARE ON A FOUR RACE DEAL; DO YOU KNOW WHAT THE CRITERIA IS IN ORDER FOR YOU TO STAY WITH THE TEAM FOR THE SUMMER? Technically, I am on Dean Wilson's bike. When the team called me, they were said "look we can guarantee the first four rounds and that is all we can do right now because we want to give Dean an opportunity to come back". They have other contractual obligations, but for me that is fine.  I am geared to do my best and to represent the team well.  If it is four rounds then cool, I got four rounds to go out and show what I can do.  If it is more, than that is a bonus.  I don't know the state of everything else right now.  We have not really discussed it but as far as I know, I still only have four rounds. I don't know when Malcom is racing. I don't know where Dean is at right now.  
Shane racing at Hangtown.
IT WOULD MAKE SENSE EVEN IF DEAN COMES BACK TO HAVE TWO GUYS. That is what a lot of people have been saying, but I don't want to count on it. It is a four-race deal and I need to be present and do my best at each round and if I get a fifth round, sweet and let's continue to build on that and if I get a sixth, let's keep doing the same thing.  
DO YOU HAVE ANY GOALS SET FOR YOURSELF FOR THESE FINISHES IN THE OUTDOORS? No finish position, but I know my confidence is growing every time I am on the bike. I am really having fun and super comfortable on the bike, so I want to give it my all every time I am on the track.  If I fall, I fall. I want to be present and do my best and I think if I do those two things, I have a good shot at being in a good position whatever that looks like.
Shane continued to race in Fly gear when hopping on the Rockstar Husky.
YOU ARE ON THIS FOUR RACE DEAL, BUT IN THE BIGGER, BROADER, LONGER PICTURE, THERE IS NEXT YEAR.  ARE YOU THINKING ABOUT THE 2023 SSEASON AT ALL? We just got started on outdoors and I don't know whose contracts are where, who's contracts re-up this year, who has another year on their deal or what teams even have a spot, so I really try not to think about that. It is easy to worry about what are we going to do for next year. "Am I going to have a job?" I feel like there is a lot of opportunity out there, but I just need time and I have a lot of control over that, and it is up to me whether I perform and show what I am capable of and I think that is really the biggest factor of it all. I would like to think that I can run with a lot of these guys regardless of who it is.  I just need a good opportunity on good equipment and right now, I feel like it is right in front of me. I am trying to do everything I can right now in this moment.
Shane was massively successful in the 250 class, being a regular podium guy.
MY BIG WISH FOR YOU SHANE IS I WOULD LOVE TO SEE YOU HAVE LIKE A TWO YEAR 450 SUPERCROSS, MOTOCROSS.  I THINK YOU ARE WELL DESERVING OF THAT. I THINK YOUR POTENTIAL ON A 450 IS UNTAPPED; YOU JUST NEED SOME TIME. It is funny you say that because I think back to times when I was in the 250 class at TLD.  T.K. (Tyler Keef, Team Manager) would say "we are going to give you another two-year deal "and I would be "cool, sounds good", and now, it is "just give me a one-year opportunity." You can really take those things for granted. I was never really at my best a lot of the time in the 250 class, and I just fell into another contract, so it seemed. But now, this stuff does not come easy.  
HOW WAS THE 2022 HIGH POINT NATIONAL? It was a little bit rough today, I just struggled with the track from the first time out. I felt pretty good in practice but it's a tough track to flow on and I didn't quite figure it out. I'm a little bit disappointed but I know that I can be better and we can make some good changes to continue making progress.
Here is Shane back on the TLD RedBull KTM team.