SHANE MCELRATH INTERVIEW: NEW BIKE, NEW PROGRAM & A TIE FOR THE POINTS LEAD

SHANE MCELRATH INTERVIEW: NEW YEAR, NEW TEAM & NEW SHANE MCELRATH COMING INTO THE 2020 ATLANTA SUPERCROSS
2020 is a big year for Monster Energy/Star Racing/Yamaha rider Shane McElrath, and he did his best to prepare for it. This year's 250 East Coast Supercross series will be Shane's final year in the 250SX class before me moves up to the premier 450 division. As many of us know, Shane, along with wife Joy McElrath, made big life changes when moving to the blue team, which we will get into in this interview. However, he also made significant internal changes with the help of his strong Christian faith. We had a chance to talk to Shane after he won the season opener and finished second in Arlington, Texas.
By Jim Kimball
SHANE, WHAT A GREAT START TO YOUR SEASON WITH YOUR WIN IN TAMPA. I started the day off pretty good. Qualifying is something we have been working on and so it was better, but I still could be better at it, so we are still working on that. But come race time, we really dialed things in. I had two-holeshots and felt really good putting laps in. I was racing the pit board and my bike just felt awesome, so I am really excited about it.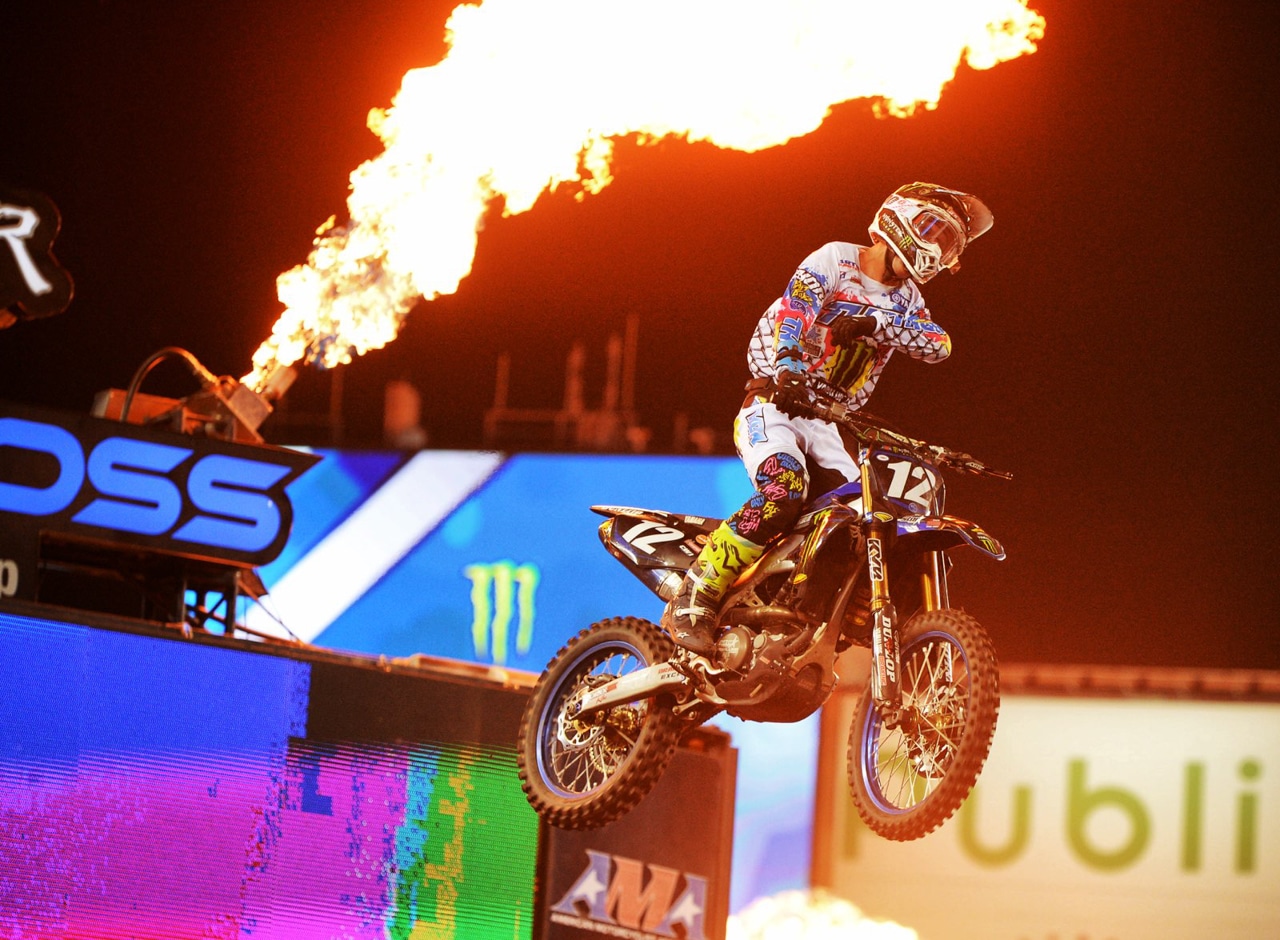 Shane McElrath won at his debut race with Star Racing Yamaha.
YOU MENTIONED QUALIFYING TIMES, HOW IMPORTANT IS BEING THE BEST AT QUALIFYING? I don't think it is necessarily a do or die, but it is a really good thing to work on, to really see how fast you can go on the track. During qualifying when you are trying to do your fastest lap, you learn where you can push, where you need to be a little more patient, and you use that during the race too. The track obviously breaks down a little more during the day because we have so much riding with minimal track work, but it is a good indicator on how the night show is going to shape up. Also, for me personally, the quicker I can figure out how I can ride the track, the better I am throughout the night. We have been working on doing that from early qualifying, then moving forward throughout the night show, and it was cool. I was fastest the first two practices, but Jeremey Martin got me by like a tenth in the final qualifying practice at Tampa. Still, there were some positives from that practice, and it was really a position that I have not been in before where I was the fastest. I hate getting beat anytime, so it was a good start.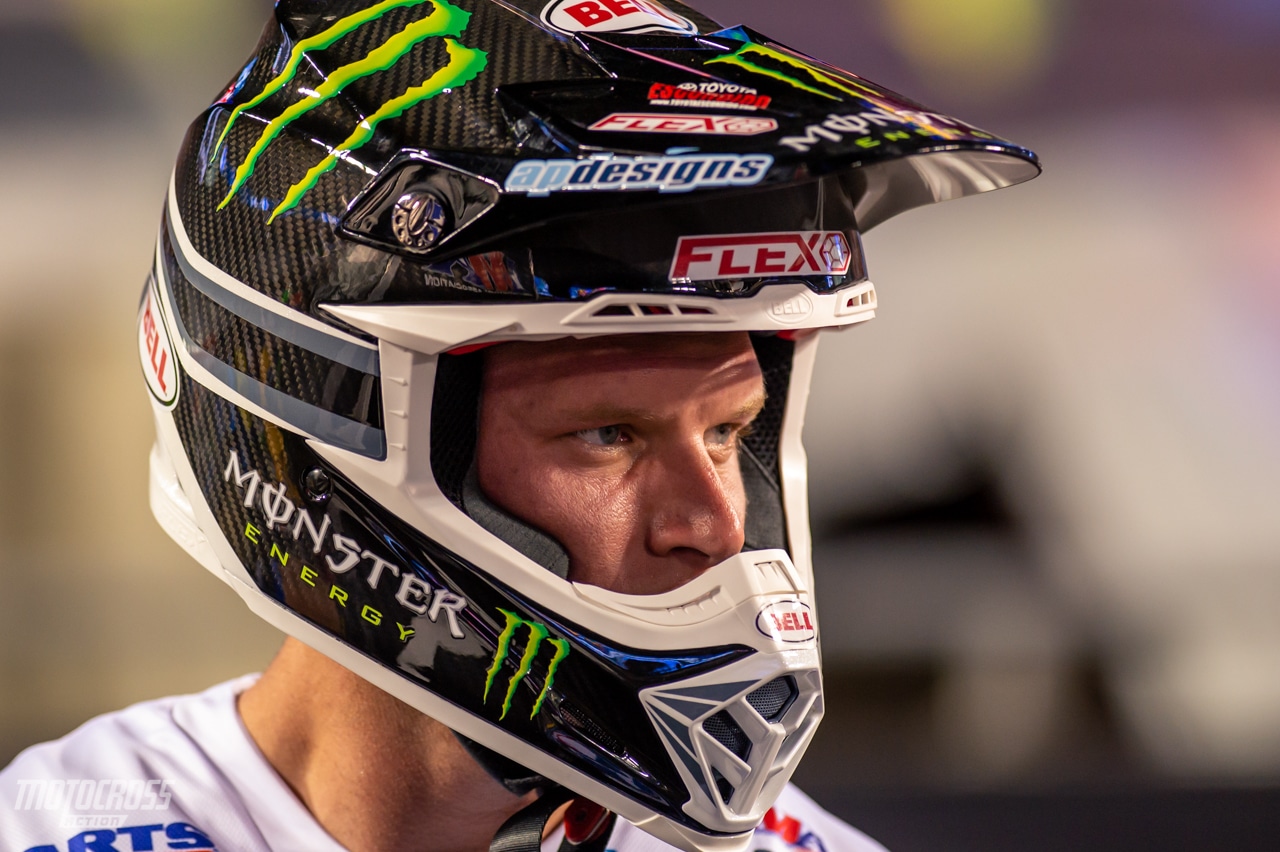 Shane has won at three of the last four 250SX Supercross season openers. He won at Anaheim in 2017-2018 and at Tampa in 2020. 
YOU ARE PROBABLY KNOWN MOST AS A WEST COAST SUPERCROSS GUY, HOW WAS IT RACING IN TAMPA? Tampa was a little different track. I would say probably more like a West Coast track. It was loose on top, and had a pretty hard base, so it was not really anything that we really expected to be on the East Coast. I think the next three weeks which are Dallas, Atlanta and Daytona, we are going to get towards that softer dirt. Then we have Indy right after that which is very soft, as far as the East Coast goes with dirt. I told the team that I did not care what I raced, and I felt like I could do good at either one. I am here to do just that, and I think that I am going to be better on the softer dirt tracks than I have in the past. We've spared no expense in working on my weaknesses that have mainly held me back in the past. Moving forward, it looks good because we have been working on those areas so that when we get to the race, we do not have the same problems that we had in the past.
Shane finished second behind Chase Sexton in Arlington, Texas, and now he and Chase are tied in points and they will share the red plate at Atlanta.
YOU DIDN'T WIN IN ARLINGTON, BUT FINISHED A PRETTY SOLID SECOND OVERALL WITH YOUR RACE FINISHES OF 3-2-1. It was a bit disappointing, as I was definitely prepared for the Triple Crown format. I just started too far back in the first two races. With all the carnage, and the shorter race time, you simply need good starts. I rode well, and I am happy with my riding. I just needed better starts and keep looking forward
WHEN YOU SAID, "WORKING ON MY WEAKNESSES", WHAT ARE THEY? It is really hard to say what a weakness is, as a racer, everybody is different. Some riders work on their strength, and get their confidence from that, actually I would say that just about every rider does that. As far as our weaknesses as a whole, it is easier to disregard those at the practice track because we are working for that confidence, and looking for that feeling of "man, I feel really good today," but that is only fulfilling so much. For myself, I have gained a lot of confidence by working on areas that I am not really that good at, which is working on my consistency, on my technique in places, on how I set my bike up, working on riding ruts and softer tracks, and just mentally being fully aware of what we are doing, why we are doing it, why I kept making this mistake, and now let's go back and fix that. It is not necessarily like zoning in on a weakness. There are things that I do better than other riders, and things that other rides do better than me. So, it is just taking those areas that are not necessarily chronically bad, but maybe I don't have those scenarios at every practice track I go to.
Shane is looking to win his first Supercross championship in 2020 before he moves up to the 450 class.
HOW DO YOU WORK ON THOSE WEAKNESSES? So, if we go to a practice track where those weaknesses that I mentioned really show, we are going to work on them because it's always best to work on them during practice and not at a race. Like one track is really good for riding ruts, then we go back to a test track that is all clay and hard packed, with no ruts on the track at all. It's difficult hard to work on everything, every single time you are at a track, but we try to get the most out of each day. We have been adamant about going to different tracks and adapting to different terrain and just making sure that we keep that fresh. It is not like we are going to stay on this track for a long time, then we are going to move to this one and each week, we are trying to rotate different tracks.
Shane McElrath on the line at Arlington.
HAVE YOU LEARNED ANYTHING FROM YOUR TEAMMATES DYLAN FERRANDIS, AND JUSTIN COOPER DOING SO WELL ON THE WEST COAST SERIES? Yes, there is definitely a lot to learn there. Star Racing is a whole new team. For me, it's new people, new environment, and new everything. I went to the races the first few weekends, seeing some of the people, talking to the people, and just seeing how the team operates. Of course, I ride with my teammates a lot during the week, and we are constantly gauging ourselves after each other. With this team's history, they have been one of the best teams for a while. Also, Dylan and Justin are some of the top guys in the 250 class, so getting to work with them during the week, seeing what we are doing during the week, and then translating it all to the race is comforting because I know we are pushing each other the right direction. I try to learn from other people's mistakes, and not do the same thing they did. So, it has been good to really be on the sidelines watching the whole team race during the beginning of the year. Now, when it is my turn, I have to block out a lot of other stuff. We only have a few things to do, and let's just focus on those few things.
Rj Hampshire and Shane McElrath are friends off the track, but when the gate drops they put their friendship on hold. 
YOU HAVE TALKED ABOUT HOW YOU'VE CHANGED EVERYTHING, LIKE TEAM, MOTORCYCLE, TRAINER, LIVING LOCATION, ARE THERE OTHER CHANGES THAT YOU ALSO MADE? Those are probably the bigger areas, but as far as our day to day lives go, I feel that is a big part of what went into changing the big areas from our faith, to our marriage, to my wife and I individually—we don't want to be stagnant. We want to strive forward, and said "alright God, we are going to give our best effort, and we are going to trust that you are going to open doors for us."  That is all we want to do, and all we can do, really. We are taking advantage of really good opportunities that have been in front of us. We played it safe, and we realized the lack of growth we've have had in the past. We felt like "alright, we have to change." We knew we were going to take this step-in faith, and that it was not going to be comfortable or easy. But we just feel like we needed to make this team change, and that was step one. Along with that came the trainer, nutrition, and the residency move. We sat down together, wrote down our goals and prayed about our goals. We were not holding back, we are doing everything the best we can, and we don't care what anybody else wants us to do.
Shane leading Jordon Smith, John Short and Garrett Marchbanks through the whoops.

HAS THERE BEEN ONE CHANGE THAT HAS BEEN THE MOST EXCITING OR BIGGEST CHANGE? It is really hard to say. It has been very rewarding in every area of our life, but I think just the newness of everything has us so excited. It's made us realize how good of an opportunity we have in this sport, and also how short it can be. Like I said, we are not going to waste any more time, we are not going to hold back anymore. Everything is new and we decided "let's be excited about it and let's use that excitement to drive forward because we are trying to take advantage of every opportunity we have."
WITH YOU CURRENTLY THE SOLE MONSTER ENERGY/STAR RACING/YAMAHA RIDER IN THE EAST COAST SUPERCROSS SERIES, DOES THIS ADD MORE, OR LESS PRESSURE? In my career, I do not think it really matters. I know what I have to do, and I have put in the work, so we show up and do our job. Again, this team is used to winning. I got big shoes to fill in a sense with the team. Personally, I believe that I can fill those shoes, but there is still that pressure of "man, I have never really been in this situation before," so I have a lot of pressure on myself because the team expects this certain level that they are used to. It has been good, but it is also like no time for play. I love to work hard, and I love seeing the progress and the growth that we have had over the last few months. But we have to keep the pressure on because like I said, we are trying to take advantage of all of these opportunities.
I PLAN ON SHOWING UP TO WIN AND RIDING TO WIN. I BELIEVE THAT IT IS DOABLE BECAUSE I HAVE DONE THE WORK. I KNOW HOW I HAVE BEEN RIDING, AND TRUTHFULLY, I THINK I AM ONE OF THE BEST GUYS IN THE 250 CLASS. 
WERE THESE FIRST TWO ROUNDS A GOOD INDICATOR OF WHO WILL BE CHALLENGING FOR THE CHAMPIONSHIP WHEN THE SERIES ENDS? I think it is a good indicator as far as the top guys were all in the top seven. But I think those positions can change around, and everybody had the first race jitters at Tampa. I think we are all on an even playing field. Moving forward, I think we are all going to be doing the same thing which is getting a little more comfortable progressing each weekend. But I am confident in what we have done and where we are going. There is only one thing to do and that is to make it happen. Things could even tighten up a little as maybe some people have more growth to do in areas than others, but I think everybody in the class will get a little better.
YOU HAVE RACED 250 SUPERCROSS FOR SOME YEARS. HOW DO YOU COMPETE IN IT AS FAR AS GOING FOR EVERY WIN, OR STRATEGIZING MORE? With the short series and just where I am, I am done playing it safe like I may have done in the past. That is where we were from a faith aspect too. Why are we going to play it safe when we cannot control most of the things that go on in our lives? So, I plan on showing up to win and riding to win. I believe that it is doable because I have done the work. I know how I have been riding, and truthfully, I think I am one of the best guys in the 250 class.