SITTING DOWN WITH GRANT LANGSTON
ÿ
Recently we caught up with multi-time champ Grant Langston, and quite honestly we haven't seen his face in quite a while. Why? The Pro Circuit/Kawasaki/Monster Energy rider has been cutting wood and pounding nails around his new home in Clermont, Florida. That's right, another pro rider has taken the southern express and now calls Florida home. However, that doesn't mean that Langston will vanish from California. After all, he is going to split his time 50/50 between California and Florida. We figured that we should fire some questions his way before he made his way back east, and asked him about his new digs, 250F East versus West, and where he's headed in the future.
ÿ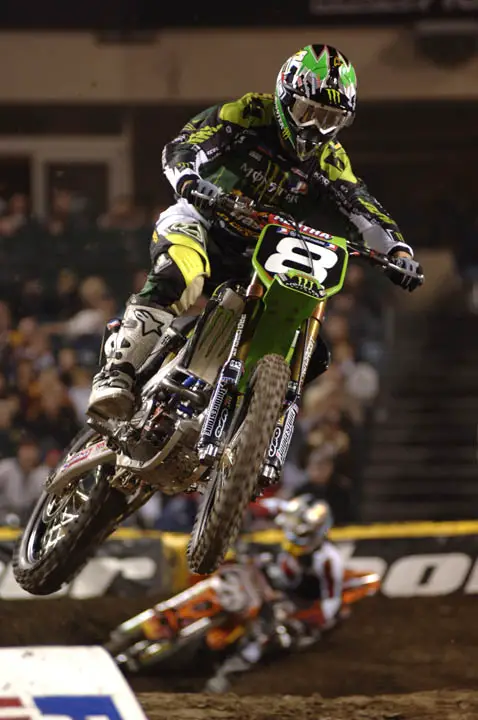 Grant, what have you been up to?
I am just getting my place in Florida set up. I moved into the house there and in the first week all I did was unpack boxes and assemble furniture. I guess having a break was good because for seven days I was working for 18 hours a day just building cabinets for the garage! I couldn't imagine building stuff like that for my entire life and having a job like that. No wonder cabinetmakers are so stressed out! It was good though to get things done. I also rented equipment to finish my outdoor track and it's a pretty good layout. I guess that I would think it was a cool track regardless because I built it myself [laughter]. I am trying to get my Supercross track figured out as soon as I get enough clay dirt for it.
ÿ
Have you been riding very much?
I have been doing a lot of outdoor riding and getting ready for the Nationals, but I've also been riding a little bit of Supercross. I will be glad in the future when I will be riding the 450 because I won't have to take such a long break in the schedule. Not racing honestly just stinks. I was at Daytona and Orlando watching the racing and it was kind of irritating because I couldn't race. At least I know that I still love racing because when I can't it bothers me.
ÿ
Ivan Tedesco just moved to Florida, and Ricky Carmichael, James Stewart, and Chad Reed also call the "Sunshine State" home. Why did you decide to become a southeast guy?
I moved to Florida because of the traveling during the season. Having a base in Florida during the outdoors means that I'm almost always in the same time zone as the tracks and I can train in the heat. Living in California I get kind of bored of just riding on the same tracks all of the time. I have nothing against Glen Helen, but riding the same track every Thursday for the past six years gets kind of boring. I was getting a little burned out on doing that, so now it's kind of nice to ride someplace new. I have my place in Florida and I have my home in California, too. In Florida I have my own riding facility and it has always been my dream to have my own place that I could maintain and change. When the racing schedule is out west then I will stay in California, and likewise when the racing is back east. I will pretty much split the year.
ÿ
Where exactly did you move to in Florida?
My house is in Clermont, which is just west of Orlando. I am about 25 miles north of James Stewart's place. I bought there because there is a lot of good dirt and it's not far from Orlando. The airport is only 40 minutes from my house and it's a developing area. It's expanding and there are a lot of nice lakes around too. I am getting the itch to get a boat and I know in the summer it's going to be miserably hot. I will ride motos until I am about to collapse and then I will be able to cruise around the lake in the afternoon. I found a place in Florida that was in my price range and that I fell in love with. I bought 45 acres about ten minutes away from my house where I have the tracks and there is a little lake on the corner of the property. There are also about five acres of woods so I made a trail through there so that I can ride an ATV through it. The place is like every rider's dream; to have their own practice facility.
ÿ
Do you lose motivation because you have had so much time off in the racing schedule?
I don't ride too much Supercross, but I will get back into the swing of things. I don't enjoy the long break because the racing gets so intense and there is only one point separating Andrew [Short] and myself. Then all of a sudden it's like you go on vacation for the next three months. I just want to get it over with.
ÿ
Are you going to win the 250F West?
Everyone asks me that. Well, it's not like I have to work out the points. Basically I just need to finish ahead of Andrew. I'm looking forward to finishing the Supercross series. Some guys might lose focus, but I still have that motivation, and I'm sure Andrew feels the same way. I wish that we could just get it over with. It would be good if the schedule had eight rounds on the west, seven on the east, and then we had the Las Vegas finale. Either way you would still have a long break and then race Vegas, so it would be tough. I wish that they would make the schedule a little more rider friendly.
ÿ
Will you have the East guys covered at the Las Vegas finale?
I have raced all of those guys before and I've beaten them all before. I'm not saying that I'm going to go out and wax them in Vegas, though. I do think there is maybe a little more depth on the West coast. I was kind of surprised that there wasn't more depth on the East coast. I guess we will see in Vegas. It will be fun. Last year I struggled there because I had allergies and I didn't even know that I had allergies. Now I am on top of that and this year I will be a lot more prepared. Last year I was just excited to win the championship and to be in Vegas racing. This year I have that feeling that I need to beat everybody and say goodbye to 125 Supercross.
ÿ
You are automatically moving up next year and you'll no doubt receive a factory ride. What brand do you want to ride for?
Several teams have approached me, but I haven't signed anything. Fred Bramblett from OMS has been dealing with all of that stuff. I don't want to be involved in the negotiating. Right now I'm waiting to see if Mitch Payton is going to have a 450 team and if he can pull that off. He knows what he needs to get it done and he knows what I need to keep me there. I want to continue working with the Pro Circuit guys because I like their work ethic and attitude. A lot of the teams are talking and saying that they are interested, but no one really knows until they get their budgets finalized. The teams also have to talk about what riders they are going to keep or who they are going to release. A lot of it is just musical chairs and stuff, but at the end of the day wherever I end up will be a wise decision. I'm not getting too involved. Once the Supercross championship is over it will be a lot easier to sign a deal and then head into the outdoors.
ÿ
So you want to have a deal signed by the outdoors?
Yes. I think it's a realistic approach to it too. Within the next month a lot of teams will know what they are doing, what riders they want, and what they can offer. It's tough to say right now. I'm not leaning towards any one brand. I would like to see if Mitch can pull off this team deal and if he can get the sponsors and work with Kawasaki to get it done. We will have to wait a little longer.
ÿ
ÿ