SLOANE'S BIG ADVENTURE AT THE MALCOLM SMITH "KIDS LEARN TO RIDE" EVENT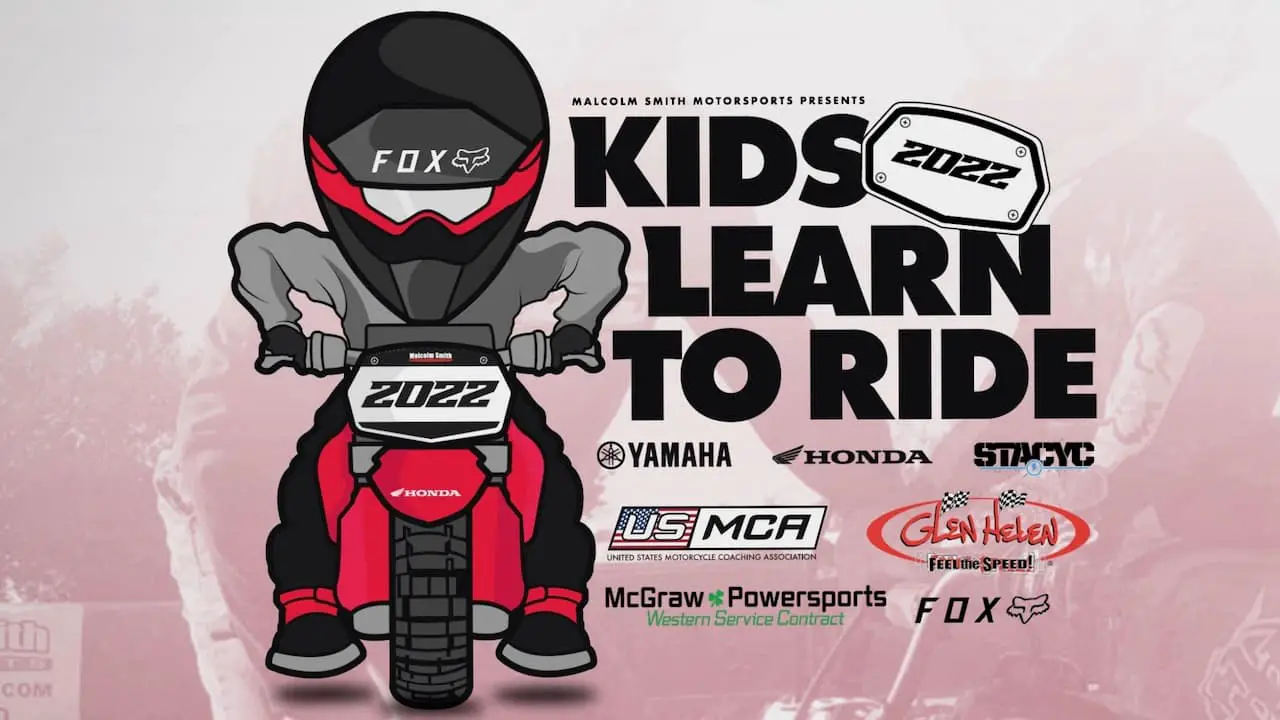 By Ernie Becker with photos by Kyoshi Becker
In 1971, the Bruce Brown movie "On Any Sunday" came out a created a generation of motorcycle riders and racers. Steve McQueen, Mert Lawwill and Malcolm Smith captured the imagination of the masses. The movie showed that motorcycling is fun, passionate and a family sport. The rest is history.
Fast forward to the year 2022 and Malcom Smith is doing it all over again. But this time it's not with a movie. What Malsolm is doing is writing a script with today's youth and introducing that same passion of motorcycling riding to create the future of the sport by teaching them how to ride.
Alexander Smith is Malcolm's son and the General Manager at Malcolm Smith Motorsports in Riverside, California. He runs the "Kids Learn to Ride" program. It is supported by Malcolm Smith Motorsports, Glen Helen Raceway, Fox, Stacyc and USMCA.
Alexander Smith (left) with anxious dad Ernie Becker and new rider Sloane Becker.
"The program is designed to introduce first time riders to our sport and teach kids how to ride," said Alexander. "We want to showcase how much fun this sport really is. It's family friendly sport that teaches life long lessons like self confidence, independence and physical fitness—and it is geared for kids. Glen Helen Raceway allows us to have a safe riding area that is away from the rest of the facility so we can have a controlled, safe riding environment so the kids can learn safely."
The totally free program is designed for the first-time riders! Fox Racing provides all the necessary safety equipment (if you don't have your own riding gear). Stacyc brings out electric bikes for the little ones that are just learning how to balance and get their skill sets going. Honda, Kawasaki, Suzuki and Yamaha provide 50cc entry-level bikes for kids a bit older. The only the criteria for "Kid Learn to Ride" is that the kids need to know how to ride a bicycle.
"The USMCA provides the certified coaches to teach the kids about the joys of riding a motorcycle." said Lindsey Scheltema, the executive director of the USMCA. "The U.S. Motorcycle Coaching Association was created to grow the sport of motorcycling through quality coaching of new and returning riders. USMCA's Certified Coaches have passed a national-level background check, completed Abuse Prevention training, become certified in basic AHA, Red Cross First Aid and CPR, and taken a step towards the management of concussions and how to detect signs for heat illness and cardiac arrest."
Sloane Becker gets to meet her USMCA coach Destin Deerman. Instruction was one-on-one with the the same coach during the program. 
MXA had the opportunity to send a first time rider though the one-hour long course. Sloane Becker was chosen to be our MXA test rider. She had never ridden a motorcycle. She does ride her bicycle frequently, so she had the balance part down. But the learning how to twist the throttle and use the brakes was all new to her.
Destin Deerman was assigned as her USMCA riding coach. The course is a one-on-one rider to instructor relationship, which builds trust and confidence between the rider and coach. Destin communicated what was needed to be a successful rider and what they were going to do to achieve that. He spelled out each step in a calm but confident manner that Sloane understood.
SO HOW DO YOU GET A FIRST-TIME MOTORCYCLE RIDER STARTED?
Sloane focuses on looking where she wants to go.
Rule number one is to look where you want to go and the bike will follow. Your eyes will tell your hands and feet what to do was one of the key components to riding Destin told Sloane. And she listened while taking in the knowledge
The first step was to have Sloane use small amounts of throttle while she sat on the Yamaha PW50, while using her legs to walk along with it all in a straight line marked off by two cones and a yellow ribbon. It was point A to point B, followed by a U-turn and do it again. After a few attempts Sloane's confidence built up and she was encouraged to lift up her feet while applying power through the throttle. And just like that she was riding at a walking pace.
All of the coaches, like Jeff Emig, go through a stringent training program before they get to teach someone else's bundle of joy. 

Then Destin added the turning aspect of the exercise for Sloane. Like before, she was ask to ride in a straight line and at the end of the cone make a turn with a wide radius. After a few laps tof urning left, then a few laps turning right and her confidence was building. The more she did it the tighter the turning radius became and the speed picked up.
The next exercise was to follow Destin while riding as they added a left, right slalom exercise with big and tight radius corners. Again at a nice slow speed. As the riding exercises went on you could see the skill building and the speed picking up—a bit. Again this was all in a controlled environment and all the kids were learning at their own pace.
Destin Deerman leads Sloane and a fellow student on a follow the leader exercise to help build their confidence.
The final exercise was to ride with another rider around the area to get use to riding in an open space in a follow-the-leader exercise. Sloane and another classmate followed Destin around and made left and right-hand turns while the speed varied. It looks like MXA has a new future test rider in the works.
The one-hour class went by in a heart beat. You might ask,"Where were the parents during the class?" They were kept away from their children when the kids were riding. The parents had to remain behind a fence while watching and cheering their kids on. This gave the coaches the ability to instruct without distractions and allowed the kids to stay focused.
"Kids Learn to Ride" is a free program, all Sloane had to bring was a helmet and Fox would provide everything else. After the one-hour class Sloane was ready to rock.
The best thing about the "Kids Learn to Ride" program were the smiles on the kid's faces. Also, a giant nod to Alexander Smith for picking up where his father left off, which is a good thing. "On Any Sunday" played an enormous role in influencing kids to ride back in the 1970s, and helped created future generations of riders and racers. But the main goal is to have fun and enjoy the sport. And this program accomplishes everything it is intended to do.
Neat Malcolm…
For more information regarding the "Kids Learn to Ride Program" contact Alexander Smith / [email protected]