SNEAK PEEK AT THE NEW MXA! THE APRIL 2022 ISSUE IS OUT NOW
SNEAK PEEK AT THE NEW MXA! THE APRIL 2022 ISSUE IS OUT NOW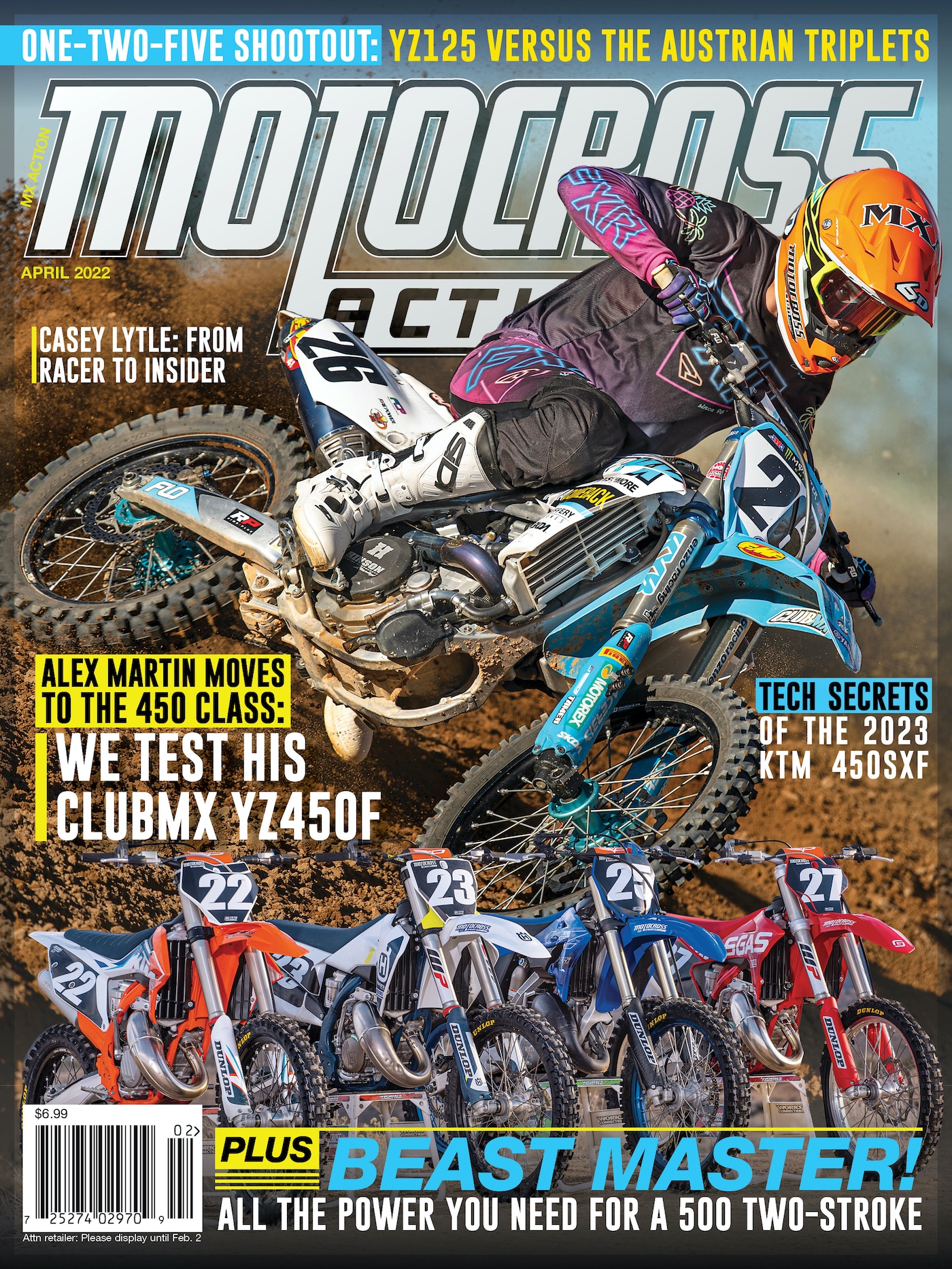 The April 2022 issue of MXA is on newstands and in mailboxes right now. It is jam-packed full of bike tests, product reviews, tech articles and stuff you didn't know—and no one else will ever tell you. below is a sampling of the stories in the April issue—not all of them, but a good cross section. Enjoy

With TM USA in limbo, the MXA wrecking crew gathered the only remaining 125 two-stroke race bikes and arranged a four-bike shootout. We had a blast comparing the new Yamaha YZ125 against the best that Austria had to offer in form of the KTM125, Husqarna TC125 and GasGas MC 125.

MXA's Daryl Ecklund never got to race in KX500 or CR500 in the AMA 500 Nationals because the AMA dropped 500cc two-stroke before his Pro days. Surprisingly, he got his chance to ride a bevy of big-bore two-strokes when he came to MXA. Now he loves them. So, imagine how happy he was to get to ride two retro-modded smokers at one time.

MXA went to ClubMX to ride the Yamaha YZ450F that Alex Martin is racing in the 2022 AMA 450 Supercross series. Alex was still working out the details of setting the bike up, so we got to ride all of his options.
"Forgotten Tech" searches motocross history for creative idea that didn't secure a foothold in motocross. Take the 1977 Race Face goggles. as an example. They addressed the problem of how to protect your face when wearing an open-face helmet, but didn't think about comfort, ventilation or looks. In "Dream Jobs" we track down three people who followed their dream to work in the motorcycle industry. We let them tell you how they got where they are.
The 2022 GasGas MC250F is a no frill, just thrills 250 four-stroke that doesn't break the bank. You get all the important parts of the 2022 KTM 250SXF, without any excess foof or zeroes on the price tag.  It is plusher, easier to ride, more forgiving and sweet looking race bike.
If you are drooling over the new Factory Editions or are just a techno-geek to goes crazy for crazy ideas, MXA delves deeper into the R&D behind the 2022-1/2 450SXF Factory Edition than anyone else ever dared go. We explain each hidden secret. This story is full of stuff that nobody ever told you, because they didn't know.
The Yamaha Ascot Scrambler 250 twin was built to be raced at SoCal's Ascot Park. It was a limited production dirt track bike that was produced by Yamaha from 1962 to 1967. It was a copy of the hand-made TD-1 road race engined twins that Ascot racers put into Trackmaster and Red line frames.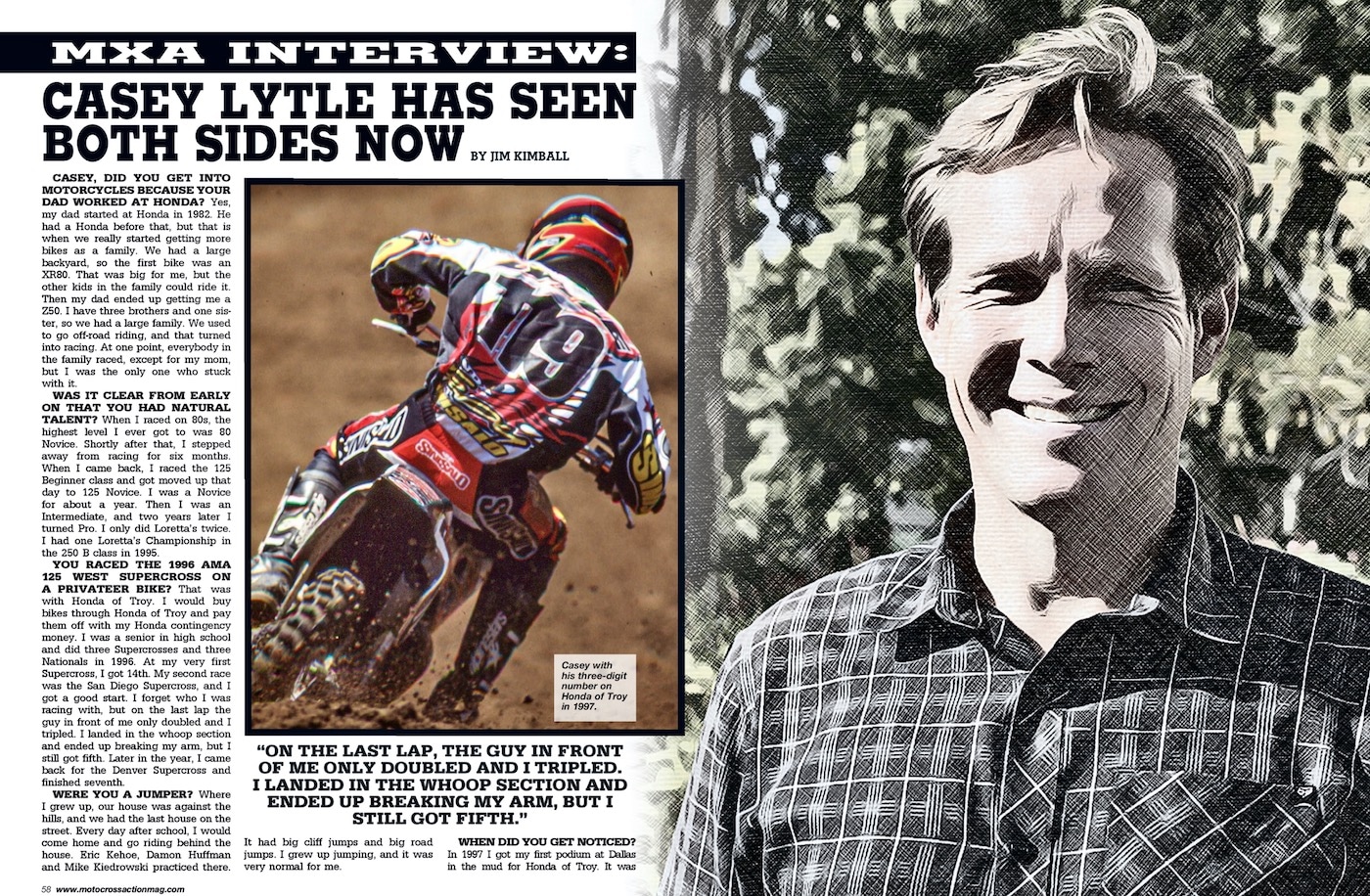 Casey Lytle raced for several classic 1990 125 two-stroke teams–including Honda of Troy, Yamaha of Troy, FMF Honda and Pro Circuit Kawasaki. He would go on to become the KTM team manager before making way for Roger DeCoster. Today, Casey works on future KTM projects for the Austrian firm.

The 2010 Husaberg FX450 was on the cutting edge of the centralization of mass movement in 2010—but the time for their Jens Elmwall-designed upside-down engine was short — as was the time for Husaberg to stay in business. Owned by KTM, Husberg was folded to make room for Husqvarna.
Jason Anderson broke his 47-race losing streak when he won the Oakland Supercross. MXA's Travis Fant was there to capture El Hombre's jubilation for "Moto In Motion."

Do you remember when the lights went out in Vegas? No, well then you missed the first and only rider strike in Supercross history. "Ask the MXperts" is your chance to ask questions about anything on your mind—from jetting to suspension to tech to history. If we don't know the answer, we know someone who does.

Did you know that if you subscribe, you not only get a fresh issue of MXA delivered directly to you mailbox every months but it won't cost you a cent. Say what! It's true. Thanks to Rocky Mountain ATV-MC, you will get a $25 gift credit to order anything you want from their catalog. To subscribe call (800) 767-0345.

Have you ever wondered what makes unsprung weight so important. We reveal the facts in "MXA Tech Spec." Meanwhile, we take another look at Pro Circuit's 2022 Yamaha YZ125 pipe, KTM Power Parts' 60-piece tool kit and the surprising Pivotrax AP102 rear tire.

Twisted Development's Jamie Ellis shares his knowledge in his "Twisted Logic" column every month, while "Hit Parade" covers new products like Sidi's new X-Power boots, Ogio's Trucker gear bag and Athena's new Technomousse.
Every issue the "MXA Gear Guide" highlights the latest in motocross gear, from helmets to goggles to boots to gloves to pants to jerseys. We also flashback to past issues of MXA, like the April 1992 MXA.

HOW SMART DO YOU HAVE TO BE TO SUBSCRIBE TO MXA?  WHEN YOU SUBSCRIBE YOU GET A $25 ROCKY MOUNTAIN GIFT CREDIT—SEEMS SIMPLE

You can't afford not to subscribe, because when you order a subscription, Rocky Mountain ATV/MC sends you a $25 gift credit, that more than cover the cost of the subscription, for you to use on anything you want from their massive selection. Plus, subscribers to MXA can get the digital mag on their iPhone, iPad, Kindle or Android by going to the Apple Store, Amazon or Google Play or in a digital version. Even better, you can subscribe to Motocross Action and get the awesome print edition delivered to your house by a uniformed employee of the U.S. Government. Do we have to mention the $25 Rocky Mountain ATV/MC gift card again? You can't lose on this deal? Call (800) 767-0345 or Click Here
IF YOU HAD SUBCRIBED YOU'D ALREADY HAVE RECEIVED THESE 2022 ISSUES OF MXA