SOMETHING VERY DIFFERENT: MXA TESTS A 660CC WORLD SIDECAR CHAMPIONSHIP RIG
SOMETHING VERY DIFFERENT: MXA TESTS A 660CC WORLD SIDECAR CHAMPIONSHIP RIG
Are you a mind reader? Can you predict people's actions and decisions? If you can, chances are you would be good at sidecar motocross racing. MXA's Daryl Ecklund learned to work closely together with  fellow MXA  test rider  Josh Mosiman thanks to a once in a lifetime opportunity to blast around Glen Helen on a Grand Prix Motocross sidecar.
After Josh's and Daryl's experience, they feel that sidecar motocross racing is the most underrated motorsports disciplines in the world. It isn't flashy. You can't throw whips over the finish line and posing for the podium photo is super-crowded with six people up on the platform. And, if you are like most motocross racers, you got out of stick and ball sports to race motocross because you liked the individual aspect of it. When you win or lose in motocross it isn't because your left fielder dropped a pop-up. In motocross it is all on you, not your team. In sidecar motocross racing, it is a two-man job.

The sheer weight and power of riding a sidecar on a motocross track is intimidating. The WSP chromoly rolling chassis (which costs over $9000) and 660cc four-stroke TM engine (based on a bored and stroked TM 450MX engine) are the meat and potatoes of the bike. With the bike weighing 400 pounds dry and the riders weighing around 350 pounds combined, that is a total weight of 750 pounds that the 660cc TM four-stroke has to pull around the track. The Italian-built engine pumps out 72 ponies. That would be hard to manage on a solo bike, but with the power focused more on torque than horsepower it was about perfect for a sidecar.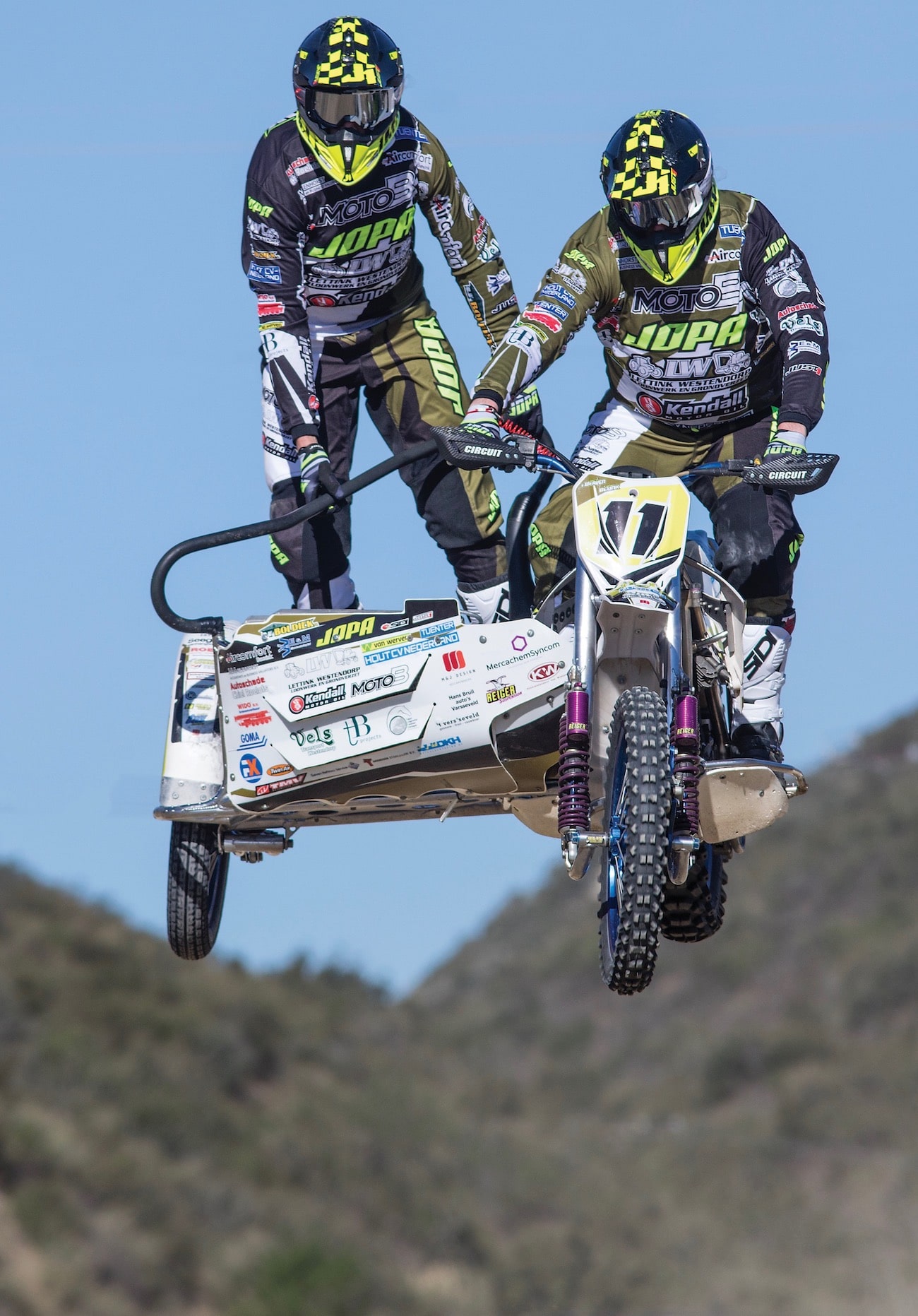 MXA was lucky to  have the two Grand Prix sidecar racers on hand to teach the MXA wrecking crew how to ride it. The FIM couldn't have found better ambassadors for sidecar racing than Peter Beunk (the passenger) and Van Werven (the driver). They were thrilled to get to demonstrate sidecar racing to us at Glen Helen—the big draw for them was Glen Helen's big hills—because for the most part the World Sidecar Motocross Championship is held on relatively flat Dutch, Belgian, Latvian, German, Estonian, Slovenian, Czech and French tracks. We were glad they came to the USA, because they accelerated our learning curve tenfold. Without them standing trackside to give us pointers and hands-on instruction, Josh Mosiman and I would have hit more things than we already did.
Yes there was a big difference between their speed and ours, but they were professional sidecar racers with years of experience, while Josh and Daryl were doing it for the first time. Enjoy the video because MXA had fun making it, hanging out with Peter and Gert and scaring ourselves more times in one day than in a whole year on a solo bike.
If you would like to learn more about sidecar motocross and what it was like to ride this beast, Click Here