SOUTHWICK NATIONAL MOTOCROSS: TWISTER IN THE SAND: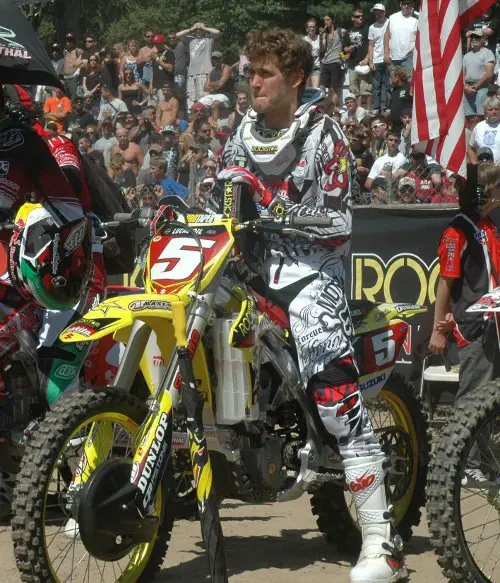 In his fourth year as an AMA Pro, Ryan Dungey is the Pro of all Pros.
The fact that Ryan Dungey clinched the AMA 450 National Motocross Championship at Southwick wasn't news…given that Dungey has won nine races in a row.
What was news was…
…that Trey Canard virtually erased Christophe Pourcel's 250 National Championship points lead in the first moto, only to give most of it back to him with a terrible second moto.
…that Brett Metcalfe was going to win the first 450 moto at Southwick until he ran out of gas on the last lap.
…that Tyla Rattray won the 250 National with a 2-2 day that showed his fitness.
…that MX Sports' John Ayers penchant for grading tracks smooth between motos has finally been over ruled by smarter people. Ayers' grading program (which was originally started by AMA head Steve Whitelock, but continued with a vengence by Ayers), had ruined Southwick's unique sand whoops over the past few years. Although Southwick seems less sandy than in the past?that is probably from regular use. The only grading should be for safety (on jumps and in the first couple turns). The rougher tracks have returned motocross to its roots.
…that Mike Alessi finally found his sea legs and finished second overall in the 450 class. It has been a long road since he won a moto back in May at Hangtown. Alessi, for all the travails of his up and down season, is now in fourth place in the standings.
…that Matt Goerke, who won Southwick last year, used a 6-3 to get third overall…in a season marked by injury.
…that Andrew Short didn't qualifiy for the National, but was placed into the 40-man field by the AMA on a provisional basis. Short's bike wouldn't run in his first timed practice session and the second session was so rough that he wasn't fast enough to make the field. He shouldn't have even bothered. He ended the day in 18th overall.
…that Jake Weimer had to miss Southwick with an injury.
…that Josh Grant got hurt in the first few laps of timed qualifying and had to drop out. He was passed Mike Alessi and Ben Townley in 450 points?dropping Josh to sixth overall.
…that Pourcel and Canard are only 13 points apart with two races to go.
…that 45-year-old John Dowd finished 11th in the first moto, but got entangled in a first turn crash that wrecked the ignition on his bike in the second moto.
…that Canard's Geico Honda teammates hurt him in the overall points chase by beating him in the second moto (in which Canard was ninth).
SOUTHWICK 250/450 NATIONAL RESULTS:
450 Class
1. Ryan Dungey (Suz)…1-1
2. Mike Alessi (KTM)…3-4
3. Matt Goerke (Yam)…6-3
4. Kyle Chisholm (Yam)…4-6
5. Kevin Windham (Hon)…7-5
6. Nick Wey….(Kaw) 8-9
7. Ben Townley (Hon)….34-2
8. Tommy Hahn (Suz)…2-32
9. Brett Metcalfe (Hon)….14-7
10. Dan Reardon (Yam)….13-11
Other notables: 12. Kyle Regal (5-38); 18. Andrew Short (15-17); 19. John Dowd (11-39); 24. Michael Byrne (17-31); 25. Austin Howell (35-19)
250 Class
1. Tyla Rattray (Kaw)…2-2
2. Justin Barcia (Hon)…4-1
3. Trey Canard (Kaw)…1-9
4. Wil Hahn (Hon)…3-5
5. Christophe Pourcel (Kaw)…7-3
6. Dean Wilson (Kaw)…5-4
7. Eli Tomac (Hon)…6-7
8. Gareth Swanepoel (Yam)…10-6
9. Martin Davalos (Yam)…11-8
10. Broc Tickle (Yam)…8-11
Other notables: 11. Blake Wharton (14-12); 14. Ian Trettel (17-10); 17. Jimmy Decotis (20-14)
450 NATIONAL CHAMPIONSHIP POINTS STANDINGS
(after 10 of 12 events)
1. Ryan Dungey……468
2. Andrew Short……317
3. Brett Metcalfe……314
4. Mike Alessi……273
5. Ben Townley……271
6. Josh Grant……260
7. Kyle Chisholm……216
8. Chad Reed……204
9. Kyle Regal……201
10. Ryan Sipes……194
11. Tommy Hahn……193
12. Nick Wey……182
13. Justin Brayton……143
14. Kyle Cunningham……132
15. Dan Reardon……128
16. Kevin Windham……106
17. Matt Goerke……93
18. Davi Millsaps……76
19. Steven Clarke……67
20. Weston Peick……50
250 NATIONAL CHAMPIONSHIP POINTS STANDINGS
(after 10 of 12 events)
1. Christophe Pourcel……399
2. Trey Canard……386
3. Tyla Rattray……364
4. Dean Wilson……363
5. Justin Barcia……291
6. Eli Tomac……262
7. Blake Wharton……259
8. Broc Tickle……232
9. Martin Davalos……210
10. Jake Weimer……195
11. Wil Hahn……159
12. Tommy Searle……116
14. Cole Seely……114
13. Darryn Durham……102
16. Nico Izzi……93
15. Vince Friese……91
17. Matt Lemoine……75
19. Alex Martin……73
18. Max Anstie……72
20. Les Smith……71