STORMY WEATHER & TURBULENT RACING AT REM GLEN HELEN
Sean Lipanovich won again. He has become the King of REM Motocross by reeling off 450 Pro win after win on both the REM track and the National track. Photo: Dan Alamangos
Photos by Dan Alamangos, Debbi Tamietti, Rich Stuelke, Rommel Andrade and Jon Ortner
If you lived in Los Angeles, you would have heard the weathermen, actually weather women, say that Saturday would be "cloudy, with a marine layer in the morning, and temperatures in the mid-70s inland." but you might have missed the part about a "chance to rain in the foothills." It turns out that Glen Helen Raceway is as much in the foothills as any motocross track in SoCal can be.
As Richard Taylor was trying to remove his goggles, the strap slipped out of his wet hand. The result? A few seconds of riding blind as his goggles twisted sideways inside his helmet. He recovered to go 2-2 in the 450 Pro class. Photo: Dan Alamangos
The Glen Helen motocross track sits at the base of an giant canyon where the San Gabriel Mountains, that run eastward from the Pacific Ocean, and the San Bernardino Mountains, that run northward from the low desert to the high desert meet. They almost join up at a 90-degree angle —separated only by the canyon that Glen Helen sits in. Thus, when weather people say, "expect high winds in the foothills," "expect flooding in the foothills," or "expect rain in the foothills," they mean Glen Helen.
Dennis Stapleton (18) came to REM to get in more time on MXA's Husqvarna TC125 before heading to Hangtown to race the 125 two-stroke class at next Saturday's AMA 250/450 National). Photo: Dan Alamangos
On Friday, the non-gender specific meterorologists said, "chance of rain in the foothills." So, you would be surprised to find out that as every motocorss racer left their dry homes in Orange County, Riverside County or Los Angeles County, none of them came prepared for rain. Why would they? They lived 30 minutes away and it wasn't raining at their house. But, they don't live in the foothills. They live on flat land.
Another two-stroke rider prepping for Hangtown was Alpinestars Justin Muscutt. But, since his 125 won't be ready until next week, MXA lent him the Husqvarna TC250 that Zach Bell won the World Two-Stroke Championship on. Justin was second in the 250 Pro class on Saturday. Photo: Dan Alamangos

It was only misting during practice, but during the riders meeting it started to rain, then went back to a drizzle, then to a mist, then more rain and finally after the first motos were over, the sky brightened up (although the sun never came out) and the REM motocross track became perfect. But, that perfection was too late for riders who threw it away in the slippery conditions of moto one.
Tyler Nichols won the first moto of the 450 Intermediate class sans goggles. Luckily, it stopped raining for the second moto and he was able to win again—only this time he could see what he was doing. Photo: Dan Alamangos
Strangely, the mud never became sticky. It was always soupy enough to blast through—with the spray being the worst it could deliver. Every racer found a way to beat the spray—tear-offs, roll-offs and rain coats were in high demand—but most riders came prepared for a 75-degree day.
Here is a photo report of what REM was like this past weekend.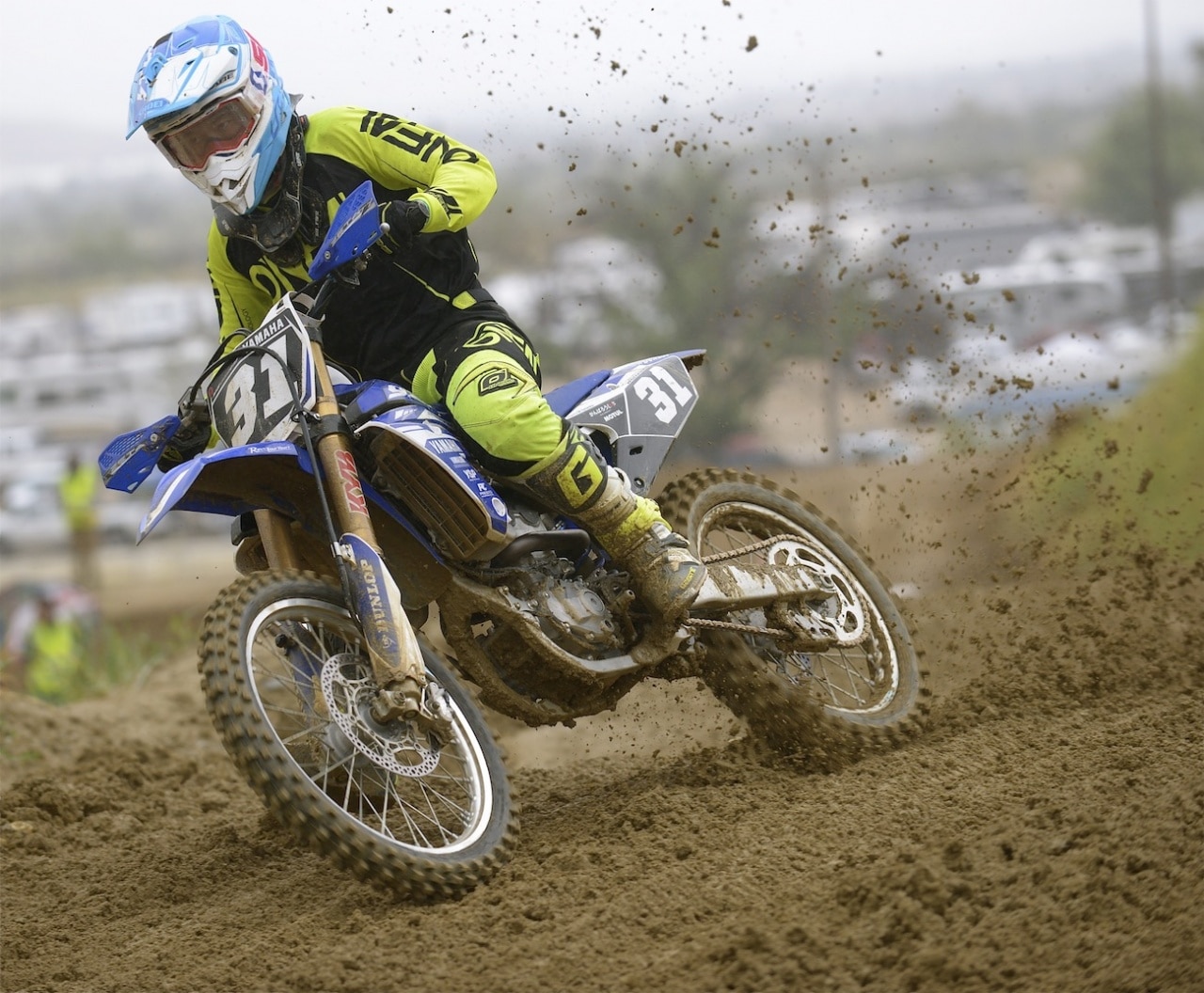 Japan's Yusuke Watanabe (31) took the 250 Pro victory, but it didn't look like it was going to happen if you look at the photos below. Photo: Dan Alamangos
On the slippery surface Yusuki managed to holeshot the whole field, but going into the third turn he lost the front end and went down. Photo: Dan Alamangos

Sean Lipanovich (505) and Ryles Uddberg (601) jumped out of the inside berm and went around Yusuke Watanabe. Photo: Dan Alamangos

Watanable got to his feet quickly as the Pro class split around him. Photo: Dan Alamangos

Robert Reisinger (96) and Chris Radzinski (104) both wanted to win the Over-50 Expert class, but it was not be as Jonathan Levey's 3-1 beat out Radzinski's 2-2 and Reisinger's 1-4. Photo: Debbi Tamietti
Daryl Ecklund gave Josh Fout his used FXR gear. Josh put tape over Ecklund's name, so as not to embarass the former AMA National Pro. Photo: Debbi Tamietti
This rider is a graduate of the Valentino Rossi School of Motocross. Photo: Debbi Tamietti
Thomas Wilcox is willing to lose an eye by racing without goggles on, but he can't afford to lose a set of goggles. Before you take your goggles off—think twice. Photo: Dan Alamangos
Joe Sutter (111) had a 7-8 day in the Over-50 Experts Photo: Debbi Tamietti
 
Brian Martin (65) leads T.V. Holmes (510) in the Over-60 Intermediate class, Holmes went 3-3 for third, while Martin DNF'ed the second moto. Photo: Debbi Tamietti
Australian Dan Alamangos is one of a small group of American racers who are loyal to their Jett plastic boots. Jett boots aren't sold in the USA anymore and the factory has moved to Brazil, but they won't give up on them. Dan bought his latest set of Jett's on E-bay. Photo: Debbi Tamietti
David Cincotta (861) was about to be lapped by 450 Pro leader Sean Lipanovich (505). To David's credit, he was trying to moved over to let Lipanovich pass him, when he grabbed traction and fell down. That's MXA photographer Dan Alamangos warning oncoming traffic as the flagger sets down his energy drink and jumps into action. Photo: Rommel Andrade
Then, Dan picked his camera back up and shot this photo of David Cincotta struggling to pick his bike up. Photo: Dan Alamangos
Val Tamietti (31) won the Over-60 Expert class after a titanic battle with Mike Monaghan and Dave Eropkin. Photo: Debbi Tamietti

Robert Reisinger cleans his Husky FC350 and son Nick's Honda between motos. Although the sun never came out at Glen Helen, the drizzle stopped before the second motos started. Photo: Debbi Tamietti
Ralf Schmidt does not sit down nor lean back. He's drives down this downhill with a lot of gusto. Ralf, the American TM importer, was second in the Over-40 Expert class. The top five in this class were from New England, Holland, South Africa, California and New Zealand Photo: Dan Alamangos
Kiwi James Lavender (328) is a recent transplant back to a YZ250. So far, so good.. Photo: Dan Alamangos
Recovering from six months off after surgery on two broken bones in his left arm, Jody Weisel, when asked when he would back up to speed, said, "I'd just like to return to how slow I was before my crash." Photo: Jon Ortner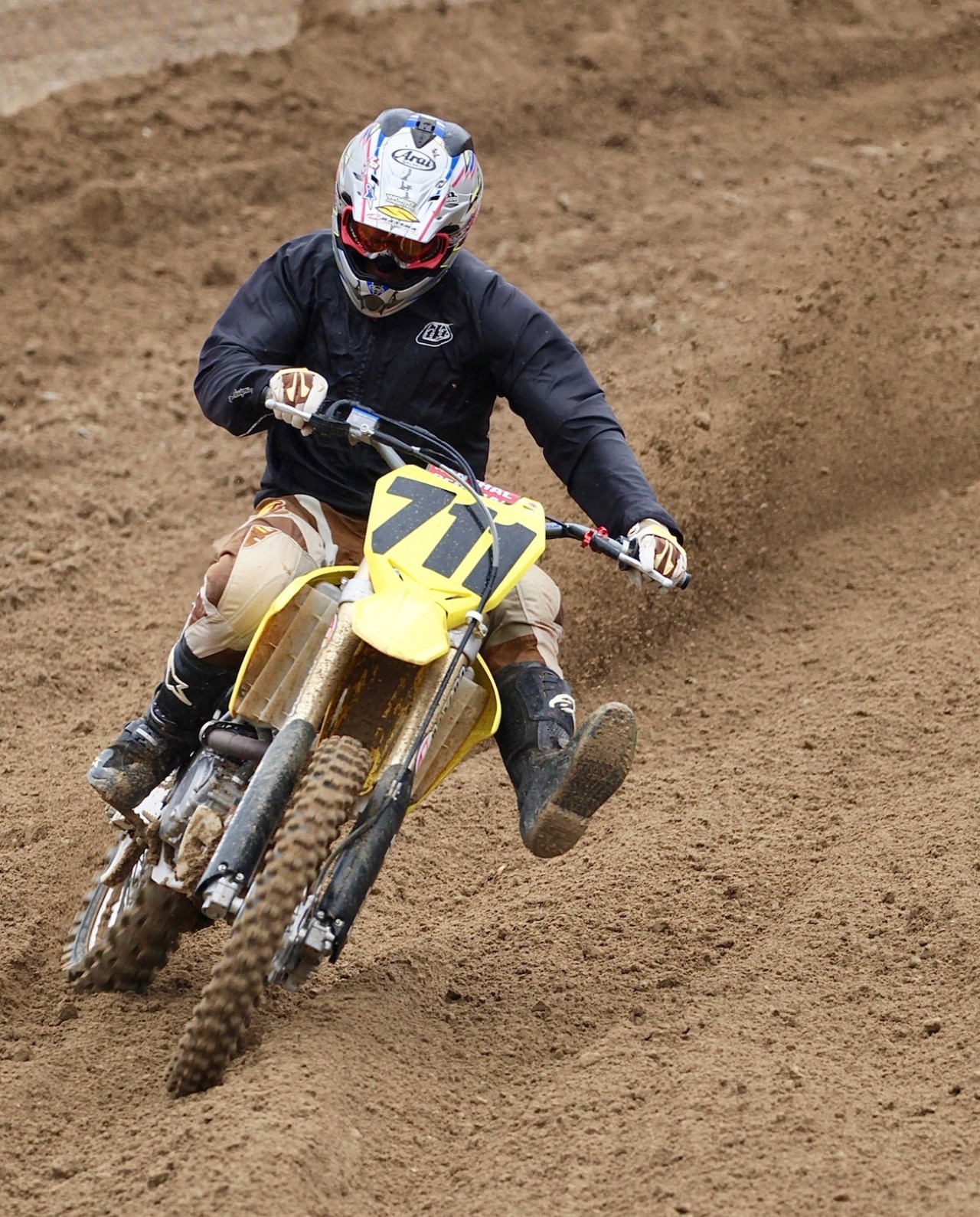 Former NESC star Austin Squires (from Rhode Island originally) won both motos of the Over-40 Experts, but gave credit to South African Alan Jullien and Dutchman Ralf Schmidt for making it challenging. Photo: Debbi Tamietti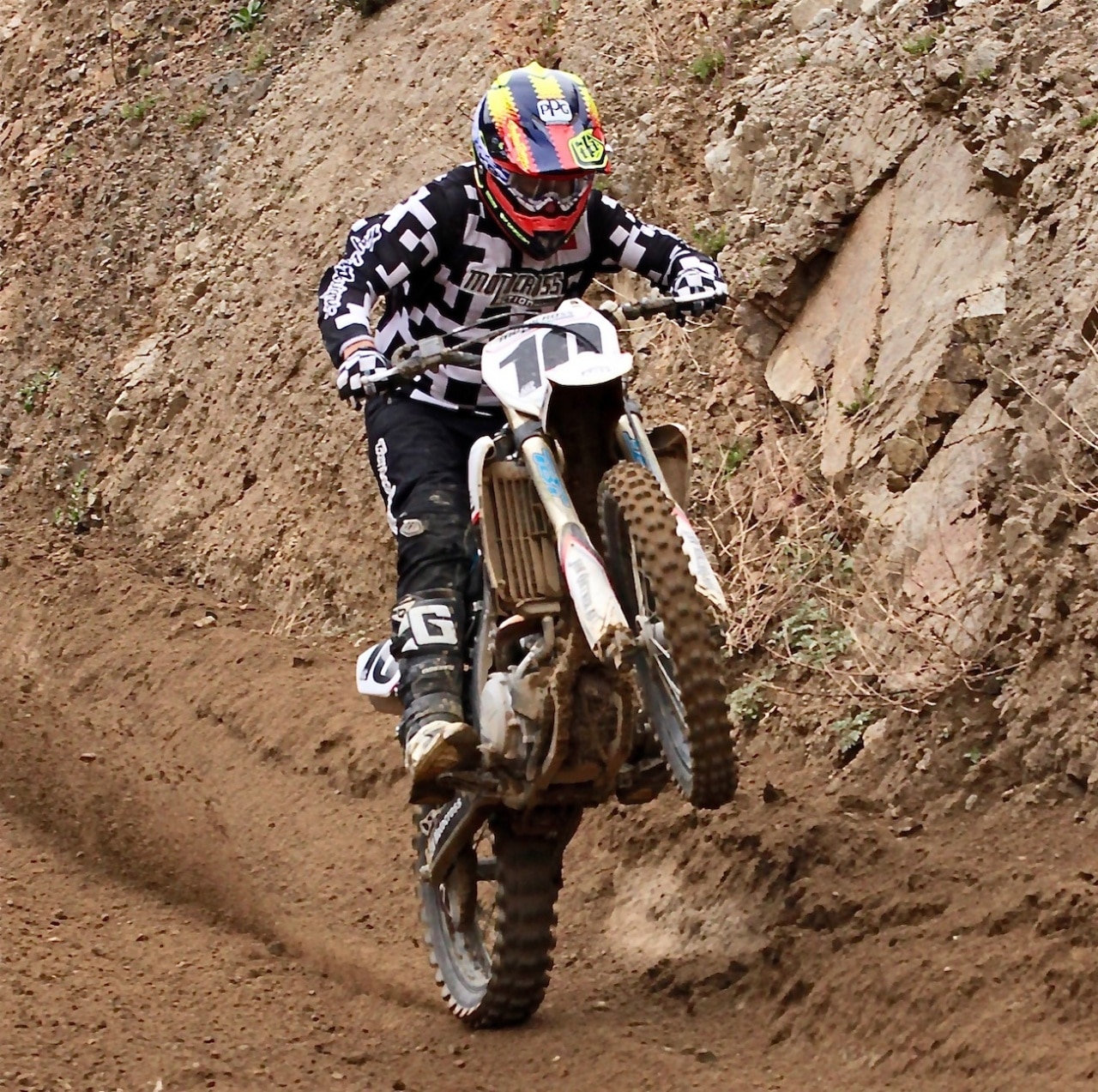 Jon Ortner (10) skims by one of the many steep cliff faces that line the REM track. Photo: Debbi Tamietti
Maxx Mirphy was second in the 450 Intermediate class behind Tyler Nichols, but in front of Jeff Fitzgerald. Photo: Dan Alamangos
Robbie Carppenter (132) holeshot the Over-50 Intermediate class, but it wasn't his day as he DNF'ed the day. Gary Sewell (710) went 5-1 for third, Photo: Rommel Andrade
Thomas Wilcox, goggles still flapping on his arm, swept both motos of the 250 Novice class. Note the cliff face to his left. Photo: Rich Stuelke
Last week Luc Deley won the Over-50 Intermediate class. This week his 2-3 was only good for second behind Eddie Jaramillo (1-2), but ahead of Gary Sewell (5-1). Photo: Debbi Tamietti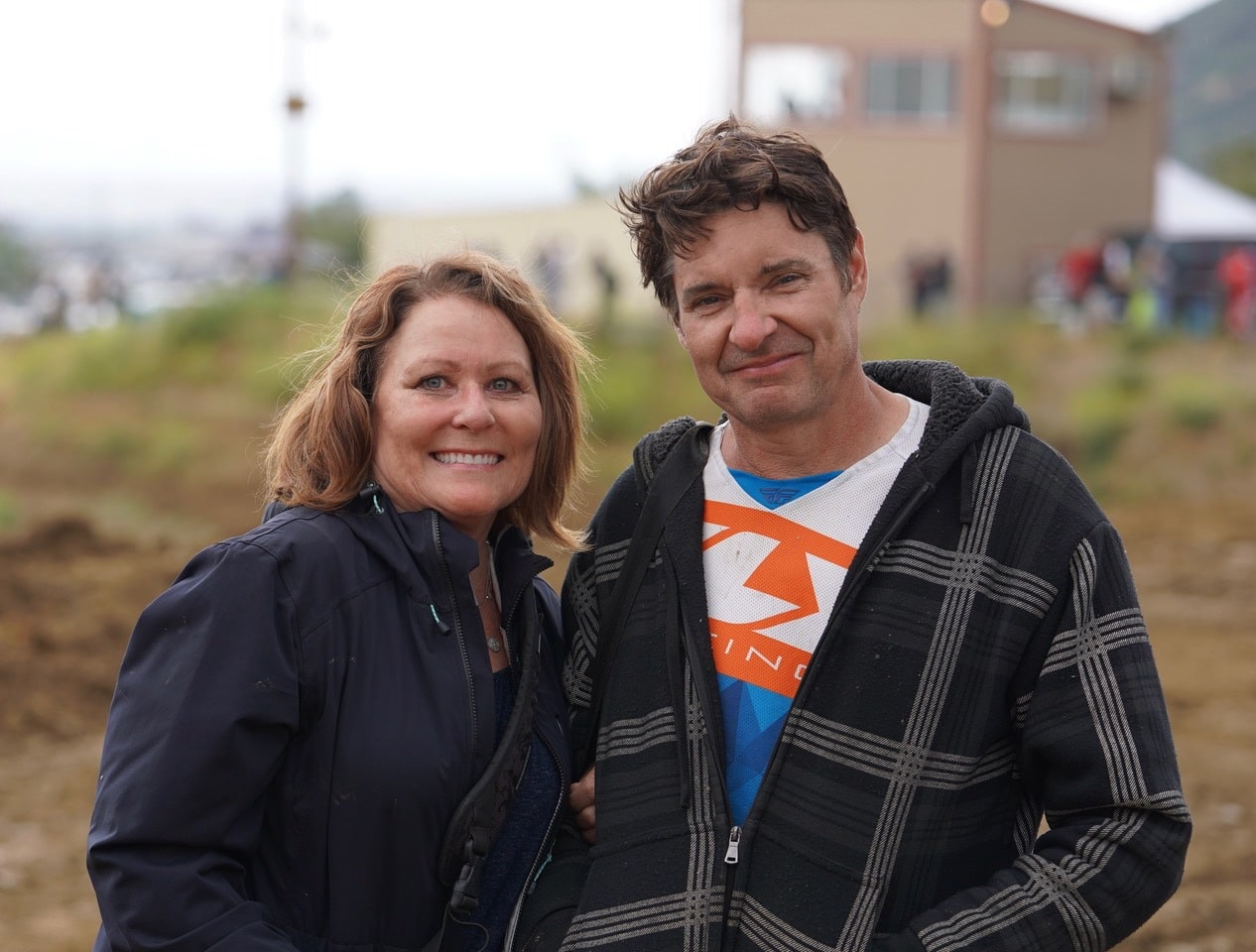 The weekly REM race coverage is brought to you by the hard work of photographers Debbi Tamietti and Dan Alamangos. Debbi is so dedicated to capturing the action that she was voted as the "Sportsman of the Year" by REM last year. Photo: Jon Ortner
Mike Monaghan (100) gets ready to blast by Tony Parsons (68) on a steep downhill section. Monaghan was third in the Over-60 Experts and fifth in the Over-50 Experts. Photo: Jon Ortner
REM built a fun and safe Kid's track right next to the REM pits for 50cc, 65cc and select small four-strokes. It is a chance for grandpa to spend some quality time at the races. Photo: Debbi Tamietti
This pack of Pee-Wees dueled for first place, but every kid gets some kind of trophy, placqe or medal for their effort. This is not a track for Loretta Lynn's stars, but for kids who want to race and have fun. Photo: Rich Stuelke
Bill Seifert did not show up at REM this weekend. His friends accused him of not being serious about racing. He shut them up with this photo of what he was doing on Saturday. Bill and Peggy got married. Photo: Jon Ortner
REM will return next Saturday, May 19, but will be off on May 26 (for the Glen Helen National), but races again the week after the National on June 2. To see what REM looks like go to the REM Glen Helen video. For more info go to www.remsatmx.com.
UPCOMING 2018 REM RACES
May 19…….Spring Series #6
June 2………Glen Helen, CA
June 16…….Glen Helen, CA
June 30…….Glen Helen, CA
July 14……..Summer Series #1
July 21……..Summer Series #2
July 28……..Summer Series #3