SUPERCROSS NATIONAL NUMBERS: EVERY NATIONAL MOTOCROSS NUMBER THAT HAS RACED THI SYEAR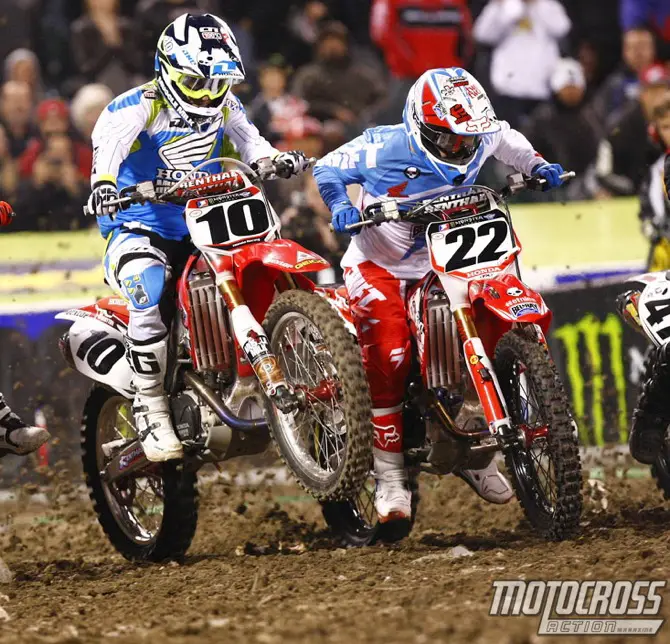 Two-digit numbers are a snap, but can you identify three-digit AMA riders? We help you below.
It is easy to find out who's number 7 (James Stewart) or 41 (Trey Canard) or even 95 (Chris Plouffe), but have you ever tried to find out who is AMA National number 997? The answer is Linus Sandahl. To make life easier, MXA has compiled a complete list of active AMA National numbers for 2012 (through the Phoenix Supercross). We will update it with every event and add more names and numbers as young riders race enter the AMA circuit.
EVERY AMA NATIONAL NUMBER (FROM 1 TO 997)
1. Ryan Villopoto (450 MX/SX)
1. Dean Wilson (250 MX)
1. Broc Tickle(250 West)
1. Justin Barcia (250 East)
2. Ryan Villopoto (will not be used in 2012)
3. Mike Brown
5. Ryan Dungey
7. James Stewart
9. Ivan Tedesco
10. Justin Brayton
11. Kyle Chisholm
12. Blake Baggett
14. Kevin Windham
15. Dean Wilson
16. John Dowd
17. Eli Tomac
18. Davi Millsaps
19. Kyle Cunningham
20. Justin Barcia
21. Jake Weimer
22. Chad Reed
23. Gareth Swanepoel
24. Brett Mecalfe
25. Broc Tickle
26. Michael Byrne
27. Nick Wey
28. Tyla Rattray
29. Andrew Short
30. Alex Martin
31. Martin Davalos
32. Tommy Hahn
33. Josh Grant
34. Cole Seely
35. Darryn Durham
36. Kyle Regal
37. Malcom Stewart
38. Marvin Musquin
39. Tye Simmonds
40. Gannon Audette
41. Trey Canard
42. Ricky Dietrich
43. Christian Craig
44. Jason Anderson
45. Nick Paluzzi
46. Les Smith
47. Chris Blose
48. Jimmy Albertson
49. Justin Bogle
50. Nico Izzi
51. Travis Baker
52. Ben Lamay
53. Ryan Sipes
54. Weston Peick
55. Lance Vincent
56. Austin Stroupe
57. Jake Canada
58. Will Hahn
59. Vince Friese
60. Matt Lemoine
61. Austin Howell
62. Travis Sewell
63. Colton Facciotti
64. Matt Boni
65. Ryan Morais
66. Jason Thomas
67. Scott Champion
68. Shane Sewell
69. Jimmy DeCotis
70. Ken Roczen
71. Kevin Rookstool
72. Jarred. Browne
73. Josh Clark
74. Tyler Bowers
75. Josh Hill
76. Calle Aspergren
77. Lowell Spangler
78. Tommy Weeck
79. Tyler Medaglia
80. Kyle Keylon
81. Robert Kiniry
82. Justin Sipes
83. Kyle Partridge
84. Killy Rusk
85. Robert Marshall
86. Taylor Futrell
87. Matt Goerke
88. Ben Evans
89. Tyler Bright
90. Bryce Vallee
91. Dalton Carlson
92. Hunter Clements
93. A.J. Catanzaro
94. Cole Siebler
95. Chris Plouffe
96. Kyle Peters
97. Jeremy Medaglia
98. Tye Hames
99. Sean Hackley
377. Christophe Pourcel
100. Josh Hansen
102. Chris Gosselaar
105. Matt Moss
112. Ryan Marmont         
119. Max Anstie
132. Kyle Beaton
133. Myles Tedder
143. Michael Horban
149. Casey Hinson
153. Gregory Crater
166. Dakota Tedder
170. Michael Leib
175. Bruce Rutherford
211. Tevin Tapia
212. Auston Albers
216. Jared Boothroyd
219. Ryan Rangel
222. Chris Howell
224. Heath Harrison
232. Billy Laninovich
247. Teddy Parks
276. John Jelderda
293. Brian Sjogren
311. Jesse Rangas
312. Teddy Maier
314. Alex Ray
329. Chad Gores
333. Cody Mackie         
337. Jeremy O'Driscoll
338. Zach Osborne
354. Chris Johnson
374. Cody Gilmore
383. Brandon Rangel
407. Adam Chatfield
409. Dillon Huddleston
412. Levi Kilbarger
415. Nicholas Schmidt
423. Brandon Gillespie
429. Richard Rinauro
435. Scott Agostini
459. Conrad Weiland
464. Mitchel Alcorn
501. Scotty Wennerstrom
505. Sean Lipanovich
512. Jorge Bujanda
513. Danny Pacini
516. Brian Foster
536. Erik Meusling
546. Kevin Urguhart
565. Preston Mull
570. Beau Hudson
606. Ronnie Stewart
620. Brad Nauditt
643. Jake Oswald
647. Parker Eckman
652. Dustin Pipes
668. Billy Jurevich
670. Dylan Schmoke
702. Cameron Stone
707. Alex Millican
722. Adam Enticknap
726. Gared Steinke
727. Rhett Urseth
752. Bryce Stewart
758. Jason Potter
764. Cody Lee
771. Terren O'Dell
772. Robert Noftz
773. Walt Van Olden
774. Preston Tilford
792. Bracken Hall
800. Mike Alessi
801. Jeff Alessi     
831. Ryan Smith
854. Landen Powell
865. Dario Marrazzo
887. Daniel Sanders
902. Jesus Macias
903. Antonio Balbi
906. Killian Auberson
918. Michael Akaydin
919. Shawn Rhinehart
929. Travis Bell
952. Adam Conway
968. Jackson Richardson
973. Jean Baptiste Marrone
976. Josh Greco
979. Jonathon Withrow  
986. Topher Ingalls
992. Jean Ramos
996. Filip Thuresson
997. Linus Sandahl