SUZUKI RM-Z450 MAKES ITS DEBUT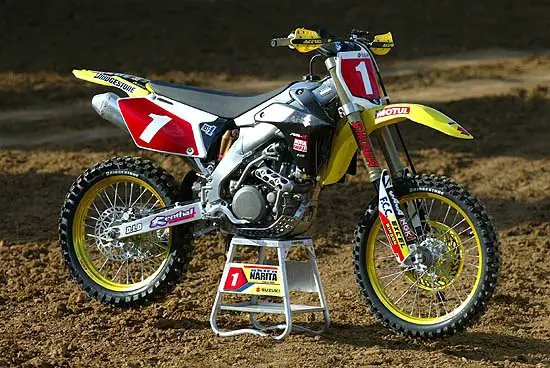 All Japan MX Championship
Sports Land Sugo, Miyagi Prefecture(Round 10 of 10)
1. Takeshi Katsuya?Hon 1-3
2. Stefan Everts?Yam 4-1
3. Kazumasa Masuda?Suz…3-2
4. Yoshitaka Atsuta…Hon…2-4
5. Takesi Koikeda…Yam…7-6
6. Taichi Kugimura…Yam…5-11
7. Ryuichiro Takahama…Hon…6-13
8. Masaki Hiratsuka…Hon…12-10
9. Kuraudo Toda…Hon…15-8
10. Hisashi Tajima…Suz…14-9
11. Makoto Ogata…Hon…17-7
12. Manabu Watanabe…Yam…8-16
13. Takuma Kojima…Kaw…11-14
14. Takase Tanaka…Kaw…10-15
15. Akira Narita…Suz…23-5
16. Steve Ramon…KTM…9-17
17. Nozomu Naya…Suz…18-12
18. Tadashi Kugimura…Yam…13-27
19. Hiroshi Nakayama…Hon…16-19
20. Kenichi Yamamoto…Suz…20-18
21. Takateru Atsuta…Hon…19-20

Concerned by the RM-Z450's 23-5 debut? Don't be. Narita is a two-stroke pilot and just like this was the bike's maiden voyage, it was his as well on a four-stroke. Things can only get better for the new machine as the bike gets tested all next year during the All Japan Championship series and the European MXGP Championships.
Surprised to see European's Stefan Everts and Steve Ramon in the results? We knew all along that Everts was going to race the last round of the All Japan series, but Ramon's entr'e was a surprise even to us.
Everts suffered a little from a lack of practice and his unfamiliarity with the track, but rebounded in moto two with the moto win. Ramon didn't fair so well with a very unimpressive 9-17.