TANEL LEOK INTERVIEW: 20 YEARS BEHIND BARS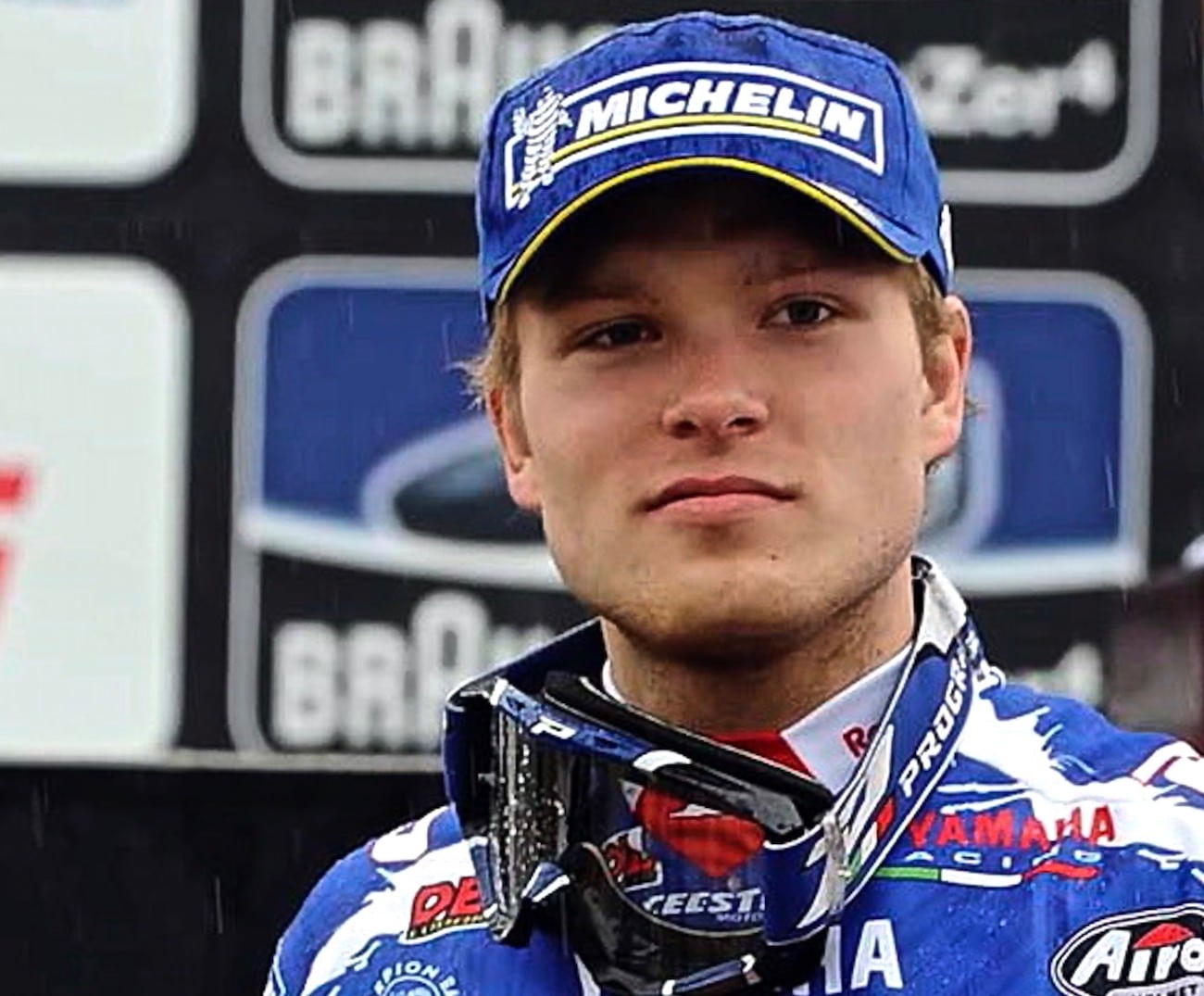 BY JIM KIMBALL
TANEL, LET'S START WITH YOUR RECENT NICKNAME "MR. MOTOCROSS," HOW DID THAT BEGIN? A group of fans  were counting GPs, and once they came to my name they saw that I had achieved over 250 motocross GP starts—that started the "Mr. Motocross" name. Somehow it happened. I was 15 years old and now I am 35. Through the years I have also been called the "Estonian Express" and the "Highlander." Since 2001, I have been to all the rounds and some selected rounds, and counting the 2020 Valkensawaard and Matterly Basin rounds at the start of  this aborted season, I have raced 263 GPs since 2001.
HOW MANY MOTOCROSS DES NATIONS HAVE YOU RACED FOR TEAM ESTONIA? Nineteen. My first time was 2001. I have raced the event every year for Team Estonia. At three of them, we finished fourth overall and, in 2004, we tied with France for third, but they ended up taking the podium.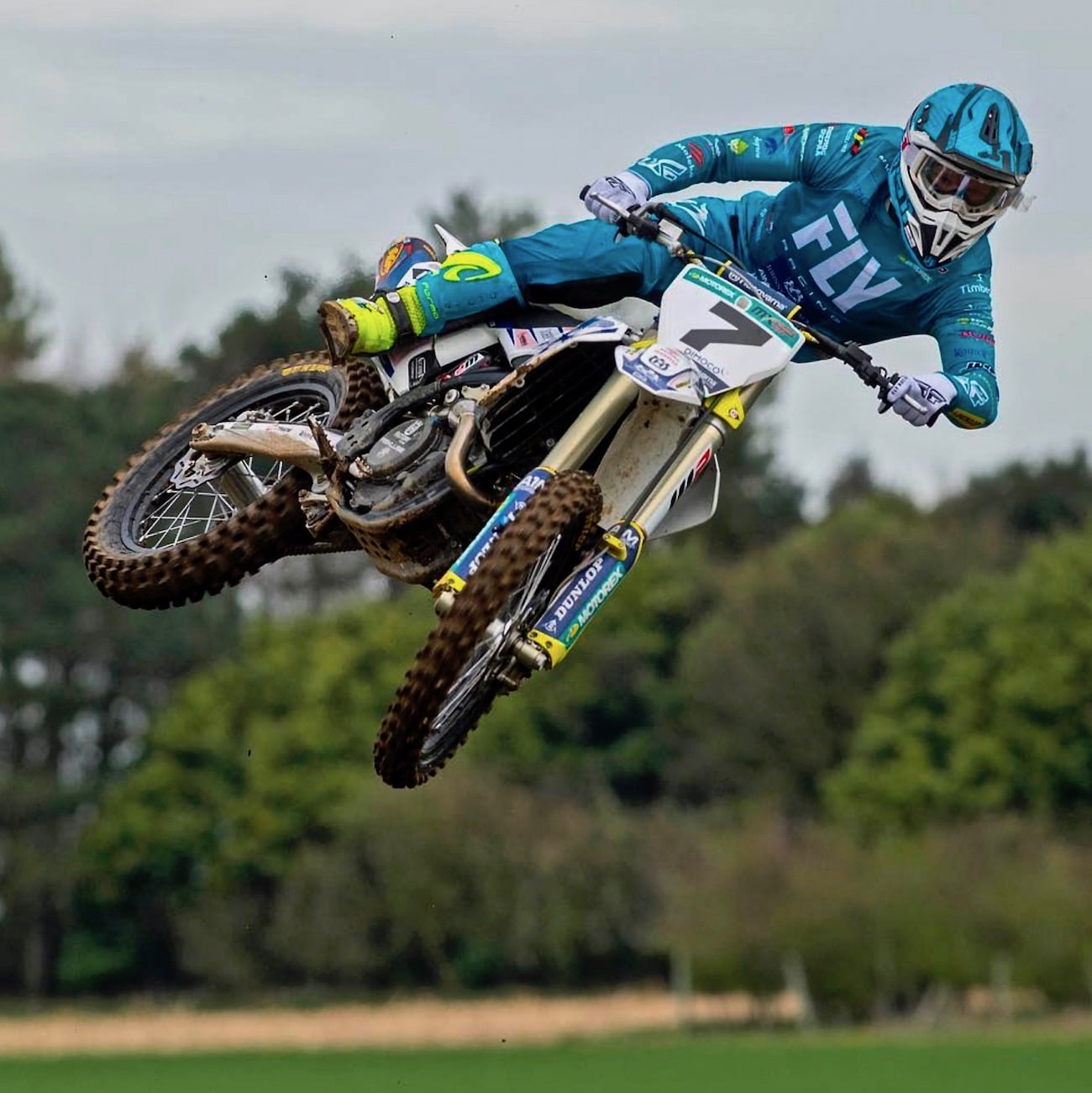 Tanel racing the British Grand Prix back in March before the 2020 GP season was halted for the conronavirus.
WEREN'T YOU ON A TEAM WITH TYLA RATTRAY AND BEN TOWNLEY, BEFORE THEY MOVED TO AMERICA? Yes,that was a super good team. We were all young, living together and racing for the same team. Then Ben and Tyla went to USA while I stayed in Europe. At one point in my career, I had the opportunity to race in America, but somehow, I stayed in Europe.
WHAT WAS MOTOCROSS IN LIKE IN ESTONIA? Back in the day, motocross was quite popular in Estonia, but the motorcycles that we used were not like they raced in other countries had. We had piece of junk motorcycles. Plus, Estonia has quite a long winter, and finding riding places was quite difficult then. We were off the bike for quite a big gap of time. But, when the borders opened up and Estonia separated from Russia in the early 1990's we were able to start getting Japanese bikes.
HOW DID YOU GET SO GOOD IF IT WAS HARD TO RIDE VERY MUCH IN ESTONIA? I was lucky. I was born on a farm. I used to have tracks around my home, so that was a huge thing for me. My cousins used to race, so we would all ride altogether. Each one of us wanted to be better than the other one, and that actually created good racing success for my family.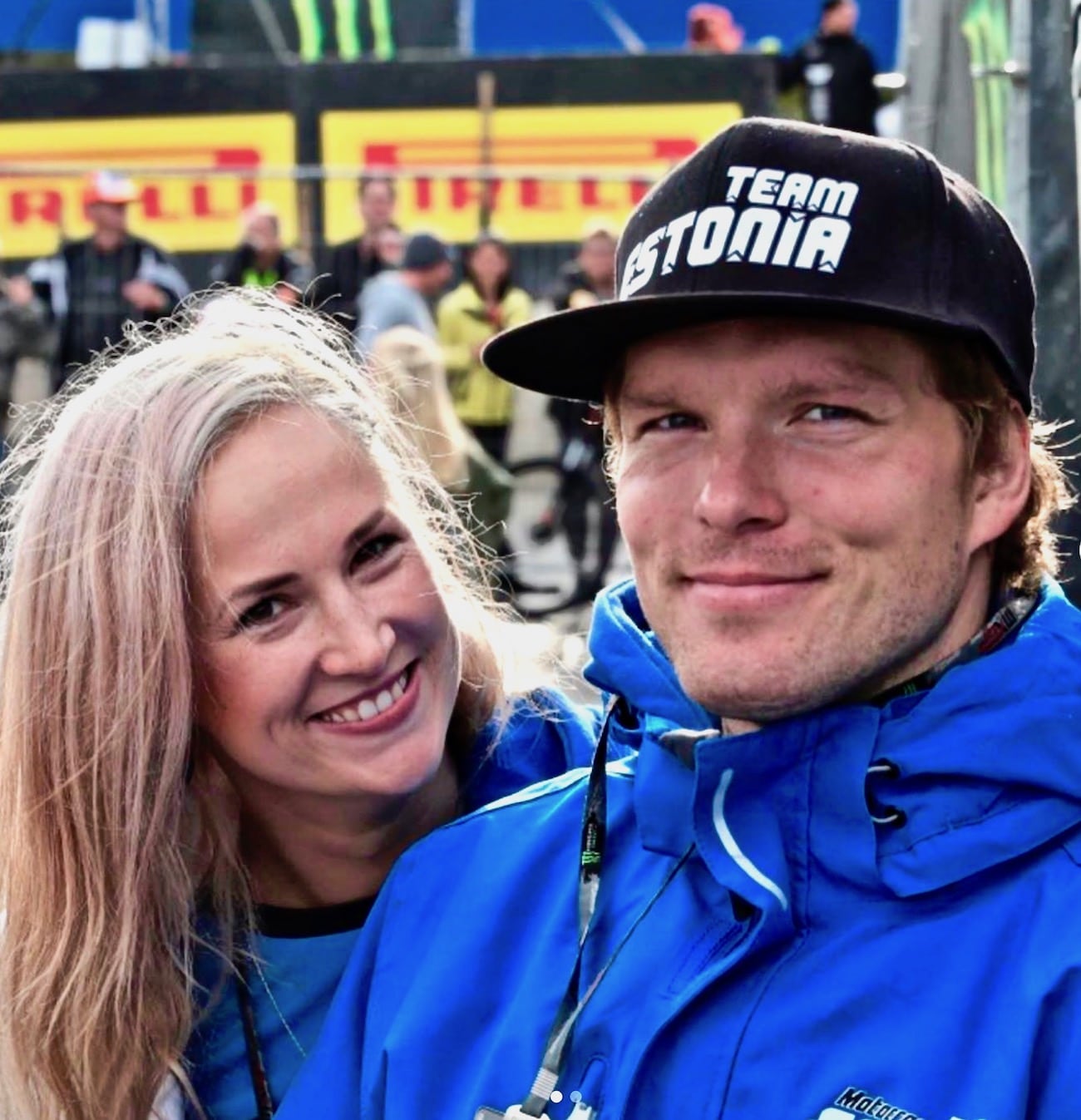 Tanel has been married for 12 years to his wife Karoliina,

WHEN DID YOU LEAVE ESTONIA TO PURSUE MOTOCROSS SERIOUSLY? When I was 16, I moved to Belgium, and stayed there, and later also in England. But in 2014, I moved back to Estonia. I have a place in Belgium though. It works out well during a large part of the racing season, but most of the time, I still prefer to be living at home. I am older and have my family. But with MXGP we are traveling most of the time, so it helps to have a place in Belgium.
IN 2004 YOU HAD A FACTORY SUZUKI RIDE ON AN RM250 TWO-STROKE AGAINST THE FOUR STROKES. HOW DID THAT WORK OUT? When Joel Smets got injured, Suzuki gave me the opportunity to ride their works RM250. Maybe I would have had better results on a four-stroke, but I really like the two-stroke Suzuki. Everything around me was really good, and it showed in the results. It was great.
YOU GOT YOUR FIRST MXGP PODIUM IN 2006 FOR KAWASAKI? Yes. It was good, but difficult also. It was just when the KX450F came out. I was very strong on the 250, and really liked some of the prototype stuff they had available, but the two strokes were fading. Still 2006 was really good for me. I was injured, but I still managed to finish fifth in the world, and everything looked really good for the future.
BUT, YOU DIDN'T STAY AT TEAM KAWASAKI. WHY? When team owner Jan De Groot died of cancer the team fell apart. Jan knew everything and nobody else on the team knew what to do. I had a contract and followed it, but it was a sad ending for a good team.
YOU WERE INJURED MANY TIMES. RIGHT? Yes. One week before the 2006 GP series I landed on a crashed bike over a jump. I injured my shoulder quite badly, but I was at a critical point of my career. I decided to race anyway. Bam! At the first GP, I was on the podium. At the second GP, I was on the podium. I was in so much pain that I could not train, but the team wanted me to keep racing. I finished 2005 World Championships in fifth place—and then had my shoulder operated on.
WAS IT A MISTAKE TO RIDE INJURED? I have had many seasons where a couple of weeks before the Grand Prix series begins I would get an injury, and say, "I can't do the operation now. I am never going to have a chance to become World Champion if I don't ride." I did miss some races and because of that I couldn't be the World Champion.
SO RIDING INJURED IS BECAUSE YOU THINK THIS YEAR WILL BE YOUR BEST SHOT AT THE CHAMPIONSHIP? At the beginning of the season you score points while racing injured. So you keep racing, but, in my case, it was a mistake. I should have healed myself properly, and then come back stronger at the end of the season. In 2008 I had a broken shoulder blade. In 2012 it was the same thing when I was with Factory Suzuki. There were so many seasons where I began the series injured, and should have stopped and got it fixed; it was like a déjà vu. There were several times where I landed on somebody's bike who crashed behind a jump at a practice track. I would always ask myself before the season, "Why do you keep going to these public tracks when you already know how to ride?" I should have known better because the most important thing is to start the season healthy, but I cannot turn back the time.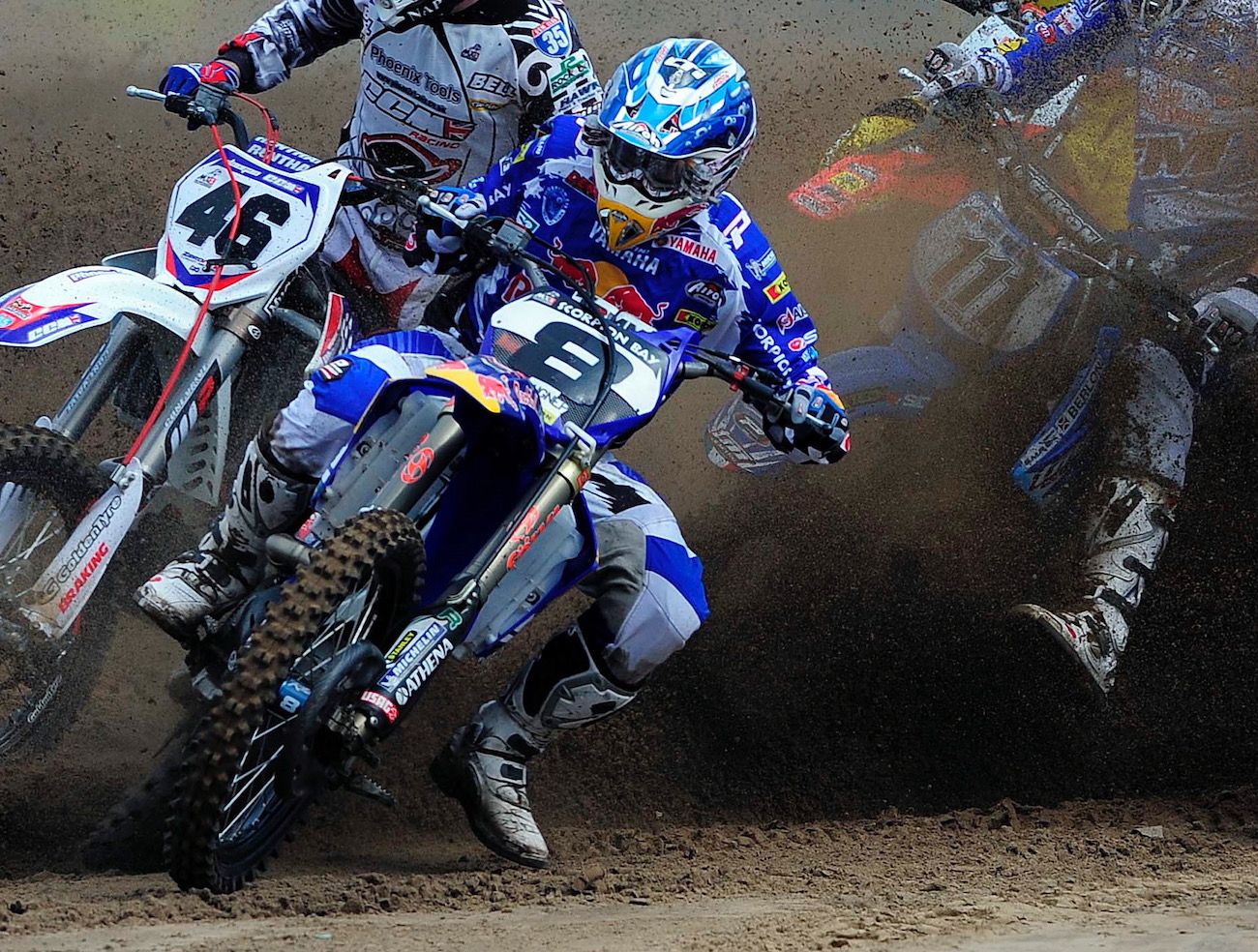 Grabbing the holeshot.
IN 2009, YOU WENT TO THE DE CARLI YAMAHA TEAM, AND TONY CAIROLI WAS YOUR TEAMMATE. YOU WON YOUR FIRST GP IN ITALY? Yes, Italy was the first race of the series, and it was really tough. I managed to win and everything felt quite good. I jumped to the points lead. I was beginning to feel at home during the beginning of the season, but my starts were not so good. Later on, I made a couple of mistakes, and dropped down the standings, but I felt really good. I enjoyed my time being on De Carli's team. It was really how a team should work. I can see why they are having so much success on their team. I really enjoyed it and wished I could have stayed longer on DeCarli's team.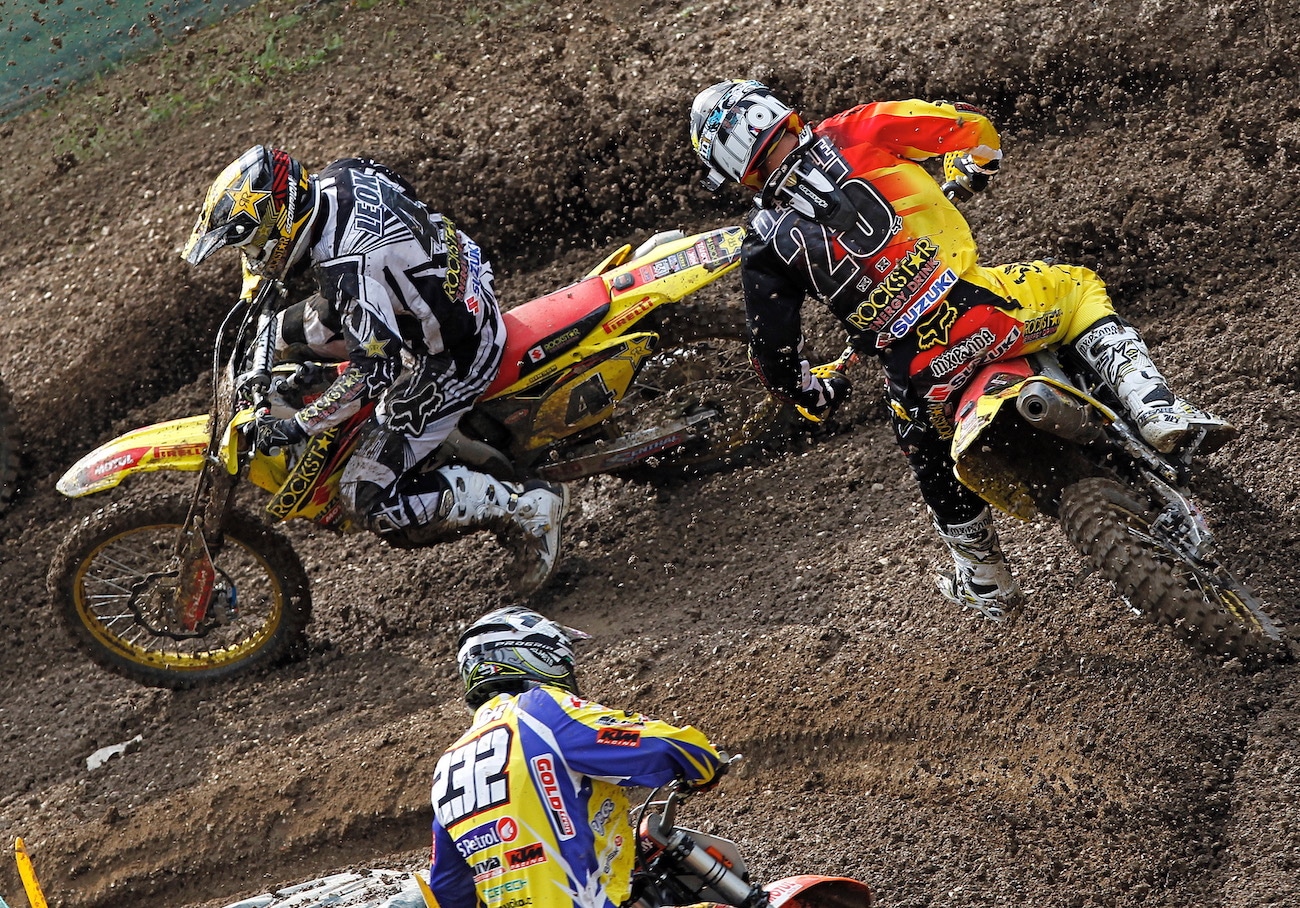 Suzuki factory riders Tanel Leok (4) and Clement Desalle (25) who both announced their retires at the end of the 2020 GP season.
DID YOU SEE ANYTHING SPECIAL IN TONY CAROLI BACK THEN? Yes, many people think that he does not train, but he trains a lot. Back at that time, stories were going around like "he does not do anything." Some people would say that he was using stuff. But in the end, I am telling you, he was really strict with himself.  When we used to go for track training, he would start the moto, and then when he came off the track, he filled up the tank again and put in another moto. He was basically always doing 60-minute motos. He rode until he got everything right. If he crashed, he just came off the track, and put new parts on. Then with everything ready, he went back out. It looked like he was getting mad at himself that this happened, and then like he was punishing himself. He was really on a different level of training.

IN 2010, YOU WON ANOTHER GP AS A PRIVATEER ON A HONDA. It was a privateer Honda team, but we had some support from Honda. That team was really super good, and they could have continued and had huge success. But the team was financially struggling a little bit, and nobody could get salaries. But the people that worked there were great. I wish I could have all those people working on my team right now. My mechanic at that time was incredible. I liked all the key people, and there was good success in that team. It was simply the financial side of the team that collapsed.
Tanel raced on the TM factory team in 2011.
LATER YOU WOULD BECOME ONE OF TM'S FIRST FACTORY RIDERS. I SAW YOU RACING IT AT GLEN HELEN IN 2011, WHAT WAS TM LIKE BACK THEN? Many people underestimate TM. They had some good equipment, but they struggled financially, but I was paid correctly. The TM engine was not bad, but they just needed the right people around them who could make the TM team into something better.
IN 2012 YOU RETURNED TO FACTORY SUZUKI AND HAD ANOTHER PODIUM RIGHT? Yes, I liked the Suzuki a lot, and everything was good. But I had another struggle with injuries, and I could not show what I was capable of. At the end of the season, I had an operation again, my ankle was really badly damaged. I could not even walk. In the sand tracks it was fine, because we stood up most of the time. I actually ended up leading at the Motocross of Nations races for a while. I wish I had been healthy that season.
HOW DID THE TM COMPARE TO THE SUZUKI? I don't want to say that TM was bad in 2011, but Suzuki, Kawasaki and KTM were really at the top in 2012. I was a little bit annoyed because I did not have a mechanic that I really liked. I am a hard-working person. But I had a mechanic that said that he never had time to come to practice. Then I find out that he is at a barbecue in somebody's backyard. I did not like this at all. I expected that Suzuki to be really professional. Everybody else on the team was, but not my mechanic. He was not professional. I should have taken it to the team manager, but I did not say anything at that time.
Running number 4 on his works Suzuki had most casual fans thinking every photo of him was Ricky Carmichael.
WHAT HAPPENED AFTER YOUR 2012 SEASON WITH FACTORY SUZUKI? DID YOU HAVE A LOT OF INJURIES? Mentally 2013 and 2014 were difficult. My speed was not there anymore, and the support was getting less and less. I did not even know what was going to happen. I broke my collarbone again, and I broke my knee. Injuries were adding up, injuries that I still have to this day. I managed to ride with torn ACL, and I'm still managing to ride right now. But I will get it finally fixed.
WHAT WAS THE PROBLEM? My biggest struggle was the starts. When I would get the starts, I could run away speed wise. Sometimes nobody could catch me. In 2010, 2011, and 2012, I could win a race, or get on the podium, but then in 2013 and 2014, that was not happening anymore. In 2012, I still had speed. I could go out and get the fastest lap time, but in 2013 and 2014 I would struggle to do that.
WAS IT PHYSICAL OR WAS IT MENTAL? Mental. I started to ask myself, "Do I have still the speed? What should I do?" It was a combination of injuries, and maybe not the best bikes anymore. I did not know what to do. In 2015 I decided to just do a couple of Grand Prix rounds. But then I decided to give it my best and I started to enjoy motocross again. 2013 and 2014 were my dark years, but in 2015 I rediscovered why I started to do motocross in the first place.
The "Estonian Express" in flight.
SO, YOU REMEMBERED THE FUN OF THE SPORT? Deep inside, I understand that I would never be the World Champion, but I still wanted to win. Only now I don't get so desperate about it when I don't win, because I understand that I am getting older every year. I still give it my best. I am still competitive, and can ride in the top 15 in the world. I may not be a factory rider anymore, but I keep going and I get some sponsorships.
IN 2016 YOU RACED THE GP'S WITH A BIKE THAT WAS ALL WHITE AND HAD NO SPONSOR GRAPHICS AT ALL; JUST YOUR NUMBER 7. In 2016, I raced a Husqvarna. It just had numbers on it, no advertising, no nothing on the bike. I enjoyed going around racing and since there were no sponsors who gave me any help, therefore no advertising. Then I started to become a test rider for KTM and Husqvarna. I was a good test rider, and really knew how to test, and develop the bikes from 2016 until now.
WHAT ARE YOUR GOALS AFTER ALL THESE YEARS? I am happy because I like dirt bikes, and I like riding a bunch of bikes. I am setting different goals now. My present goals are to make a living out of it. Maybe I could be a trainer and earn more, but right now I enjoy riding, I like to race and ride my bike.
"IF YOU WENT TO WIMBLEDON AND AND WON, AND DIDN'T GET PAID, THEN NOBODY WOULD PLAY AT WIMBLEDON AND THE SPORT OF TENNIS WOULD DIE. THAT IS WHAT THE WORLD CHAMPIONSHIPS ARE LIKE."
HOW HAS THE GP SERIES HAS CHANGED OVER YOUR YEARS OF RACING? HAS IT IMPROVED OR IS IT THE SAME OR WORSE? The level has improved. I have been through the one-moto format, introduction of timed practice, and having to race qualifying races to qualify. There was a time when it was thirty-five minutes plus two laps, and now it is thirty plus two. I have done it all. I was a privateer, a factory rider, and now a privateer again. When I first raced the GP's, I would qualify and get money. I did not need to pay any fees to enter, and for me, as a young kid, I could live with that. My aim was to qualify, so I could earn money. Now we all need to find a sponsors. It is really difficult to find sponsors from Estonia for a motocross racer. Some parents who have young riders with lots of talent will not put their kids on bikes because they can see that they need to have a big wallet to succeed, so a parent will put their kids in football.
THAT DOESN'T SOUND GOOD FOR ESTONIAN MOTOCROSS. Sooner or later, there will not be enough riders in some countries, and you can see that already. Like in Belgium and England, the gates are not full anymore. It is the same in Estonia, and at one point, it will start to affect the Grand Prix series. It might not be in five years, but in ten years the affect will be very big. Maybe I am wrong, but this is what I see. I don't want to be negative, but if parents will not put their kids on dirt bikes that kills growth. I have three sons, and I let them ride as a hobby. I don't want to have them racing professionally because I can see that it is actually wrong. It is a risky sport and they should be getting get money doing it well, but they don't. But I see that the promoters are making good money.
IN THE GP SERIES YOU HAVE TO PAY TO RACE, DON'T YOU? Yes, you have to find sponsors, and that takes a lot of time out of my preparation. You need sponsors just to be able to afford to get behind the gate. The funny thing is that actually the money that I sometimes earn, I must put into my entry fee for the following round of the World Championship.
THAT MUST BE A SHOCK? It used to be the other way around. I could make money at the GPs and do things that I would also enjoy. Now everybody is struggling. I can see why riders are pushing so hard because it is so difficult to find a team that can pay you a salary. Riders try so hard to find sponsors that pay, and they take huge risks to try to impress them. They start as young boys riding for fun and now they want to earn better money to make a living. They are now pushing the limits so they can get paid. I see some riders who are on the factory teams, but when they go to a private team, they still want to race. Often the rider needs to bring money to a team, in the form of sponsors, to get the team spot. I feel that this is wrong. I would put it this way, if you are tennis pro and you go to Wimbledon and you have to pay to enter, and then you win, and you don't get paid anything, then you would not enter. Nobody would play at Wimbledon if they didn't get paid. The sport of tennis would die. That is what the World Championships are like—but I keep going.
WHAT DO YOU THINK ABOUT THE FLY-AWAY RACES IN ALL THE ASIAN COUNTRIES? I think it is good because it is a World Championship—they should go all around the world. But the teams need more help to bring the riders there, because now when we fly-away there are only 20 riders—the racing is not the same with so few riders. The gate should be full. That way the spectators would get the atmosphere, and know that there is real racing going on.
"WHEN WE GO TO FLY-AWAY RACES NONE OF THE RIDERS WILL TAKE ANY RISKS. IT MAKES THE RACING BORING. SO, EVEN THOUGH I THINK WE
SHOULD GO ALL AROUND THE WORLD, I DON'T THINK WE
SHOULD BE RACING SO MANY ROUNDS."
DOES IT TAKE AWAY FROM THE FEELING OF RACING WHEN THERE ARE SO FEW RIDERS AND SO FEW FANS? When we go to fly-away races none of the riders will take any risks. It makes the racing boring. So, even though I do think we should go all around the world, I don't think we should be racing so many rounds. 20 GPs is too many. I think that a maximum 15 rounds would be perfect, and the top 30 riders in points should get financial help to travel overseas. The current rule is that the top 20 are invited to get some help for travel, freight, airplane tickets and hotels. But  financially it is a big hit for small teams. That is why nobody goes there, but I feel they should go.
DID YOU LIKE ANY OF THE FLY-AWAY OVER THE YEARS? Yes, Indonesia. That could be a huge market for motocross. Motocross is not popular there, but a good GP, with all the riders and pagentry, could make the people there to start liking it. That is why they should bring more riders there, to show how great motocross is. This is what I feel. Maybe I am completely wrong?
YOU MAY NOT BE ON A FACTORY TEAM, AND MAYBE YOU WON'T WIN A GP, BUT YOUR PASSION FOR THE SPORT IS OBVIOUS. Yes, I love what I am doing. When I was a kid, I never dreamed about winning, that came came later when I got some some good results. After first you want to have a bike because it cool and it is a bit dangerous—that's what you like about it you like. I enjoyed doing this when I was a kid, I am enjoying now, and I'm still doing it. It is like crazy a little bit.
WHAT IS YOUR PLAN FOR THE FUTURE NOW THAT YOU HAVE OFFICIALLY RETIRED? I have some plans in my head. I want to stick around in motocross, race the 2021 Grand Prix of Latvia because it is the closest GP to Estonia and say "thank you to my fans." You never know what life brings. I have experience running this team and know how it needs to be done. Every year, I find new things that could be better, so I am still quite fresh with that.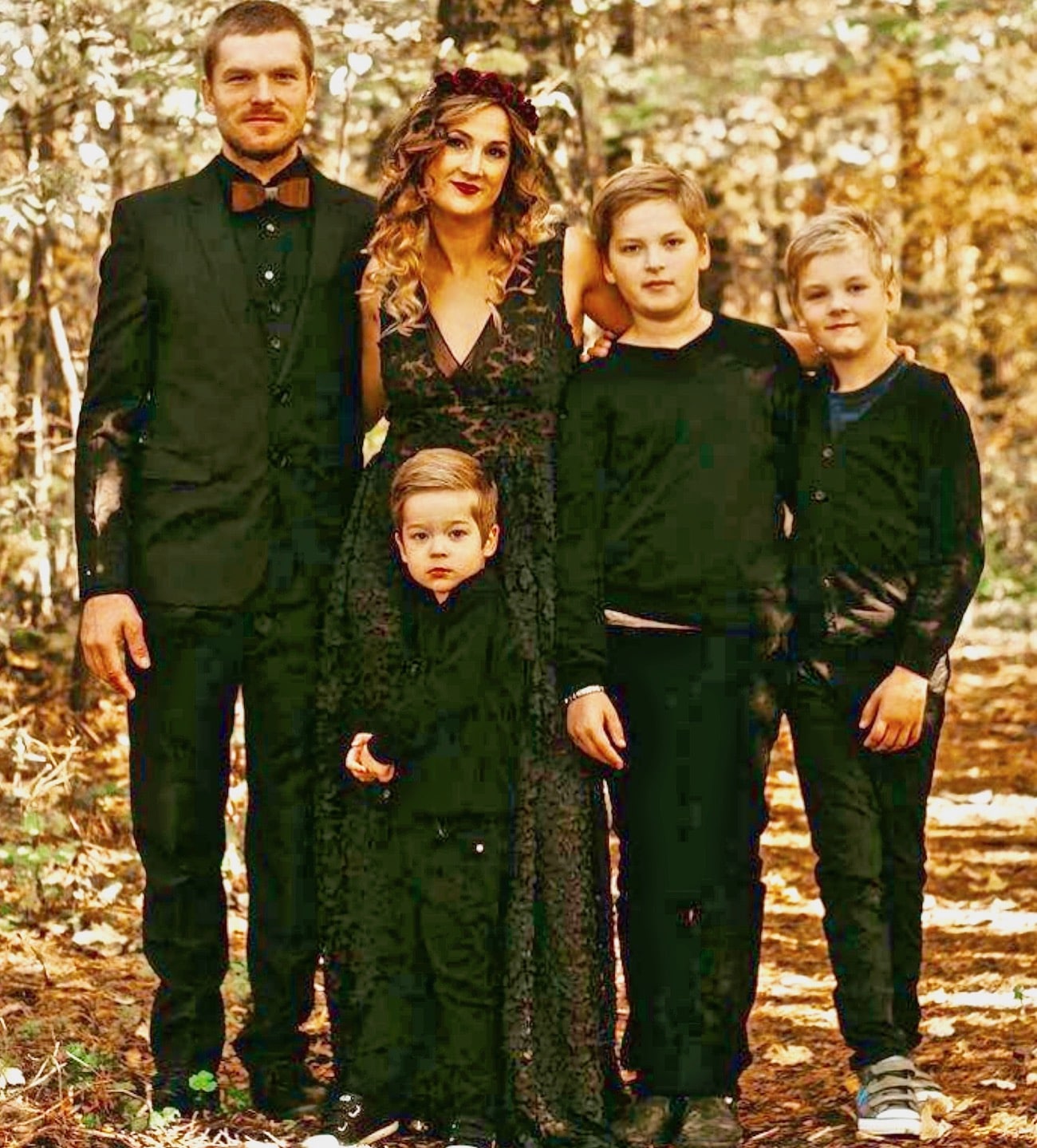 The Leok Family.
TANEL, DO YOU WANT YOUR SONS TO FOLLOW IN YOUR FOOTSTEPS? I have three boys, two of them are riding and they want to be motocross racers. I really do not want that, but they want it very badly. I got them bikes and they are racing in Estonia, but I really try to hold them back. When you want to be professional, you have to work hard on your physical conditioning because once you get tired, things can happen quickly. I am really holding them back, but maybe my dad, wife or somebody else is encouraging them. I know how difficult racing can be and what you need to suffer. Lots of people think that you just sit on the bike and it does all the work, but actually it is really difficult. Motocross is a difficult sport to be in, especially now.
Photos: Ray Archer, Tanel Leok Instagram, mxa , Suzuki, TM