TEAM SUZUKI DUMPS ROGER DECOSTER: WHAT WILL DUNGEY DO?
This press release from Suzuki did not come as a surprise?there have been a lot of rumblings about Team Suzuki, Roger DeCoster and Ryan Dungey?all revolving around money issues. Roger wanted a three-year contract and Suzuki only offered him a one-year deal. Now, that the first the first shoe has dropped, what's next? Roger has been rumored to already have a team manager gig in the works (he admits to having talked to KTM about their new four-man team for 2011). Obviously the choices are limited. He can't go to Suzuki or Yamaha (no team). Kawasaki is unlikely to change team managers?that only leaves orange and red. If you are a betting man?Orange will be the color and Ian Harrison, Greg Albertyn's fomer mechanic, will go with him from Suzuki. Dungey probably won't be happy without the original RD onboard, but he has a contract for next year at Suzuki. Will Dungey follow to wherever Roger lands in 2012? Who else would be more willing to sign with a team if they knew that Rog was there? The likely candidates are Reed and Pourcel.

Roger (center) in happier times at Team Suzuki?last weekend.

Suzuki press release: The championship-winning Rockstar Makita Suzuki team and Roger DeCoster will be parting ways after the close of the 2010 Lucas Oil AMA Pro Motocross season. DeCoster has been Team Manager for Suzuki's Supercross and Motocross efforts for 15 years, and together they have earned numerous titles and championships. DeCoster will continue to lead the team through the final two rounds of the Motocross series.

The championship-winning Rockstar Makita Suzuki team, led by Ryan Dungey, earned the 2010 AMA/FIM Supercross title in May and wrapped up the 2010 Lucas Oil AMA Pro Motocross championship last weekend at Southwick, making him the most successful rookie in Supercross and Motocross history.

For now, the Rockstar Makita Suzuki team plans to focus on finishing off the 2010 season strong and celebrate the incredible year it has been. For 2011, the Rockstar Makita Suzuki team looks forward to defending its championships with Ryan Dungey sporting the number one plate in both the Supercross and Motocross series. The team will begin the search for a new manager in preparation for the 2011 race season.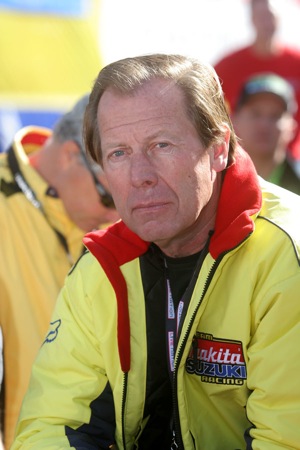 Roger DeCoster.
American Suzuki Motor Corp., the Rockstar Makita Suzuki racing team, Rockstar Energy Drink, Makita Industrial Tools, Yoshimura R&D of America, and all the sponsors of the team wish Roger the best in his future endeavours and thank him for the great years spent together at the races.
"You can never replace an icon like Roger," said Yoshimura R&D of America Vice President Don Sakakura. "However, with Suzuki and Yoshimura's racing DNA still strong as ever, and with the core nucleus of the team staying the same, we are looking forward to defending the 2010's championships. Roger has made great contributions with Suzuki and certainly has the utmost respect, friendship, and our acknowledgement of a job well done. We wish him nothing but good luck in the future."