TEAM USA FINALLY ANNOUNCED FOR THE 2023 MOTOCROSS DES NATIONS
Aaron Plessinger has been on the MXDN team once, in 2018.
The United States will be represented by three of its highly-skilled motocross racers at the 2023 Federation Internationale de Motocyclisme (FIM) Motocross des Nations, which will be held Oct. 6-8 in Ernée, France. The newly named 2023 U.S. Motocross of Nations team includes AMA 450 competitor Aaron Plessinger, AMA 250 competitor R.J. Hampshire, and AMA 450 competitor Christian Craig.
"After putting Team USA on the top step of the podium last year, we look forward to taking on the world once again in October as the defending champions," said AMA Director of Racing Mike Pelletier. "We have a team that is enthusiastic to represent the United States, and I look forward to seeing what we accomplish this year."
Christian Craig has been injured most of this season, but has been back on the bike recently. The MXDN will be a big test for him.
Team Captain Plessinger will be competing on the U.S. Motocross des Nations team for the second time and will race in the event's MXGP Class. "It really feels great to get to be on team USA again," Plessinger said, "and I'm very fortunate to have this opportunity to go race for my country. This is one race that I always look forward to and we have some big shoes to fill from what the boys did last year, so I'm ready for the challenge! I've got some really awesome teammates, a great team surrounding us, and we're gonna go give it our all over in France!"
R.J. Hampshire showed great speed this year in the 250 class, when he wasn't crashing.
It will be Hampshire's inaugural appearance in Motocross des Nations competition, and he will race in the 250 Class. "I'm super excited to represent my country," Hampshire said. "I'm a proud American and will do my best to put our colors up front!"
Christian Craig will represent the U.S.des Motocross of Nations for the first time and will compete in the Open Class. "I'm extremely honored to be able to represent the USA this year at Motocross des Nations," Craig said. "Aaron, RJ, and I will do everything possible to make our country proud."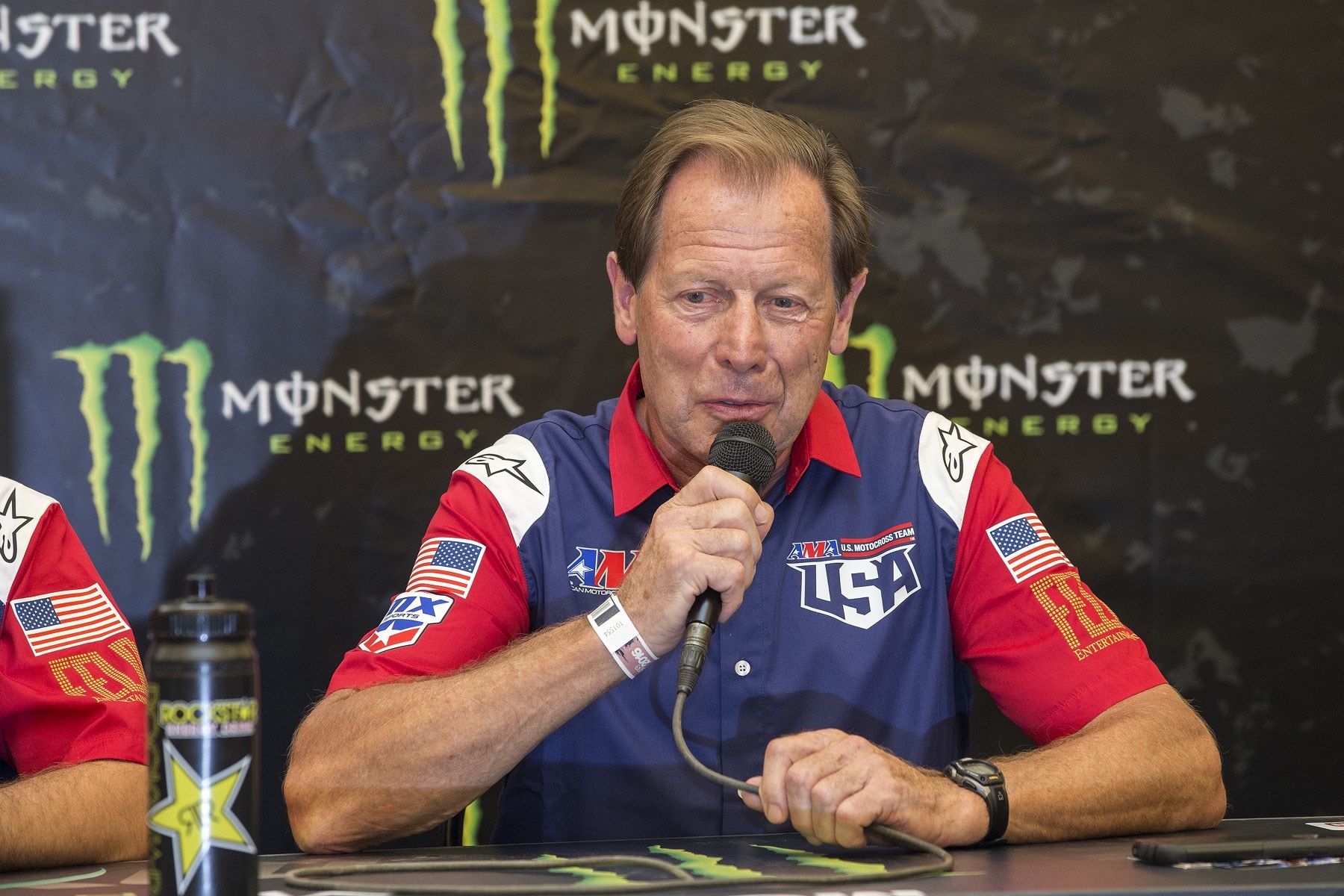 Roger DeCoster deserves credit, not scorn, for being able to deal with all the politics, petty power struggle and personalities involved in getting riders and teams to support the Motocross des Nations.
AMA Motocross Hall of Fame Legend Roger DeCoster will again manage the U.S. team as it competes for the World Team Championship. DeCoster, who heads up KTM, GASGAS and Husqvarna's racing efforts in AMA Supercross and the Pro Motocross series, took part in six victorious FIM Motocross des Nations teams in the 1960s and '70s, and is a five-time motocross World Champion.
"With our race season being the longest ever, and only having one week separating the end of the SMX and Motocross des Nations, as well as several riders who had been injured and some switching teams, it was the toughest year we have faced yet to find three riders ready to race an additional event and work together as a team," DeCoster said. "I was very happy when we asked Aaron, R.J. and Christian about going to France — they all jumped at the opportunity to represent the USA and challenge the French Team on home soil, and the rest of the world. This is one of France's most spectacular tracks. After some mixed results during the long season, they are eager to prove they have more in the tank and are excited to show it to the world. I hope the U.S. supporters get behind these three riders as they take on the Motocross of Nations in a few weeks."
The FIM Motocross des Nations, which began in post-war Europe back in 1947, is one of the most high-profile motorsports events in the world. National teams from across the globe come together to compete for a combined score that determines the championship-winning country.
The U.S. team continues to hold the record as the all-time leader in FIM Motocross des Nations overall team victories, having won the competition 23 times — 21 of them with DeCoster managing the team. The U.S. team last claimed a victory last year and returns to competition as the defending champion.
\