TEN THINGS ABOUT RACING IN A FOREIGN COUNTRY
Josh Mosiman packed and ready to go.
(1) Before you travel. First on the list when racing abroad is making sure that you have a passport and it's up to date. You'll also want to make sure that your health insurance covers anything that could happen to you in the foreign land you're racing in. It is likely that your insurance will not be accepted in a foreign country. Depending on the country and how long you will be traveling, you may also need a travel visa, which is an official government document that temporarily authorizes you to be in the country you are visiting. 
(2) Memberships. Most likely you'll need the license of the official race organization of that country's sanctioning body to compete. Look into the rules of the series you're going to compete in ahead of time. Some associations, like the FIM, require a complete physical check-up with your doctor before you can race. Also, if you're an amateur in the United States, you'll want to check with the AMA to make sure the event and class you are competing in won't damage your amateur status in the U.S.; we've seen amateur riders have issues with this before. 
You meet the nicest people when you are open to different cultures.
(3) Details. When racing abroad, you don't have the luxury of hopping in your truck and heading down the highway. If you want to do it right, you have to think about every little detail of your race day and plan for it. Tools, parts, fuel, gear, food, water, a foam roller and anything else that you normally use on race day will have to be considered ahead of time. In foreign countries, it's not always easy to find items we take for granted in the United States. 
(4) Bringing parts. Flying your complete bike to Europe is expensive. It costs Team USA about $15,000 round trip to ship bikes and parts in a wooden crate. This isn't practical for an individual. The best plan is to make arrangements to borrow, rent or buy a bike when you get there. If you have friends or sponsors who will lend you a bike, bring your suspension, handlebars and ECU. Some riders will even pack their engines in a heavy-duty shipping crate as well. 
(5) Food. Eating can be a huge challenge when traveling abroad. Foreign countries have foreign food, and depending on your taste, it might be difficult to find the food you are used to. The restaurants are different, and unless you speak the language, ingredients are unknown. Of course, there is good, healthy food available in every country, but unless someone is telling you where to go, it can be hard to find. If you are picky about what you eat before and on race day, we recommend stocking your suitcase with your favorite snacks before you leave the USA. Beef jerky, protein bars and trail mix are great, and they don't spoil easily. Also, don't expect to get ice-cold drinks or even be able to find bags of ice at the local grocery stores in Timbuktu.
It never hurts to go native.
(6) Make friends. Local knowledge is the key ingredient. When racing abroad, you want to know someone who can translate and who knows all about the customs of the country and series you will be racing in. You'll need all the help you can get. When foreign riders come to the USA to race, they have the luxury of multiple motocross vacation companies that provide lodging, transportation, bikes and mechanical help. These are not common in foreign countries. Having someone with local knowledge is invaluable. On top of that, it is nice to know more about the race and get the inside scoop on all the little details from a local Pro. The more people you know, the better.  
(7) Foreign tracks. Every track is different, and each country has its own style of motocross. The Netherlands is known for its sand tracks, while Sweden is known for mud. Make sure to study up on the tracks you'll be competing at before you go. 
8) Accommodations. Everything is harder when you're traveling, especially if you don't speak the native language. We've also found that depending on your itinerary, some hotels don't have air conditioning and might only have a handful of fans in the hotel. Check the weather and call your hotel ahead of time to figure these details out.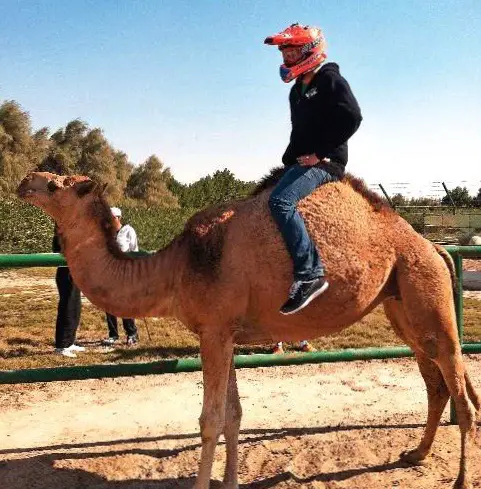 Dennis Stapleton was willing to ride a camel in Kuwait, but he took the necessary precautions.
(9) Borrowing a bike. Make sure you check the history of the bike you're going to race and the person who is providing it. It is not uncommon to show up to the race and realize that the 2019 KX450 you were promised is in fact a well-used 2011 KX450. If you decide to bring your own bike or engine, do some research and find out what kind of gas you'll be able to get for it (remember that European octane numbers are different from American numbers). Some countries might not have the same VP blend that your engine builder expects you to use in your modded bike. 
(10) Racing in a new territory. Racing abroad will take some serious mental strength. It's very hard to travel outside of the country and perform like you do on your local tracks. The local riders will have a home-court advantage. Don't let them distract you. Focus on riding to the best of your ability.