TEN THINGS ABOUT SETTING UP YOUR GOGGLES
(1) Goggles. No matter how fast, comfortable or durable your dirt bike is, you will have a rough time if you can't see clearly enough to distinguish the bumps, ruts and jumps in front of you. The faster you go, the more important it is to see clearly. 
(2) Perimeter seal. This hot new trend has been available to factory riders for the past five years, and now you can take advantage of it, too. Scott, EKS Brand, Fly Racing and 100% sell perimeter-sealing tear-offs, but they're much more expensive than standard seven-stack laminate tear-offs. These tear-offs have an adhesive seal along the edges that keeps moisture, dirt and dust from getting in between the lens and the tear-offs. These are important for riders who are getting roosted a lot, racing in the rain or who hate getting dust behind their tear-offs. 
(3) TOGS. A new company called Tear-Off Gaskets (TOGS) has come up with a way of making double-sided sticker gaskets that you can manually stick between your lens and your laminate tear-offs. These aren't as easy to install as the perimeter-sealing tear-offs mentioned, but they are much more affordable. 
(4) Baby oil. This trick is most commonly used for desert racing where it's dusty. With the advanced goggle foam we have today, motocross riders aren't as worried about dust getting into their eyes' but it can happen. Some goggle reps will use a small amount of baby oil on top of the goggle where the vent foam is to make it thicker—just like adding oil to your air filter. Also, they sometimes apply a very small smear of Vaseline to the bottom inside of the frame as well. 
(5) Roll-offs. Roll-offs were made for racing in the mud and the rain. They've also become more popular in Australia and certain European countries that don't allow plastic tear-offs to be tossed on the ground. Roll-offs are more difficult to pull and don't provide as much coverage as tear-offs, but they work great in mud and last longer than a 21-stack of laminates. 
(6) Double goggles. This has to be one of the funniest tricks we've recommended in a while. Only in the most extreme conditions you might benefit from wearing two sets of goggles! We first heard of Trey Canard doing this when he rode for Factory Honda, and he learned it from another rider when racing in Japan. MXA's Josh Mosiman used this trick to finish 15th in the super-muddy Unadilla 450 National in 2017. He started with two sets of goggles and originally planned to pull the first pair off after the start, but instead continued to wear them for three laps before pulling them off and having a fresh set underneath. This greatly narrows your field of view but still works! 
(7) Maintenance. To extend the life of your goggles, we recommend that you don't wash them too often; however, after a long race when your foam is covered in dirt and sweat and/or your straps are muddy, it is nice to have clean goggles again. We recommend hand-washing goggles in the sink or in a bucket with cold, soapy water. The best soap is one that is free of dyes and fragrances, because it's easier on the material. Then, let the goggles air-dry but not out in the sun. Another way to clean goggles is with the same detergent in a washing machine on the gentle cycle.  
(8) Lens cleaning. When it comes to cleaning your lenses, the best way to prevent scratches is to remove the lens and wash it with your fingers in a sink or bucket of water. Then, wipe it dry with a microfiber towel. Don't use Windex or any other glass cleaners, because the ammonia will break down the plastic lens.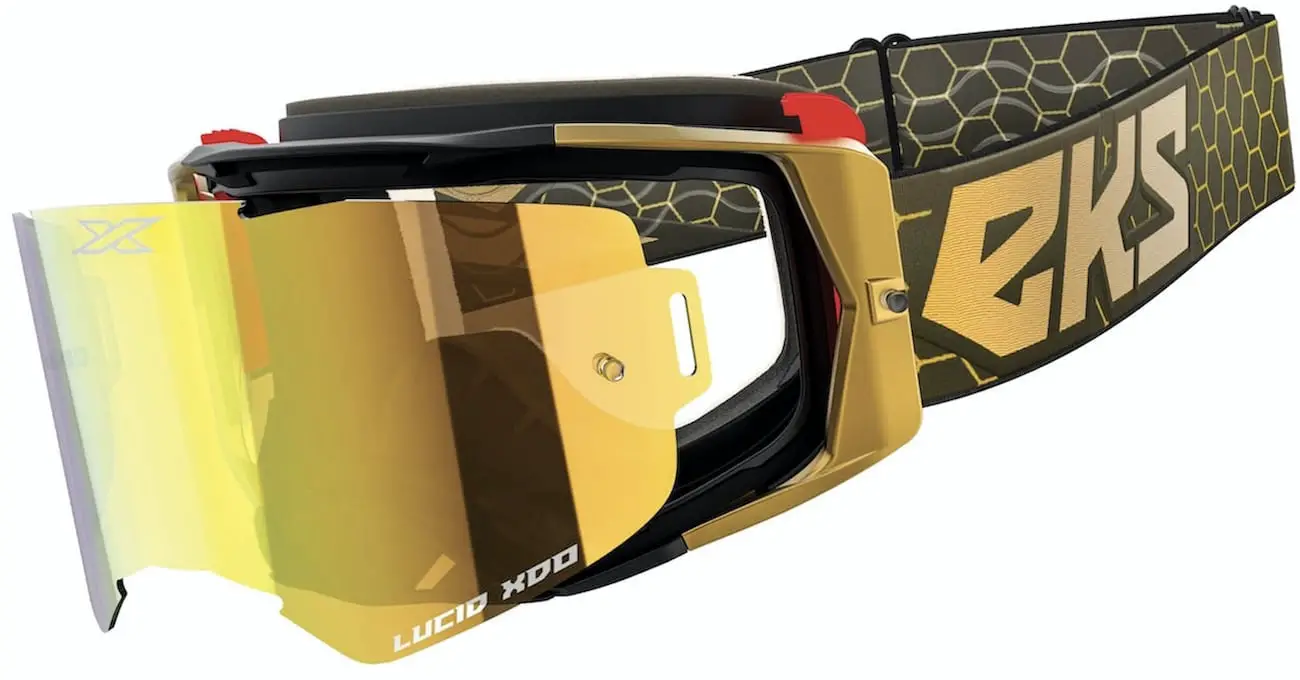 (9) Lenses. When searching for a do-it-all lens, go red! Red lenses brighten shadows and dim harsh lights. We used to choose red lenses until Scott introduced the Amplifier lens, and EKS Brand came out with the Auburn Afterburner lens. Both lenses use a mixture of red, yellow and orange tints to enhance your vision on the track. 
(10) No sweat. Goggles have advanced over the years, but heavy sweaters can still find splashes on their inner lens. We've all seen the Pros use maxi pads on their top foam to help soak up sweat, but Gladiator Sweat Shields makes pads that are pre-shaped for goggles.