TEN THINGS ABOUT THE PRO'S FAVORITE TECHNIQUE DRILLS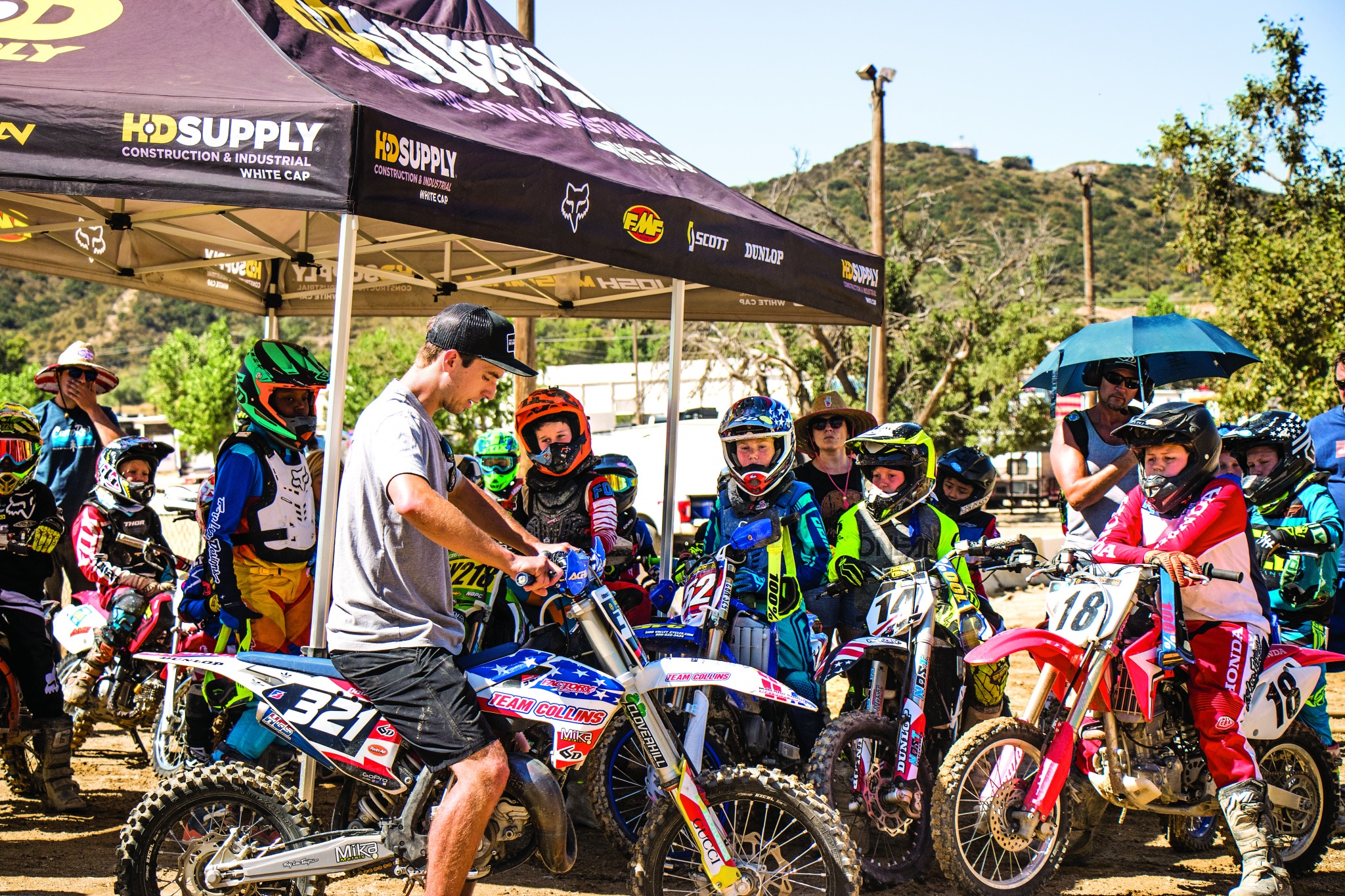 (1) Technique drills. It's fun to spend time and money hopping-up your dirt bike with the goal of winning the next race, but sometimes the rider needs more help than his bike. Everybody remembers the story about Gary Jones' dad putting his bike in third gear and taking the shift lever off to make Gary realize that not every corner is a second-gear affair? 
(2) Eli Tomac. Back in the day, sticking your leg out in a corner was essential for counterbalancing the bike while leaning over to make a corner. Nowadays, top Pros like Eli Tomac and Ken Roczen have been keeping their feet on the pegs all the way around corners more often. The tactic started in motocross and has even made its way into the tight and technical corners of Supercross. With modern suspension and chassis ergonomics, riders are learning they don't always need a leg out in each corner to pivot the bike. Keeping your feet on the pegs isn't always the fastest, but it does save energy and increase control in more corners than you'd think. 
(3) Ryan Dungey. The "Dunge" attributed his picture-perfect form to the circle drill. Simply ride your motorcycle in a circle while maintaining proper technique, such as elbows up, pressing the outside footpeg with the balls of your feet and holding the inside leg up. He recommends going until you're fatigued and then switching directions. You don't need a rut for this; any dirt parking lot will work. It's not very fun, but Ryan told us that he wishes he would've done it more. 
(4) Trey Canard. Trey Canard and Ryan Dungey both trained with riding coach Shannon Niday in their Amateur years and spent time together riding in Texas through 2005 and 2006. Trey likes creating a singletrack rut with the layout in the shape of a kidney bean. On the tight and technical corner track, he practices standing laps, sitting laps, no-clutch laps, no-brake laps, normal laps and feet-on-the-pegs laps. 
(5) Jeremy McGrath. The "King of Supercross" was known for his technical skills of down-siding and pushing through jumps in Supercross, and he gained confidence and skill by having a backyard Supercross track with ultra-steep jumps and challenging transitions; however, he explained that much of his success came from being able to stop quickly. He worked on braking drills at home so he could stop harder and quicker to make an inside line or hold the throttle on longer down the start to get the holeshot. 
(6) Chase Sexton. The young Honda 450 rider has shown lots of potential in his first year in the premier class in 2021. His favorite drill requires some quick bike work. He removes his rear brake lever and points his clutch lever upwards, forcing himself to ride without them. This teaches him to carry momentum through the corners and to roll on the throttle smoother. 
(7) Nathan Ramsey. Known for being the first rider to win a Supercross main event on a 450 four-stroke (2002 Honda CRF450 at the Pontiac Superdome), Nathan Ramsey is now a riding coach and team manager for the KTM, Husqvarna and GasGas Amateur programs. He's worked with Justin Brayton and more top riders since his racing days, and he named his favorite drill "the Barney Song including elbows." It puts emphasis on keeping your head position central, shoulders square with the bike, elbows up, knees squeezing and toes pointed in.  
(8) Zach Osborne. The 2020 450 National Champion isn't known for having the prettiest technique, but for a rider who's short in stature, he gets the job done, and it works for him. He likes having a figure-eight track to ride on while focusing on the basics. The figure eight is harder than it sounds, with each corner having approximately a 250-degree radius. Plus, it forces you to practice right- and left-handers equally. 
(9) Mike Alessi. It's easy for everyone, even Pros, to get caught staring at the front fender when physically and mentally fatigued. Mike Alessi's first point of focus when working on technique is to look further ahead. Looking ahead gives your brain more time to process what it's doing, which helps in every aspect of riding. On the same note, when learning a new jump, try your best to eye-up where you'll be landing before hitting the takeoff. 
(10) Jody Weisel. MXA editor, Jody Weisel has raced more different motorcycles than anyone else on planet, he recommends focusing on the ugly and challenging parts of the track when practicing. "Don't cut the track to focus on the fun sections; cut the track to focus on the difficult ones. They may never be the fun sections, but if you don't go fast on the uncomfortable sections, you won't actually be going fast."