MXA TEST RIDER CHRONICLE: DENNIS STAPLETON
HOW DID YOU BECOME AN MXA TEST RIDER?
I met Mike Basher, the staff photographer at MXA at the time, when I raced the the 2005 Indianapolis Supercross. I crashed, and Mike took a photo of me. He emailed me the photo and also asked if I was interested in being a test rider for the magazine. MXA needed someone to ride the 2006 Honda CRF450 for photos out at Glen Helen. I thought it would cool to ride a brand-new bike before anyone else had, so I agreed to do it. About two years later I came on board as the Assistant Editor. After a year or two in the office I asked to be moved back into my initial role as a test rider.
WHAT IS YOUR MOST MEMORABLE MXA MEMORY?
It's hard to pick just one. I got to go to Japan for a week and I've tested so many unique and exciting bikes. In 2007 alone, I got to ride Grant Langston's, Tim Ferry's, Mike Alessi's, Andrew Short's and Ricky Carmichael's works bikes. I was blown away by Ferry's Kawasaki KX450F. It was one of the best bikes that I've ever tested.
WHO WAS TESTING BIKES AT MXA WITH YOU?
During my time MXA has used Cole Seely, Daryl Ecklund, Austin Politelli, Sean Kranyak, Doug Dubach, Willy Musgrave, Alan Olson, Taylor Kelstrom, Larry Brooks, and even one-off appearances by Chris Johnson, Tye Hames, Ryan Newton, Chris Wheeler and Ryan Hughes.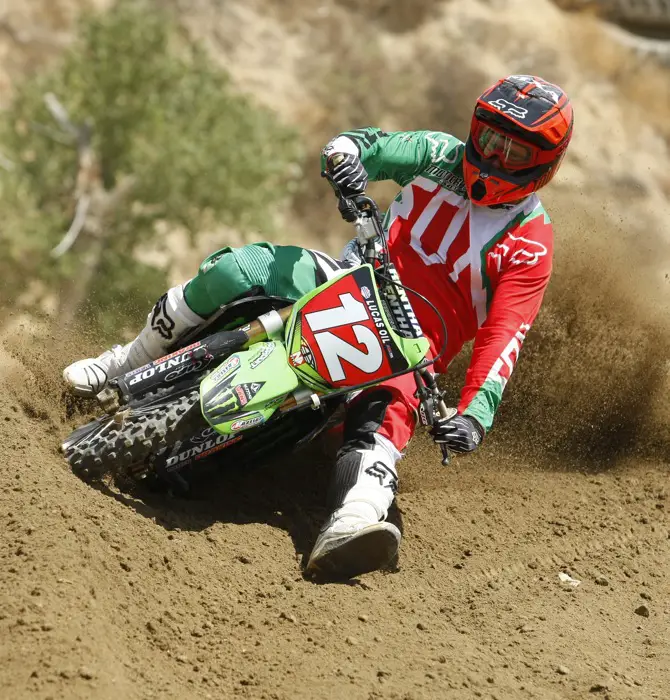 WHY DID YOU STOP BEING A TEST RIDER?
I haven't stopped being a test rider, and I don't ever plan to stop. Working for MXA has opened a bunch of doors for me. Not only do I get to stay in the sport that I love and ride exotic bikes, but wearing the orange helmet draws people to me like a magnet. I get to go to a lot of overseas, and that's because I'm an MXA test rider. In the past few months I've traveled to Dubai, Kuwait, the Philippines, Ecuador, Qatar, Sweden, Denmark, Finland, the Netherlands, and China. It's great being an MXA test rider!