THE AFTERMATH | 2018 ANAHEIM 1 SUPERCROSS
The Aftermath is Presented by Shoei Premium Helmets
Photos by Daryl Ecklund & Spencer Owens
 Marvin Musquin with long time wrench, Frankie Latham walking to opening ceremonies.
The nations armed forces kicked off the nights festivities.
Fans love Ken Roczen.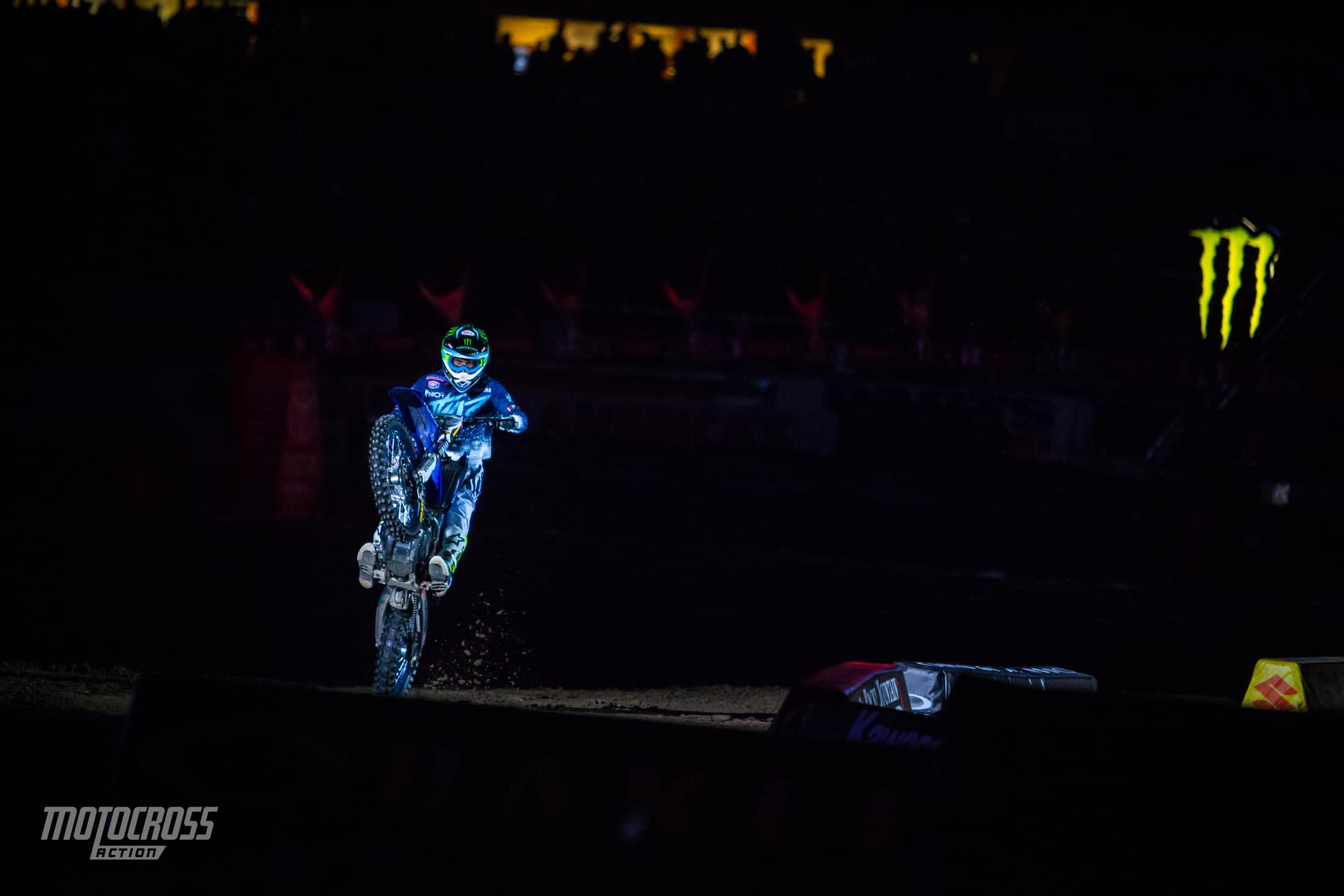 Cooper Webb enters with a wheelie.
Eli Tomac greets the fans.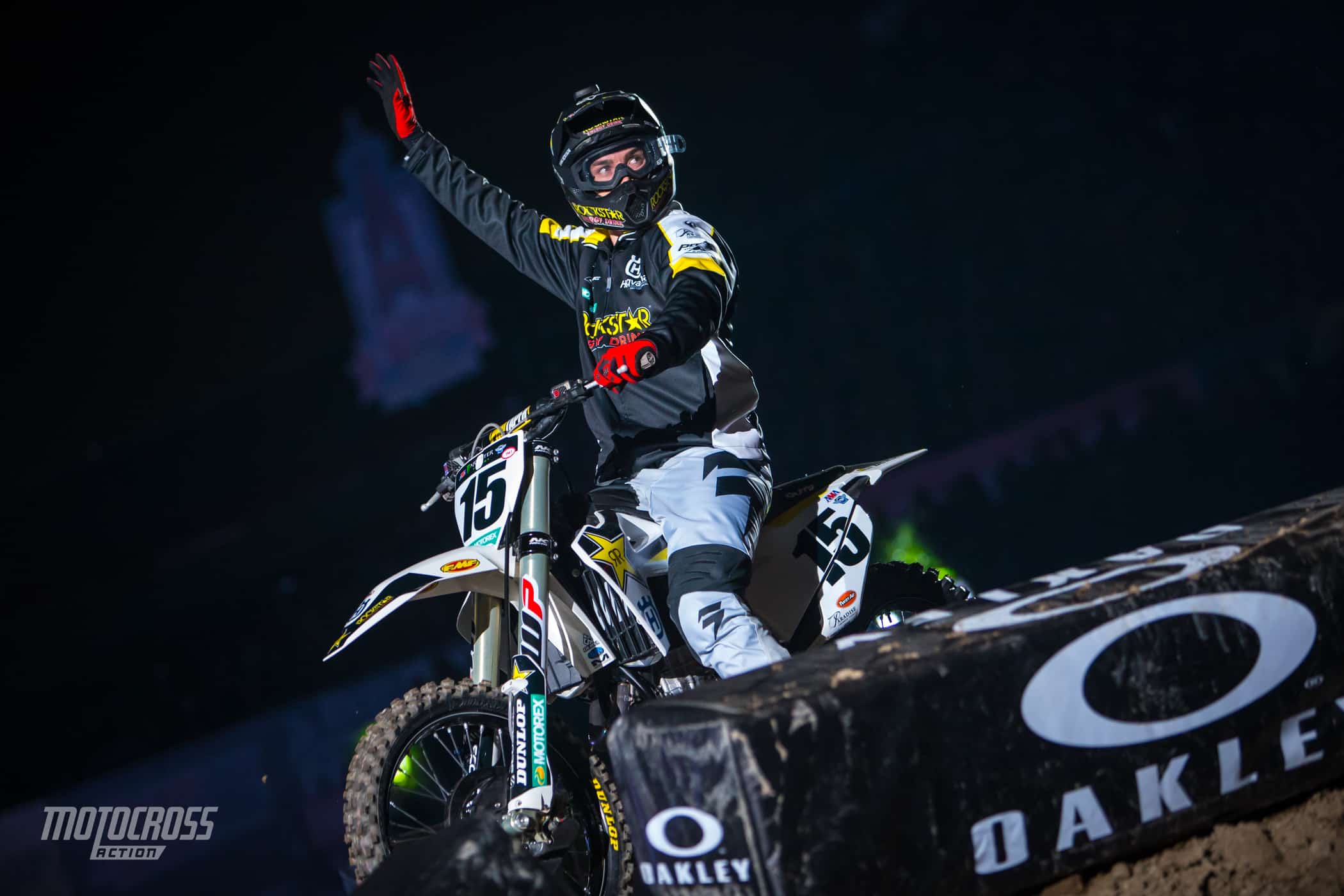 It's great to see Dean Wilson on a Husky.
After the pyro and lasers came to an end, it was time to drop the gate!
Shane McElrath pulled the holeshot, and would eventually take the win in 250 Heat #1.
Adam Ciancarulo put the pressure on Aaron Plessinger for 2nd in 250 Heat #1.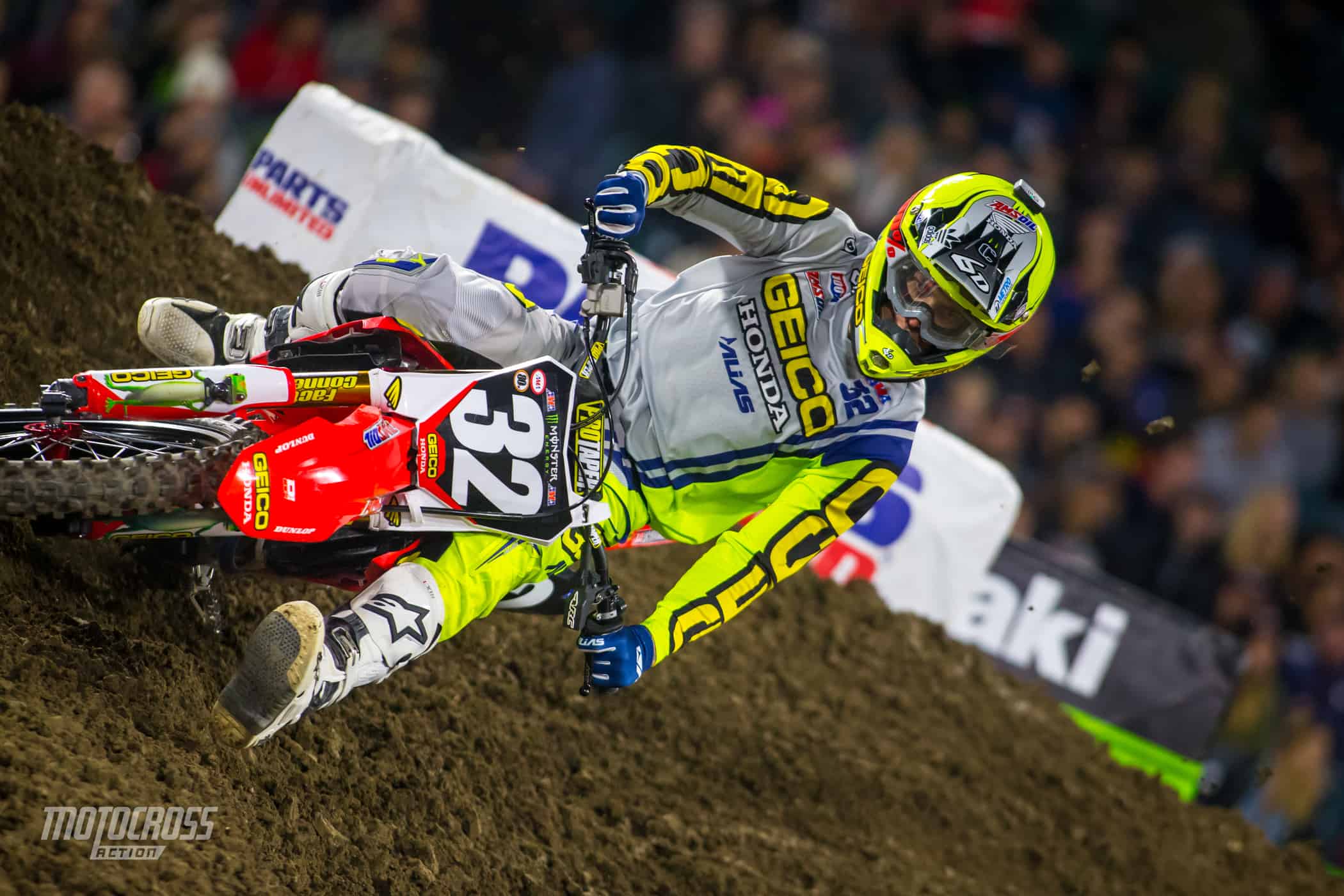 In 250 Heat #2, Christian Craig dropped the hammer and took the win.
But Joey Savatgy wasn't letting Christian have it easy. The #17 crossed the line second.
Based on practice lap times, Eli Tomac was placed in 450 Heat #1.
Jason Anderson launched out front for the holeshot in his heat.
Elie Reed (Chad Reed's wife) played the part of "crew chief" for Chad.
The #21 would have to battle around the #14 of Cole Seely for the Heat #1 win.
These new starting platforms definitely have a lot more maintenance. Oscar Wirdeman preps Ken Roczen's gate for the main event.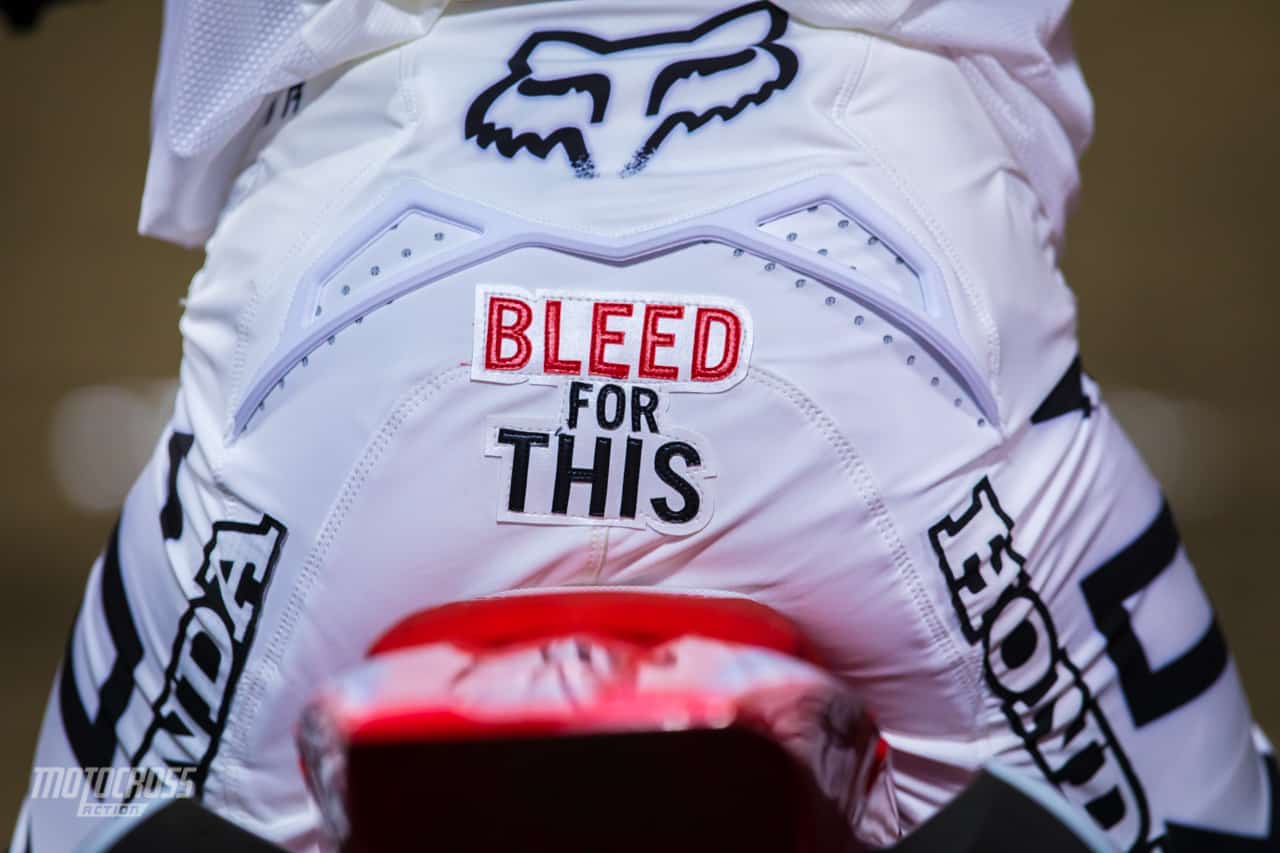 Seems fit for Ken Roczen.
 Factory Red Bull KTM manager Roger Decoster would have both riders in 450 Heat #2.
Part one of the "hectic first turn" process.

Broc Tickle had a tough first appearance on the new ride with a 9th.
On another note, Justin Barcia rode strong and took his first 450 Heat win of 2018.
Meanwhile in the pits, Jagger Craig (Christian Craig's son) was having a blast with his air gun.
Typical crowd activities.
Next up was the 250 LCQ, which featured a few top 250 guys due to crashes in their Heat's.
Chris Howell (#122) and Chase Marquier (#81) battling for the transfer positions.
On lap three of the 450 LCQ, Benny Bloss hit the deck. Hard.
The aftermath of Benny KTM 450SXF. Notice the fuel pouring out of the tank.
Tyler Bowers talks on his impressive performance and win in the 450 LCQ.
Rookie, Justin Cooper keeping his eyes on the big screen before the 250 Main.
The gate dropped for the 250 Main, and it was every man for themselves.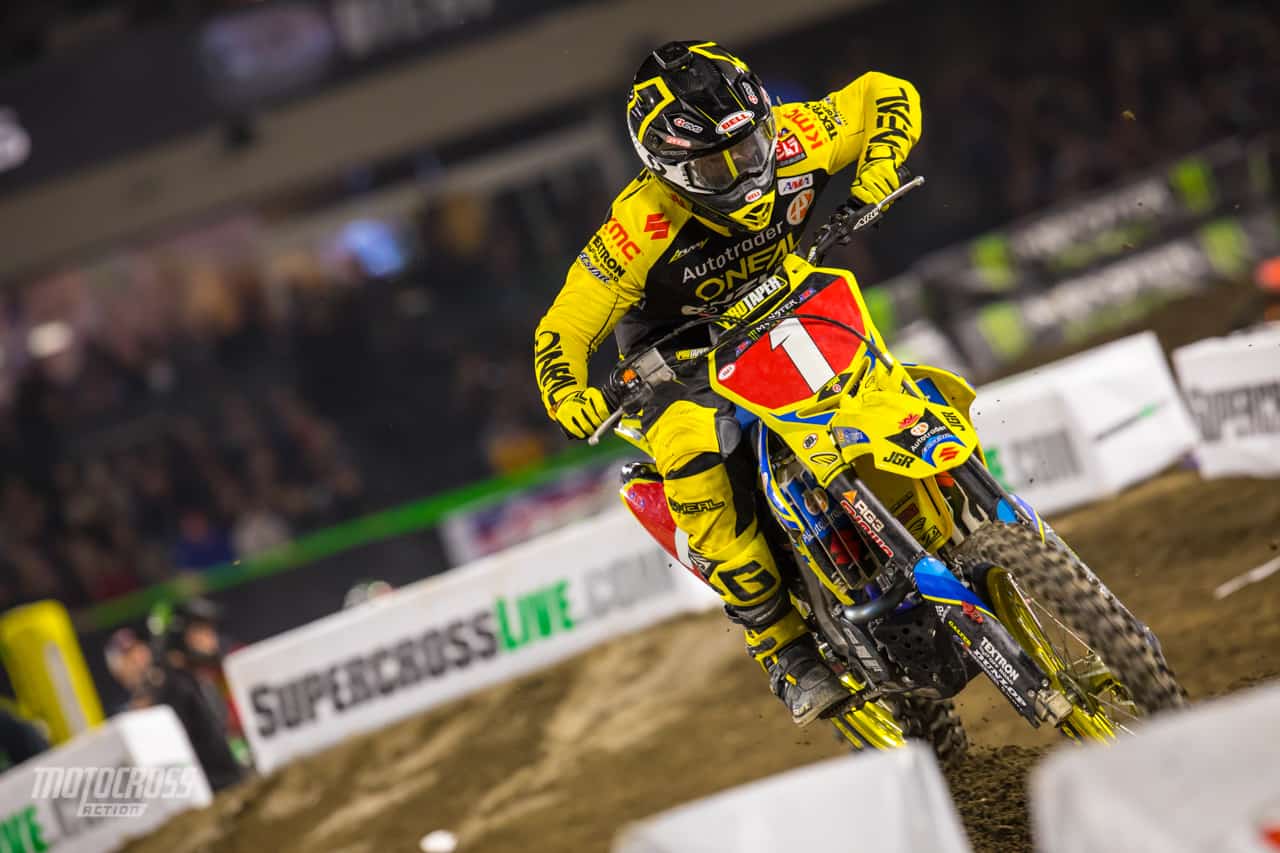 Defending 250 Champ Justin Hill started the day off with the fastest lap time in qualifying. A bad start in the main kept him from the front and would finish 7th.
Alex Martin looked strong all night, but finished 20th due to bike problems.
And when it was all said and done, these three finished on top. Results: Shane McElrath (1st), Aaron Plessinger (2nd), Adam Ciancarulo (3rd).
Aaron Plessinger had his eye on who he wanted to spray..
And just like that, it was time for what everyone wanted to see. The 450 Main Event!
Eli Tomac jumped to the early lead, until going down and taking him out of the race. Take a look at Eli's crash. 
Broc Tickle sliding into turn #1.
There is no talk as to why Ken Roczen's vizor fell off mid race.
They say never look back, but Kyle Cunningham did it anyway.
Ken Roczen showing pure frustration with his 4th place finish.
It wasn't easy, but these three got on the podium. Results: Marvin Musquin (1st), Jason Anderson (2nd), Justin Barcia (3rd)
ANAHEIM 1 450SX RESULTS (ROUND 1 OF 17)
Marvin Musquin (KTM)
Jason Anderson (Hus)
Justin Barcia (Yam)
Ken Roczen (Hon)
Weston Peick (Suz)
Cole Seely (Hon)
Justin Brayton (Hon)
Broc Tickle (KTM)
Josh Grant (Kaw)
Cooper Webb (Yam)
Jeremy Martin (Hon)
Blake Baggett (KTM)
Vince Friese (Hon)
Tyler Bowers (Kaw)
Chad Reed (Hus)
Kyle Cunningham (Suz)
Ben Lamay (Hon)
Alex Ray (Yam)
Matt Bisceglia (Suz)
Dakota Tedder (KTM)
Adam Eniticknap (Hon)
Eli Tomac (Kaw)
ANAHEIM 1 250SX RESULTS (ROUND 1 OF 17)
Shane McElrath (KTM)
Aaron Plessinger (Yam)
Adam Cianciarulo (Kaw)
Joey Savatgy (Kaw)
Christian Craig (Hon)
Mitchell Oldenburg (KTM)
Justin Hill (Suz)
Chase Sexton (Hon)
Justin Cooper (Yam)
Kyle Chisholm (Yam)
Bradley Taft (Yam)
Dakota Alix (KTM)
Hayden Mellross (Yam)
Mitchell Harrison (Hus)
Justin Hoeft (Yam)
Justin Starling (Hus)
Ryan Breece (Kaw)
Killian Auberson (KTM)
Jean Ramos (Yam)
Brandan Leith (Kaw)
Alex Martin (KTM)
Phillip Nicoletti (Suz)