THE AFTERMATH | 2018 PHOENIX SUPERCROSS
The Aftermath presented by Shoei Premium Helmets.
Photos by Brian Converse.
To start off the night, the "Monster Energy Girls" brought the heat to opening ceremonies in the University of Phoenix Stadium.
 With all the new safety rules, its not too often you'll see a rider throw a whip during opening ceremonies. But when they do, Josh Grant is the guy to focus on!
Recently, the fans have been going crazy when Justin Barcia enters the stadium.
And then you have Ken Roczen. Ken always can bring the fans to their feet.
Eli Tomac throws a big one for the Arizona fans!
After all the opening ceremonies festivities came to a close, it was time to drop the gate!
 Shane McElrath jumped to the early lead, and eventually grabbed the 250 Heat one win.
Christian Craig also grabbed a good start and managed to hold down second place.
And Adam Cianciarulo crossed the line in third.
In 250 Heat two, the other points leader Joey Savatgy would crash hard in the whoops, and had to go straight to the LCQ.
Aaron Plessinger would capitalize on Joey Savatgy's mistake, and take the win.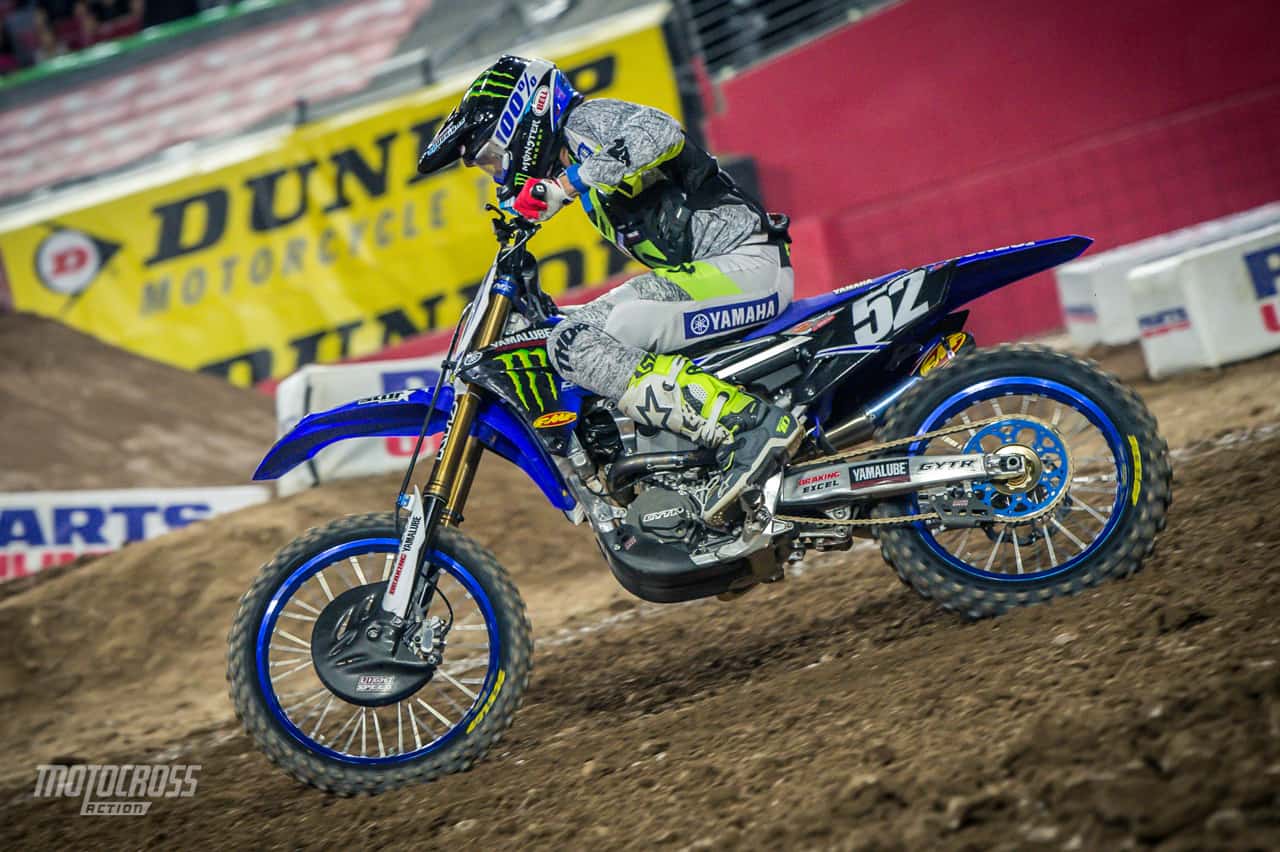 His teammate, Mitchell Oldenberg would follow right behind him, and snag second.
And Chase Sexton would finish third in 250 Heat two.
On a positive note, defending 250 West Champion Justin Hill would finish forth.
Now, onto the premiere class. 450 heat one was stacked!
To start off, Justin Brayton surprised everyone by taking his first Heat win of the season.
But Ken Roczen was not far behind, and finished second. Behind him was Eli Tomac in third.
In 450 Heat two, Jason Anderson virtually ran away with the win.
"Factory fill in rider," Malcolm Stewart clinched a positive second place finish.

We've been seeing the best out of Weston Peick lately. In this Heat, he finished third.
Its unfortunate that we had to see a rider like Joey Savatgy in the LCQ. But luckily, he won this one with not one problem.
The LCQ's have been racking up some big names over the past few weeks. Tall guy Benny Bloss would take the win in the 450 LCQ.
Chad Reed would follow behind in second.
And after all the qualifying was all said and done, it was time for the mains events. Right off the bat, Joey Savatgy (bottom left) would pull the holeshot, and take the lead.
But Shane McElrath had other plans, and made the pass for the lead dropping Savatgy to second.
After a lap or so after loosing the lead to McElrath, Savatgy would also lose second place to the man featured above Aaron Plessinger and drop to third.
After getting passed twice, Savatgy would end up losing third to his teammate, Adam Cianciarulo after a crash. As you can probably tell, it was a rough night for the number 17.
Fast forward to the front, Aaron Plessinger made a clean pass for the lead on Shane McElrath, and took the win. Aaron is also back in the 250 West Points lead.
Official results: Aaron Plessinger (1st), Shane McElrath (2nd), Adam Cianciarulo (3rd). 
250 SUPERCROSS POINTS STANDINGS (ROUND 4 OF 10)
Aaron Plessinger (YAM) – 

92

Shane Mcelrath (KTM) – 91 

Joey Savatgy (KAW) – 81 

Adam Cianciarulo (KAW) – 77 

Christian Craig (HON) – 70 

Chase Sexton (HON) – 69 

Mitchell Oldenburg (YAM) – 58 

Justin Hill (SUZ) – 58 

Kyle Chisholm (YAM) – 53 

Bradley Taft (YAM) – 51 

Mitchell Harrison (HQV) – 44 

Hayden Mellross (YAM) – 43 

Phillip Nicoletti (SUZ) – 38

Justin Starling (HQV) – 30 

Dakota Alex (KTM) – 26

Jean Ramos (YAM) – 26

Cole Martinez (HQV) – 22

Killian Auberson (KTM) – 22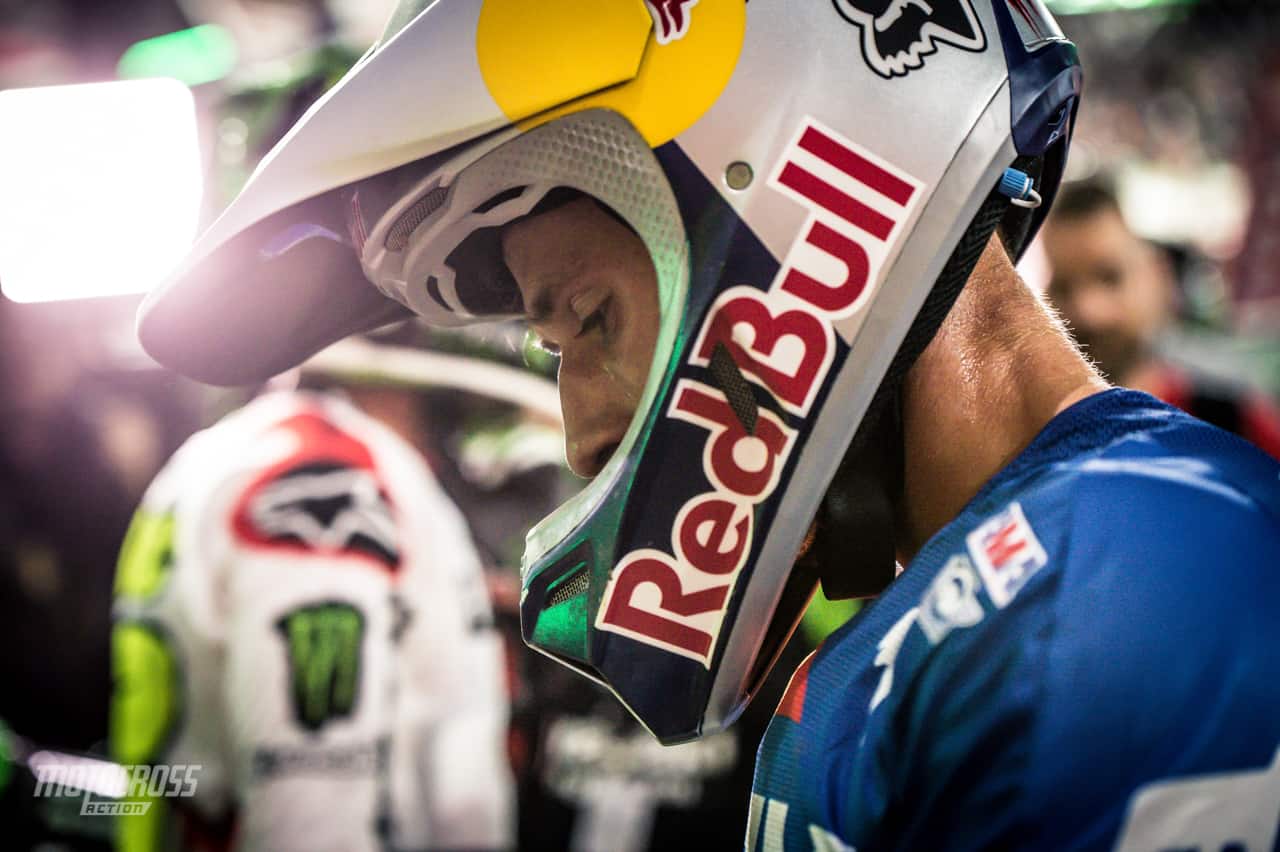 After an exciting 250 Main Event, it was time to see what the 450 guys had to bring.
Eli Tomac jumped to an early lead.
Current 450 points leader Jason Anderson had quite a bit of ground to make up for getting a bad start. He would end up finishing 4th.
Ken Roczen has been quite consistent lately. He would end up finishing in third.
This guy has been without a doubt incredible. He managed to hold tight to leader Eli Tomac, and crossed the line in second place. With just a few more laps, we think he could've put some moves down.
This is an Eli Tomac that we haven't seen since last season. He rose to the occasion, and grabbed a win. Unfortunately, he's still way down in the points. But every win counts.
This is something we like to see. Good sportsmanship! Justin Barcia hugs Eli Tomac after the 450 Main.
Official results: Eli Tomac (1st), Justin Barcia (2nd), Ken Roczen (3rd). 
450 SUPERCROSS POINTS STANDINGS (ROUND 4 OF 10)
Jason Anderson (HQV) – 89 Points
Justin Barcia (YAM) – 80 Points
Ken Roczen (HON) – 77 Points
Weston Peick (SUZ) – 71 Points
Cole Seely (HON) – 70 Points
Justin Brayton (HON) – 68 Points
Josh Grant (KAW) – 58 Points
Blake Baggett (KTM) – 57 Points
Marvin Musquin (KTM) – 54 Points
Eli Tomac (KAW) – 53 Points
Cooper Webb (YAM) – 52 Points
Broc Tickle (KTM) – 49 Points
Jeremy Martin (HON) – 36 Points
Vince Friese (HON) – 35 Points
Malcolm Stewart (SUZ) – 34 Points
Chad Reed (HQV) – 28 Points
Tyler Bowers (KAW) – 24 Points
Kyle Cunningham (SUZ) – 20 Points
Ben Lamay (HON) – 15 Points
Alex Ray (YAM) – 15 Points