THE AFTERMATH | 2018 OAKLAND SUPERCROSS
Photos by Spencer Owens
Monster Energy Supercross, an FIM World Championship, hosted Round 5 of the 2018 season in front of a crowd of 48,146 fans inside Oakland-Alameda County Coliseum. The track was the most challenging terrain this season. The riders made lots of mistakes by cross rutting and getting off balance. Just about every rider that was interviewed were happy to say that they got through this race healthy. Below is how the race went through photos and captions. Enjoy.
Like every Montster Energy Supercross event, opening ceremonies starts off the night show. But in this case, it was 3:30 in the afternoon. Oakland was the first day race of the 2018 season.
Today's top 450 riders were waiting behind the podium in the Raider coliseum for their name to be called during opening ceremony festivities.
Ken Roczen and mechanic Oscar Winderman watch as their competitors enter the coliseum.
Marviun Musquin enters through the podium in his Thor Racing custom "Cat" gear.
Blake Baggett took the time after he was introduced to check out the Oakland SX tracks deep ruts.
Chad Reed talks to "Lurch" (The voice of Supercross).
After the interviews and introductions came to a close, it was time to "Drop the Gate!"
In 250 heat 1, word on the street was Mitchell Oldenburg was injured due to a practice crash earlier in the week in Corona.
It was weird to see the first gate drop of the night be in the NorCal sunset.
Right off the bat, it was Shane McElrath with the lead, who lead from start to finish.
Joey Savatgy would finish 2nd.
Chase Sexton would cross the line in 3rd.
In 250 heat 2, Christian Craig snagged a great start and would go on to finish third.
Adam Cianciarulo followed the leader closely for a second.
And a very ill Aaron Plessinger would give it all he had for the win in 250 heat 2. Word on the street was that he has had a bad cold for most of the week.
Track conditions got rougher and rougher as the night progressed. This photo was taken after the 250 heats. Crazy right?
We caught Star Racing's Assistant Team Manager Wil Hahn just trying to catch up to his team.
Next up on the schedule was 450 heat 2. Marvin Musquin managed to grab a solid start, and finish third.
Eli Tomac had to work his through the pack to get up to second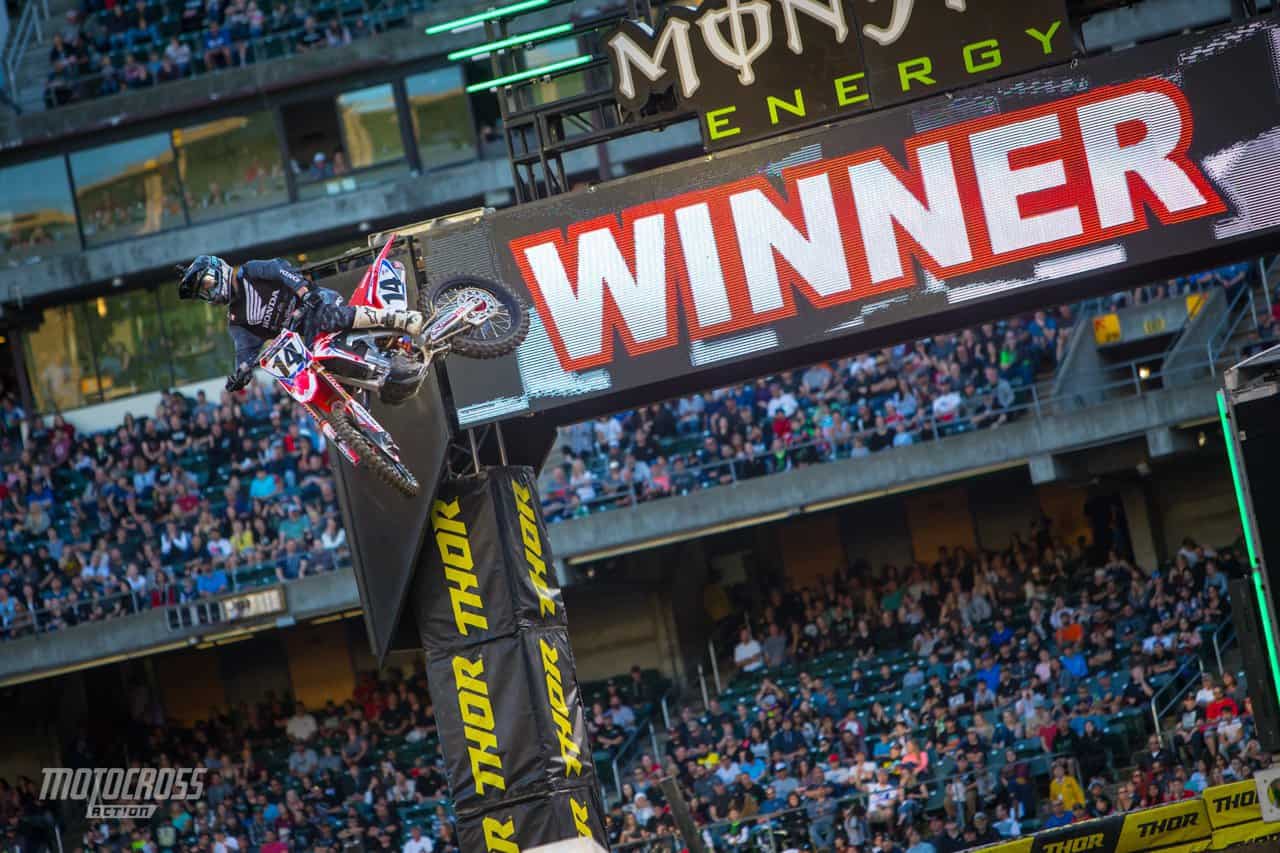 Cole Seely has been on fire lately! He came into Oakland and showed the field just how hungry he was and got the heat race win.
The 450 heat 2 was stacked. For Cooper Webb, its been a tough season thus far. Little did we know that he would bring the fire in his heat race.
And they're off!
Justin Barcia was on another level in Oakland. He was the fastest 450 qualifier with a lap time of 51.789. He also won his heat race by jumping straight to the front. Second place was his factory Yamaha teammate, Cooper Webb.
And Weston Peick followed closely behind in third.
After all the heats were through, it was time for the LCQ's. Unfortunately, we would see front runner Mitchell Harrison (#30) on the line. But no worries, he clinched it easily. He would qualify alongside Justin Starling, Julio Zambrano and Chase Marqueir.
Riders like Ryan Surratt would have to pull out of the LCQ after a big get off in the gnarly rhythm section.
A lot of hype was around Josh Mosiman this weekend because this was his hometown event. Unfortunately, Josh would get caught up in a crash and did not qualify for the main event.
Another rider that would have a tough night was Michael Leib. Although, he did manage to work his way from last to 9th in the closing laps. Not bad for a comeback race.
In the 450 LCQ, fan favorite Chad Reed would take the win and the first qualifying spot.
Man, these LCQ's have been bringing in some heavy hitters. Malcolm Stewart would follow Chad Reed for a 2nd, followed by Ben Lamay and Kyle Cunningham. Lets get to the Mains!
The fans do really love free stuff.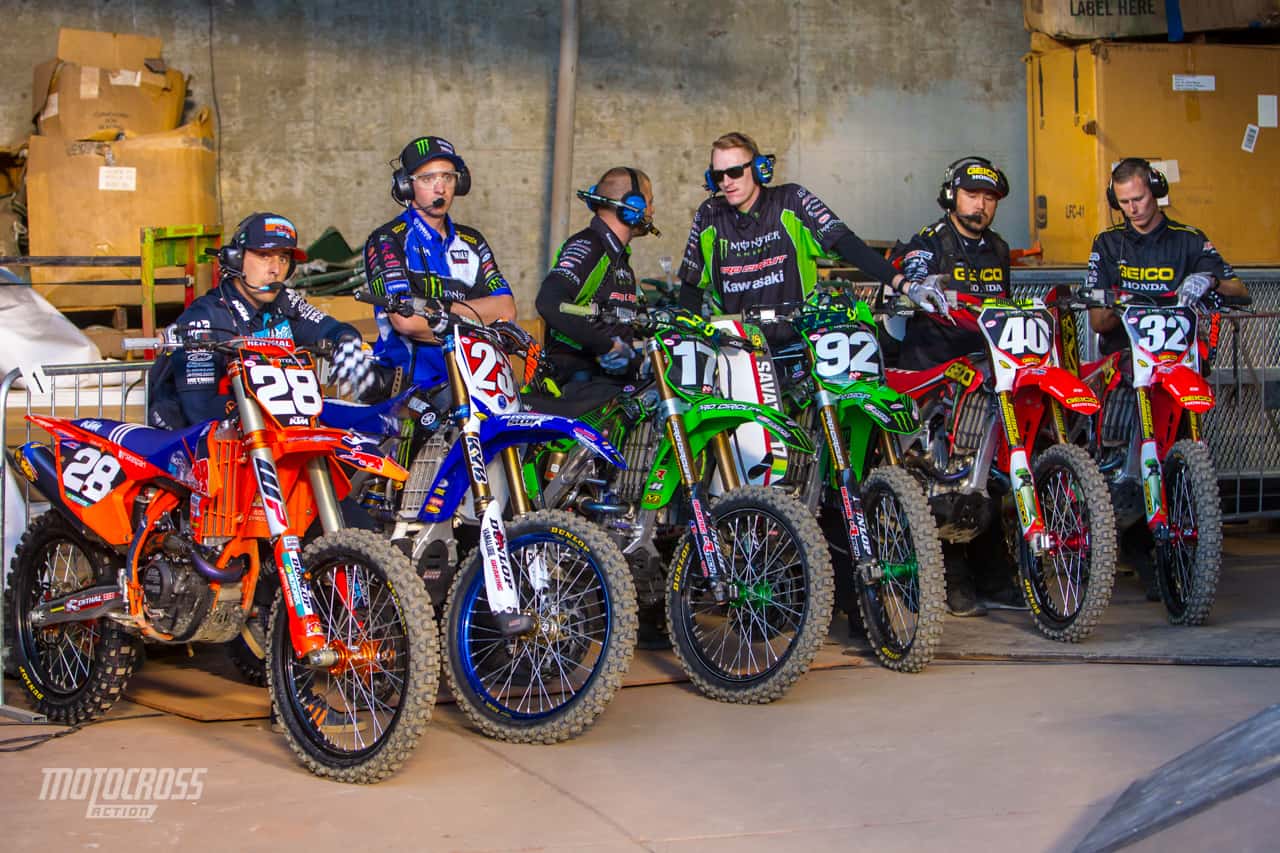 The Oakland Supercross event was very fast paced throughout the evening/night program. Before we knew it, the 250 guys were already lined up for their final race of the evening. This is a shot of the mechanics awaiting their que to load the gates.
We wonder what Justin Hill and JGR Team Manager Jeremy Albrecht are talking about here.
Nothing beats a fresh set of goggles before the race.
After all the pre-race shinanagans was through, it was time to get serious.
The early lead would go to the returning rider Alex Martin.
Championship contender Shane McElrath would end up pulling into the pits and finishing 15th.
In the opening laps, Adam Cianciarulo would get caught up with Phil Nicoletti and fall far behind. He'd ended up finishing 7th.
It wasn't an ideal night for Chase Sexton either. In Oakland he got off to a bad start, and have to work his way through the track on the rough Oakland track. He'd finish 6th.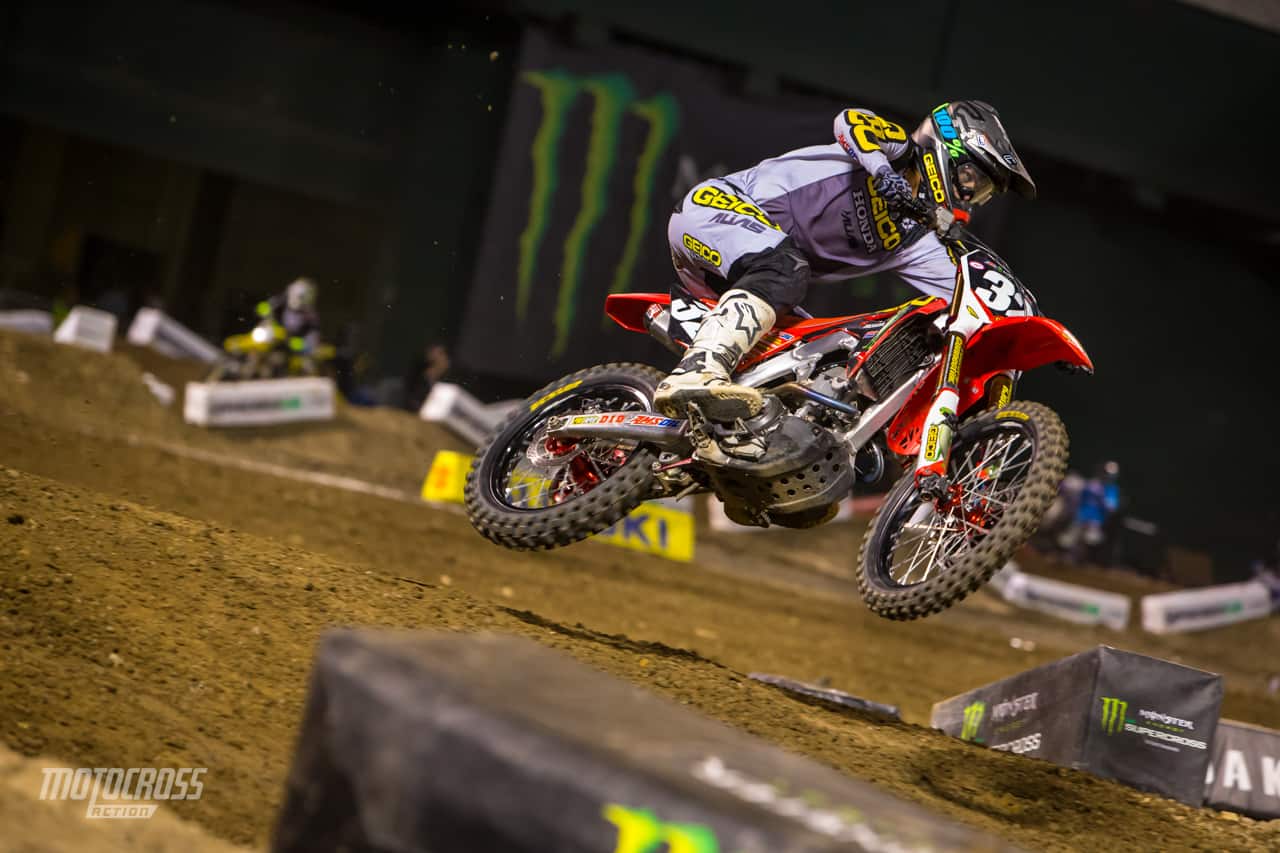 Back to the front of the pack. Eventually, Christian Craig would make the pass on Alex Martin and take the lead. After about five minutes into the 250 main, he would jump off the track accidentally and fall back to 4th giving Aaron Plessinger the lead.
After all the 250 Class drama was all said and done, these three came out on top, and were all excited for one another. We love great/positive sportsmanship.
Its great to see Justin Hill smiling again with a third place finish.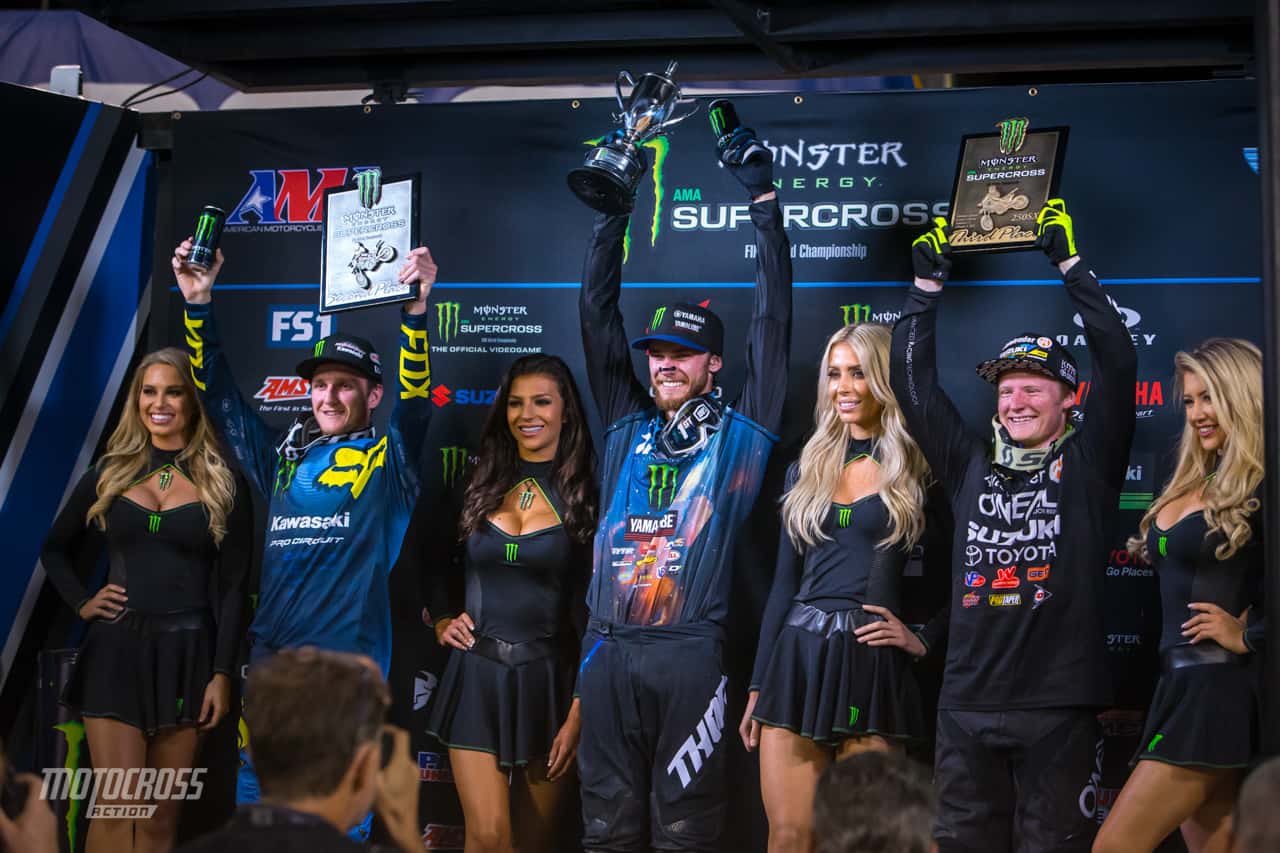 Top 20 official results: Aaron Plessinger (1st), Joey Savatgy (2nd), Justin Hill (3rd)
250 SUPERCROSS POINTS STANDINGS (ROUND 5 OF 10)
Aaron Plessinger – 118
Joey Savatgy – 110
Shane Mcelrath – 99
Adam Cianciarulo – 93
Christian Craig – 89
Chase Sexton – 86
Justin Hill – 79
Kyle Chisholm – 68
Mitchell Oldenburg – 58
Mitchell Harrison – 58
After the 250 guys celebrated their main, it was time for the 450 guys to battle it out by the bay.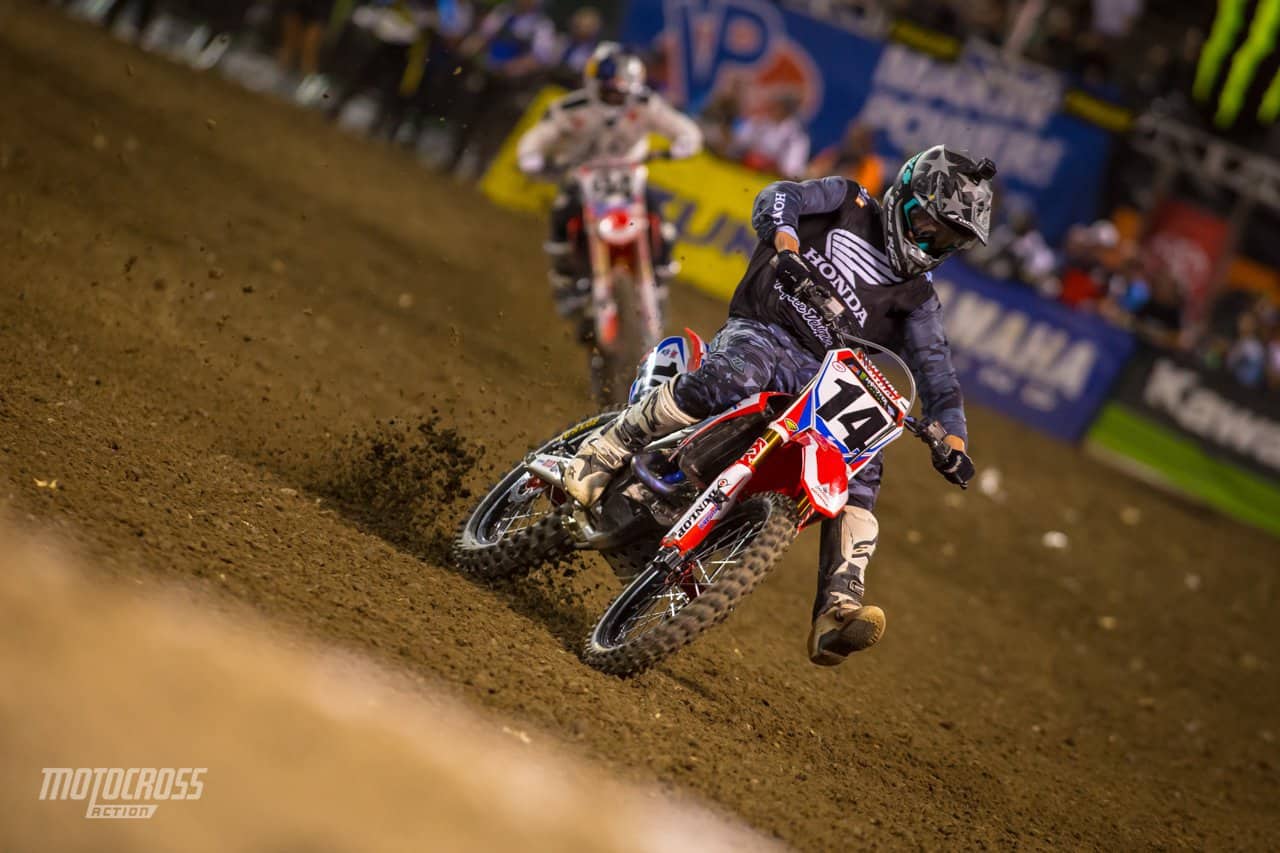 Cole Seely jumped to the early lead, and was looking to take the win. But little did he know that a slight mistake would drop him back to sixth. After that, his teammate Ken Roczen stole the lead.
Justin Barcia started off the main mid pack. He passed and "Bam Bam'ed" his way through the field and ended up 5th, salvaging championship points.
Marvin Muquin originally had himself a top three position at the start of the main. Unfortunately, Jason Anderson would take marvin out, and move him to 4th.
Blake Baggett would find himself holding on to third.
But this right here, is what would keep the fans on their feet. Jason Anderson managed to catch Ken Roczen with two laps left in the 450 main in Oakland. Anderson would eventually make the pass, but…
Ken Roczen reacted quick, and passed the Anderson back. It came down to who would make the final mistake.
But in the end, Ken Roczen would make the final mistake, and allow Jason Anderson to clinch yet another 450 main event victory, extend his points lead and keep the red plate.
Top 20 official results: Jason Anderson (1st), Ken Roczen (2nd), Blake Baggett (3rd).
450 SUPERCROSS POINTS STANDINGS (ROUND 5 OF 10)
Jason Anderson – 115
Ken Roczen – 100
Justin Barcia – 98
Cole Seely – 87
Justin Brayton – 82
Weston Peick – 82
Blake Baggett – 78
Marvin Musquin – 73
Josh Grant – 71
Cooper Webb – 68