THE AFTERMATH | 2019 ARLINGTON SUPERCROSS
Cooper Webb wins the 450 Main Event in Arlington by only 0.028 of a second!
Photos by Brian Converse
Story by Josh Mosiman
We're seven rounds into the 2019 Monster Energy Supercross season and just when we thought it couldn't get any better, Cooper Webb comes from behind to win the 450 Main Event by the closest margin in Supercross history. We've said it before and we'll say it again, it's a good time to be a Supercross fan! With Tomac going down in Arlington, the top four in the Championship standings are a little more spread out now. But the season is far from over, it feels like we're just getting started. Cooper Webb has the points lead again, with Ken Roczen only two points behind in second. Now Marvin Musquin is six points behind the lead and Eli Tomac ten points back. Our photographer Brian Converse was in Arlington capturing all of the excitement from inside of the Dallas Cowboys AT&T Stadium. How would it all shake down? Find out here in Motocross Action's "The Aftermath."
Cooper Webb came from seventh place on the first lap of the Main Event to pass Ken Roczen in the final inches of the race. Cooper was on another level and once again he proved to the entire industry that he doesn't give up. Cooper said: "I had a few moments of getting squirrely. But I knew if I gave it my all, what ever the position I would be happy. So yeah, it's crazy how it turned out."
When KTM hired Cooper Webb, it was well known among the industry that he was the second rider on the team. Marvin Musquin has been riding for the Red Bull KTM team in America since 2011 and he has been groomed to be KTM's next Championship guy. Especially after Ryan Dungey retired, he was expected to be number one. Even with the knee injury that Musquin had in the offseason, we didn't think Webb would be able to pass and gap his teammate like he did on Saturday. It will be interesting to see how Musquin rebounds in Detroit.
Austin Forkner backs up his performance in Minneapolis with another win at round two of the 250 East Division in Arlington! 
Chase Sexton was among many riders that made mistakes in this section in Arlington, but it seemed like he struggled the most on it. He clipped his feet while scrubbing the single multiple times which  almost caused him to crash. He crashed in the corner before this single in the Main Event and he had this crash in qualifying where he high-sided off of the single. 
Part two of Chase Sexton launching himself off of his bike. 
Cooper Webb: "I knew it was going to come down to the whoops, I could tell where I would catch him a little bit and he would pull me a little bit. I was able to do that quad into the turn a few times, but I wasn't sure if I would be able to do it with him probably guarding the inside. So I kind of followed in behind him and I knew he was probably going to jump (through the whoops), so I just went to the left and just tried to skim (the whoops). I knew he had the inside and I kinda, unfortunately knew what was going to happen in the last turn. But I wasn't sure, as a racer you never know which direction you want to go and (what direction) the other guy wants to go. And I saw the opening and went and I mean, dang. What a close race. I didn't think I actually won until I saw the big screen. It was an incredible race forsure."
Ken Roczen via instagram: "Ohh boy. What a race. After making the pass for the lead early on, I lead the entire Main Event. I just didn't take it all the way home. I had one spot that I struggled with and lost time and that's the spot that kind of bit me. I squirreled my way through the turn and whoops and got passed on the last turn. The difference between 1st and 2nd was 0.028. That's all she wrote. I am really happy with myself and the work that all my people put in. We are feeling better every weekend! This is great motivation to take home!" 
Marvin Musquin: "I'm right there and getting on the podium, but not able to put everything together to get a win. It's not easy mentally, but I'm still trying to work on getting stronger and better every weekend. At the same time, being on the podium and only six points right now off of the leader in the Championship, it's a good thing. When I look back on where I've come from, it's good. So I just gotta make sure I do the right thing every single week and get good starts and we can battle and I'm sure I can get better."
Austin Forkner: "I was just trying to get out front and put in my laps at the beginning. I could hear the crowd yelling and stuff, guys were going down. I saw Alex Martin was up there, he went down. There was a lot of swapping going on behind me I think. I just tried to not think about it. As we kind of got spread out about five minutes in or so that's when I was like 'ok I gotta try to put it down and just be smooth' because that's when the track kind of started to break down and then the last five minutes it was getting pretty tore up for us."
 Justin Cooper: "I felt like we built a little bit this weekend and obviously we're one step further up the podium. We'll take it. It's going to be a long series. The tracks are obviously going to challenge us throughout the series so yeah, we're just going to keep building off this during the week and we're going to go back to the drawing board and try and see what we can fix."
Chase Sexton: "I had a pretty good start to the main, finally I found somewhere where I could make something happen. I felt really, really good on my bike. I didn't really feel that great all day, and then in the heat race I felt really good. And  then in the main event I felt really good going into the what I think was five or six minutes left and yeah I made two mistakes which cost me big time. We're going to go back and work so we don't make those mistakes next weekend and hopefully we can make a change."
Ken Roczen grabbed the holeshot in the 450 Main Event, but it was Eli Tomac who snuck up the inside and took the lead on the first straightaway. 
Early in the 450 Main Event it looked like it was going to be Eli Tomac's night to shine. The slick and technical tracks usually suit Tomac, but Roczen didn't give him an inch. Ken forced his way past Eli on lap five and two laps later he would go down in a  corner while trying to stay with Roczen. Eli got up from the crash in seventh, but more issues would cause him to fall back even further and finish twelfth. 
After Tomac went down, Marvin Musquin inherited second place. Marvin stated in the post-race press conference that because of his knee injury, he was barely able to ride during the offseason. He wasn't sure if he was going to be able to race at Anaheim 1, but he did and now after seven rounds, he's in the hunt for the Championship. We expected him to have won by now, but the Frenchman has stated that he's happy with where he is at this point, given the circumstances.
Cooper Webb lit up the AT&T Stadium with his charge through the pack. He was seventh on the first lap and he put his head down to pass Justin Hill, Blake Baggett, Joey Savatgy, Marvin Musquin and eventually Ken Roczen in the final inches of the race. 
Blake Baggett rode a quiet but solid race in Arlington to finish fourth. After his big crash in Minneapolis, we are glad to see Blake rebound and walk away with another top five finish.

Joey Savagty earned his second top five finish of the year in Arlington. He ran fourth on the first laps and then moved up to third when Tomac fell. Then Baggett and Webb were able to get around him before he crossed the finish in fifth. 
We were happy to see Zach Osborne back at the races. He was running eighth on lap seven, right behind Eli Tomac before he made a mistake at the end of the whoops and crashed over the berm. He didn't finish the race. We hope that he's going to be back and 100% healthy for next weekend in Detroit.  
Cole Seely has been gaining momentum each weekend. He won his first heat race of the year and tied for his best in 2019 with a sixth in Texas. 
After being taken out in his heat race by Tyler Bowers, Justin Barcia won the LCQ. Then in the Main Event he had an outside gate pick. Bam Bam held on the gas to the last second coming into the first turn, but it was a little too much. There wasn't any room left for him and he jumped off the track in the first turn and ran over a tough block. Luckily he didn't go down, but he was dead last. He got back on the track and charged his way up to seventh by the end of the Main.
Tyler Bowers was the center of the controversy after he took out Justin Barcia in the second 450 heat race. To penalize Bowers, the FIM wouldn't let him line up for the LCQ. A lot of talk has been going on about the incident and we feel for Bowers. It was a dirty move, but the penalties for these types of incidents don't seem to be very consistent. Sometimes the rider is penalized and sometimes nothing happens. Check out the take out and what Bowers had to say about the penalty on his Instagram. 
450 CHAMPIONSHIP POINTS (AFTER ROUND 7 OF 17)
Cooper Webb-150
Ken Roczen-148
Marvin Musquin-144
Eli Tomac-134
Dean Wilson-110
Justin Barcia-104
Blake Baggett-101
Cole Seely-94
Chad Reed-93
Aaron Plessinger-93
With Zach Osborne, Justin Hill, Joey Savatgy and Aaron Plessinger all moving up to the 450 class for 2019, the door has been opened for the younger generation to make a splash. Looking at this podium, this same photo could have been taken from an amateur race only a few years ago. Austin Forkner is 20 years old, Justin Cooper is 23 and Chase Sexton is 19. 
The JGR Suzuki rider, Kyle Peters snuck around the outside to get the holeshot in the 250 Main Event, but it was Austin Forkner who would take the lead in the first straightaway. 
Chase Sexton ran in second for most of the Main Event but after his bike stalled coming out of a corner on lap eleven, Chase dropped back to third. Then with only three and a half minutes left on the clock, he had a small crash and Justin Cooper was able to get around him. Sexton was fourth for just a moment before Jordon Smith went down, giving Chase third place in Arlington. 
Justin Cooper is one of the most solid rookies we've seen in a long time. Because this is his second season in Supercross, technically he's not a rookie. But Justin was injured after the first round in 2018 and he missed the rest of the season. Arlington was his third time racing a Supercross and after Jordon Smith and Chase Sexton went down, the Star Yamaha rider finished on the podium in second.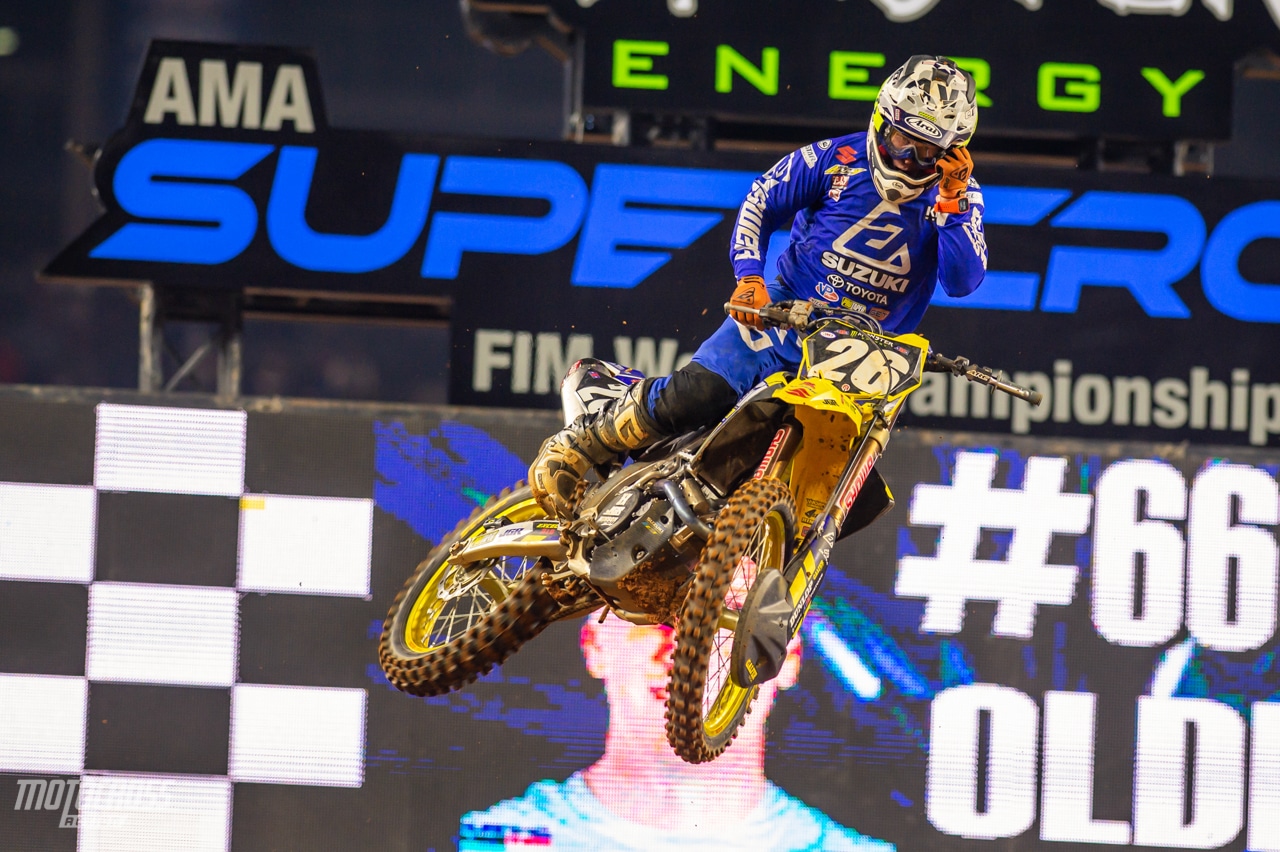 Alex Martin had a rough go in Arlington. While running in eighth on the second lap he was taken out by Mitchell Oldenburg. Martin picked his bike up in fourteenth place and fought his way back to finish eighth. We expected Alex to be closer to the front in the 250 East points chase, but after being taken out at both Minneapolis and Arlington, the JGR Suzuki rider sits fifth in the standings, eighteen points behind Forkner. 
Jordon Smith found himself in second place after Sexton stalled his bike, but unfortunately he wasn't able to hold on to it. A crash at the end of the whoop section with three laps to go gave Jordon a fourth place in Arlington. Now the Troy Lee Designs KTM rider sits third in the 250 East Championship standings, ten points behind Forkner. 
Martin Davalos had a quiet night in Arlington. His fifth place result was a dramatic improvement from his sixteenth in Minneapolis, but it still isn't good enough to put his name in the Championship conversation.
Mitchell Oldenburg was happy to win the first 250 heat race at his hometown race in Texas. After tearing his ACL and MCL in April of 2018, Oldenburg is still working himself back into race shape. He finished sixth in the Main Event and he also sits sixth in the point standings. 
250 EAST COAST CHAMPIONSHIP POINTS (AFTER ROUND 2 OF 9)
Austin Forkner-52
Justin Cooper-44
Jordon Smith-42
Chase Sexton-39
Alex Martin-34
Mitchell Oldenburg-34
Kyle Cunningham-29
Kyle Peters-29
Brandon Hartranft-29
Martin Davalos-25
Justin Cooper pressures Chase Sexton. Justin said about the track:"I think every time we went out and every time the machines got out there (to groom the track) the track hardened up a little bit. It was kind of deceiving in a way. We would get out there and even in the first heat, the whoops were pretty slick. From your eyes you would think you (your tires) would bite into it a little more, but you were just skipping side to side, it kind of caught me off guard a little bit. It kind of just got hard packed as we went."
Dean Wilson finished eighth in Arlington and he still sits fifth in the point standings with Justin Barcia and Blake Baggett behind him.
After missing Minneapolis, we were happy to see Justin Hill back racing in Arlington. He finished thirteenth in the 450 Main Event. 
Carlen Gardner #805 had an awesome start on his BWR Honda right next to Ken Roczen in the first 450 heat race of the night. The privateer finished seventh in the heat and eighteenth in his fourth Main Event of the year.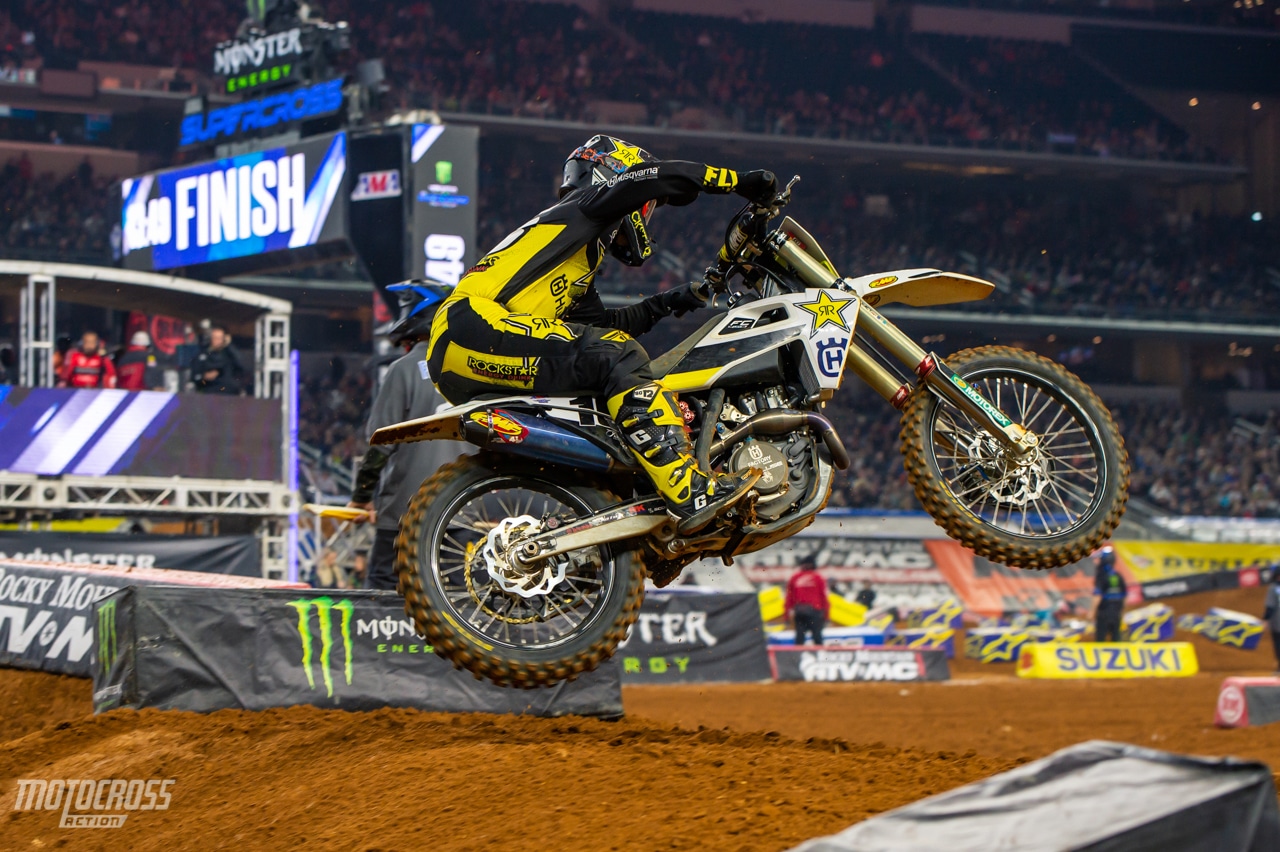 Zach Osborne was on the gas early in the day. He qualified fourth at his first 450 Supercross race, only three tenths of a second behind Cooper Webb. 
Justin Bogle had a rough night in Arlington, but he still threw this nice whip for the cameras.