THE AFTERMATH | DENVER SUPERCROSS
Eli Tomac and Cooper Webb have battled hard, but they've also displayed some good sportsmanship.  
THE AFTERMATH FROM THE MILE HIGH 2019 DENVER SUPERCROSS
For the first time in 23 years, the Monster Energy Supercross series went back to Denver, Colorado, and the race was a huge success! The crowd was alive and cheering loudly for their favorite riders. Although the fans were having a great time, there were also a lot of challenges that came with racing in the Mile High city. A few of them being cold weather, snow, slower bikes and thinner air. These factors made racing Supercross even more challenging for already challenging event. The Denver dirt was another added degree of difficulty as it developed to be the most hard pack and slick track of the year. Eli Tomac lit the stadium on fire with his speed and aggressive passes. Cooper Webb was fast as well, he passed his way up to second and grabbed his 11th podium of the year. In the 250 class Michael Mosiman grabbed the holeshot and mixed it up with the two title contenders, Adam Cianciarulo and Dylan Ferrandis. How would it all shake out? Find out here in Motocross Action's The Aftermath.
Photos by Brian Converse
Story by Josh Mosiman
"The Colorado kid" Eli Tomac was on fire in his home state. It was clear that the Denver crowd favored Eli Tomac and they went crazy here when he looked over at the crowd on the last lap of the 450 main event. Check out all the fans cheering in the background. 
In case you missed it. There was an actual snow storm during the second timed-qualifying session in Denver… It was 33 degrees, so it melted right away. But the extra moisture made the already hard packed track, even more slick.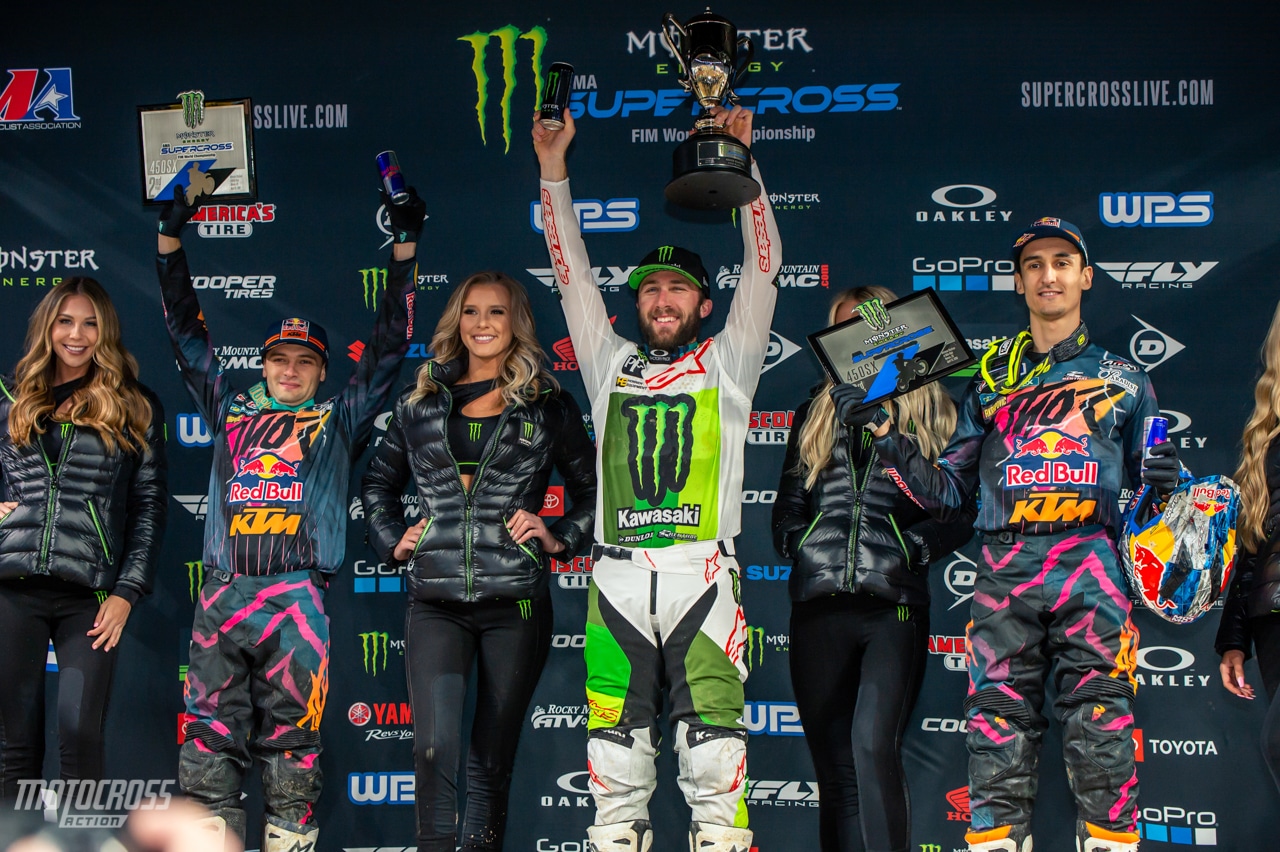 For the third time this season, Eli Tomac, Cooper Webb and Marvin Musquin shared the 450 Main Event podium. After 15 rounds, Webb has 11 podiums, Tomac has 8 podiums and Musquin has 10 podiums.
WORDS FROM THE TOP THREE—
Eli Tomac: "That was the loudest race I've ever been in, like ever. Probably double the loud level. So much fun, gosh it wouldn't have been Denver without a little snow right. We even rode in some hail on Wednesday and I'm like 'it's probably going to be that in Denver too.' Yeah, what a cool day for us. Luckily the track stayed good there, even after the moisture fell. Overall, pretty cool weekend."
Cooper Webb: "The bikes like these guys said were a big thing for us, hitting first gear in a couple of places. When it started snowing it was almost one of those things where you just kind of had to laugh it off and go be a kid in the snow and go ride. But it didn't get too sketchy and luckily it stopped. But it ended up getting really hard packed and really-really slippery. The whoops were really dry and slick so you had to have a good throttle control. Yeah overall the crowd was really into it which was cool and it was a lot of good racing so overall it was a good weekend for me."
Marvin Musquin: "Coming into this weekend we knew it was going to be tough on the bikes and engines and all that. So it was definitely a challenge and also the conditions. We did track walk and dirt looked unreal, and it actually got really hard pack. You could see even on tv, it got super super slick. It was definitely tough and I give my best and I'm definitely glad I got a good start and a better feeling in the main and landed on the podium. Because it was not it in the heat race. But I give my best and I'm definitely looking for a better weekend."
Adam Cianciarulo: "We had an altitude kind of race at Salt Lake last year and I didn't really remember how much slower my bike was. I went out for practice and I had walked the track and looked at that far rhythm section after the start and I'm like 'ok three out, table over single on to table.' And I went out there and I'm like, dude I don't even know if I'm going to be able to double through here! So it just made it a little more difficult in that sense. Like Colt said, it was not a very technical track. But the dirt got really hard and really slick and I heard some people coming into the race kind of thinking it was going to be a little bit muddy, I don't know if that's how it was back in the day but yeah it made it difficult. But luckily I had a good night, pretty comfortable, I'm pretty good in those conditions. But I can't say enough good things about the crowd too, the crowd was unreal so shoutout to you guys."
Dylan Ferrandis: "It was not a really good weekend. It was a new venue ok, but the altitude and the cold was not really fun to ride. For me I didn't really enjoy this race. Especially because of the cold. It was really really cold and when you ride it was not easy to get warm when you ride. I was struggling a little bit with that. It's the same for everybody but for me it was a big problem. But the place was really full that's forsure."
Colt Nichols: "It was good, I got to come in early and adjust to the altitude a little bit. It usually kind of messes with me, I get sick every year that we go to Lakewood. So I was really happy that didn't happen this year. It was definitely different, snow during the practices and then the track got really hard. The track was really simple, but it made it really technical the way the dirt was. So you kind of had to be on your toes tonight. But overall I can't complain third place, I'm happy. Just needed to start a little better but it's all good."
Eli Tomac stands around a technical 90 degree corner. As you can see, the track was very hard packed and blue groove in Denver. Riders were struggling to find traction all day. Throttle control and momentum were very important, if you lost your momentum, it was hard to get it back. 
In the 450 main event, Marvin Musquin, Joey Savatgy and Justin Bogle ran first, second and third and they finished third, fourth and fifth by the end of the 20-minute plus one lap main event. Musquin was third, Bogle finished fourth and Savatgy dropped to fifth. Eli Tomac and Cooper Webb were both outside of the top five on the start, but their speed and aggressive moves allowed them to slice their way to the front.

Eli Tomac was on another level in Colorado. He was riding with confidence knowing that he had more experience riding at high elevation and in cold weather than anyone else. When the main event started, he was sixth early in the first lap, but he put on a charge. He passed into the lead before lap seven and he never looked back. Although he did look over at the fans to celebrate on the final lap.
The fans went crazy for their Colorado Superstar, Eli Tomac. 
Unfortunately Dean Wilson went down hard in Denver. Dean was running in eighth place at the beginning of the main when he crashed in a rhythm section. He laid on the track for a full lap which caused the red cross flag to come out through that section for one lap. So far nothing official has been announced about Dean's injury. 
Cooper Webb started out slow in the 450 main. Joey Savatgy was putting up a strong fight and he was making it a big challenge for Cooper to get around him. Finally Cooper got into third on lap 13 and it seemed like he would settle for the final spot on the podium. But that wasn't the case, Cooper kept charging and he caught up to Marvin Musquin and passed him on lap 21 of the 28 total laps.  
When asked about being passed by his teammate at the end of the main event Marvin Musquin said: "I was struggling a little bit. The conditions were definitely tough and I tried my best, but yeah, I was losing some time in a couple sections of the track and I felt like I had some decent laps but I was not able to do that the full main, unfortunately."
Ken Roczen started in ninth and finished in seventh in the 450 main event. He mentioned this in a post on Instagram: "I have been struggling with certain things for the past couple months. It's been really tough going to the races and feeling the way that I have been. We are slowly starting to figure out what's going on. Things like this take a long time as well as fixing it doesn't happen over night either. I haven't talked much about it because that doesn't make it any better on race day. When I get this fixed and get some consistency in my every day program we will be in a good position to start winning. I know it. It's tough to get things better when you have an issue racing 15 weekends in a row."
Justin Bogle wheelies in front of the pack on the start of the first 450 heat race.
After starting the season with almost no experience on the KTM, it's clear that Justin Bogle is finding his groove. He grabbed the holeshot and won the first 450 heat race of the night and then he grabbed a third place start in the main event and rode a solid main event to finish fourth place. We interviewed the Rocky Mountain KTM fill in rider on Friday before the race, check out the video by clicking here.
Even after crashing one week ago in Nashville and dislocating his shoulder, Joey Savatgy was able to push through the pain and run up front in Denver. He qualified third, placed fourth in his heat race and fifth in the main event. 
Marvin Musquin and Ken Roczen had a good battle in the heat race, but Ken Roczen was off the pace in the main event. Ken finished seventh behind Blake Baggett.

Zach Osborne, Blake Baggett and Marvin Musquin share airspace during the first heat race in Denver. Justin Bogle would win this heat with Zach Osborne second and Blake Baggett third. Marvin Musquin would eventually get passed by Ken Roczen who finished fourth in the heat. 
The Colorado native knows how to dress for the cold 35-45 degree weather in Denver.
Cooper Webb tosses a Denver Broncos jersey with his name and number on it into the crowd. 
With two rounds left in the 2019 Monster Energy Supercross season, Cooper Webb maintains an 18-point lead over Eli Tomac in the overall point standings. 
450 SUPERCROSS POINTS (AFTER 15 OF 17 ROUNDS)
Cooper Webb-332
Eli Tomac-314
Marvin Musquin-309
Ken Roczen-283
Blake Baggett-255
Dean Wilson-223
Joey Savatgy-192
Cole Seely-180
Justin Bogle-157
Justin Barcia-154
After a rough race in Houston, Adam Cianciarulo bounced back to claim the win and extend his points lead by 3 in Denver. Dylan Ferrandis won the last two in a row, but in Denver he finished second and Colt Nichols would land on the podium again in third.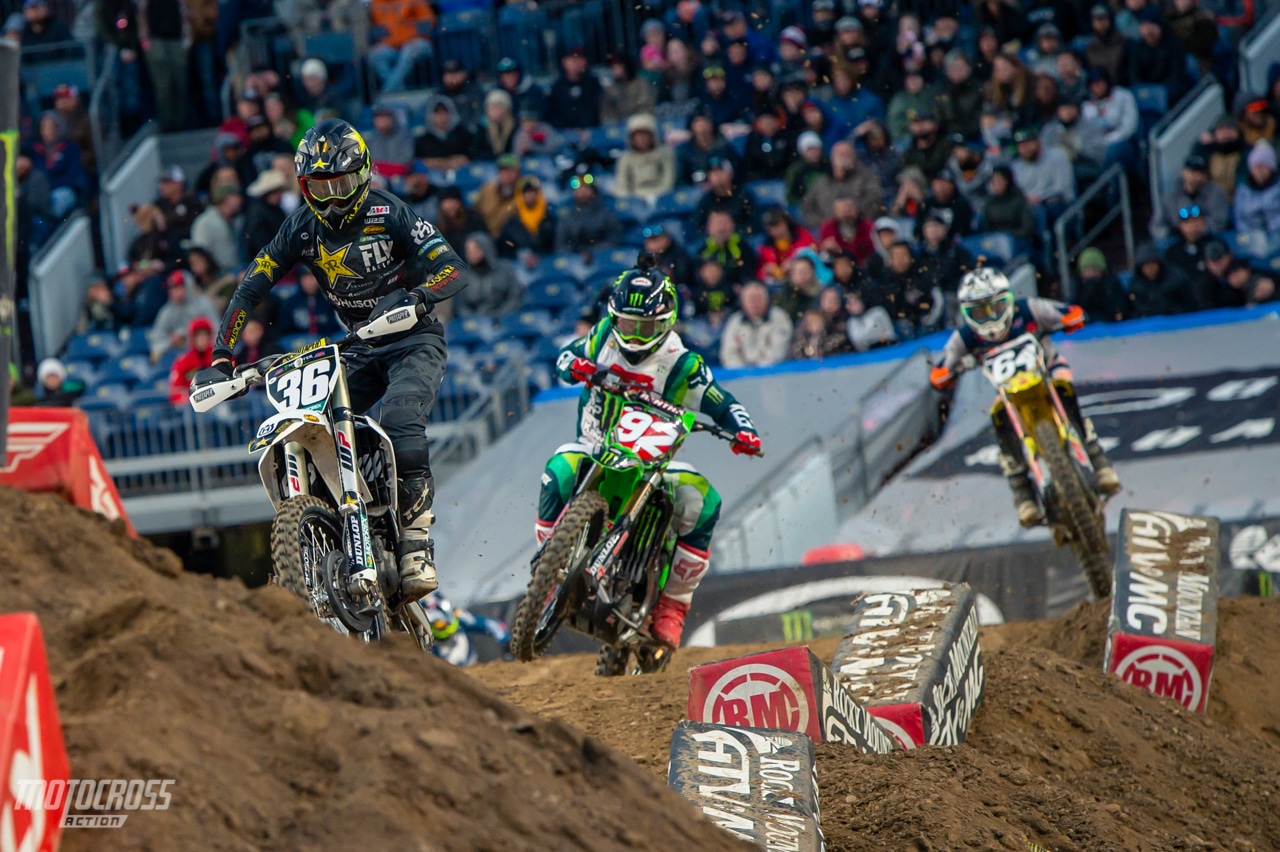 Michael Mosiman grabbed the holeshot and the early lead in the 250 main event. Adam Cianciarulo was second and Jimmy Decotis #64 was third.
Cameron McAdoo started in fourth place with Dylan Ferrandis and Colt Nichols behind him. Here Ferrandis cuts down to make the pass on McAdoo in the corner before the whoops.
Michael Mosiman lead for the first six laps of the main event. Adam Cianciarulo was second and most people thought that Adam would make quick work of Mosiman. But the 19-year old Rockstar Husqvarna rider was able to put up a strong fight. Eventually Adam passed Michael, but then Michael was able to get up next to him and pass him right back for a brief moment.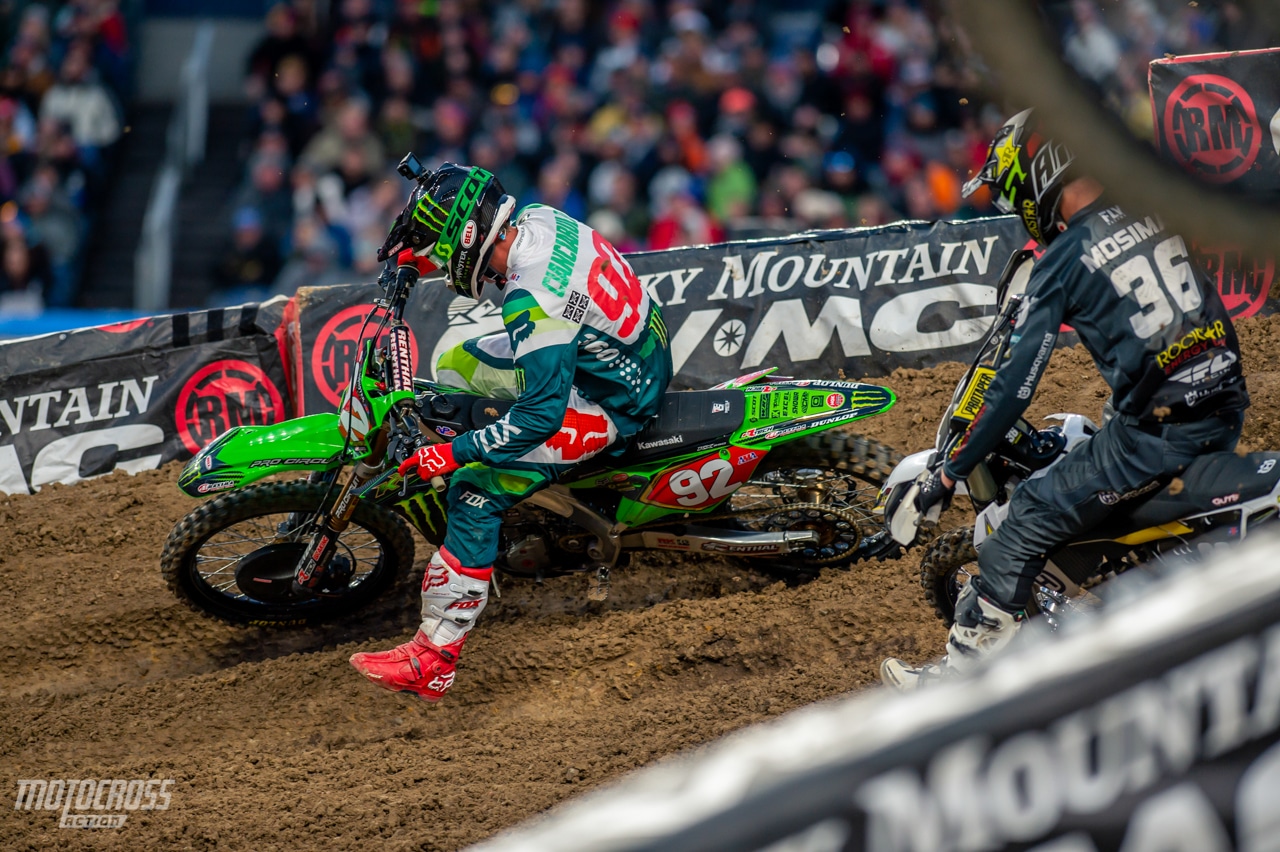 Adam Cianciarulo talks about battling with Michael Mosiman: "He was riding really good, he's had a lot of speed since around Seattle time I've noticed. I got behind him a couple times and it looks like he's riding with some confidence. He's a good young rider. For me it's a tough situation, for one, I wasn't looking behind me. I didn't know where everybody was, if I was going to get passed or if I had someone pressuring me. I was just kind of focused on trying to a pick a spot (to pass). Michael, as he should, was racing me hard…" "I got by him and you know you get by somebody after battling for a long time and your heart rate is kind of high you're kind of trying to take a break, take a couple breaths and I took a big breath over the triple and man he ran it right in on me, as he should, I was kind of chilling. Luckily he didn't put me into the tough blocks so I can kind of laugh about it now, but yeah he was riding great."
After Cianciarulo got around Michael Mosiman, it was Dylan Ferrandis' turn. Michael was able to hold Dylan off and run second for six more laps until the Frenchman got by.
Dylan Ferrandis took too long to get going in the main event, he was never close enough to put pressure on Adam Cianciarulo. Dylan finished second and lost 3 more points to Adam in the Championship. Now with only the East/West shootout left, Adam Cianciarulo holds an 8-point lead over Dylan Ferrandis. 
250 WEST COAST POINTS (AFTER 8 OF 9 ROUNDS)
Adam Cianciarulo-208
Dylan Ferrandis-200
Colt Nichols-163
Rj Hampshire-145
Jimmy Decotis-128
Michael Mosiman-128
Cameron Mcadoo-128
Shane McElrath-123
Chris Close-119
Garrett Marchbanks-100
Dylan Ferrandis talks about being 8 points down going into the East/West showdown: "We saw in the last East/West showdown that AC and I was faster. So if it's the same it's going to be a little bit tough for me to get the Championship. So I hope to be a little bit lucky and we'll see. We all know that anything can happen in Vegas so I will do everything I can for challenge for this Championship."
Jimmy Decotis, Cameron McAdoo #44 and Michael Mosiman are all tied for fifth place in the 250 West Point standings with 128 points.
After finishing second in Houston, Rj Hampshire had another good finish in Denver. He block passed Michael Mosiman in the final corner to finish fourth.
Colt Nichols celebrated his heat race win with a nac-nac look-back.
As you can tell, the whoops were very slick in Denver. This shot was from the first time-qualifying session when the snow was falling. Slippery whoop sections require a great amount of throttle control to be able to get through without making a mistake or crashing.