THE AFTERMATH | 2019 DETROIT SUPERCROSS
Eli Tomac rebounds after a rough weekend in Arlington to take the overall win by just one point in Detroit.
Photos by Brian Converse
Story by Josh Mosiman
It's hard to believe we're already eight rounds into the 2019 Monster Energy Supercross season and Eli Tomac is just now getting his second win. The Detroit Supercross was the second event of the year that used the Triple Crown format. In an already awesome season of Supercross, round eight was another eventful one. Whether you like the format it or hate it, the results were very close in the 450 class and it was exciting to watch. The veterans, Justin Brayton (34yrs. old) and Chad Reed (36 yrs. old) were battling for the lead in the first moto, Cooper Webb held off Blake Baggett by just a few feet at the finish line in moto three and Eli Tomac had to fight from the back to place sixth and win the overall by one point. Our photographer Brian Converse was in Detroit capturing all of the excitement from inside of the Lions, Ford Field. How would it all shake down? Find out here in Motocross Action's "The Aftermath."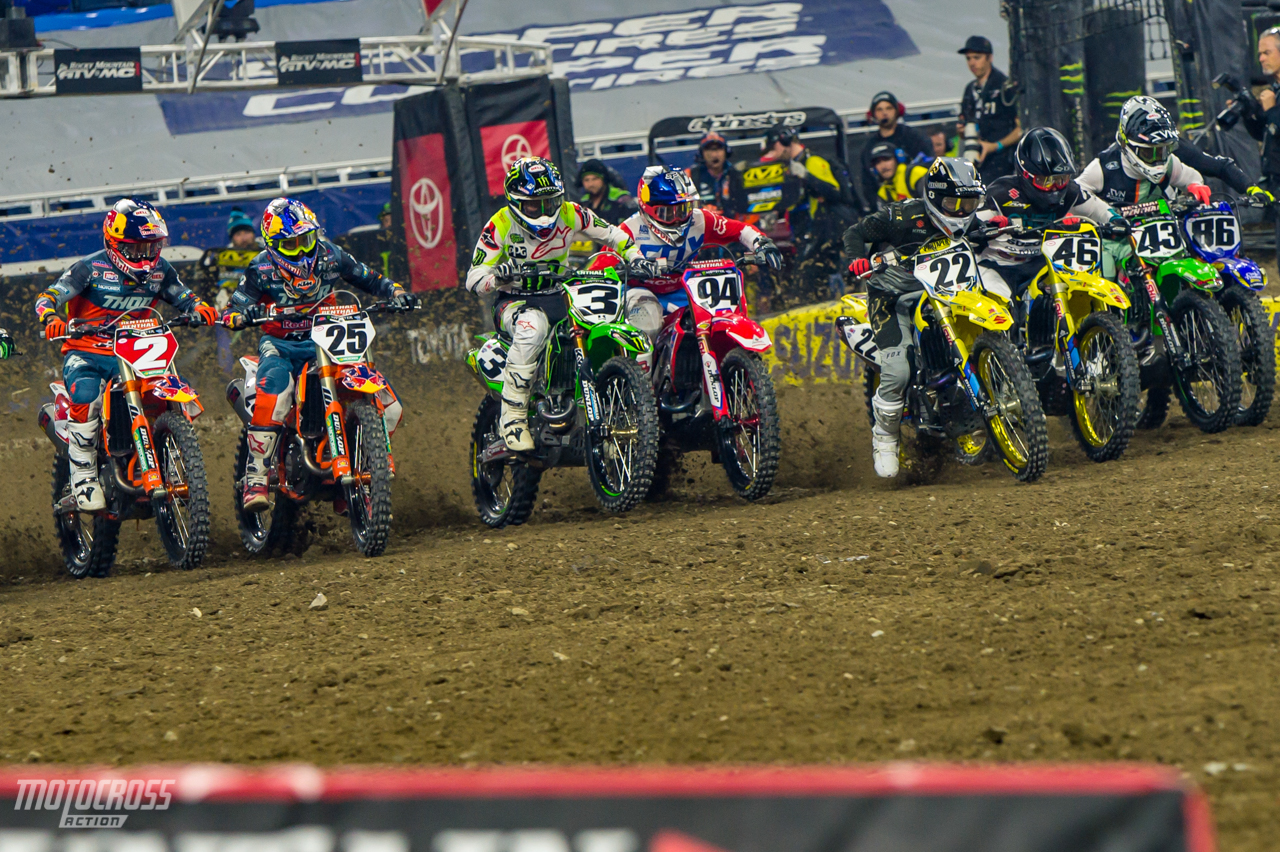 WEBB VS. TOMAC: The two stars of the night flip flopped throughout the night. Cooper Webb started off slow in the first Main Event, he was fourth on the first lap and dropped back two positions to finish sixth. Tomac did almost the opposite, he started in eleventh on the first lap and passed all the way through the pack to take the win. In the second moto, Webb got the holeshot while Tomac started in third. Eli made the pass on Cooper on lap five and they finished one and two. The third moto was a different story, Eli had some struggles. Early in the race he was back in twelfth, but he put his head down and made his way to sixth. Cooper Webb started in fifth and made his way to the front and won the final race of the night by just a few feet over Blake Baggett. Tomac's 1-1-6 scores were good enough to win the overall by one point ahead of Cooper Webb who went 6-2-1.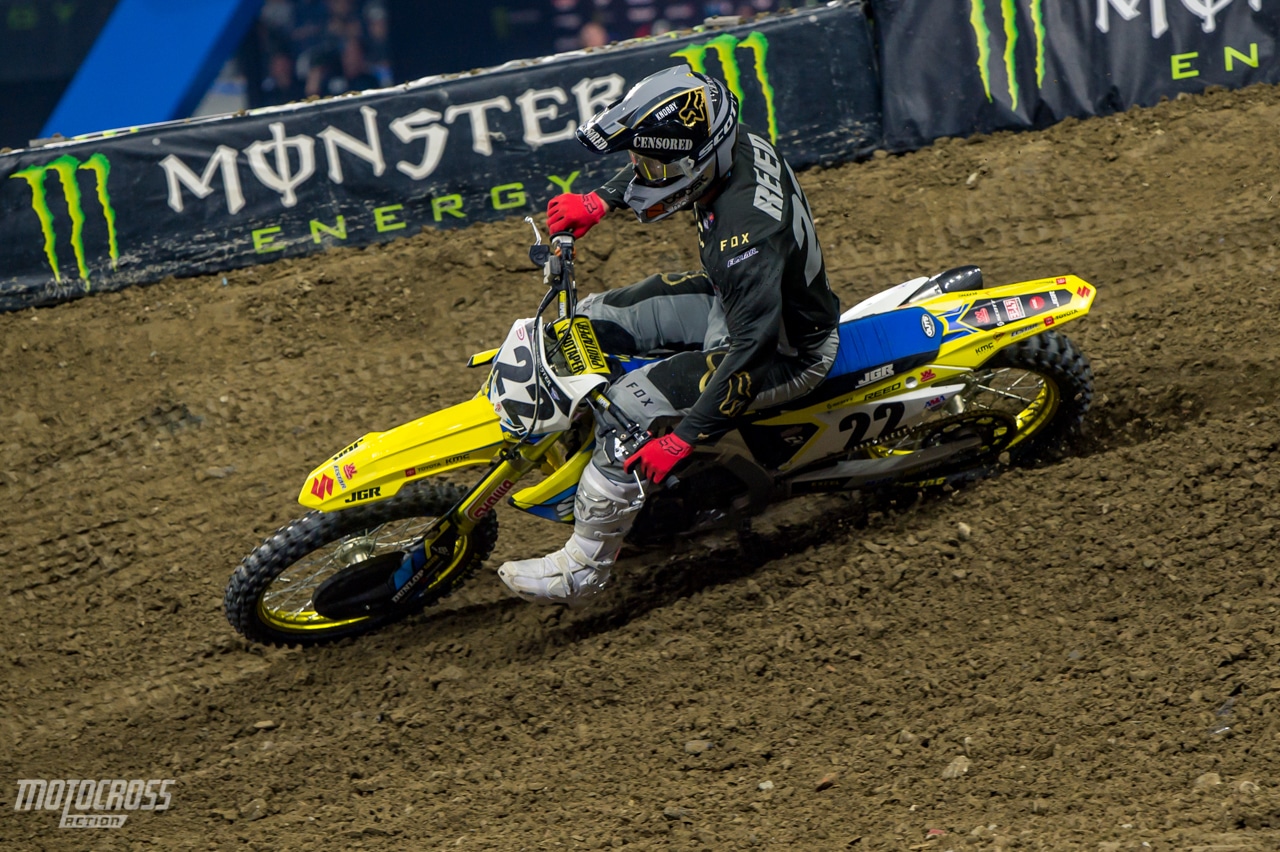 Notice the big censored logos on Chad Reed's visor? Chad has been stirring the pot with the AMA and Feld by running "censored" logos on his visor and by 'kind of' thanking his CBD sponsor on the podium. During his TV interview with NBC Sports he said: "It feels so rad to be up here and I'm honored to ride this JGR Suzuki. Man , I just want to thank everybody that's had my back. Everybody at Fox and Scott, and go check out @crtwotwo on my Instagram and figure out what this is about. Because I'm not allowed to thank them, and I love people that support the sport, so thank you…" (as he holds up his helmet with the word 'censored' across his visor three times.) The AMA banned the promotion of CBD products last week, right after Chad Reed gained CBD MD as his new sponsor. Click here for more info on the CBD ban.
Eli Tomac: "That was the way it was, tonight would've been a big swing. If I would've had my race again like I had last week, I would say it was pretty close to being over with for that Championship. Gosh, it was such a better weekend. We were just feeling it through all those practices and of course going into the third main with that big cushion. Sometimes you get a little bit too comfy, and then I totally blew the start and then I had another spot there where I went flying off (the track) and almost hit the hay bale. I got it back together, and of course Cooper was charging to the front too and I'm watching that on the pit board, I'm like 'gosh we gotta go.' But overall, it was such a better weekend for us. It feels good to be here."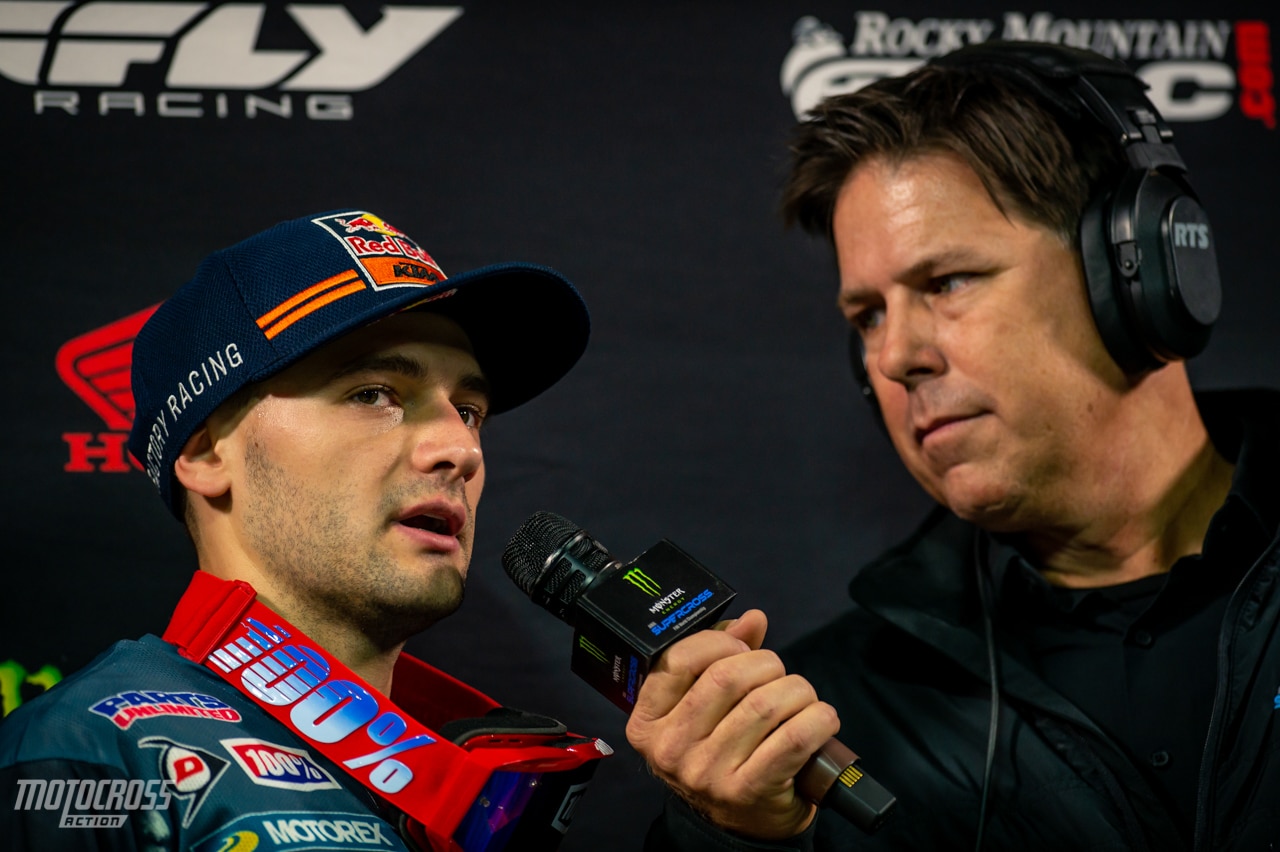 Cooper Webb: "It was a tougher day for sure, I mean, everybody is very close in practice, but it was more of a struggle for me today. I knew going into the mains, from practice you want the best gate pick you can. I would've liked to qualify a little better, but I was just struggling a little bit. I was just messing around with the bike a lot and not really getting anywhere. So it was good, we kind of went back to what I knew and I was able to ride it. I got the holeshot which made my life easy and you know Eli got around me, but it was good to at least ride with him because he was obviously the best guy today. So yeah, the last main event was good to get a good start and make some passes and run up there and get a main event win, or what ever you want to call it. I was pumped to get better and still be up on the podium with a second. It shows me that I got plenty of work to do to keep it going."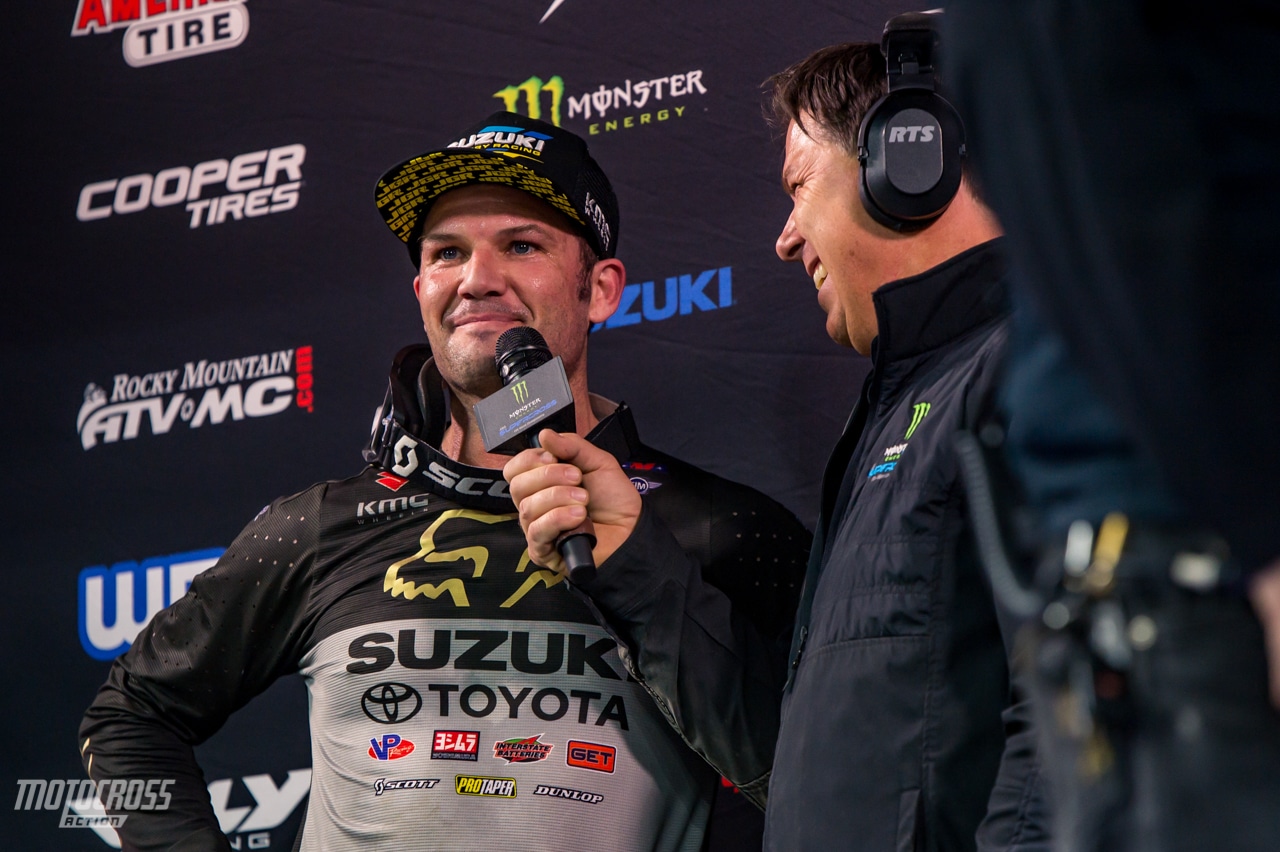 Chad Reed: "At this point in my career I'm a fill in guy and an ambassador for the sport. It always feels good to get up here and do your job. I mean, no mistake about it. I do this because I believe I can be here. I don't work my butt off during the week to get the positions that I have and it has been extremely just frustrating week-in and week-out for the last few years. So you know, to have a night where you go out and your fighting for those top positions, it's fun. That's something that I've been used to. You get in the back and fight with guys where the rhythm is completely different. The more forward you go, they just go forward and they race you a little bit more fair. They don't jump from one side of the track to the other. It's enjoyable. For me it's an honor to be a part of JGR. Coy and J-bone believed in me and gave me a position this year. I moved to North Carolina, and I'm having fun there. We changed the bike a lot this week, for me it's always nice to have trust in me and then to be able to give them a result like this." 
Austin Forkner: "I haven't started worse than second this year, that is huge, obviously. Honestly, that's been one of the biggest things this year, is my starts. They've been dialed and especially when I can get a holeshot and ride my laps and focus on me. That's just the biggest thing." 
Austin on racing against guys that he grew up with: "A lot of guys on this coast (East) I kind of grew up racing with. But even Chase, we battled a lot in amateurs, and even Justin Cooper, I grew up racing with him. Jordon (Smith) was just a couple of years ahead of me. So basically everybody in the class right now, as far as some of the top guys I kinda grew up racing with or we kinda grew up (in the same) amateur scene. Nothing has really changed, it's cool to see that we had a couple strong guys come out. Me and Chase and (Michael) Mosiman and (Sean) Cantrell actually came out of the same age group. We all basically battled growing up and not a lot has changed. We're still battling and pretty much racing how we did then. It's just Supercross and motocross, it's bigger now."
How are you going to beat Austin Forkner? Chase Sexton: "The biggest thing is starts, he's been pretty lights out with starts. Just getting out front and just riding your own laps. Being in the top five is not good enough. You gotta get the holeshot and put in your good laps. I felt good on the bike today, I thought this was going to be the night I could challenge and hopefully get the win. But it didn't come yet, I just gotta get those starts good, but yeah he's (Austin) been crushing it. But I feel good and we're getting better every weekend. So just gotta work on those starts this week and come out swinging next weekend for the East/West shootout. 
Jordon Smith talks about his wrist injury that he's dealing with currently: "Mobius sent me some wrist braces this week to try, that helped a lot to stabilize it on landings and jumps and stuff. Without that I probably wouldn't have been able to make it through the night. In the first practice it wasn't too bad, the adrenaline and everything kind of helped out tonight, compared to riding on Thursday. But as the night went on it got worse and worse. Every time I would come off (the track) it would kind of be out of place and Dr. Navarro had to squeeze it and put it back in place. It was a struggle tonight, but I came and did what I wanted to do and just salvaged some points."
Ken Roczen placed fourth, he said via instagram: "Glad tonight is over. Just one point away from the podium. I struggled all week with a flu. Still am! My body didn't feel up to par tonight but I tried to minimize the damage. Glad to be healthy. I hope I'm going to have a lot better week this week. P.S. I'm really sorry for not showing up to the signing on Friday again. Same as before Dallas. That's where my illness started and I am just trying to get the most out of my recovery. Hope my fans understand. See y'all in ATL."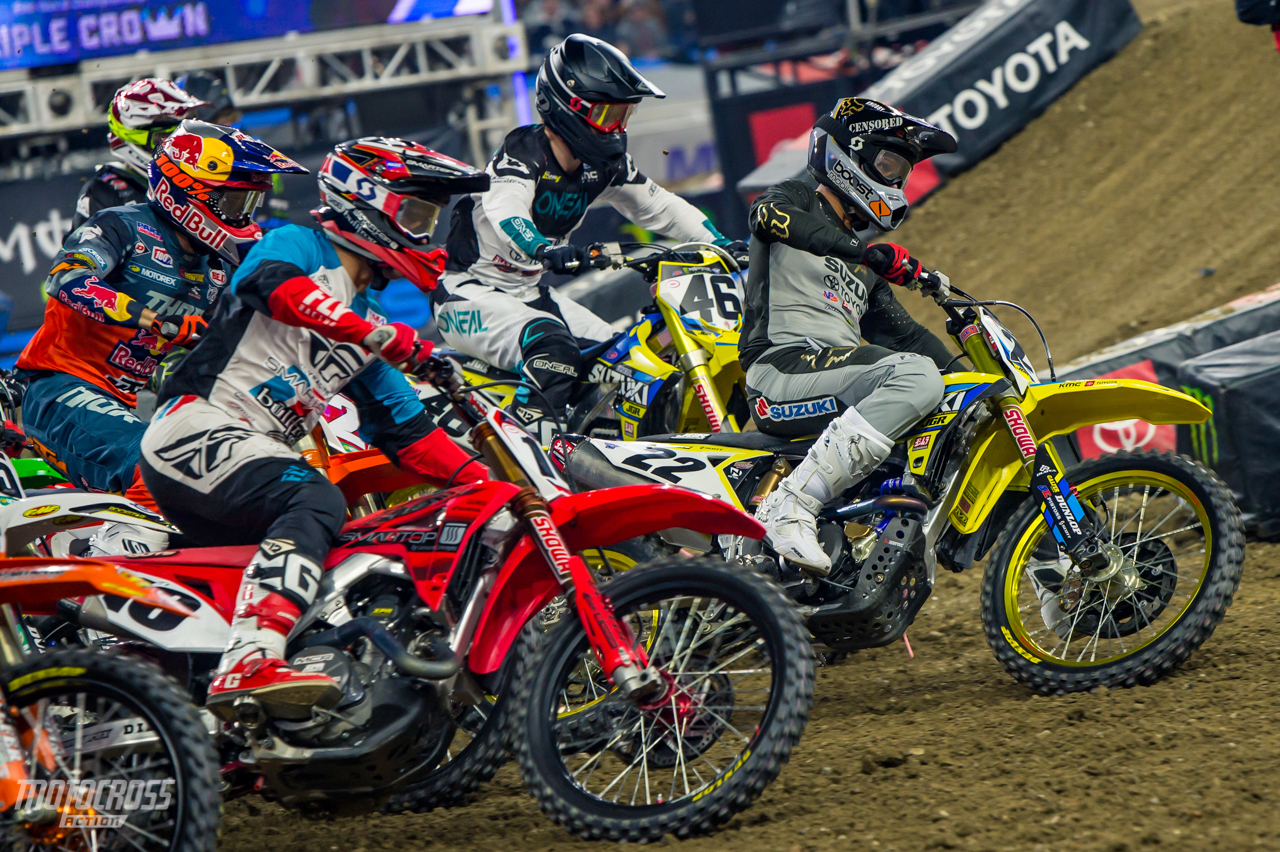 Chad Reed and Justin Brayton were very impressive in Detroit. Chad was up front on the start of the first Main Event but it was Justin Brayton who grabbed the early lead and stayed out front for ten laps. Chad ran second for most of the race until Eli Tomac came and passed both of them. With three twelve minute-plus one-lap motos in the Triple Crown format, there's more opportunity for guys like Brayton and Reed. They have three starts, which means three chances to get up front early, and the races are shorter. Naturally shorter races makes the guys who usually don't win, more confident knowing that if they get a holeshot, they won't have to hold the pack off for the full duration of a standard twenty-minute plus one lap Main Event. 
Eli Tomac talks about fighting through the pack in the final Main Event: "I knew I had to get forward and Kranz (my mechanic) did a good job tonight putting the position on there. You know at one point he put three more guys (on the pit board) and I'm like 'man we're gonna have to work for this one' and then with Deano going down, that made it a little bit easier. But either way it was pretty tough there."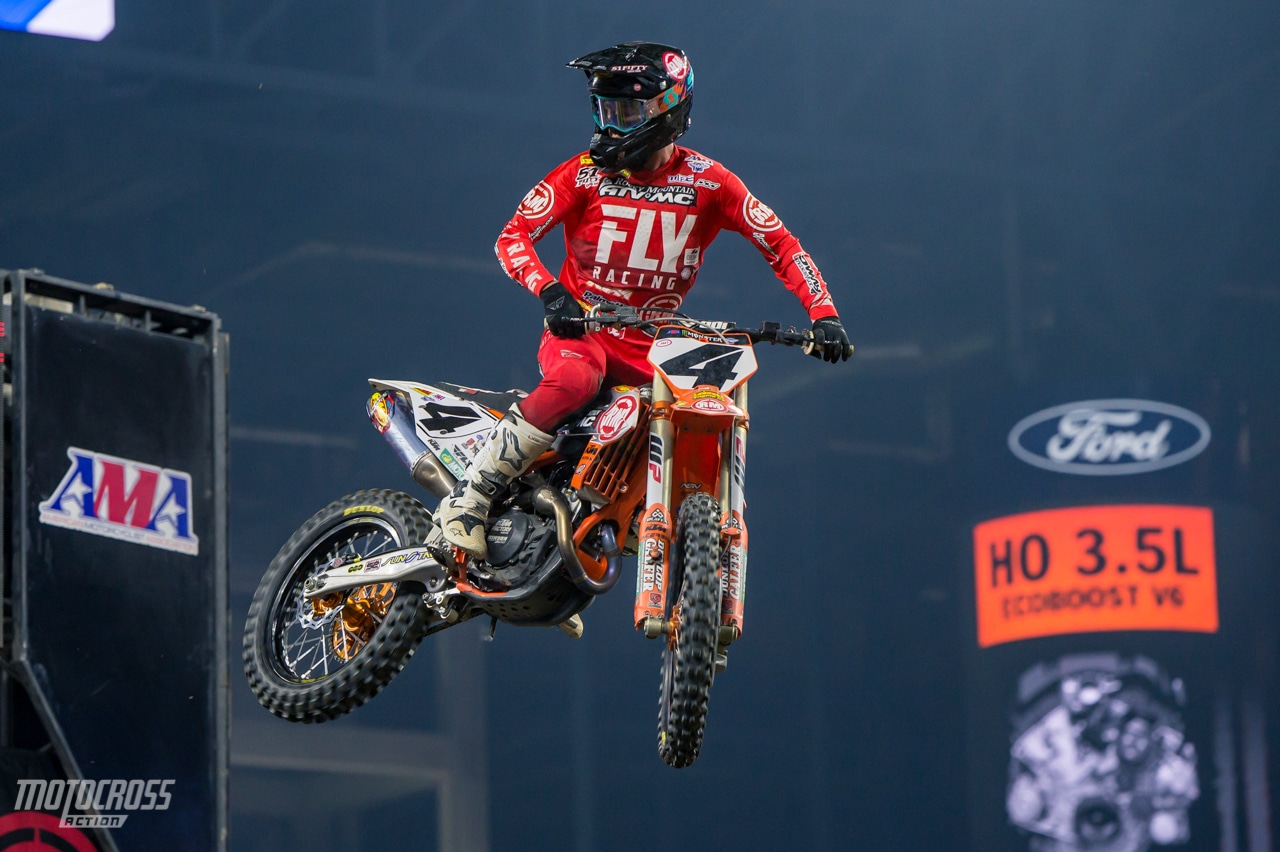 Blake Baggett went 4-11-2 to finish 5th overall in Detroit. His results were up and down throughout the night, but he turned on the after burners in the last moto. He led the first six laps and then after getting passed by Barcia and Webb, he rebounded and passed Justin back and then almost passed Webb in the final corner of the race.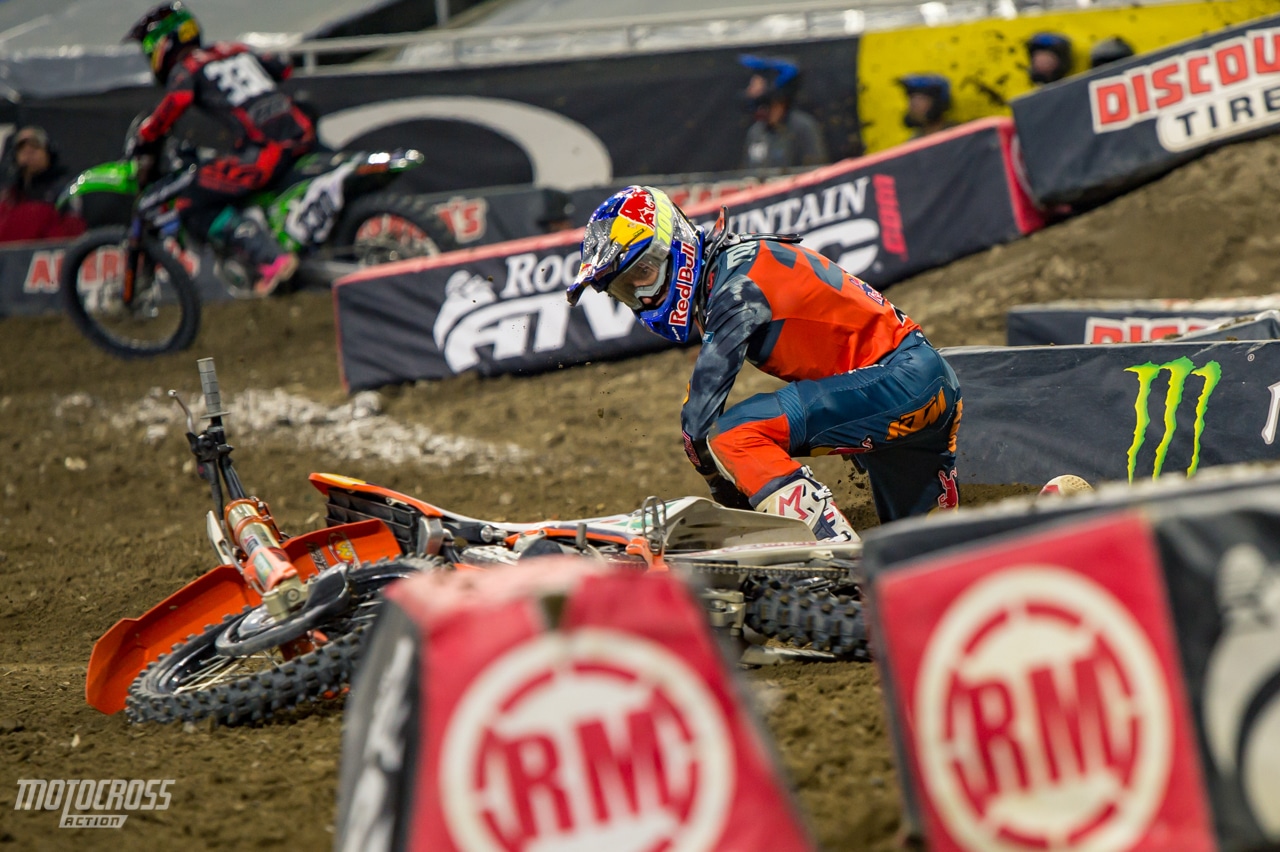 Round eight did not go as Marvin Musquin would've liked. He went 9-4-4 for 6th overall. In the first race of the night Joey Savatgy battled passed the Frenchman and eventually took him out on accident. Coming out of a slick corner, Joey's rear end swapped him right into Musquin's line. Having nowhere to go, Marvin ran right into him and went down. After Detroit, Red Bull KTM's Marvin Musquin is third in the450 Championship, twelve points behind his teammate. 
While running in 4th on lap 12, Justin Barcia slammed into Dean Wilson and cleaned him out. Dean went 7-9-13 for 11th overall. Dean posted on Instagram: "My time will come. Just don't quit."
Two of the 450 rookies battle in Michigan. Zach Osborne went 11-8-10 for 10th overall while Justin Hill went 13-14-12 for 13th overall.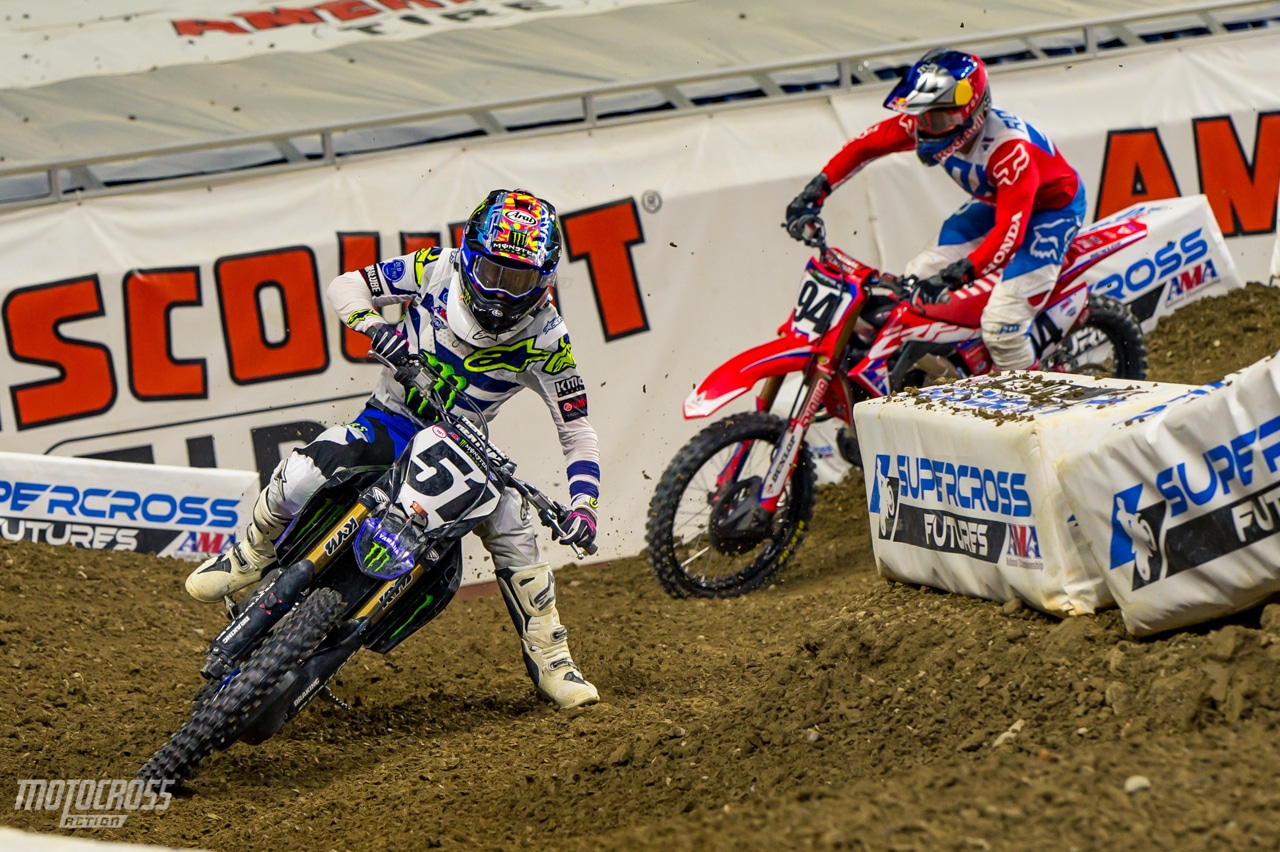 After being taken out by Tyler Bowers in Arlington, Justin Barcia was riding aggressive as usual. He scored a 10th and 7th in the first two motos and then after taking Dean Wilson out and battling with Webb and Baggett he finished 3rd in the final moto which gave him 7th overall on the night.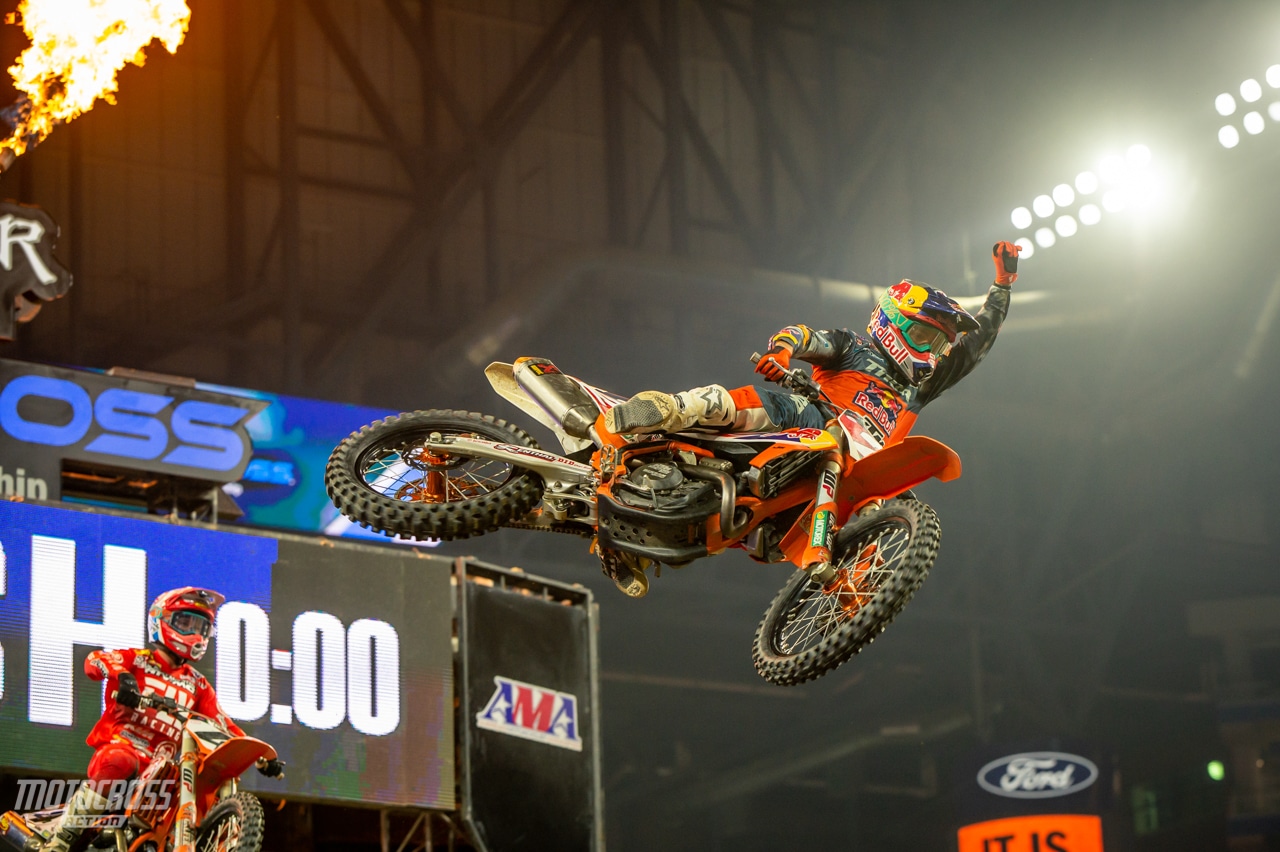 Detroit was almost going to be considered an "off day" for Cooper Webb, he qualified ninth and in the first moto he dropped back a few positions to finish sixth. Cooper and the KTM team made some changes and he was able to turn it around in the final two motos. A second place behind Tomac in the second moto and a win in the final moto gave Cooper Webb a 6-2-1 score and second place overall in Detroit. He was only one point away from turning his "off day" into an overall win on the night. It certainly was impressive to see him rebound after a slow start. Cooper will keep the red plate and the points lead going into Atlanta. He has a six-point lead over Ken Roczen and a thirteen point gap on Tomac. 
450 CHAMPIONSHIP POINTS STANDINGS (AFTER ROUND 8 OF 17)
Cooper Webb-173
Ken Roczen-167
Marvin Musquin-161
Eli Tomac-160
Dean Wilson-122
Justin Barcia-120
Blake Baggett-119
Chad Reed-114
Aaron Plessinger-104
Justin Brayton-97
We are three races into the 250 East and Austin Forkner is still undefeated. Also, after Saturday night in Detroit he became the first rider to win all three Main Events at a Triple Crown formatted Supercross race. (Unless you count Monster Cup, then he would join Ryan Villopoto, Marvin Musquin and Eli Tomac as Triple Crown winners.)
Even when Chase Sexton (#23) started right next to Austin Forkner (#24), he wasn't able to pressure the points leader. Austin has been so good at getting into the lead and sprinting early on in the races, nobody has been able to touch him yet.  
So far this year Forkner has made mistakes and has had some big crashes in practice and qualifying. Luckily for Austin, he's been able to stay healthy and smooth out his riding for the races. When asked about the difference in his riding from qualifying to night show, Forkner said that he tries to find the limit during the day, and that way he knows how hard he can push when it counts. In the races he manages his speed and the amount of risk he has to take.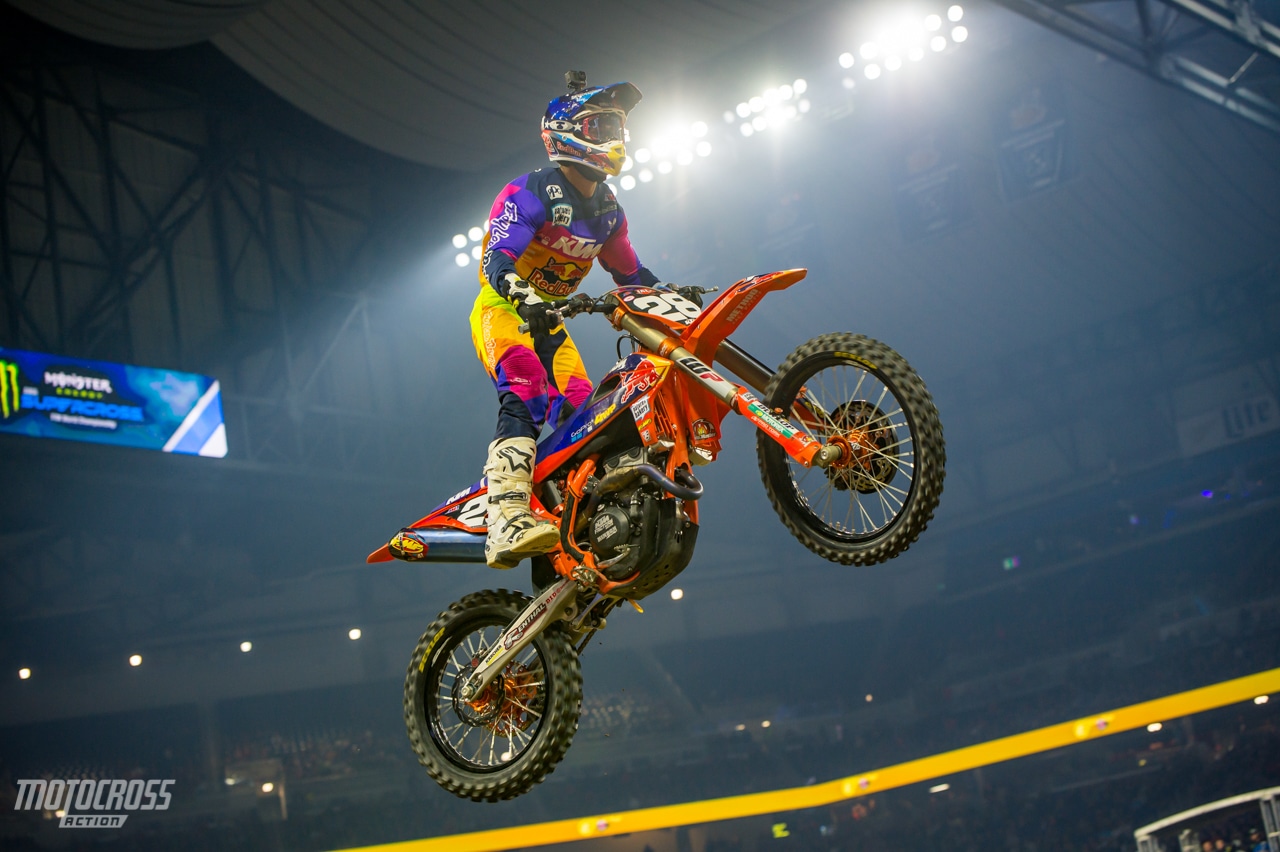 While running second place in Arlington, Jordon Smith crashed in the whoops and hurt his wrist. Luckily, the doctors only diagnosed it as a bone bruise, but it's still bothering him quite a bit. During the week he was only able to ride one ten-minute moto because his wrist was bothering him so much. In Detroit, the Troy Lee Designs Red Bull KTM team decided to soften the initial feel of his suspension to hopefully help his wrist. Even with the injury he still rode well, a 2-2-4 he score put Smith on the podium with a 2nd overall.
Alex Martin was fast, he qualified third just 0.4 behind Chase Sexton. His results were up and down in the three Main Events, a 10-3-6 gave Alex 6th overall.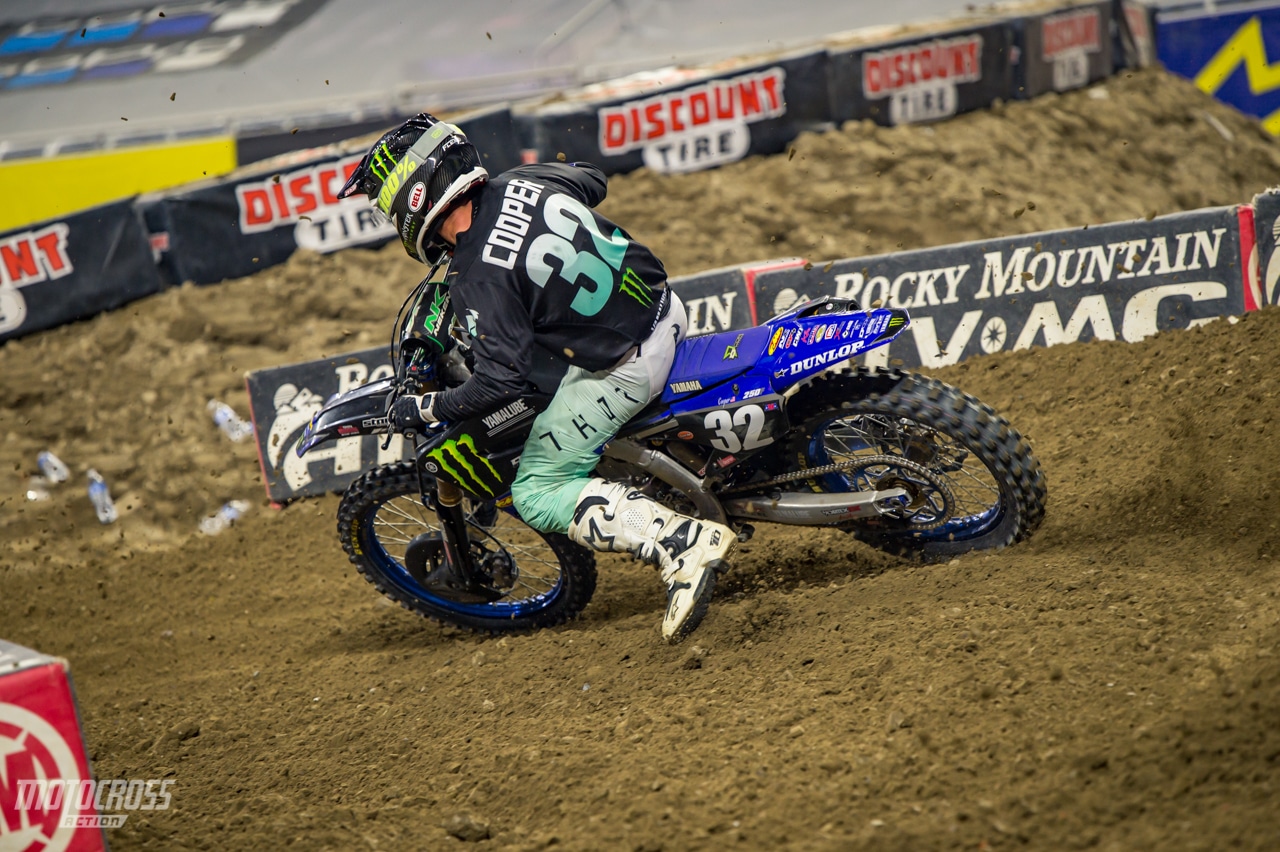 Justin Cooper had another solid night of racing. For his fourth Supercross race ever, Cooper is riding with the confidence of a veteran. He made a pass on Jordon Smith that was a pure power move, he slammed the door and actually hit his rear wheel on Smith's front wheel in the third moto. Smith was lucky to not go down. Justin Cooper went 3-5-3 in the motos which earned him a 4th overall in Detroit. He now sits third in the Championship, fifteen points behind Austin Forkner. 
250 CHAMPIONSHIP POINT STANDINGS (AFTER ROUND 3 OF 9)
Austin Forkner-78
Jordon Smith-65
Justin Cooper-63
Chase Sexton-60
Alex Martin-51
Mitchell Oldenburg-50
Kyle Peters-44
Martin Davalos-43
Kyle Cunningham-43
Brandon Hartranft-41
The 32 year old from Ecuador, Martin Davalos was consistent with 5-7-5 scores to give him 5th overall.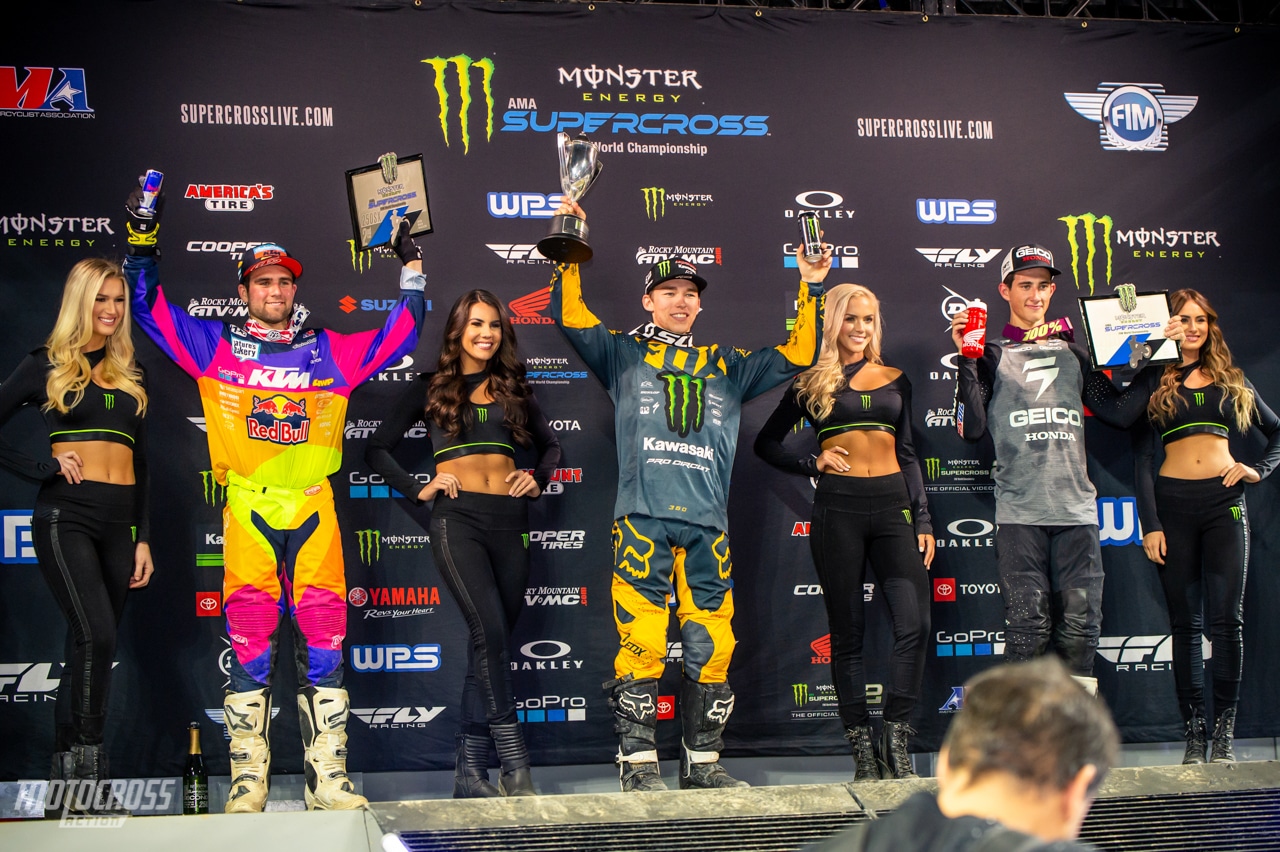 Austin Forkner, Jordon Smith and Chase Sexton made up the 250 East podium in Michigan. We are excited to see the 250 East division line up against the best from the 250 West this Saturday at round nine of the 2019 Monster Energy Supercross season in Atlanta.
Thanks for reading, Motocross Action's The Aftermath!