THE AFTERMATH | EAST RUTHERFORD SUPERCROSS
Fireworks lit as the East Rutherford Supercross provided another story filled round of racing.
Round 16 of the 2019 Monster Energy Supercross season was, yet again, exciting for Supercross fans. East Rutherford experienced rain on Friday which seems to have been a normal characteristic for the 2019 season. The Dirt Wurx crew had to work hard again and their effort showed. The MetLife stadium featured a challenging track that provided for great battles. With two rounds left, there were many questions going into the race and the action in New Jersey answered them all! How would it shake it down? Find out here in Motocross Action's "The Aftermath".
Photos by Brian Converse
Story by Josh Mosiman
We wondered if Cooper Webb would play it safe or go for the win at round 16 and the answer was yes for both. Cooper was coming into the race under the weather. At the beginning of the 450 main event, Cooper got in the lead, but he wasn't riding like his normal self. He seemed to be in "championship mode" like he would be happy with a podium or top five finish. But after battling back and forth with Eli Tomac and Zach Osborne, Cooper's smooth and consistent riding helped him cross the finish line first.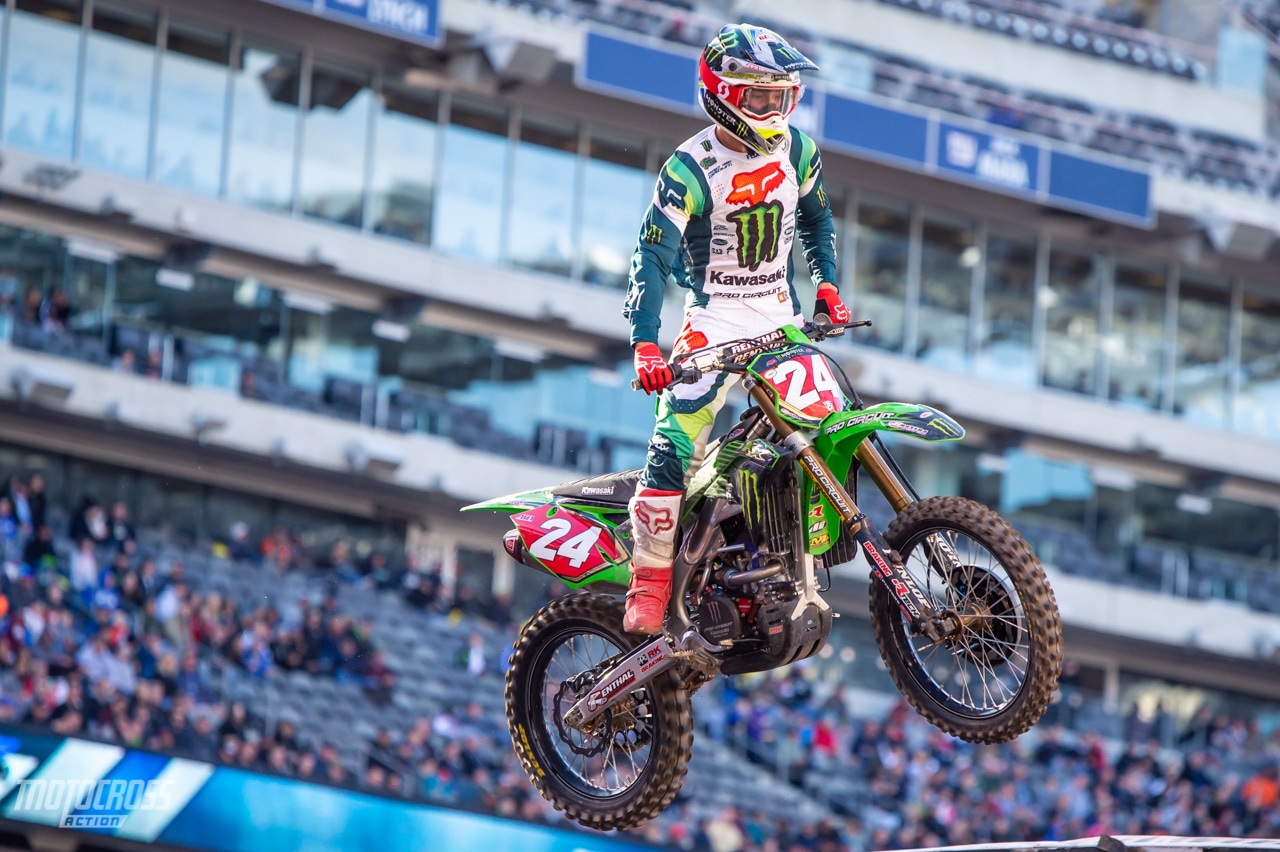 There was a big question mark next to Austin Forkner's name coming into the eighth round of the 250 East series. After tearing the ACL in his left knee and also bruising the bone, it was going to be tough for Austin to race. He struggled in qualifying and in the his heat race, but Austin came out swinging in the main event and it looked like he might have been able to even win the race, but after a small mistake, he re-aggravated his knee and the pain was too much to continue. He pulled off on lap four.
Chase Sexton was able to win the first race of his young professional career and take over the points lead in the 250 East division. If you listen to the keyboard warriors, some might say that his win was given to him because of Austin's injury. But in Sexton's defense, you have to be there to win and he did just that. Now with one round left he has a 9-point lead over Justin Cooper in the 250 East Coast Championship standings. 
WORDS FROM THE TOP THREE—
Cooper Webb talks about his win: "The track was difficult, you want to charge forward but you also want to ride in your comfort zone a little bit. But yeah it was a tough main event, it was good to battle Eli at the beginning and then he kind of broke away a little bit, I made a few mistakes and then he had a mistake, it was a good opportunity for me. Then me and Zach, he actually got around me and also made a mistake. Definitely got two gifts there, but it was tough you know, you want to stay consistent and try to put in your laps but I felt that they were faster and catching me. So I knew that somewhere on the track they were doing something better than me, but I didn't know what. It was definitely a tough race, it's crazy how it all played out and I was able to get another win in the season which is unreal."
Zach Osborne talks about his first 450 podium: "It's been a huge, long, grueling road to get back to where I am at now, whatever it's been, 16 weeks or whatever now. I felt great in the offseason, I had a really good bike, something I was super comfortable on, maybe more comfortable than ever. Yeah, just one tiny mistake took me out of the first six rounds and I missed about eight weeks of riding. It's just kind of finally coming back to me. We changed somethings with the bike, pretty much the whole package in the off weekend. Obviously as you saw tonight a lot more comfortable and even during the day time in the whoops I felt a lot more controlled. In the main event I got a good start, and I feel like in the last couple of good starts I've gotten, I got eaten alive on the first couple of laps. So I told myself that if I got a good start I just needed to send it and what ever happens, happens. I did that for a couple laps and stuck in there right at the front. I was able to jump that triple-quad and I was able to get close and make that pass for the lead. Yeah, it was a good race for me."
Eli Tomac talks about crashing the exact same way, twice: "I had to kind of chuckle about it because I did the exact same thing twice and it was like how do you even do that? We were going triple into the whoops there and then I was just leaning a little too far to the right and I kind of cross rutted and I went into the same tough block, same tip over and so like it was an instant replay. I could have maybe gotten away with one of those, but the second one really did me in. Frustrating, but held on to third."
Chase Sexton goes in depth about his first win: "Going into the main event I was like 'man this is going to be a long 15 minutes plus one lap, looking at the whoops and then going out on the sight lap I was like 'man this track is pretty beat up.' I knew Austin was going to be a little bit desperate obviously having his knee, he hit me twice I think, I have a rip in my pants from him hitting me. I kind of expected it, maybe not as hard as he came in. Then I was kind of holding back, I knew eventually I was going to be able to pass these guys, I just had to kind of wait for my time. Austin, I think just kind of over jumped that jump into the wall and I think that's kind of what took it out of him. He was going for it though, you got to give it to him he really tried to make it work, he rode a lot better in the main event than he did in the heat race. But it's definitely good to put it together. It was a long main event, the last two laps I don't think I did one triple besides the Supercross triple. So it was good, I'm glad to finally get this off my back and just focus on the Vegas now."
Justin Cooper explains his mindset coming into the race: "I think we were both aware that Austin was coming in with an injury. Honestly, it's a shame to see him go out like that. It's not what we want. As racers and competitors we want to beat each other straight up. Definitely a bummer for him, he was in a really good position in the championship. So there's nothing more really to say about that. I've been really trying to focus on each race as a whole. There's no need to get ahead of ourselves right now, there's still Vegas left now. Now we can focus on that and the championship obviously, so just taking it each race at a time and doing the best we can do."
Mitchell Oldenburg talks about his long road back to the podium: "I think as most of you guys know the last couple years have been a struggle for me. Really what it came down to was just bad doctor advice and just trusting some doctors that tell you what they think is best for you and your gut is telling you something different but you trust the doctor anyway. So that's kind of been the last couple of years and then obviously blowing my knee out last year was a real bummer. But I think the injuries themselves have been easy to come back from, it's mentally and getting my head straight and trying to get my head back into racing that has been the biggest struggle. I think everyone around me has believed in me more than myself and I think that's been a really tough thing to do and to learn over the last couple years. So, man this feels great, I felt awesome tonight and comfortable. It's been a long couple of years but I can kind of see the light at the end of the tunnel."
Cooper Webb snuck up the inside and grabbed the holeshot in the main event. It seems like Cooper rides his best when the pressure is on.
Marvin Musquin had a rough go in the 450 main event. After tangling with Justin Bogle and going down on the start, the Frenchman came from dead last to 5th place. Now with a 31-point deficit, Marvin is mathematically out of the equation to win the 2019 Championship.
At the beginning of the race Eli Tomac was on a mission, it looked like he might put Cooper Webb on the ground and pull away for the win. On lap three Eli made an aggressive move on Cooper, but there wasn't any contact. At this point Cooper stepped up his game and matched Eli's pace for six laps until Eli cross rutted and went down in the whoops. 

After Eli went down, then it was Zach Osborne's turn to put the pressure on Cooper for the lead. The 450 rookie was riding great and he made the pass on Cooper Webb for the lead on lap 15. Osborne led only for one lap before he made a big mistake and almost went down. Zach said"I made the pass finally and I felt really, really good. Then I clipped that step-off just a tiny bit and it pushed my weight forward on the bike and I missed my brake and went up on the berm and then back down and I almost backed into him (Cooper)."
After Zach Osborne's mistake he dropped to third and Cooper Webb happily took the lead back. Eli Tomac was close behind Zach and he eventually passed Zach and Blake Baggett to get back into second. Unfortunately for Eli he was only in second place for a lap until he cross rutted and went down again in the whoop section. It looked like a replay from his crashed earlier in the race. 
Eli got up from his second crash in third place and he finished the main event there.
Cooper Webb won his seventh main event of the season and he extended his lead in the championship to 23 points over Eli Tomac going into the finale. Now Cooper just needs to finish 20th place or better in Las Vegas to win his first ever 450 Supercross Championship.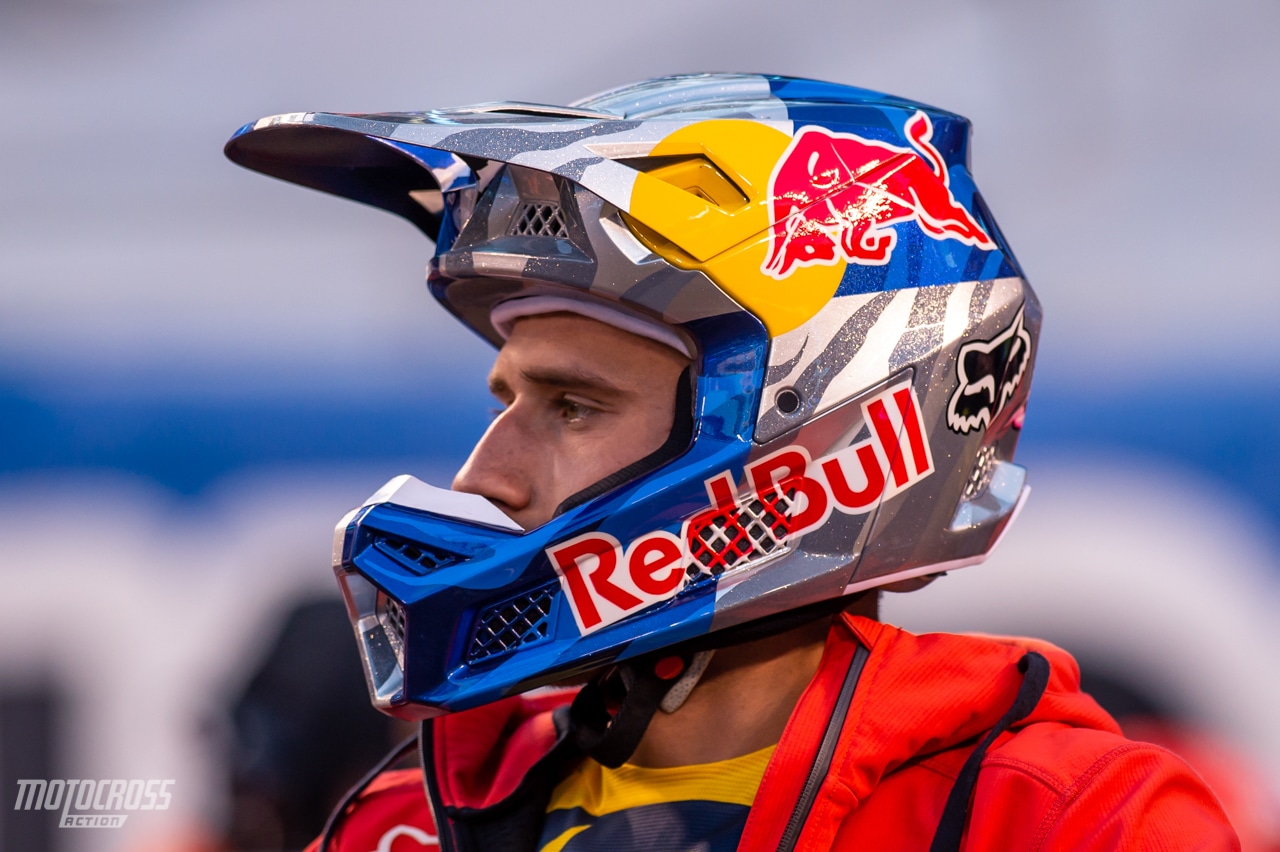 Ken Roczen wore the newest Fox helmet on Saturday for the first time at the races. After a great start to the season, Ken's results have suffered as he's been dealing with a health issue that has caused him to be more fatigued than usual. Ken hasn't been able to train and ride like normal and it has been a bummer to see. Since finishing 2nd in Seattle, Ken's finishes have been 10-8-7 and 6th in East Rutherford. 
Josh Grant finished a season best 8th place in New Jersey. When Josh first got the opportunity to fill in the for the injured Aaron Plessinger, he mentioned that his goal was to be back up to speed and battling at the front in Las Vegas. Josh mentioned that while most of the other riders might be worn out and unmotivated at the finale, he is planning to come out swinging and surprise everyone. We are excited to see how Josh does on the hard pack Las Vegas soil this weekend.  
Ryan Breece took a digger earlier in the day, but he turned his night around and finished 14th in the 450 main event.
 Ever wonder what Cooper Webb has on his nose? It's kind of like the old fashioned nose strips. It's called the Intake Breathing piece and it has a magnet on each end of the plastic piece. Cooper then has magnets stuck to his nose which connect to the black piece. This pulls on his nostrils and makes them wider to allow more air to flow in through his nose and improve his breathing. 

After winning a heat race and finishing fourth in the main event at Denver, Justin Bogle came out swinging again at East Rutherford and won another heat race. Unfortunately he got tangled with Marvin Musquin and went down in the first turn of the main event in East Rutherford. He posted on Instagram saying that he a mechanical issue with his bike early in the main event which took him out of the race.
Blake Baggett played tribute to the New York Jets fans in the MetLife stadium by wearing Jets quarterback Sam Darnold's jersey during opening ceremonies and then tossing it into the crowd. 
Cooper Webb will keep the red plate for one more round as the series heads into Las Vegas and if he can finished 20th place in the final Main Event of the season, Cooper Webb will have overcome the odds and become the 2019 450 Supercross Champion.
450 SUPERCROSS SEASON POINTS (AFTER 16 OF 17 ROUNDS)
Cooper Webb-358
Eli Tomac-335
Marvin Musquin-327
Ken Roczen-300
Blake Baggett-274
Dean Wilson-223
Joey Savatgy-208
Cole Seely-194
Justin Bogle-158
Justin Barcia-154
Austin Forkner rode very conservative during the timed-qualifying sessions earlier in the day. He didn't look like his normal self, but that was to be expected with a knee injury. Even though he was in pain, Austin was still able to put in a fast lap and qualify third going into the night show. 
The 250 Main Event start.
Austin Forkner came around the first turn up front, but it was Alex Martin who snuck up the inside and took the holeshot. Austin made sure to get in front of Chase by blocking his line coming out of the first turn, but then Chase returned the favor by block passing Austin in turn-two.  
Alex Martin soars through the second rhythm section in the lead with Martin Davalos, Chase Sexton and Austin Forkner following. 
 A lot happened on the first lap of the 250 Main Event. Austin knew he had to beat Chase to keep his title hopes alive and he wasn't going down without a fight. Just four corners into the race, Austin came up the inside of Chase and slammed into him to gain the position.
Alex Martin made a big mistake on the first lap that took him out of the lead and he eventually crashed which dropped him back to 10th early in the race.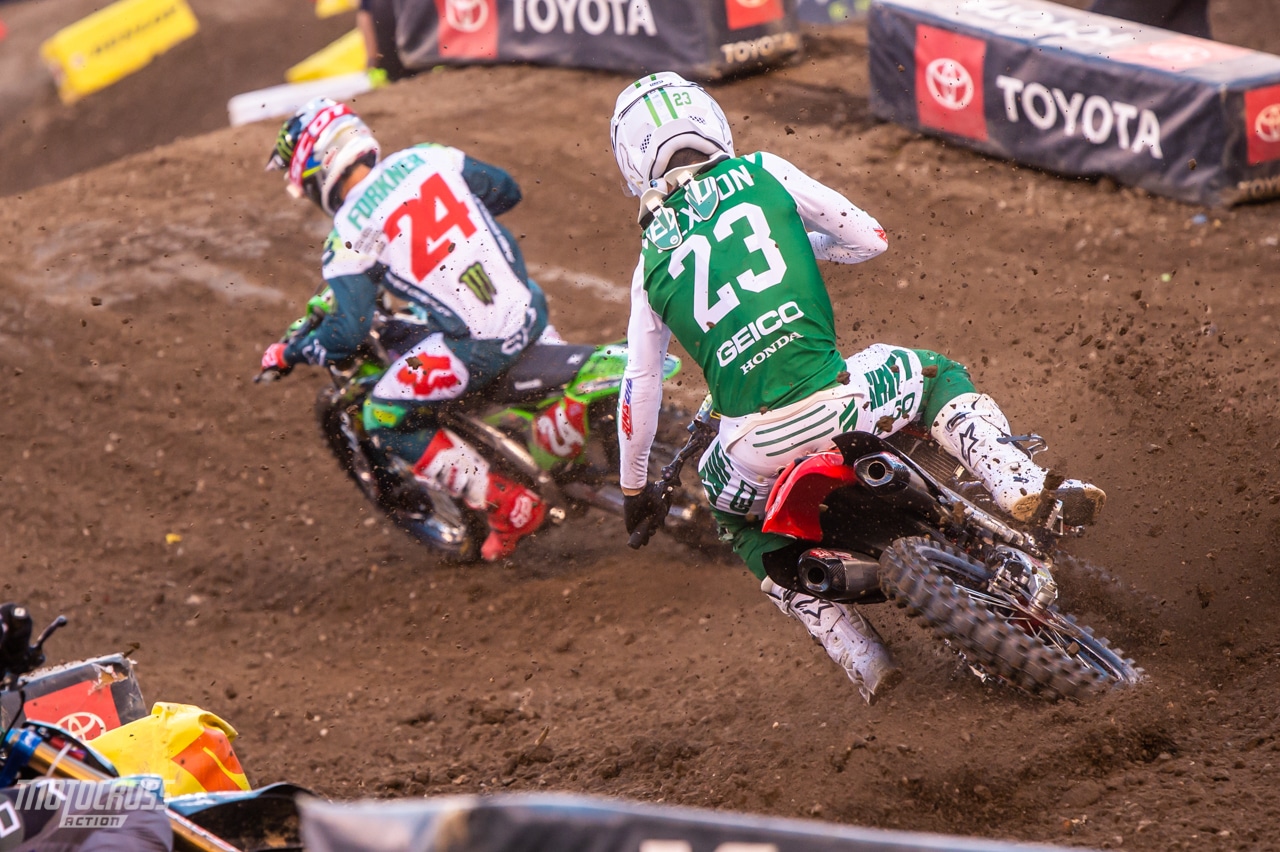 After the block passing Chase Sexton, Austin was on the gas. He was riding better than he had all day and with only his teammate, Martin Davalos ahead of him, it seemed like he might be able to actually win the race. Unfortunately a mistake on lap three would mark the end of Austin's race. He over jumped the single into the wall jump and the landing was too hard for his knee. Austin pulled off the track in pain and forfeited the race.
Chase Sexton, Justin Cooper and Mitchell Oldenburg jump in a single file line early in the 250 Main Event. Throughout the 250 East Coast series, Justin Cooper has finished on the podium six times in eight races. He always seems to be close in speed with Chase Sexton and coming into East Rutherford, he was only 4 points behind Chase Sexton. 
We expected Justin Cooper to contend with Sexton for the win, but unfortunately Justin struggled with his suspension and he couldn't find the speed he had previously at his hometown race. Justin was passed by his teammate Mitchell Oldenburg and finished third. 
Mitchell Oldenburg started the race in fifth and after Forkner pulled off he inherited fourth. On lap eight Mitchell was able to pass both his teammate, Justin Cooper for the first time this season and Martin Davalos on the same lap to take over the second position. 
After a two year podium dry spell, a team change and injuries, it was great to see Mitchell Oldenburg back on the podium. 
Chase Sexton and the Geico Honda team take over the podium after Sexton's first ever main event victory. Going into the finale, the first time winner will have the points lead by 9 over Justin Cooper. Although Chase earned a commanding victory in New Jersey, the championship certainly is not over as anything can happen in the 250 East/West shootout. 
250 EAST COAST POINTS (AFTER 8 OF 9 ROUNDS)
Chase Sexton-174
Justin Cooper-165
Austin Forkner-152
Martin Davalos-134
Mitchell Oldenburg-128
Alex Martin-121
Brandon Hartranft-118
Kyle Peters-115
Kyle Cunningham-108
Jordan Bailey-91
He led early in the main event, but Martin Davalos wasn't able to stay at the front. He dropped back to finish fourth in East Rutherford. 
The other hometown-hero, Brandon Hartranft tied his career-best finish in East Rutherford with another fifth place. 
Privateer Lorenzo Locurcio finished ninth at round 16.
Chase Sexton gets a celebratory hug from his training partner, Ken Roczen after winning his first main event.
Chase Sexton's finish line fist pump. 
Thanks for reading Motocross Action's "The Aftermath". Click the link below to see all of our coverage from the East Rutherford Supercross.