THE AFTERMATH | 2019 INDIANAPOLIS SUPERCROSS
It's hard to believe that it took Marvin Musquin eleven races to get his first win of the season in Indy.
Photos by Brian Converse
Story by Josh Mosiman
Round eleven was another exciting one. The 2019 Indianapolis Supercross answered some of our questions and it also brought new ones to the surface. Marvin Musquin was finally able to get his first win of the year, while Eli Tomac seemed to struggle again. Blake Baggett got on the podium for the fourth time and Cooper Webb pushed through mistakes and even stalling his bike to finish on the podium in third. Ken Roczen has raised many questions as he started in eighth place and unlike Roczen style, he stayed there for the full main event and finished eighth place. In a Honda press release Ken said that he's been feeling tired during the week and he doesn't know why. In the 250 East main event it was Austin Forkner who again dominated the class. Even after going down and being ran over in his heat race, Austin could still not be denied the win.
Marvin Musquin came into Indianapolis with some extra confidence after winning by over 29 seconds at the same race just one year ago in the 2018 Indy round. This year he only won by only 2.4 seconds over Blake Baggett. But no matter how big the lead was, he still celebrated his signature celebration trick, the heel clicker. 
Cooper Webb's mistake almost turned into a crash but it then turned into a pass. Eli Tomac must have been freaked out when he saw an orange front fender coming up the inside of him. Pete Fox offered his opinion on the situation. Did he cut the track or not?
Eli Tomac's fourth place in Indianapolis is going to make his Championship hunt even harder than it already is. He now sits 21 points behind Cooper Webb. The points deficit isn't impossible to make up, but the mental aspect will be the hardest part for Eli to overcome. After watching Cooper Webb pass him and Marvin Musquin and Blake Baggett pull away from him, it might be difficult for Eli to regroup.
After five wins this season, Austin Forkner is getting comfortable popping champagne bottles, but his mechanic Olly Stone is still the only one drinking them.
WORDS FROM THE TOP THREE——
Marvin Musquin when asked how he felt coming into Indy after his success here in years before said: "When you win a couple of times in the same stadium you obviously love it. Coming into the weekend I definitely thought about it. I definitely had a great race last year and maybe I won twice in the 250s. Coming into the weekend I was definitely happy. Happy to be here and excited and I was thinking 'yeah maybe it's time to win.' There's something to this place and I don't know what to say, that's the way it is. So I really like the dirt, it always gets rutted and really technical and the whoops get super chewed out. I think last year it was even softer, but it was the same kind of track you know, super technical and I love it."
Blake Baggett: "This track was busy and tight and stuff. There was kind of one line, of course in the whoops there was one main jump line and then there was one on the side. So if somebody was there you could try go around but you lost time, and then after that there was a lot of inside (corners where) one rut was the main line to take so if someone was there it was tough. Just lost a little bit of ground, but we were all racing the same guys and the same track, I just got to figure out how to get around the lappers a little bit cleaner.  But I gotta give it up to Marvin, and Cooper was keeping me honest, I seen that he was coming and I knew that if I slacked off he was going to be on me. Ideally I wanted to be the first KTM but I guess I'll take being in the middle of them."
Cooper Webb talks about his main event: "Unfortunately I had the stall there, I can't remember who I had just passed, but I had the stall and then it definitely took some time to get going, I had to roll the triple and stuff. But it was a good charge back, I put my head down. I saw the guys in front of me were charging hard and going for it so I knew had to do the same to try to make positions and get up. And then I had a moment going into the bales and actually somehow passed Eli that way. So it was a little wild ride, but I was stoked it was a good charge, I got right up to the back and ended up third."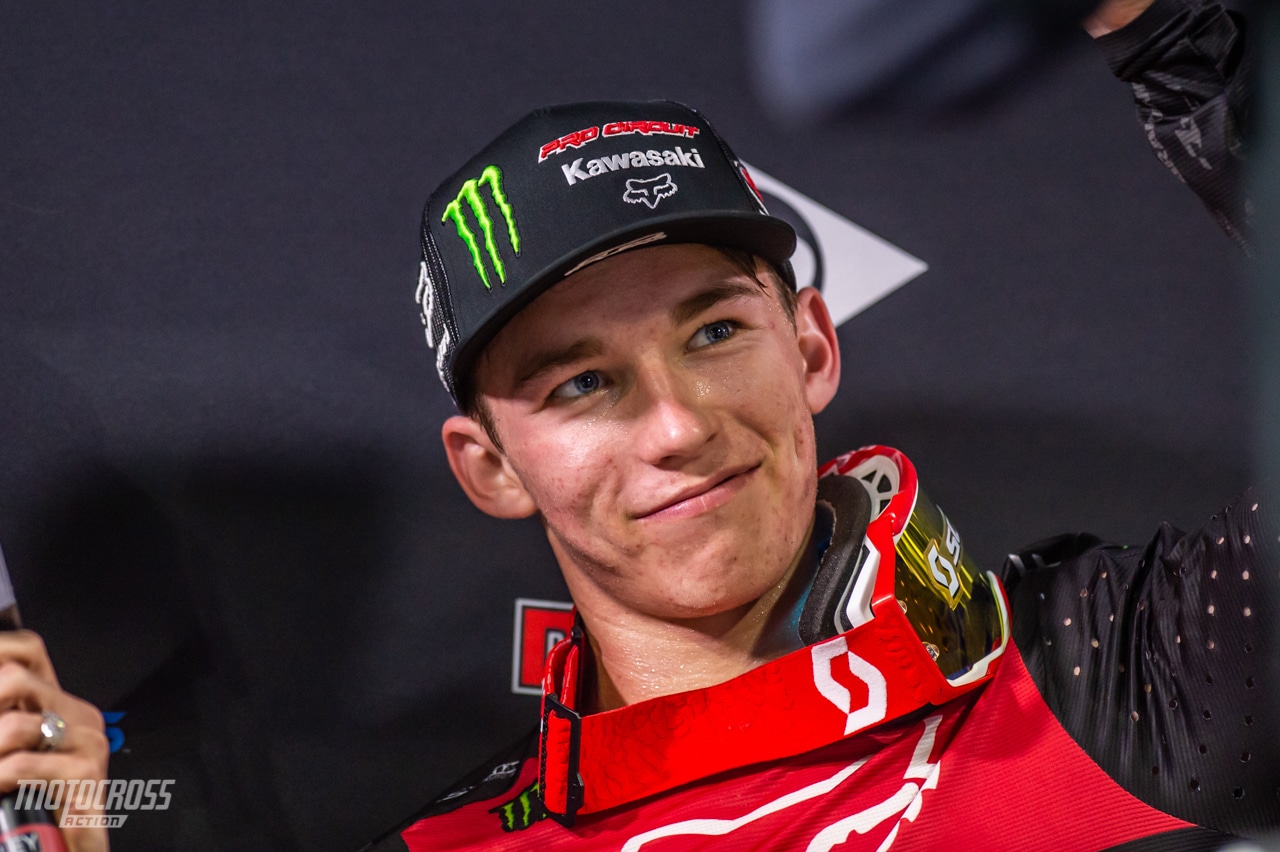 Austin Forkner when asked about his crash in his heat race said: "I think Justin (Cooper) was next to me in the heat race and I didn't want to let off until he did. And then I went in way too deep and just jumped into a tough block and got ran over by a couple guys so that sucked. I think I only got fifth in the heat, it was a little bit squirrelly coming through guys. That was the first time I've had to do that this season and I didn't want to run into the back of somebody and make it an even worse situation. I actually ended up getting a decent gate (in the main) I was two inside of the box. I was kind of surprised I figured I would be way outside of it or way inside. My rut wasn't perfect but I kind of wheelie'd a little bit out and set my front end down the best that I could have and got a good start in the main, that definitely helped."
Chase Sexton when asked about racing in Indianapolis: "It's cool. This is my closest race to Illinois which is where I'm from. It's cool having everybody here, it's not really stressful. Last year this was my worst race, I DNF'd. So it wasn't hard to go up from there but it was good to get a heat win. I felt really good in the heat race and I wish I could've put a little more of a show in the main event but I didn't really ride like myself. But it's cool to have all the friends and family here, it's a cool stadium too, I think this is one of the biggest ones we've been to so it's nice and the track breaks down a lot, so it's definitely difficult. But it's cool to be at your home race and to end up on the podium it's always good." 
Because of Justin Cooper's injury before round two last year, this is basically his rookie season. When asked about how he and his team are feeling after the results so far he said: "Yeah, I had a good offseason so I'm not gonna say I didn't expect any of this, but definitely things are going pretty smooth for me right now. Just getting a lot of experience. It's different riding at the practice track for eight months. I had four months last year (of practice) and then four months this year (of practice before the season started) and just had one race coming into this season. So this is just a valuable experience for me moving forward and learning each weekend. Tonight wasn't the easiest night, but it was a good night for me and I feel like I rode really good."
 Ken Roczen finished eighth, when asked about it he said: "There isn't much to say about Indianapolis. It just wasn't a good weekend for us. I had some struggles during the week and over the past couple of weeks that have really held me back and have made it so I can't ride and train to my full potential. I'm trying to figure out what's going on and hopefully get some answers soon. I've just been getting tired and I'm not sure why. Right now I'm just trying to focus on getting my body and everything aligned so that I can fight back and ride like I was during the beginning of the season. I'm obviously not where I want to be at eighth, but if there's a good thing to take away it's that we're physically healthy and heading to Seattle."
Marvin Musquin grabbed the holeshot and led every lap of the 450 main event. 
For the fourth time this year Blake Baggett landed on the podium. His second place finish made for the third KTM podium sweep of the year.
With his eighth place finish in Indy, Ken Roczen lost a substantial amount of points to Cooper Webb. Now he sits 27 points behind the current points leader in fourth place. 

Cooper Webb when asked about being in the position he's in, leading the Championship with six rounds left: "It's been awesome, obviously after the last two years not going well, it's been great to be in this position and click off a lot of great results this year, kind of surpassing my expectations. It's always nice when you're upfront and battling, being apart of the battle is cool. Obviously the goal has kind of changed now with the Championship. But yeah, just keep applying how I've been doing, I feel like I've been strong every weekend, so just keep it going."
When asked about what he'll do to continue to improve now in the middle of the season Blake Baggett joked around in the post-race press conference about putting a video camera on top of his 90ft. internet tower at his ranch so that he can spy on Cooper Webb and Marvin Musquin. Marvin and Cooper both train at the Baker's factory which is only three miles away from Blake's ranch in Florida.
Marvin Musquin when asked about how he was able to get the win: "I needed to really execute it good and get a good start. The riding has been pretty good, like I said I just need to hit my marks, get a good start and be in the right position right away and I can make it happen. I'm pretty sure I could've done it earlier with better starts. But those guys race really hard. I'm looking forward to next weekend and the rest of the season. 
Eli Tomac qualified fourth, placed fourth in his heat race and fourth in the main event in Indianapolis.  
Cooper Webb when asked about the track said: "This one last year was really rutted, I remember. It wasn't as rutted this year, it broke down a lot. But I think all of the tracks moving forward have their own technicalities. We go to two new ones that we don't know anything about, so that will be exciting. With Seattle you never know about weather, Houston is a triple crown with good dirt and the two new ones  and then Newark (East Rutherford) can be soft and then Vegas is hard. So you kind of get everything, so it will be cool to switch it all up." 
Joey Savagty had a solid day in Indianapolis. He started it out strong by qualifying first in the 450 class and then he finished second in his heat race right behind Cooper Webb. In the main he started in second and ran there for the first six laps before he made a mistake and went down. After his crash Joey would finish sixth. He said via Instagram: "Dang, what one mistake possibly cost us… Oh well, fastest qualifier and made some passes in the heat race. P6 on the night. Baby steps."
The dirt in Indy is known to be soft and break down quickly. There were two sets of whoop sections and as the night show went on they continued to break down more and more. Because they were so chewed up, most of the riders were jumping through the whoops, instead of skimming on top of them. 
Mike Alessi grabbed the holeshot in signature Alessi style in his heat race. He led for half of the first lap before Dean Wilson block passed him and sent Mike off the track. 
It was good to see Justin Barcia back at the races after missing two rounds due to a concussion suffered in practice. He finished a solid fifth place.
Dean Wilson leads Marvin Musquin and Eli Tomac through the whoops and takes the win in the first 450 heat race of the night.
Dean Wilson's heat race win was a great accomplishment for the Rockstar Husqvarna rider. He took the lead from Alessi early, battled back and forth with Ken Roczen and eventually crossed the checkered flag first with Marvin Musquin, Ken Roczen and Eli Tomac all behind him. Dean said via Instagram: "Just keep pressing keep pressing until you get what you want. Not what I completely wanted. But a heat win felt great with a stacked field. Main event wasn't as good with coming through to 9th. But like I said  I will keep going and doing everything I can to get what I want! Thanks everyone for the support!! Cheers Indy!"
Justin Brayton and Cole Seely riding side by side through the whoops. Brayton finished tenth while Seely finished twelfth in Indy.
450 CHAMPIONSHIP POINT STANDINGS (ROUND 11 of 17)
Cooper Webb-243
Marvin Musquin-229
Eli Tomac-222
Ken Roczen-216
Blake Baggett-184
Dean Wilson-163
Chad Reed-149
Joey Savatgy-141
Justin Brayton-140
Justin Barcia-138
For complete points click here and full results click here.
For the third time this season Austin Forkner, Chase Sexton and Justin Cooper landed on the podium together. 
After block passing Mitchell Oldenburg on the first lap of the main event, this was the only view that the rest of the 250 field had of Austin Forkner. After six races Austin has won five main events and finished third once in the 250 East/West shootout. 
Chase Sexton when asked about how rough the whoops were: "In the heat race they were fresh and actually really fun, they were fast. I was first heat, so when I went out for the main event (they were a lot rougher) I tried to jump through the whoops on the sight lap and it didn't work out and in the first four laps of the main event I felt like a C rider in the whoops. It was bad, I was really struggling to jump. Finally I figured it out I think on the fifth lap maybe and got it down, but by the time I got it down it was way too late, Austin was gone. It was a struggle forsure in the first opening laps. I need to go home and work on it obviously."
Justin Cooper got bumped off the track in the first turn and had to fight his way through the pack for the entire main event. He charged from fourteenth place after lap one, all the way through the pack to finish on the podium in third.
Mitchell Oldenburg recently became a new Dad only two days before the race in Indy. He rode well in the main event and passed his way from sixth to third, but his pace wasn't fast enough to keep his teammate behind him. With one lap to go Justin Cooper got around Mitchell for the final spot on the podium. Mitchell said via Instagram: "Close but no cigar.. Thought I could cruise it in for third and didn't realize fourth was that close to me.. Live and learn!
Austin Forkner is getting comfortable winning. In his post race TV interview he mentioned with a smile that he's in Championship mode now.
After getting caught in the first turn pile up Alex Martin could only make his way up to ninth place. 
Another second place has Chase Sexton sitting second in the point standings, 26 points behind Forkner. 
Indianapolis was Mitchell Falk's second race of the season, an injury put Mitchell on the sidelines for four rounds. We are happy to have him back at the races and the Troy Lee Designs Red Bull KTM team must be happy also as he is the only rider at the East Coast races currently. His teammate, Jordon Smith is still healing up from a wrist injury. 
Kyle Peters rode well in the second 250 heat race of the night. He led up until two laps to go when Martin Davalos and Justin Cooper passed him and he finished third. Kyle also rode exceptional in the main event, he finished a season best sixth place.
250 EAST COAST POINT STANDINGS (AFTER ROUND 6 OF 9)
Austin Forkner-151
Chase Sexton-125
Justin Cooper-123
Alex Martin-92
Martin Davalos-89
Mitchell Oldenburg-88
Brandon Hartranft-82
Kyle Cunningham-81
Kyle Peters-79
Jordon Smith-70
For complete points click here and full results click here.
Part 1: Austin Forkner goes wide open into the 90-degree first turn to grab holeshot in the 250 heat race.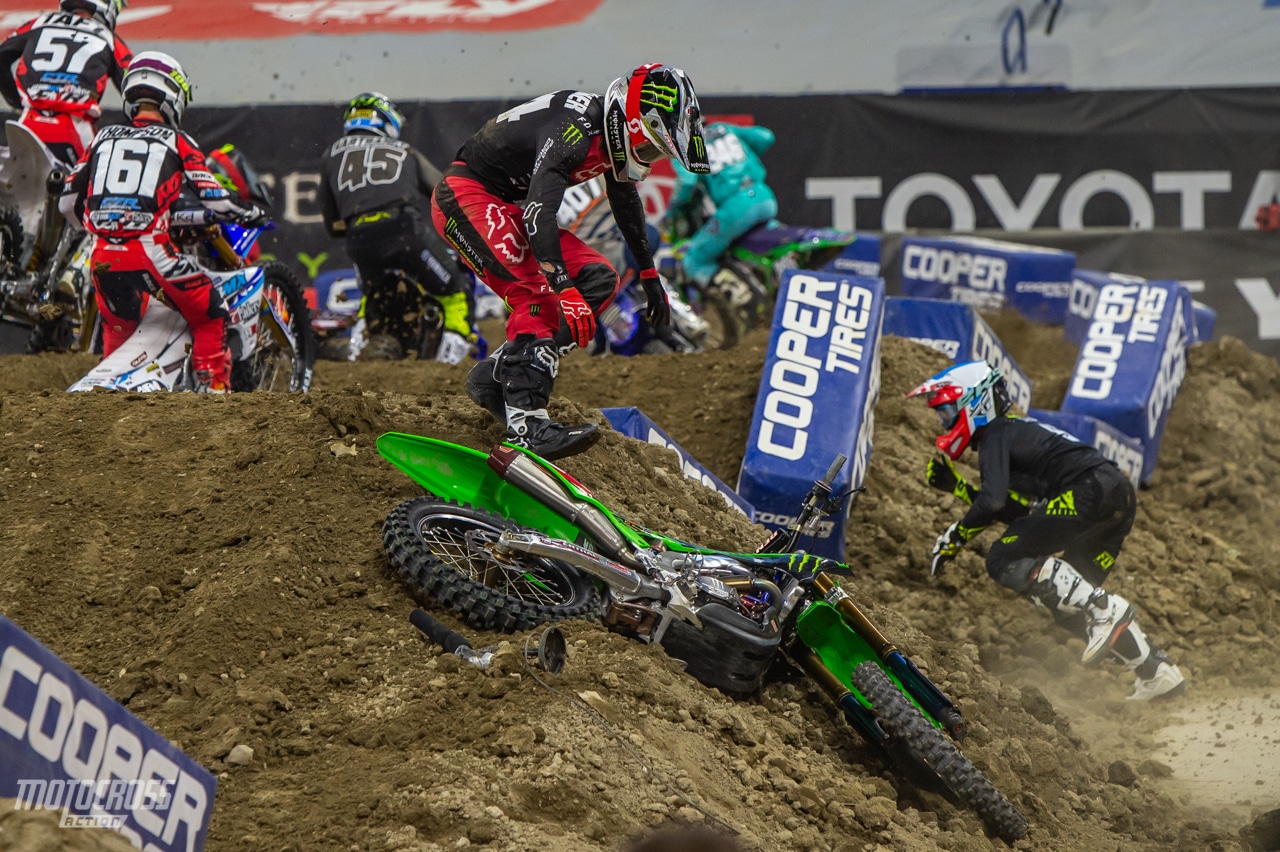 Part 2: Austin carried too much momentum into the first turn and overshot the corner. Jumping onto a tough block, Austin went down and then got ran over by Lane Shaw who also went down after running over Austin's body.
Isaac Teasdale made his Supercross debut only two weeks ago in Atlanta. After missing the main events in Atlanta and Daytona, Isaac qualified for his first ever Supercross main in Indianapolis on his Phoenix Racing Honda. 
Josh Osby had a great night in Indy, he qualified tenth, placed eighth in his heat race and even after being taken out in the 250 main event, he still finished eighth. 
Thanks for reading Motocross Action's The Aftermath, click the link below for all of our coverage from the 2019 Indianapolis Supercross.