THE AFTERMATH | SEATTLE SUPERCROSS
 In a controversial 450 main event, Marvin Musquin took the win and was later penalized 7 points for jumping through a rhythm section while the Red Cross flag was waving. 
The 2019 Seattle Supercross was full of stories. As always in racing, there were highs and lows at round twelve. With 22 riders on the starting line and only one winner, there will always be those who are happy and those who are not. The 2019 Monster Energy Supercross season has been one of the most exciting seasons in a long time. Round twelve in Seattle fit right in with the rest of the races we've had this year as it was another night of drama. With Chad Reed, Justin Brayton and Kyle Chisholm going down hard in a first lap pile up, Marvin Musquin being penalized for jumping on the Red Cross flag and still winning the race, Dylan Ferrandis winning his first main event, the long and challenging whoop section and the uncharacteristically dry Seattle track, the fans experienced a very interesting and controversial night of racing. So how would it all pan out? Find out here in Motocross Action's The Aftermath.
Photos by Daryl Ecklund
Story by Josh Mosiman
Marvin Musquin celebrated his second win of the season while the AMA was thinking long and hard about how they would respond to his actions on the track.
It was this crash that injured Chad Reed, Justin Brayton and Kyle Chisholm. This was also the reason that the Red Cross flag was waving when Marvin Musquin came around on his second lap. In the crash Chad Reed broke 8 ribs, broke his scapula and collapsed a lung. Click here to see what Reed had to say.
 After three years of racing in America, Dylan Ferrandis won his first-ever 250 main event in Seattle. Adam Cianciarulo put pressure on Dylan for the entire race, even making a charge at Dylan in the final corner. But Ferrandis was able to hold him off and win in Seattle. 
WORDS FROM THE TOP THREE—-
Marvin Musquin talks about jumping on the Red Cross flag: "I know what I did wrong and no excuses. I was leading and obviously when I was leading on the first lap I was going for it. I saw the first yellows and I made a mistake and I did slow down but then I did jump. Nothing I can do now, it doesn't take anything away from my win, because right after that I was definitely looking back and kind of slowing down. I didn't know what to do really and then Kenny was catching me, he was right behind me. But then I put in a solid main and I was really happy about my riding so that doesn't take anything away so I'm really happy."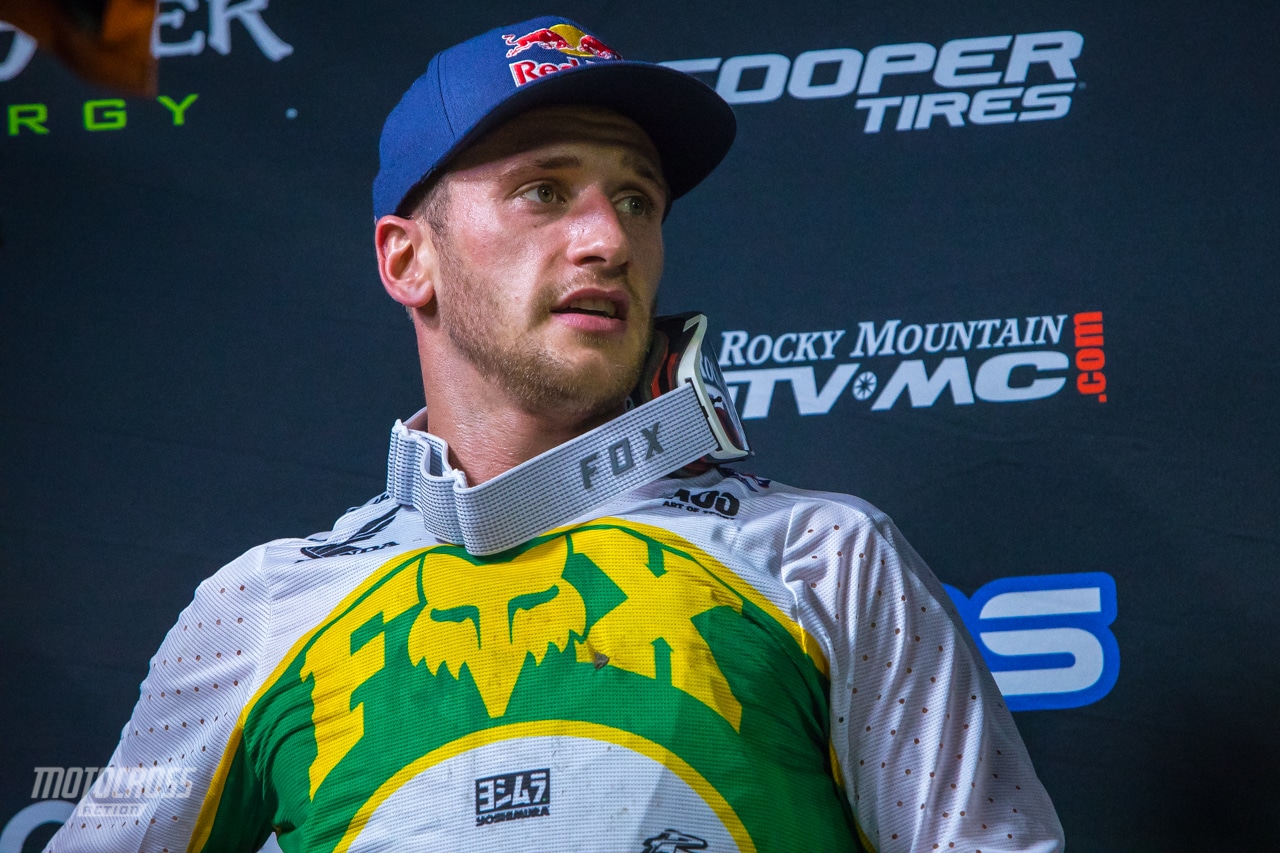 Ken Roczen talks about watching Marvin jump on the Red Cross flag: "I'm just happy with how I rode. As it happened I noticed it, but obviously after we had the whole main ahead of us and even when I got to the finish line I forgot about it until somebody said something. It is what it is, he won and I just feel like I rode an overall solid main and kept it on two wheels and it was a lot better this weekend."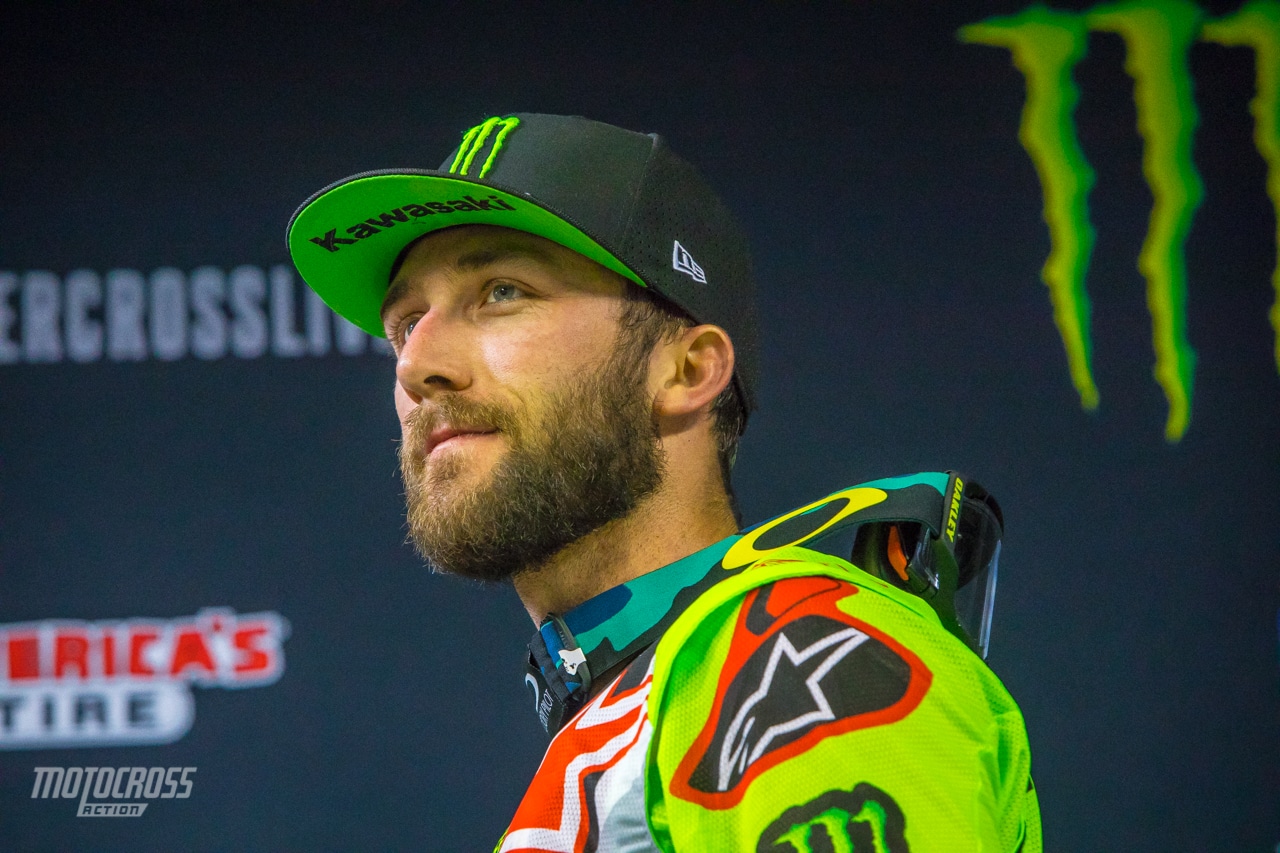 Eli Tomac talks about the track: "I thought it was a nice layout, you know, with the good long lanes and the 180s. Who would've known that Seattle had the longest, most hard pack, slick whoop sections of the year, other than Vegas. It was cool to ride this dirt in a normal condition. It was pretty amazing how packed it got. It was good that way, we could do our thing. Overall it was a good track."
Dylan Ferrandis: "It was tough you know, it took me three years in America to finally get my first win. It was long, really long, but finally I did it. It was not easy because I'm always the hunter, I get a bad start and I have to come back to the front. But this time I took a good start and my teammate crashed in font of me and I took the lead. I was leading the main, it was new for me a little bit, it hasn't happened to me a lot this year or last year. I struggled a little bit too, just tried to not make mistakes, and just tried to ride clean. AC (Adam Cianciarulo) was on my back and it was a good battle, it was really challenging for me. I think for the future it's really going to help me a lot. I was looking for this win for a long, long time and I was dreaming about it for a long, ong time. Now that I did it, I think it's going to help me for the future, for the next races, we'll see."
Adam Cianciarulo: "Dylan was out front, I knew he would be difficult to beat out front, he's been riding great all year. For me I just tried to pick my spots where I was a little bit better (than Dylan Ferrandis), he was nailing that quad after the finish line. You really had to downside that double clean to table-over-two. I maybe got it 50-60% of the time. So he would get me there, a little bit. Then I kind of had a better line in the whoops, sometimes. There were some lappers getting in the way for both of us there. So, all in all I think I rode good, I think left my best out there. But at the same time I kind of felt like I rode a little bit too smart and too patient where there was maybe an opportunity to make a pass. But I'm taking nothing away from Dylan, congrats, great race, and I look forward to battling next weekend."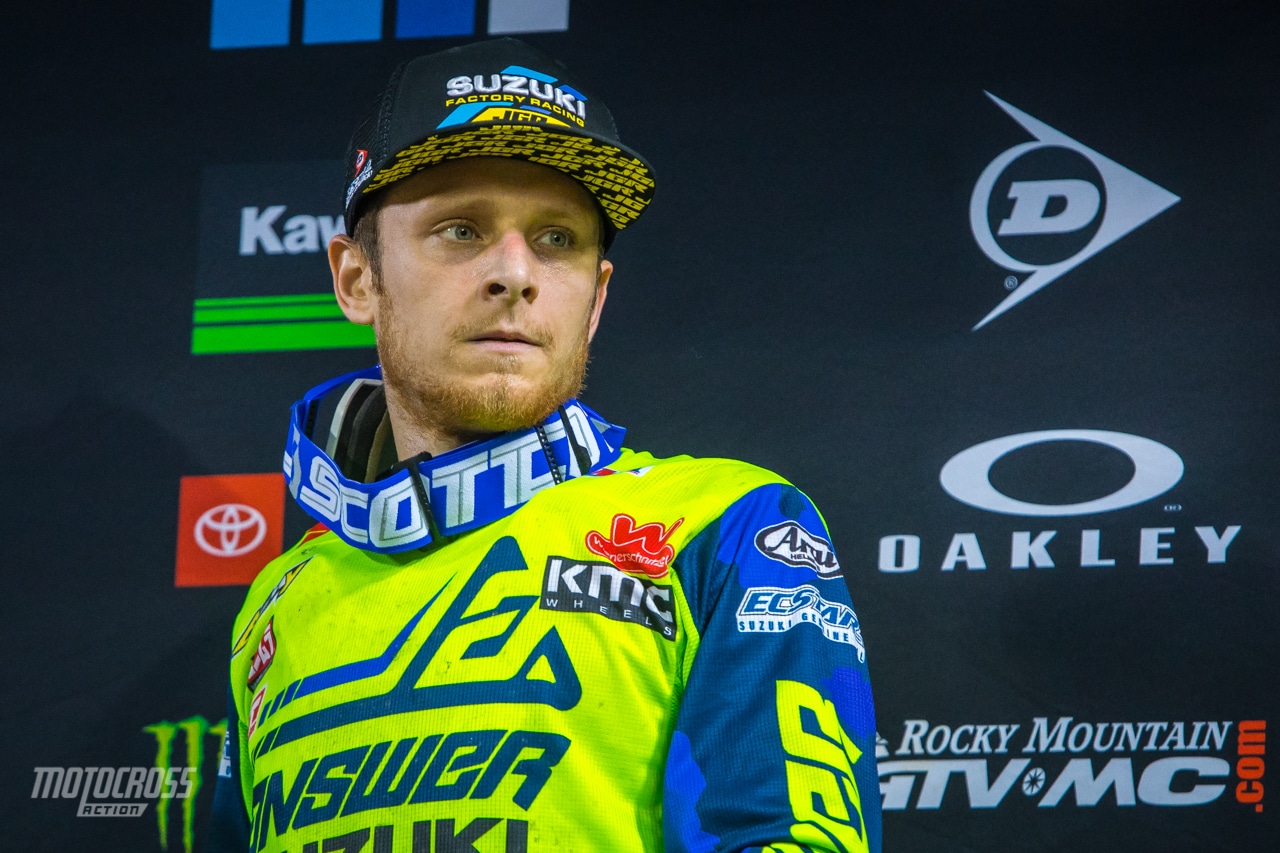 Jimmy Decotis talks about the whoops: "The whoops were honestly really good all day, I felt like I was probably one of the better guys in them, I'm sure these two (Cianciarulo and Ferrandis) were probably the other two that were really strong in them. But in the main event it turned into a jump line, I wasn't really confident in the jump line. But just went with what everyone else was doing and kind of struggled in them. Overall, I liked that we had a big long set of whoops, think it's something we need at all of the races to separate guys. When we have those little whoops, it's not like, we're racing professional Supercross, we should have big whoops."
When asked about the difference in Marvin Musquin's performances lately compared to earlier in the season. He said that he doesn't feel like he's riding any better, but it has been his starts that have helped him succeed. With such a fast 450 class, the starts are very important.
Cooper Webb was 7th on the first lap and he worked his way up to 4th by the end of the race, just one second behind Eli Tomac. He said via Instagram: "Seattle was a tough one. Struggled in practice but regrouped and was able to win the heat race, which was a positive. Didn't execute a good start in the main, but put my head down and charged for 4th. Really wanted to be on the podium but will get back to work this week for Houston Triple Crown. Thanks for all the support."
Eli Tomac talks about jumping through the whoops: "It's definitely coming into play, I think it's the most we've had in the past. Everyone is doing it and it's catching on earlier. And it's efficient too. I prefer to skim, it's something we got to work on."  
Ken Roczen gives us his opinion on jumping through the whoops: "I prefer skimming. it's crazy because after the first practice, I would've never thought we would start jumping because they were not very jumpable. On our tracks in Florida, the whoops are a little bit faster. They're big, but they're on the fast side. They break down, but not as bad as here (at the races) so it's tough. I feel like our whoops in Florida are kind of hard to jump because they are higher speed and you would have to check up a lot to jump. I changed up my bike setting a little bit a few weeks ago and that actually helped me in the whoops with skimming and jumping. I kind of got a little bit of help with the bike and got a little more comfortable this time."
After the 450 main event, the AMA posted the official results showing that Marvin Musquin won the race. But then after only a few short minutes, the AMA took the results off of the website because they hadn't completely decided on how they were going to penalize Marvin for jumping on the Red Cross flag. They finally posted the results again later Saturday night which showed that Marvin had been docked 7 points, but got to keep the win. This corresponds to the rule change after Ryan Dungey was unjustly penalized two spots and points a couple years ago.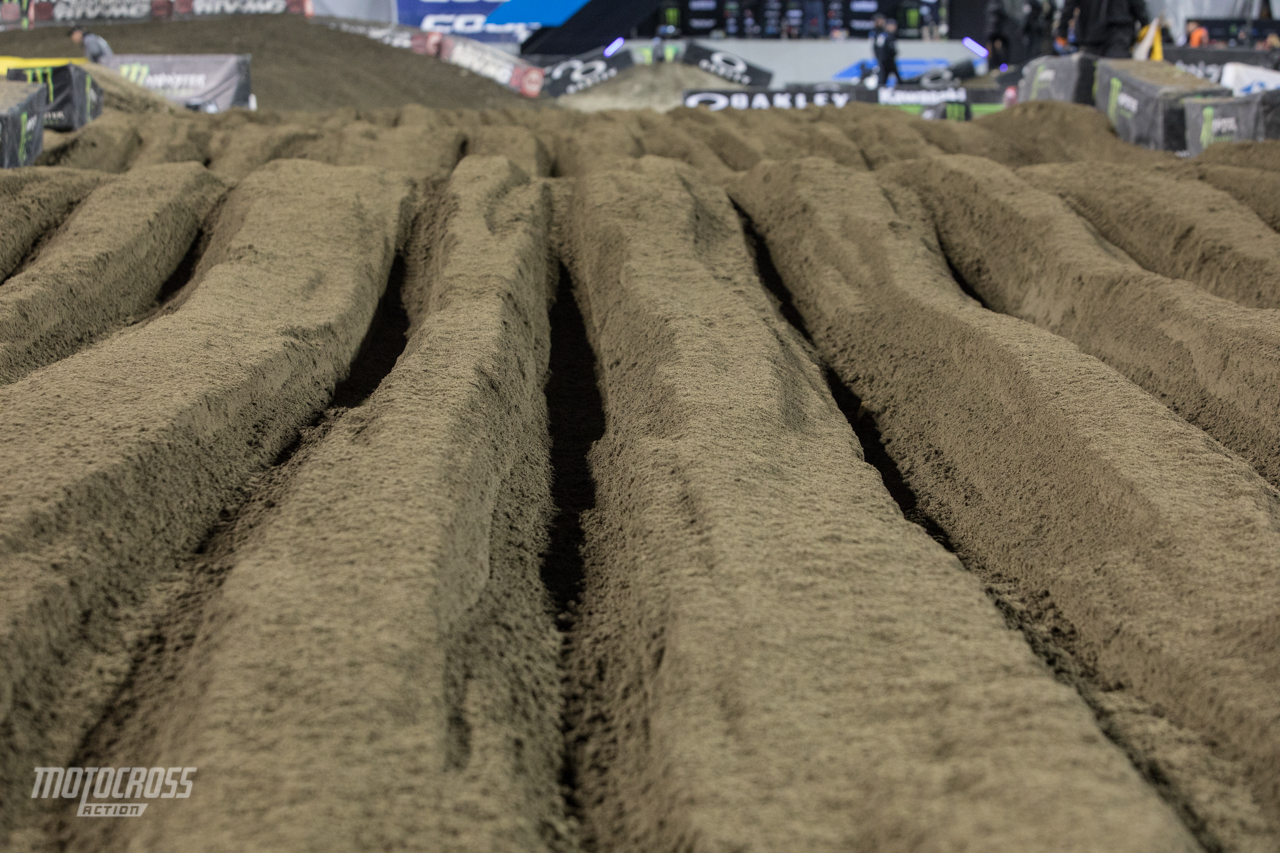 The weather in Seattle turned out to be perfect, with no rain at all. The Seattle Supercross has been a mud race so many times that it has become a common expectation that it will be muddy every year. Everyone was surprised with how dry the track was on press day and the same conditions carried over into Saturday. The deepest ruts on the track were in these sand rollers after the finish line.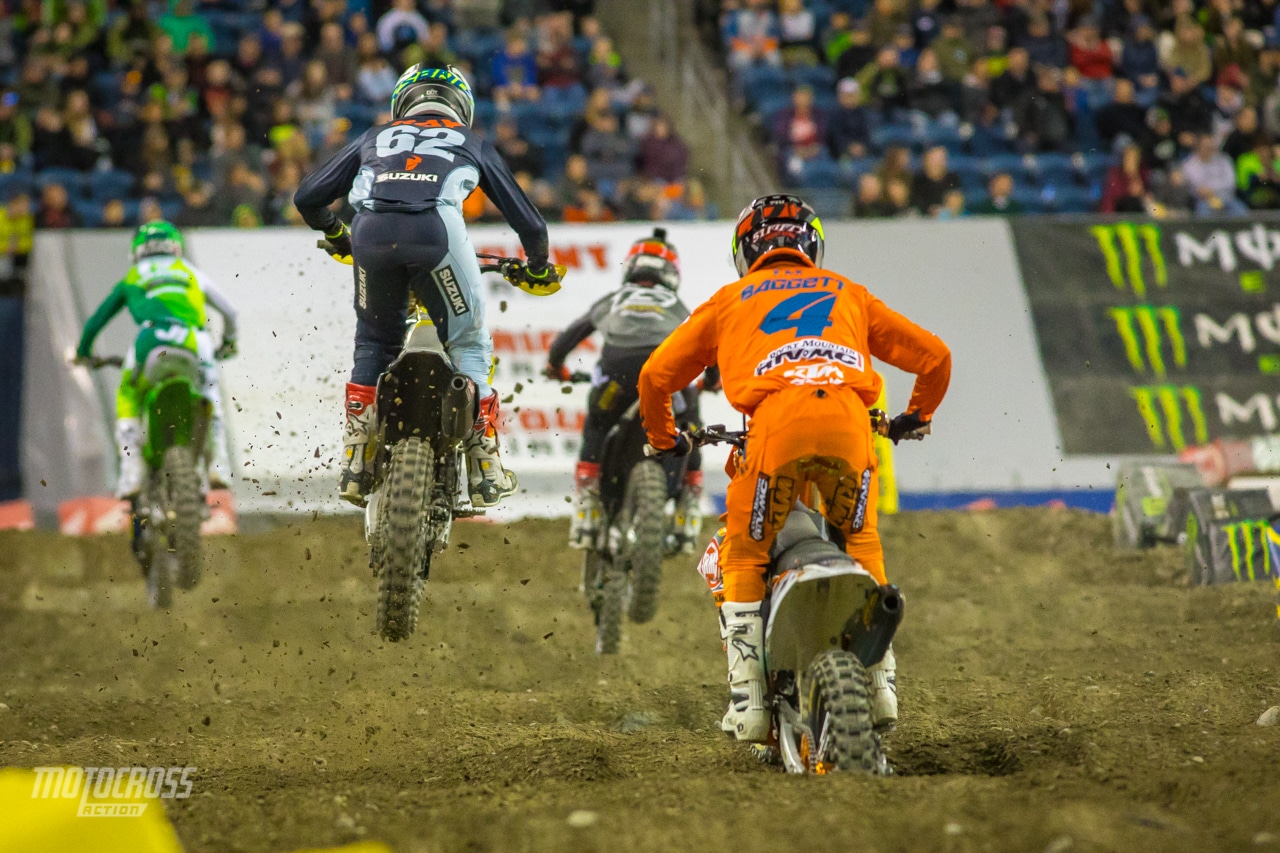 The most challenging part of the track in Seattle was the long whoop section. Not only were there 15 whoops in a row, but they progressively got bigger as they went on. They were also very hard pack and slick, with kickers on them. This is a recipe for disaster. Many riders crashed in the whoops during practice and the night show. There were mixed opinions on the challenging section from the riders. Ken Roczen stated that they were sketchy and crazy, while Tyler Bowers and other riders liked the big whoops and wished that they would whoops like these more often.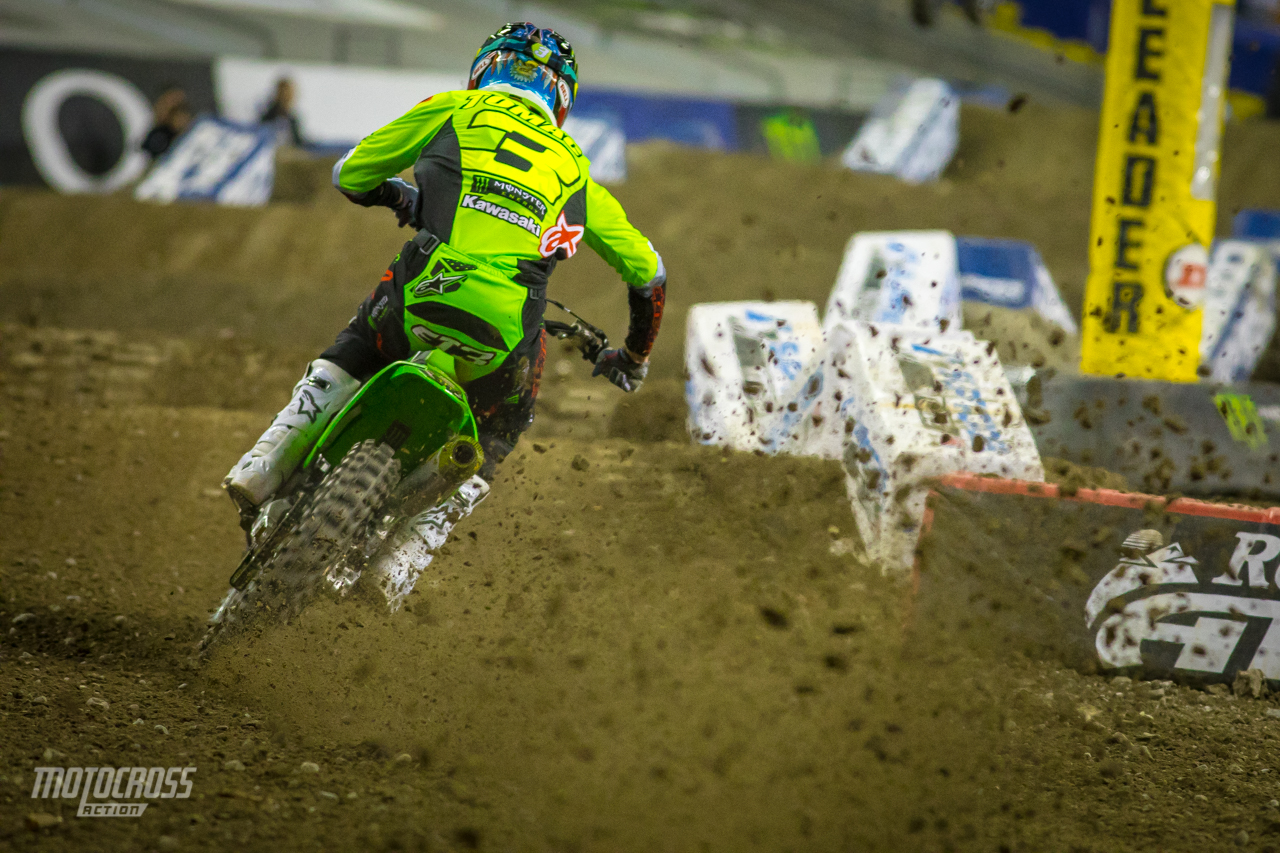 Eli Tomac ran up front in the third position for almost the entire main event. We expected Eli to catch Roczen and Musquin, but he wasn't able to. Eli crossed the finish line in third, seven seconds behind Musquin, five seconds behind Roczen and only one second ahead of Cooper Webb. 
Ken Roczen talks about how his recent struggles with his energy levels: "I started feeling better on Friday, I started going up hill a little bit. I'm still not feeling quite right, but throughout the day I told Oscar that I'm felt a lot better today than I did last week. As of right now there's no results on anything yet, so I kind of gotta wait it out and see what it is this week."
Joey Savagty had a small tip over while trying to pass Cole Seely, but he picked up his bike quickly and charged back to 5th place in the main event. 
Dean Wilson was riding strong all day. The fact that Dean is tall helped him in the whoop section. Taller riders have more leverage to move around on the bike which helps them correct their bike easier in the whoops and keep it going straight. Dean qualified first in Seattle by putting down a lap time that was only .01 faster than Marvin Musquin. 
Privateer Tyler Bowers was fast in Seattle as well. He was one of the riders who voiced his opinion about the whoops saying that he actually liked how challenging they were. He was fast in the whoops and he finished 10th place in the main event. 
The crafty Frenchman was at it again. While crossing the finish line on lap 25, Marvin looked over at the scoring tower and saw that there was 47 seconds left on the clock before the white flag would come out. Because he knew that the lap times were right around 47 seconds, he made sure to slow down a little bit right before the finish line so that he would get the white flag and he wouldn't have to go another lap. 
Carlen Gardner was another privateer who had a great finish in Seattle. 15th place in the 450 main event was a career best for the BWR Honda rider out of Paso Robles, California.
Dylan Ferrandis and Marvin Musquin are friends, they're both from France, they both have a unique riding style, they both work with David Vuillemin as their riding coach and they both won in Seattle. Here Dylan is telling Marvin about some lines on the track before Marvin goes out for his final qualifying session of the day.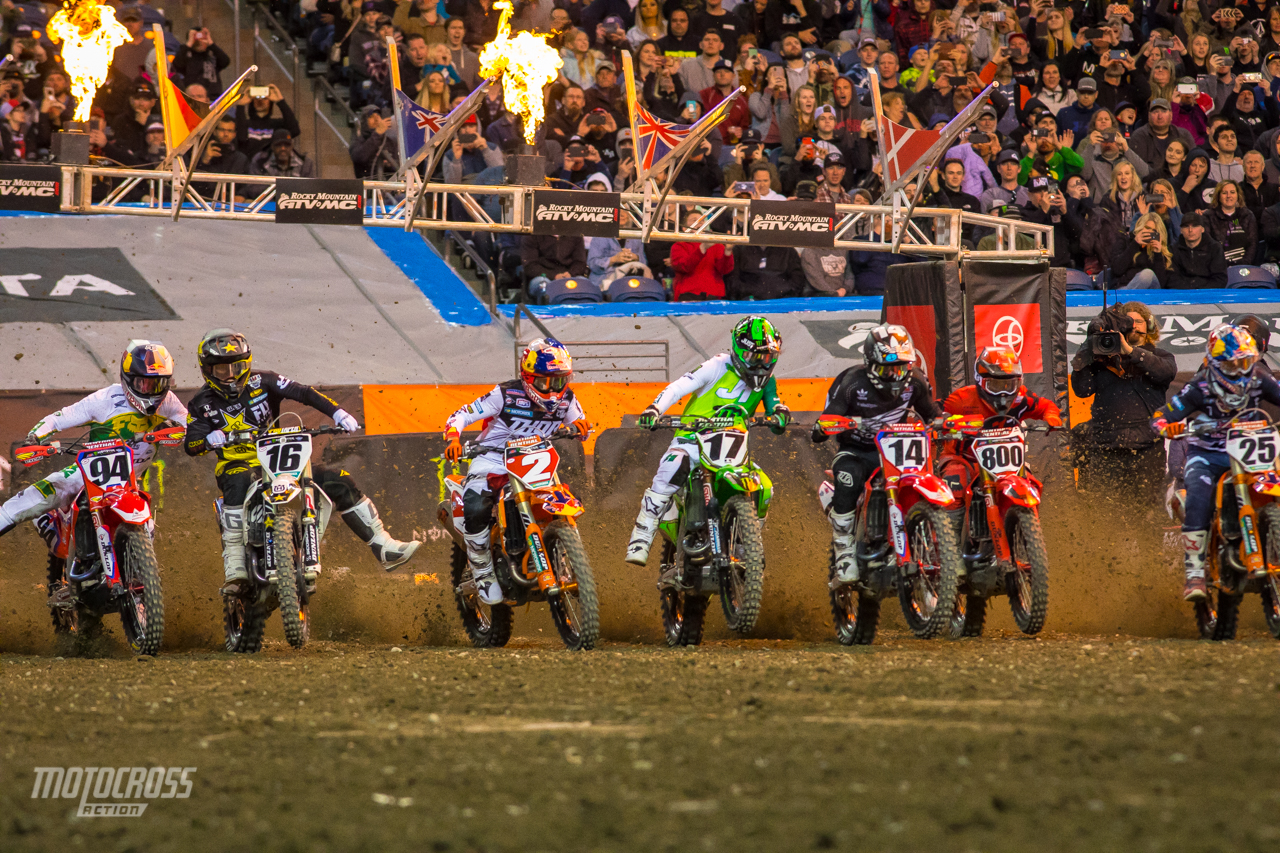 Cooper Webb came into Seattle with a 14-point lead over his teammate Marvin Musquin. After Marvin's win and Cooper's fourth place finish, the points lead should've shrunk to only 7 points. But with Marvin jumping on the Red Cross flag, he was docked 7 points and now they are right back where they started before round twelve. Eli Tomac gained 2 points on Webb, he is now 19 behind, and Ken Roczen is now 23 points behind Cooper Webb.
AMA RED CROSS FLAG RULE
Since Marvin Musquin was leading when he jumped the Red Cross flag section,  Marvin was penalized from 26 points for winning to 21 points (from first place back to third). Then he was penalized two (2) additional points-leaving him with 19 points instead of 26. The total penalty was 7 points.
450 CHAMPIONSHIP POINT STANDINGS (AFTER ROUND 12 OF 17)
Cooper Webb-262
Marvin Musquin-248
Eli Tomac-243
Ken Roczen-239
Blake Baggett-200
Dean Wilson-180
Joey Savagty-159
Chad Reed-151
Justin Barcia-144
Cole Seely-14
Dylan Ferrandis gets it done in Seattle. Many thought his first win would've come sooner, but it wasn't meant to be. Ferrandis held off points leader Adam Cianciarulo to win his first-ever main event by just half of a second over AC.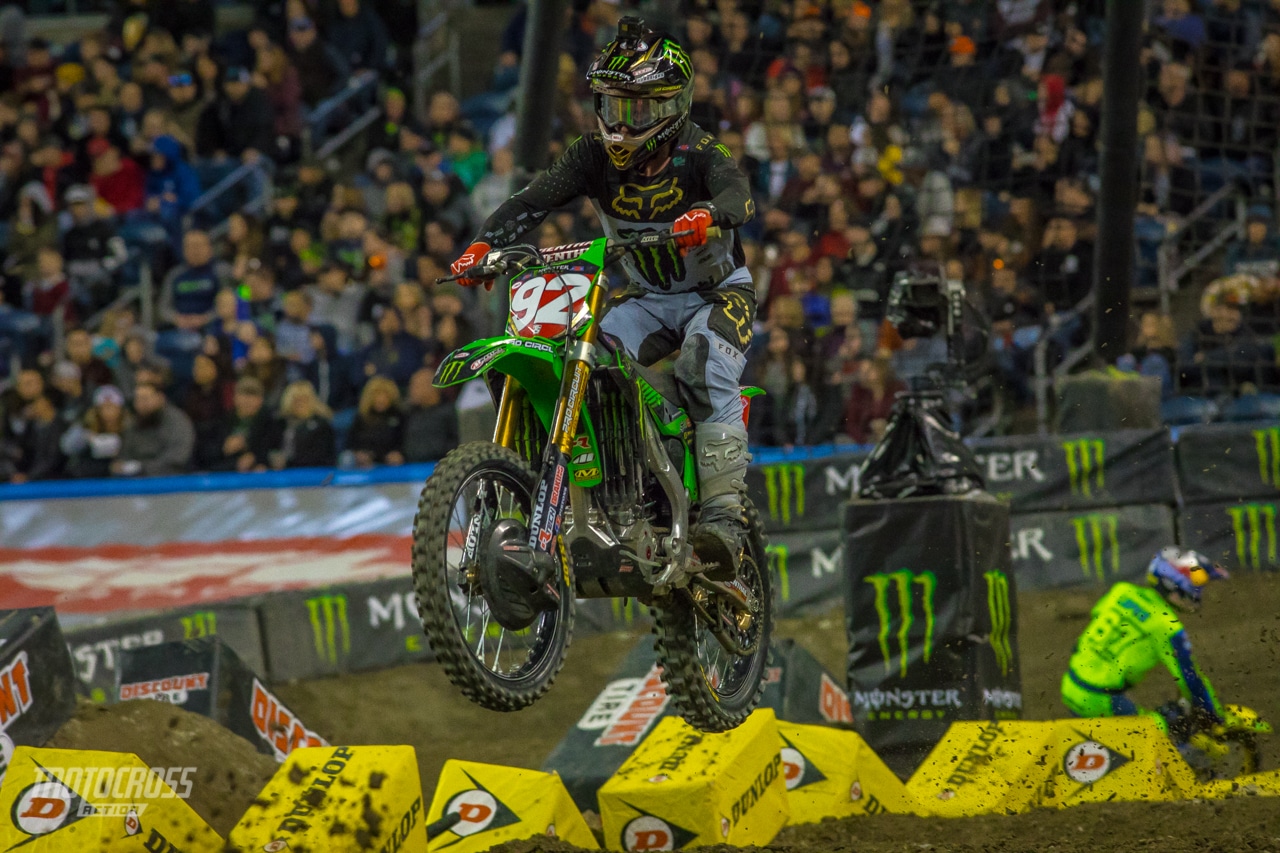 Adam Cianciarulo talks about the whoop section: "For me I was super shocked in practice, when I walked the track I didn't think they were going to be as bad as they were. They were pretty close together and I wasn't too intimidated by them. But man, I came into them in the first practice and I almost came to a stop. They were so slick on top, you almost had to go slower into them, you kind of had to go fourth gear, quarter throttle. So I kind of struggled, I crashed a couple of times in the whoops just little crashes, and then of course in the heat race I had a little bit of a lead so I wanted to try jumping through because I figured that's what we've been doing it most of the time this year. When they're super slick like that I think it's a little bit more consistent when you can jump through them. I think skimming through them when you can get it good, it's faster that way. But for us for 20 laps or what ever it was, I thought that jumping would be better and it turned out that way."
Colt Nichols grabbed the holeshot, but it was Jimmy Decotis who dove up the inside and made the move into the lead in the third turn. Jimmy was passed by Colt Nichols who only led for a brief moment before he went down hard and had to DNF the race. Dylan Ferrandis and Adam Cianciarulo got around Jimmy and the JGR Suzuki rider held on to finish on the podium in third. 
Michael Mosiman had some issues in qualifying. Even though he was showing some great speed, the Rockstar Husqvarna ride crashed three times. During the night show he rode smarter and more tentative. He grabbed a good start and ran 4th place for most of the main event. Towards the end of the race he caught up to Jimmy Decotis, but he wasn't close enough to make the pass. Michael finished 4th, one second behind Decotis at the finish line.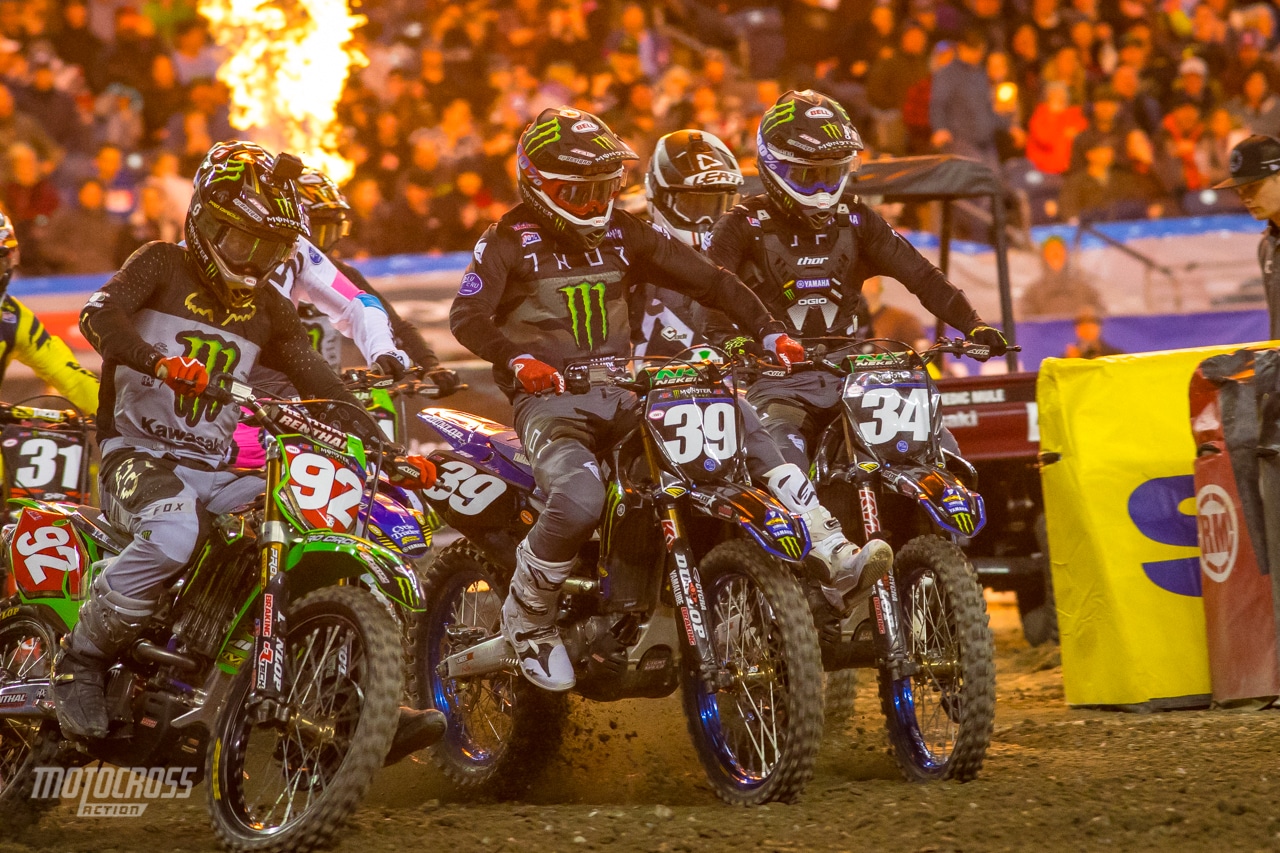 Colt Nichols talks about going down while leading the 250 main event: "I had put myself in a perfect position and felt like I could contest for the win and then Bam! Tough way to end the night, but sometimes it just isn't meant to be. We will move forward onto the next one. I hit my thigh on something and caused my leg to go numb and suffered a laceration on my thigh. Very thankful it wasn't worse and I'll live to fight another day. Thanks to the medics and Mayra Tinajero for getting me all dialed and everybody that reached out. Also pumped my teammate Dylan Ferrandis got his first win. #keepmoving #wewillbeback"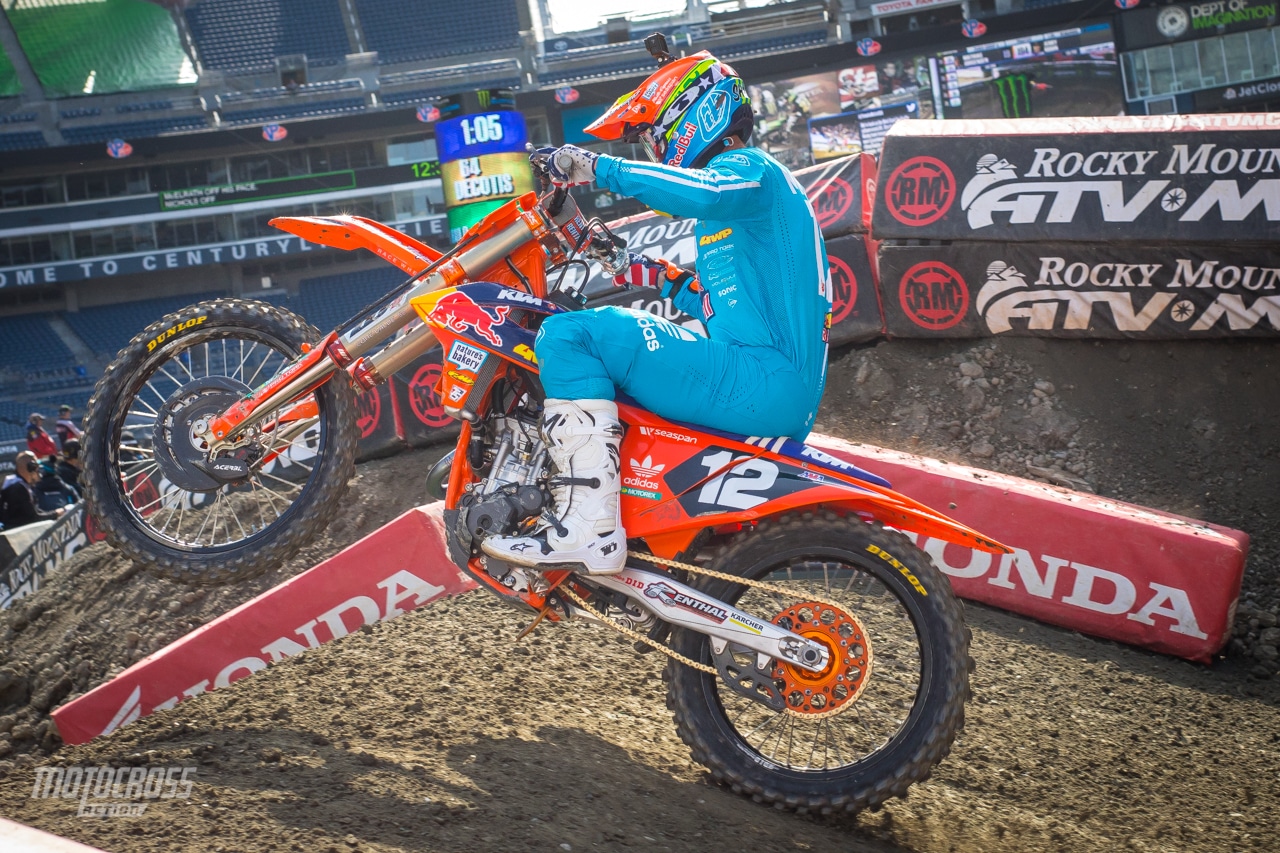 Unfortunately Shane McElrath didn't line up for the night show in Seattle. The Troy Lee Designs Red Bull KTM rider has been struggling with a back injury for a few weeks now. He and his team decided that he wasn't in a position to go racing on Saturday. We hope to see Shane back at the races this Saturday in Houston. 
RJ Hampshire gets a little out of shape in the long whoop section. With a crash in qualifying and a crash in the main event, he had a rough night in Seattle. But he was still able to charge through the pack and salvage a 6th place finish.  
Dylan Ferrandis and Adam Cianciarulo commend one another on a good race. 
250 WEST COAST POINT STANDINGS (AFTER ROUND 7 OF 11)
Adam Cianciarulo-163
Dylan Ferrandis-151
Shane McElrath-123
Colt Nichols-121
Rj Hampshire-103
Michael Mosiman-99
Chris Blose-98
Jimmy Decotis-94
Cameron McAdoo-94
Garrett Marchbanks-85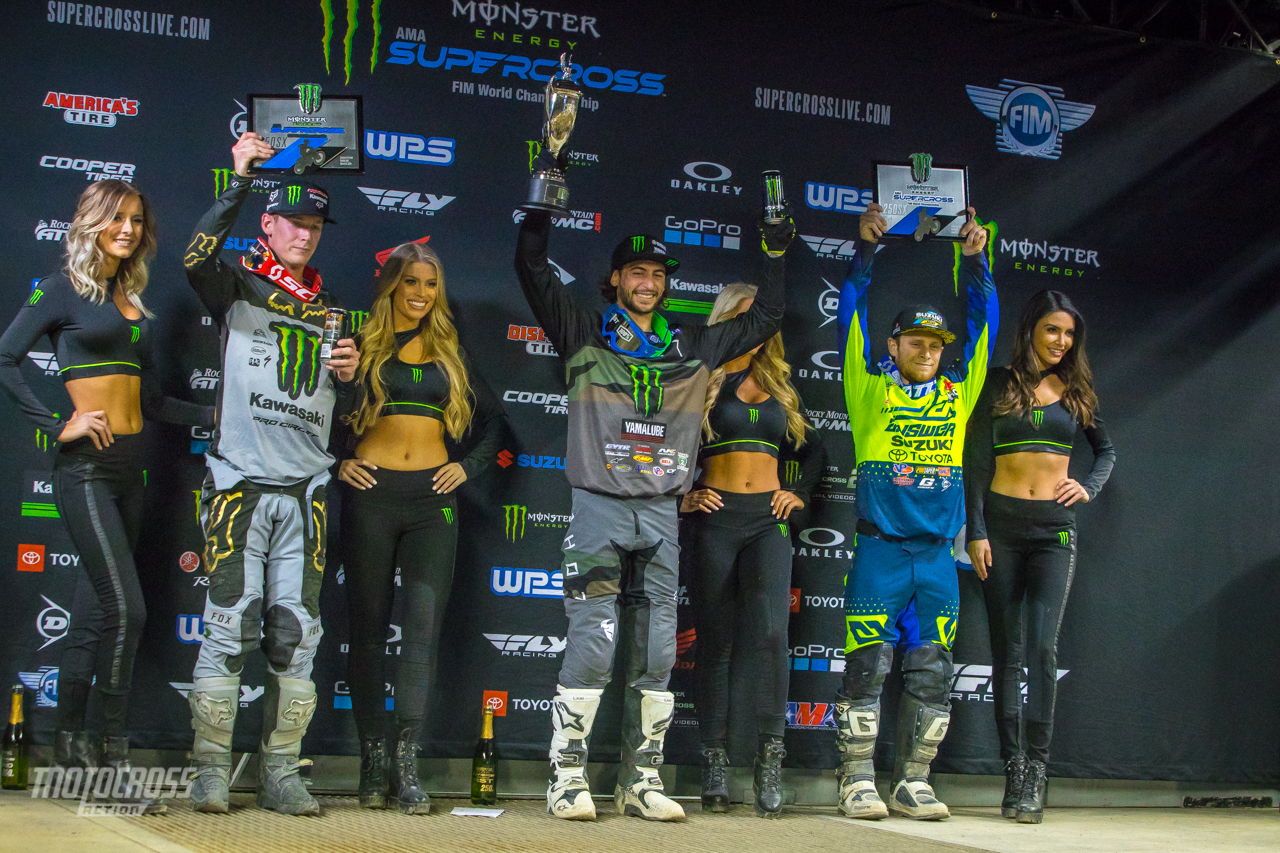 Dylan Ferrandis stands on the top step of the podium for his first time since moving from France to America.
Michael Mosiman battled back and forth with Jacob Hayes early in the main event. In the corner before the whoops, Jacob dove up the inside and block passed Michael and took over 4th place. Then a few laps later, Michael made the same move on Jacob in the same corner, but Jacob didn't see him coming. Their lines connected and Hayes went down. 
The battles weren't over for Jacob. After going down, he got up and was battling for 6th with Garrett Marchbanks when their lines came together and both of them went down. Garrett Marchbanks finished 12th and Jacob Hayes placed 19th after pulling off the track.
After a crash in the first turn, Chris Blose got up quickly and charged hard to finish an impressive 5th place in the main event. He now sits 7th place in the Championship, only one point behind Michael Mosiman for 6th.
Robbie Wageman won the 250 LCQ and placed 11th in the main event on his BWR Honda.