THE AFTERMATH | 2021 ATLANTA SUPERCROSS 3 | CRASHES, COMEBACKS & PENALTIES

THE AFTERMATH | 2021 ATLANTA SUPERCROSS 3 | CRASHES, COMEBACKS & PENALTIES
The 2021 Monster Energy Supercross season is approaching the end, but the racing we've enjoyed so far hasn't slowed down one bit. The Atlanta Motor Speedway provided space for a monstrous track layout which added to the challenge of bike set up for the riders as they navigated Supercross whoop sections and rhythm sections on portions of the track and high-speed straightaways and sand rollers on another portion of the track. Coming into the three-race residency, we expected riders to excel on the first Saturday race and continue with the same momentum through the event, but that wasn't the case, it was much more exciting than that. In Motocross Action's The Aftermath, we elaborate on the biggest news from round 15 and we share some of the favorite photos we took.
Photos by Brian Converse
TOP NEWS FROM ATLANTA 3:
COOPER WEBB'S LATE-RACE PASS ON KEN ROCZEN: HAVEN'T WE SEEN THIS MOVIE BEFORE?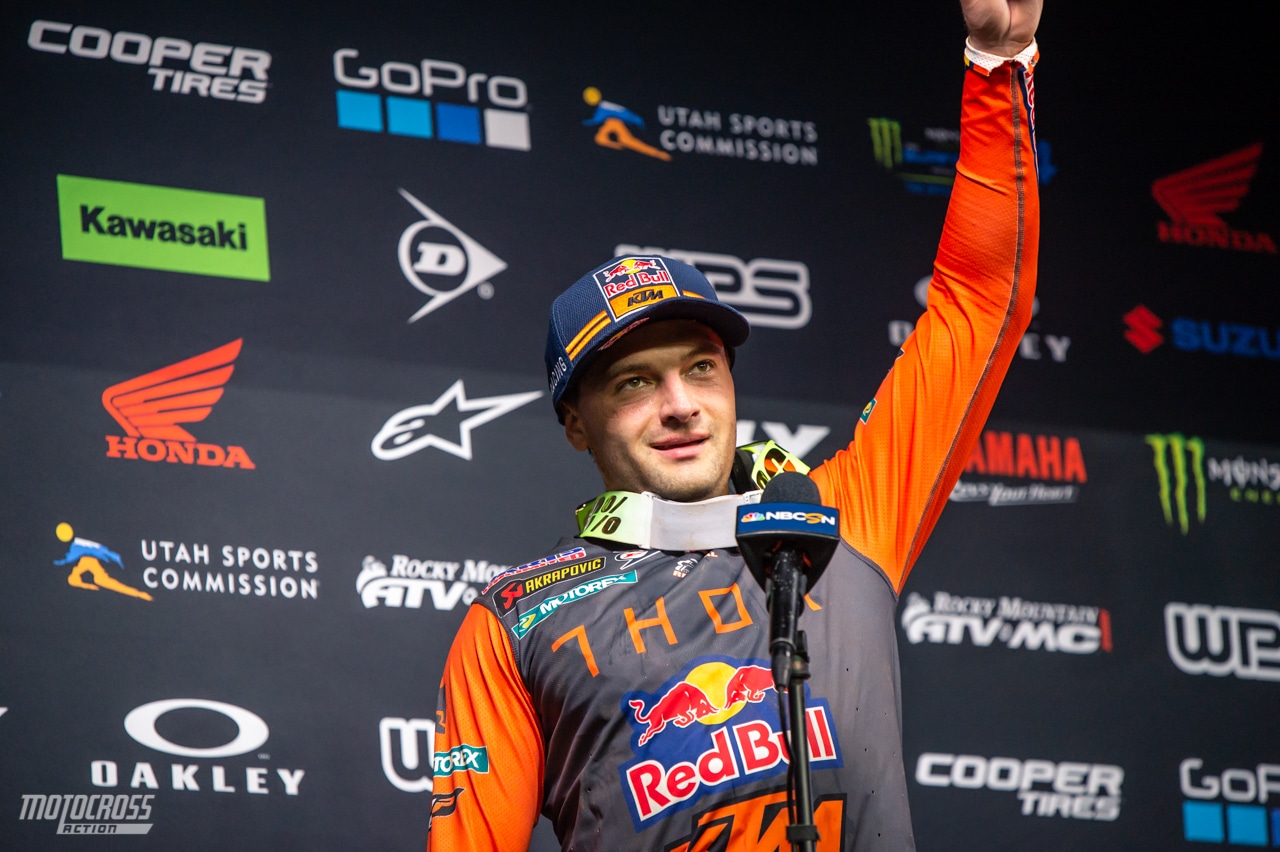 Cooper Webb's late-race charges are second to none. 
All day at Atlanta 3, it looked like Cooper Webb was trying harder to find speed on the wide-open Atlanta Motor Speedway track. In qualifying, his times were still far off his competitors, but Cooper explained after the race that he was more confident after qualifying at ATL 3 because he felt better with his bike setup, even though he wasn't able to get a "perfect" lap in for qualifying. When the gate dropped for the Heat race, Jason Anderson passed Webb and beat him, but Cooper was able to learn from the Rockstar Husqvarna rider who showed blistering speeds at Atlanta.
In the Main Event, it seemed like Cooper was doing everything he could to hold onto second place while Ken Roczen pulled away, and Aaron Plessinger and Eli Tomac were breathing down his neck, trying to pass the points leader. Cooper was losing time in the whoops, the spot on the track where Ken Roczen was far better, but Ken's crash caused him to lose confidence in the whoops. After his wreck, Roczen was jumping through and Cooper Webb was hanging it loose, getting sketchy, but making up time by skimming through. In the end, Cooper Webb was willing to risk it and it paid off for him.
Cooper Webb stalking Ken Roczen late in the race.
Cooper Webb was able to learn some lines from Jason Anderson in the Heat race that benefited him for the Main Event.
CHRIS BLOSE INJURY UPDATE: HE LANDED ON MCADOO IN FIRST TURN PILE UP
Chris Blose being carried off the track. 
Out of the three Atlanta races, there were two red flag situations, both involving Cameron McAdoo. The first one, obviously, was from Tuesday when Cameron had one of the most violent crashes we've seen in recent memory. The second red flag came at ATL 3 when Cameron McAdoo was squeezed into the tough blocks in the first rhythm section, straight after the start, and shot across the track. Amazingly, Cameron McAdoo didn't crash, but Chris Blose's tires hit his shoulder and head. Blose was then sent over the bars and landed on his head. It was clear that the Alpinestars medics couldn't get Chris off the track easily and they decided to red flag the race.
The AJE GasGas Team Owner wasn't too happy with Cameron McAdoo's mistake and he posted on the Team's Instagram profile to vent his frustrations with the AMA allowing Cameron to race, even after his tough crash on Tuesday. Read below for the AJE GasGas Team Owner's statement and Chris Blose' injury update:
AJEGasGas posted via instagram: "As owner of AJE Motorsports I sit in the hospital at @cblose bed side thinking how this could and should have been avoided. I put much blame on AMA and the medical staff. The rider who caused Chris to crash not only today but Tuesday should never have been allowed to be on the track. This individual had 3 major crashes and AMA felt he was ok to keep riding. This decision was made on the track without any real medical exam. This individual is clearly not riding in the right state of mind and this accident and many more could be prevented if they didn't favor certain teams and riders and did what's best for all. We as a team and I know Chris personally wants to say thank you for everyone checking up on him. We got lucky this time and Chris will escape with minor injuries.."
Chris Blose posted via Instagram: "Update: First of all, I just want to say thank you everybody for reaching out to check on my well being. Good news is I am back home after a big crash that wasn't even my fault. After taking a helicopter to the hospital and getting scans to my head, neck and chest everything turned out to be ok with those. I got lucky enough to only get a broken thumb and fractured a couple ribs. I can't thank everyone enough for the love and support through this time. I'll keep everyone in the loop as I find out if surgery is needed. Thanks again!"
Luckily, Chris Blose only suffered a broken thumb and broken ribs. 
CAMERON MCADOO/CHRIS BLOSE CRASH VIDEO:

CAMERON MCADOO'S ROUGHEST NIGHT IN RACING
The crashes, the will to race, it was all very hard to watch.
Cameron McAdoo would yet another tough day in Atlanta Motor Speedway as the 31 would be ejected from his bike and crash during qualifying. We can't imagine how bruised and banged up his body is after the damage that was not only dealt on Tuesday but on Saturday as well as the Pro Circuit rider fell more than two stories off the bridge jump. After Cameron got up from his crash in qualifying, he lined back up for Heat Race 2 in the night show, where he would get a pretty poor start, sitting outside of the transfer position. He would eventually make his way up to seventh place where he would once again line up for the Main Event.
Then as the Main Event took off, it would be Justin Cooper who would grab the holeshot but, straight after the start, Cameron would run out of room on the track, bumping into a tough block and getting landed on by Chris Blose.
Cameron would not have much luck in the Main Event restart either.
The race was restarted and this time around Cameron would get a much better start, sitting in sixth. Then a few laps later in the race, Seth Hammaker would fumble in the whoops, slowing down the rest of the pack when his teammate, Cameron McAdoo, was right on his tail. Cameron would once again crash and several others would join him. At this point, Cameron was back in 11th but would eventually make his way up to 8th place when out of nowhere Garrett Marchbanks would slam into his side, knocking both of them to the ground.
We feel bad for Cameron as his tough-as-nails spirit begs the question when enough is enough. There is no doubt Cameron had hit his head multiple times this week at Atlanta and with such a quick autopsy on his status in the racing, we're hoping the PC Kawi rider gets some much-needed rest after the season finishes because broken bones are one thing, head injuries are another.
Cameron McAdoo said via press release: "I'm disappointed obviously with how things turned out in Atlanta. The race on Tuesday was tough after the crash, but today was probably harder. We were on the ground too many times in the main to even have a shot. We're not going to feel sorry for ourselves but be proud of how we got up each time we were faced with a challenge. We've got one more race to fight in Salt Lake City. I'll always fight to the end and we're going to keep digging at that final race."
CRASH VIDEO: CAMERON MCADOO TAKEN OUT BY GARRETT MARCHBANKS
On Monday, Club Mx sent out a press release to MXA talking on the incident:
Garrett Marchbanks on the crash: "I felt very good in qualifying, and running upfront in my heat race with the leader. As we got off to the first main, another red flag restart and more crashing is something no rider wants to be a part of. I found myself in the back on the restart and was trying to work my way forward, very frustrated with myself. The 31 was riding erratically all night and at that point in the race he was next on the track to pass. I fully intended to make an aggressive pass and get away quickly, not wanting to ride near him. I thought I was closer than I was after I landed the double. I wanted to get under him and stand him up in the bowl turn, then be clear of him before we got to the next section. That clearly didn't work. I miscalculated my angle, then pushed the front tire all while having no chance of pulling it off. What a mess. I'm disappointed and sorry that it happened. I take full responsibility for the incident and should not have allowed my emotions to get the best of me. I should have just waited until we got to the next section to pass even though it was one line for the majority of the following lap. I have gone the whole season fighting at the front with no issues and I feel like people know I'm a clean racer. Yes, I have a lot to prove and I think I've done that all year but it's never been at someone else's expense – that's not how I ride and time will show that as I continue to improve my race craft and decision making."
Team Owner Brandon Haas on the crash: "We've had conversations as a team all season about our goals and aspirations. We talk about integrity, hard work and commitment. We also talk about our brand and the public perception of it. Garrett's move on McAdoo was a poor choice and we will make sure he learns from this. He's an aggressive racer and wants to be at the front. If people think he has something to prove with the PC team, that is simply not the case – that was done and over with at round one. Even though we continue to hear on the broadcast that Garrett has a "chip on his shoulder" or that he has a vendetta in mind that is simply not true. It makes for good TV but the fact remains that he is happier at ClubMX than any of his past teams and his results will show that. We have a goal to stay healthy and get a full year under his belt, even if that means not winning races. We have remained healthy and consistent, which was our primary goal and the McAdoo case was simply poor judgment. We will learn from this to help Garrett grow and mature.
Brandon Haas continued:"People may think that ClubMX is just a stepping stone until he can return to a factory team – also not true. In early April, Garrett re-signed a long-term contract to ride for us well into the future. There are dramatic moments in the sport that get everyone's attention, and as a team we work together with all of our athletes and personnel to learn and improve from these experiences. We are not buying results; we are building these guys up on and off the bike. The burdens that come with that I'll happily accept regardless of what anyone has to say about Garrett or ClubMX. He's sorry that it happened the way it did, we're all sorry. We never want to disrupt someone's bid for a championship – that's not how we operate."
HUNTER LAWRENCE: NOT HAPPY WITH CAMERON MCADOO AFTER HIS CRASH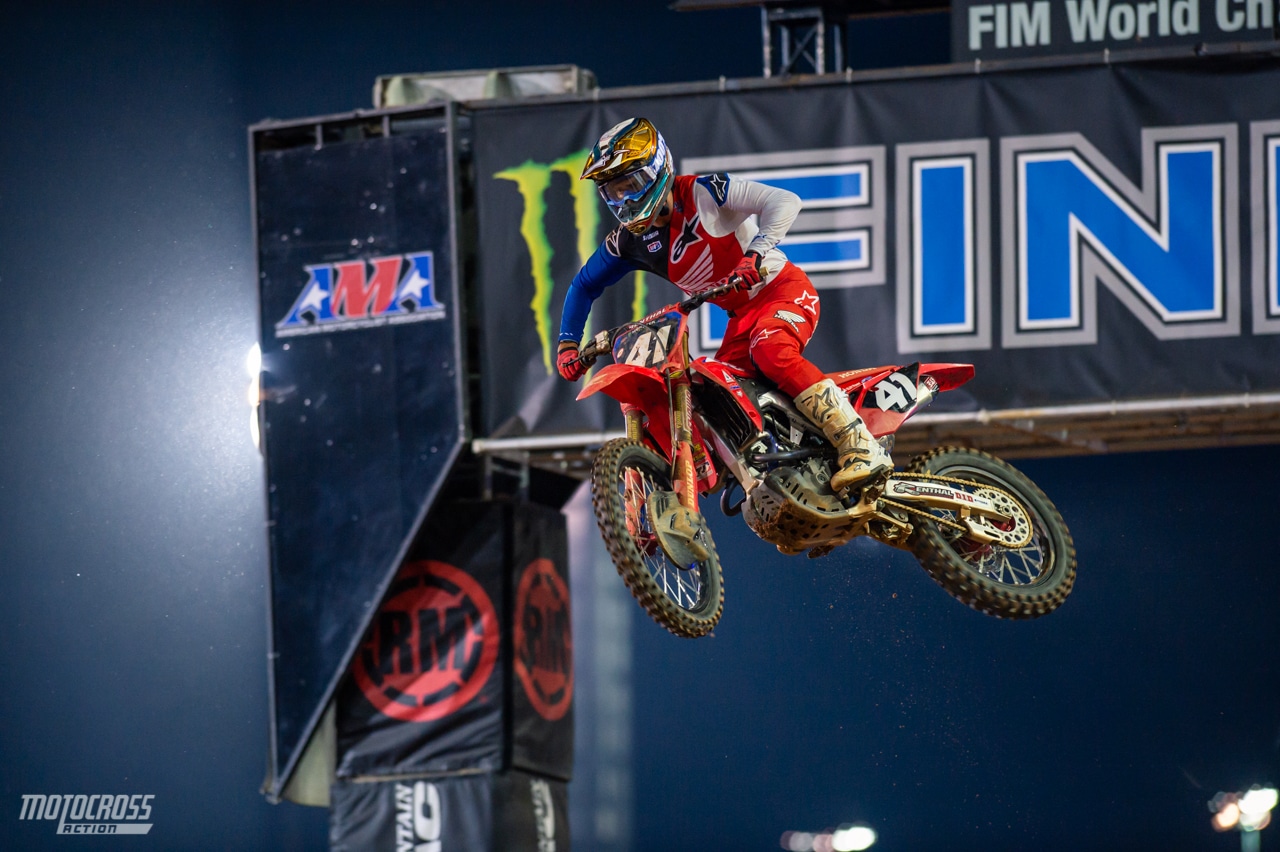 Hunter Lawrence jumped off the track after Cameron McAdoo made a mistake early in the race. Read what he had to say about it below:
Hunter Lawrence via press release: "My weekend was bittersweet. I was looking very promising with P1 in both qualifying sessions and a heat-race win–looking really good for the main. On the first start I put myself in a great position and moved into second right behind [Justin] Cooper and was feeling really good, but then unfortunately we got red-flagged. After the restart, I came through the pack in fifth and then Cameron [McAdoo] nearly fell off his bike going into the sand section. I don't think he was where he needed to be, mentally or physically. He swerved right in front of me, and my only options were to either land on him or try to scrub off the track and miss him, and that's what I did and ended up landing in the Tuff Block. I'm pretty frustrated about that; with that crash, to finish two seconds behind third place, I think I could've won, considering how good I was in the whoops and how good I was feeling. I'm pretty bummed with how the night ended, but stoked with how the team and I operated during the day and how my riding is going, so I can't wait for Salt Lake City."
JUDGE FOR YOURSELF: MCADOO VS. LAWRENCE CRASH VIDEO
KEN ROCZEN PLACES SECOND AFTER LEADING 11 OUT OF 14 LAPS
Ken Roczen looked like he had the win in the bag, but it was once again stolen by Cooper Webb.
Ken Roczen's win and Cooper Webb's sixth on Tuesday cut significantly into the points gap between the two riders and it ramped up the pressure for both of them heading into round 15. Ken Roczen answered the call with a solid first half of the 450 Main Event. When everyone else struggled in the long whoop section, Ken Roczen made the section look simple and continued to extend his lead out to 12-seconds.
Then, a small mishap in the whoops caused Ken to swap and crash. But, his crash wasn't a tough one. Ken practically running to his bike by the time he fell off. It was a simple crash that allowed him to stay in the lead and only lost 6-seconds on Cooper Webb. At this point, Cooper saw an opportunity to pounce and he started going for it. From a spectator's point of view, it looked like Ken would be able to pick back up where he left off with his incredible speed through the whoops and start to pull away again, but that wasn't the case. Ken decided to play it safe and jump through the whoops, but it wasn't good enough.
JASON ANDERSON PENALIZED 3-POSITIONS
Jason Anderson was docked three positions for cutting the track in the Main Event.
One heart-breaking moment of the Atlanta Supercross #3 was Jason Anderson being taken out by Dylan Ferrandis on the opening lap of the 450 Main Event. Jason, the fastest qualifier at all three Atlanta races, wasn't able to put his speed to the test in the Main Event on Saturday. Jason went double-single into the tight left-handed corner when Dylan Ferrandis tried to double out, landing into Jason's rear wheel. It was unintentional, but it was a costly move that dropped both riders to the back of the pack.
After the wreck, both riders picked their bikes up unharmed, but Jason Anderson took a shortcut, going around a jump to get back onto the track, instead of just staying on the track where he picked his bike up. This resulted in a three-position penalty which dropped Anderson's final result from 11 to 14. Read what happened from Dylan's perspective below:
DYLAN FERRANDIS GOES DOWN (TWICE)
Dylan Ferrandis went down while leading his Heat race as shown above. 
Dylan Ferrandis led early in his 450 Heat race, but a crash in the off-camber left-hander after the finish line caused him to drop backward. Then, in the Main Event, Dylan and Jason both had good starts, but Dylan miscalculated the jump into the corner and he jumped into the rear wheel of Jason Anderson. This caused both of them to crash. Dylan Ferrandis said: "On the first lap, Jason Anderson rolled one jump when I expected him to jump. I jumped behind him, and I hit his rear wheel, and we both crashed. That pretty much ruined my Main Event, but I came back and fought until the end to seventh. I felt that I had the pace and the bike tonight, so I'm really disappointed, but that's the sport. The 450 class is very difficult. We will keep learning and working hard to get the result we are looking for."
Chase Sexton dodging Dylan Ferrandis.
THE ATLANTA MOTOR SPEEDWAY: A VENUE WE WON'T SOON FORGET
The sheer size of the Atlanta Motor Speedway track played a huge factor in the outcome of the last three races. Hopefully, it's on the schedule for 2022. 
450SX CLASS:
The top three in the Championship point standings land on top of the podium. 
Cooper Webb with the Atlanta, Georgia, sunset in the background. 
Eli Tomac finished third at Atlanta #3, but he was happier with his riding and he gave credit to the bike changes he and the factory Kawasaki team made to give him more comfort and speed on Saturday.
Josh Hill came out of retirement to come race in Atlanta. He qualified for two out of the three Main Events finishing 16th and 17th place. Josh posted via Instagram and said:"Left ATL with a big smile on my face. I'm 31 yrs old, and I got to show up with my girl @mollymiche and my 2 buddies @dkiser_17 and @hhracing102 in my truck and trailer to line up and race the best riders in the world on the biggest sx track ever made. And was able to get a 16th and a 17th. Not to mention I rode 7 of the last 8 days I was there. Wish I could of shown more speed in the races, but honestly never felt that great on the fast hybrid track. But wouldn't trade the experience for anything. Huge thanks to all that helped get me there!"
450 SUPERCROSS POINTS AFTER ROUND 15 OF 17
Cooper Webb's late-race pass on Ken Roczen caused his points lead to go from a potential 10-point gap (if he finished second to Roczen) to a 16-point gap with his pass on Ken.
| | | | |
| --- | --- | --- | --- |
| POS. | # | NAME | Total Points |
| 1 | 2 | Cooper Webb | 339 |
| 2 | 94 | Ken Roczen | 323 |
| 3 | 1 | Eli Tomac | 299 |
| 4 | 51 | Justin Barcia | 264 |
| 5 | 7 | Aaron Plessinger | 234 |
| 6 | 21 | Jason Anderson | 220 |
| 7 | 27 | Malcolm Stewart | 209 |
| 8 | 14 | Dylan Ferrandis | 199 |
| 9 | 25 | Marvin Musquin | 182 |
| 10 | 17 | Joey Savatgy | 178 |
250SX CLASS:
Justin Cooper's starts have made his life a lot easier in the second half of the 250 West season. 
Garrett Marchbanks was the villain of the night. Taking out his former teammate, Cameron McAdoo, in an ugly attempt of a block pass.
Hunter Lawrence charged through the pack after crashing to finish fourth place. His crash came when he followed Cameron McAdoo early in the race. Cameron made a mistake in the sand rollers where his leg came off and he lost balance. This shifted him to the right side of the track and opened a door for Lawrence. Then, Hunter grabbed a handful of throttle and Cameron closed the door by diving to the inside. Lawrence was squeezed off the track and into the tough blocks. It wasn't intentional on McAdoo's part, but Lawrence did get the short end of the stick.
250 WEST COAST SUPERCROSS POINTS AFTER ROUND 8 of 9
Justin Cooper has a comfy 20-point lead going into the 250 East/West Showdown in Salt Lake City.
| | | | |
| --- | --- | --- | --- |
| POS. | # | NAME | Total Points |
| 1 | 32 | Justin Cooper | 180 |
| 2 | 41 | Hunter Lawrence | 160 |
| 3 | 31 | Cameron Mcadoo | 158 |
| 4 | 150 | Seth Hammaker | 142 |
| 5 | 47 | Jalek Swoll | 138 |
| 6 | 91 | Nate Thrasher | 127 |
| 7 | 48 | Garrett Marchbanks | 125 |
| 8 | 56 | Kyle Peters | 111 |
| 9 | 72 | Coty Schock | 99 |
| 10 | 35 | Mitchell Harrison | 90 |
WORDS FROM THE RIDERS:
Cooper Webb via press release: "I have to give it up to my team, they gave me a competitive bike tonight – we went back and figured some things out. Honestly, I made so many mistakes and I really didn't ride well at all but I dug deep. I saw Kenny out front and he was riding awesome. I was trying to do everything I can and when he made that mistake, I saw blood in the water and I went for it. I just wanted to win."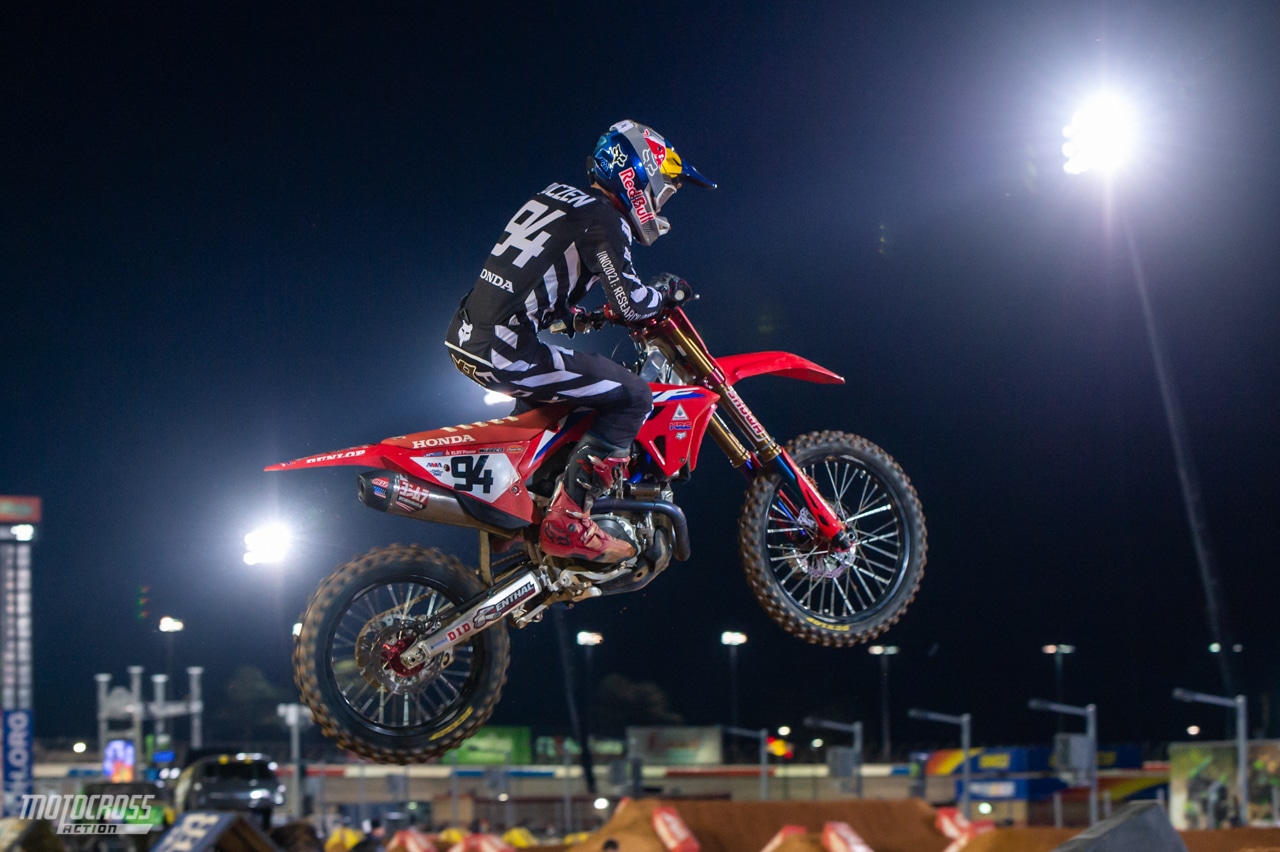 Ken Roczen via Press Release: "Atlanta three was pretty good to us. The track was really, really tough, with the whoops being super long, big and cupped out. In the main event we did exactly what we needed to do–grabbed a good start and made the pass for the lead happen pretty quick. I put a 12-second gap between me and second, just to throw it away in the whoops when I got kicked sideways and then it bucked me. Afterwards my handlebar or my triple clamps were just a little bit tweaked, and it kind of took the wind out of my sails a bit and [Cooper] Webb made the pass happen with a couple of laps to go. I ended up second and lost three points, but the team and I did a great job and almost won. I want to hang onto the positive, meaning I rode really well, and am going to come in strong in Salt Lake City."
Dylan Ferrandis via press release:"I felt good all day. Having one more day to recover was great, so I felt better physically compared to Tuesday. The whoops were really difficult tonight. I kind of found some good solutions with the bike and on the track. I got the holeshot in my heat but had a small tip-over. In the main, I had a really good start from the outside, so I was really happy with that. On the first lap, Jason Anderson rolled one jump when I expected him to jump. I jumped behind him, and I hit his rear wheel, and we both crashed. That pretty much ruined my Main Event, but I came back and fought until the end to seventh. I felt that I had the pace and the bike tonight, so I'm really disappointed, but that's the sport. The 450 class is very difficult. We will keep learning and working hard to get the result we are looking for."
Chase Sexton via press release: "Atlanta 3 started off pretty good; I was P2 in qualifying, which was obviously not first, but I was still pretty happy with it. I felt good on the bike and felt like I was riding well, and then in the heat race I got a decent start and made some quick passes, made my way into first and actually rode really well. I thought I rode probably the best I have all year, so I felt comfortable going into the main event. However, I didn't feel comfortable in the whoops on the sight lap, and it kind of went downhill from there. I didn't get the best start, made a few quick passes, but then then got hung up on someone's bike and went backward–ended up going off the track in the whoops. It wasn't the main event I wanted, and I didn't ride to my standards, but overall we had a really good showing in Atlanta and are looking to top that in Salt Lake City. We're going to go back to work this week and get ready for the last two rounds."
Jason Anderson via press release: "My day was good all the way up to the Main Event, I was P1 in qualifying, won my heat race and in the Main Event I got a good start but someone got into me on the first lap and I ended up getting shuffled back. All-in-all, it was a positive day and I'm just going to work on it next week."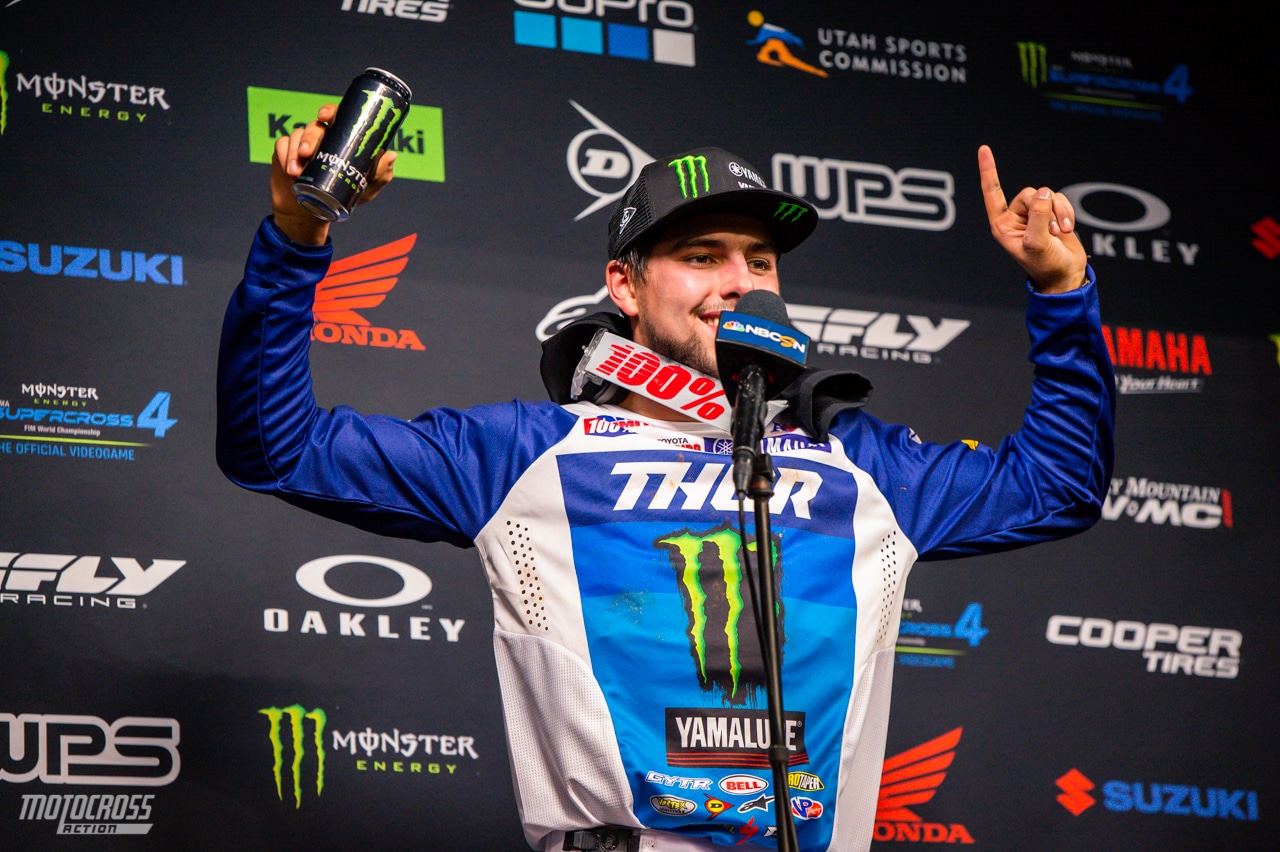 Nate Thrasher via press release:"It was amazing! The LCQ wasn't part of the plan, but I went down after the start of the heat race and just kept chugging away to get back into 11th to get me a good gate pick for the LCQ. I grabbed the holeshot and just tried to stay calm and cool because the LCQ is a little nerve-racking. I put some solid laps in and tried to keep myself from getting super tired because I knew I had a long Main Event coming up next. We had a red flag, but I ended up getting a great start both times. Then Justin made a little mistake, and I capitalized on it and tried to put in solid laps and ended up with the win. It feels so great. We have got to keep it going."
Seth Hammaker via press release: "I have been pretty happy with the progress we've made so far this season," said Hammaker. "I'm learning every round, making it a priority to hit my marks and put in good laps. The tracks here were tough and I'm looking forward to a small break before the final round. I'd love to close out this rookie season strong and healthy."
Chase Sexton posted via Instagram: "Atlanta 3 Recap. Had a solid day going with P2 in Qualifying and winning my heat but unfortunately had a rough Main Event. This rookie Season has been a roller coaster but I've been feeling more like myself every weekend. Time for full send in Salt Lake and finishing this thing out strong"
Justin Barcia via press release:"I definitely missed out on the podium, which was a bummer, but all-in-all salvaged what I could. I just need to keep it on two wheels. I'm really looking forward to the last two rounds in Utah, I really want to get another win before the season's out. Two wins would be even better, so we're going to give it our all in Salt Lake, full GasGas!"
Justin Cooper via press release:"The last one here in Atlanta went pretty good. The track was pretty tricky, especially the whoops. It challenged us all day, and it was hard to find my flow, so second place is awesome. I'm glad to get out of this one safe and that I was able to get two good starts tonight with that red flag to put myself in a good spot. I made that mistake early, so I was just riding behind Nate and didn't really feel the need to push tonight. He was riding awesome, so hats off to him. It was a great night for us points-wise! We get a weekend off before the East-West Shootout. I'm excited for that and am looking to go to Salt Lake City in two weeks to try and wrap this thing up."
Marvin Musquin via press release: "It was a very tough track; super high speed and I was losing a lot of time in the whoops. I had a bad gate pick in the main and I actually had a great jump but the bumps got me. I got into seventh and had a gap there with no one in front of me so I could ride a little bit better but I couldn't catch up to the guys in front of me unfortunately and then got passed by two guys and got ninth."
Aaron Plessinger via press release:"It started off a little hairy. I qualified thirteenth, but we made quite a few changes throughout the day, and we turned it around after practice. We went out for the heat race and got a good start, and ended up third. So that put me with a fifth-place gate pick for the main. I knew I had to get a really good start, and that's what I did; I pulled the holeshot. Kenny (Roczen) got me after the first lap. Then at the end, I was right behind Eli (Tomac) in fourth. It sucks that I couldn't get back up there for the podium, but I'm happy with my riding, and I'm happy with the way I started the race. The track was so rough, and the whoops were gnarly. There was one little rut, a little goat trail through the whole set that I was staying with during the race. It definitely was demanding, but my fitness is pretty good, and I stayed up there. I wish I could've got Eli in the end, but we can only build off of this and bring the momentum into Salt Lake City."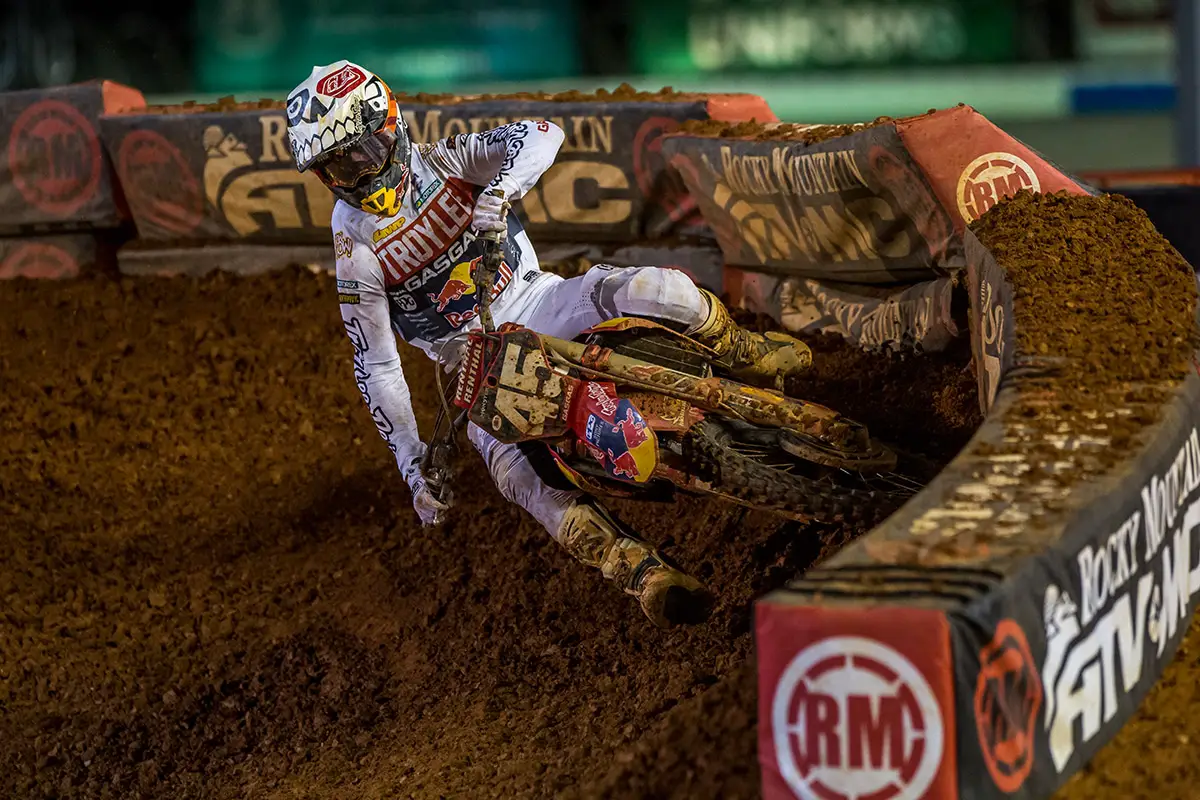 Pierce Brown via press release: "The result didn't show but my riding in the heat and the main was the best it's been in a while. I left everything I had on the track to charge back through and I made it up to seventh but on the last lap I got sideways in the sand section and fell, ending up 14th. The result was nowhere near what we wanted or are capable of but the riding was really good, so onto the next one."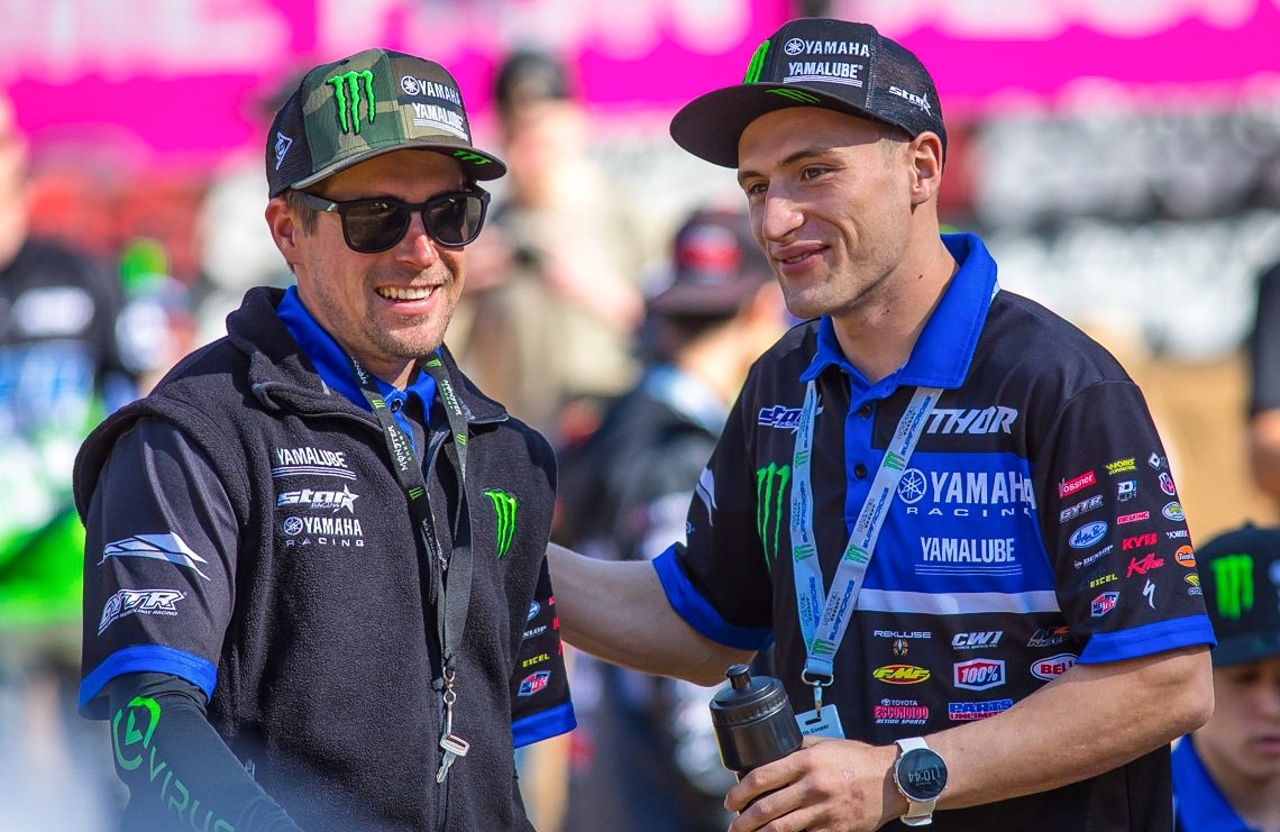 Wil Hahn – Star Racing 250 Team Manager: "Honestly, tonight couldn't have gone much better than it did. Justin gained a lot of valuable points in our fight for the championship, and Nate won his second race in his rookie season. I don't know if you can write a much better Cinderella story than that. We're going to Salt Lake City with good points for the finale in the West championship, and we'll go back to the East championship next weekend and see what we've got to do there."
Dean Wilson via press release: "My day wasn't too bad, I ended up with my best finish of the season, in the main, I didn't execute the start like I should have but I made a few passes, got into seventh and Ferrandis got me with five laps to go, so I ended up eighth. It's not a great finish but it was nice to be in the battle. I'm looking forward to Salt Lake and I'm ready to keep improving."
Mitchell Harrison via press release: "Overall, I am happy with the last three rounds, but I do want to finish stronger. I didn't ride to my full potential tonight and the crash I had in practice left me with a tweaked ankle so that made things a little tougher. It's been a full on championship with many ups and downs and I think we have proven ourselves competitive against other factory teams,"
Malcolm Stewart via press release:"It was definitely a big improvement from Atlanta 2. We came into this race not really sure if we were even going to be able to race, just because I was in so much pain after my crash on Tuesday. Wednesday morning, I was like, 'uh oh, we're in some trouble.' I just want to say hats off to Dr. G. for helping me get back in this race. So actually, I would say the day went great. We got to go back to the basics and just tried to have fun. Sometimes not feeling 100% can kind of take the pressure off of you, too. We had a good practice, and the heat race went well. The track was pretty tough, especially the whoops. It was really easy to make a mistake out there, so one of the key things tonight was definitely trying not to get too fatigued. I think Atlanta treated us fairly well. Again, we had some crashes, and we had some bad luck, but it's good to leave here with a better result. Now we've got two races left in Salt Lake City, so let's go out there and have some fun again and end this season on a high note."
Stilez Robertson via press release:"The Main Event was chaos in the first the couple of turns, I got into the whoops and just missed my mark, went down and felt my knee pop. I tried to give it a go again and I just didn't feel strong or stable, so I went to the medical unit and they said I dislocated my fibial head, so hopefully we'll be back soon."
Jarrett Frye via press release: "The day started out pretty good. I had a better qualifying and was able to get a good start in my heat and finish fifth. I just struggled with this track and ended up finishing 15th in the main. We get a weekend off before the finale, so we're going to go back to work and try to end the season on a high note."
Jalek Swoll via press release:"It was a mediocre day but it showed flashes, feel good and healthy going into the last round – leaps and bounds better than last season – so I'm just going to keep my head down, get good training in and end the season on a solid note in Salt Lake. I'm ready to keep moving forward and hopefully get that good last race and full send into outdoors."