THE AFTERMATH: GLEN HELEN NATIONAL
Photos by Daryl Ecklund and Kyoshi Becker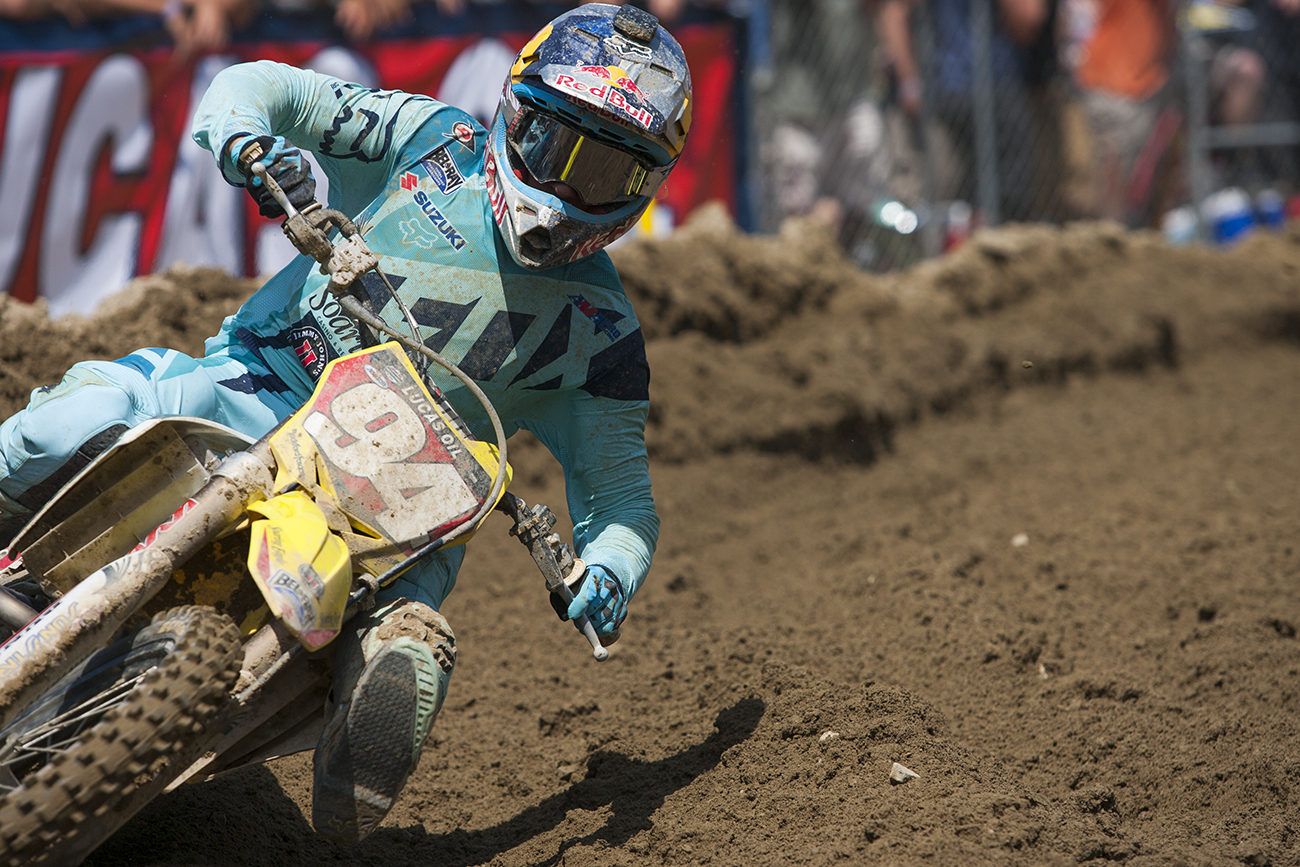 Ken Roczen dominated. Unfortunately his air forks "deflated" in the first moto when air escaped through a hole that his team had drilled in the fork cap to insert an electronic sensor in the left leg. The air loss forced Ken to go from first, with a big lead, to fourth place.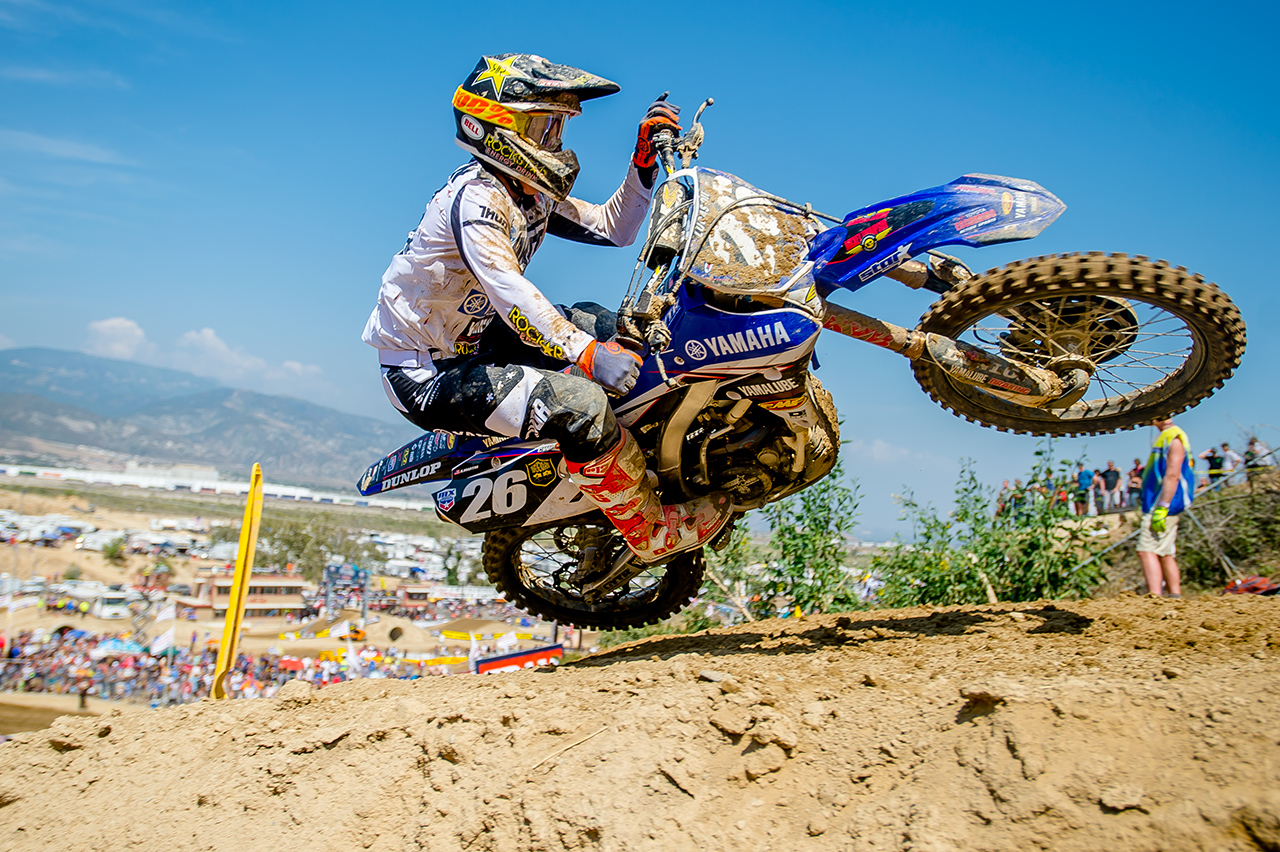 Alex Martin got his first overall ever in the AMA Nationals. Alex has been a National rider for six years and raced for several privateer teams before getting called up to Star Yamaha this year.
Blake Baggett got 16th place in the first moto. He broke his collarbone last week at Hangtown and had it plated to avoid losing too many points. He wanted to tough it out, but elected not to race the second moto.
Some wondered if Gared Steinke was a masochist, as Jody's Glen Helen track design did not favor 125cc two-strokes. Steinke qualified and held on for 31-31 finishes. Yes, he jumped the triple step up. It was an awesome sight.
The "Hip Jump" produced more whip photos in one moto than any other jump in history. Here, Alex Martin throws it sideways.
Ken Roczen passed Ryan Dungey for the lead in moto one in the canyon drop-off turn. Then they sailed in formation over the hip jump.
Austin Forkner scrubbed the first Saddleback hump like a seasoned Pro. Austin finished 3rd in the first 250 moto behind Cooper Webb. Glen Helen was only Austin's second-ever AMA 250 National. Austin's 3-5 gave him fourth overall.

The Star Yamaha team makes a Kawasaki sandwich out of Austin Forkner (214).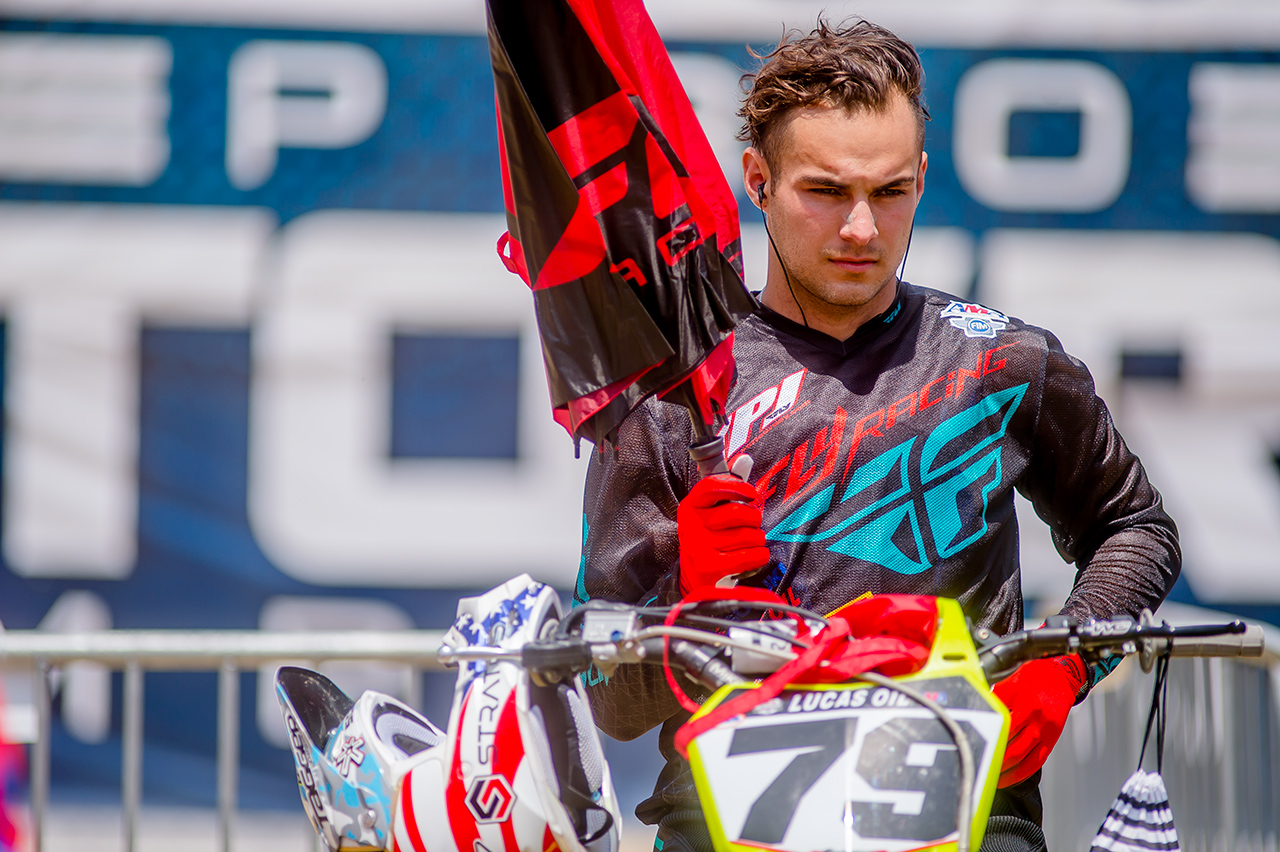 Nick Schmidt found the difference between Supercross and the outdoors very quickly.

Jason Anderson (21) is fourth in 450 points after two rounds.
JGR's Weston Peick qualified 8th. Unfortunately, a nasty crash in the "unrhythm section" left him with a 39th place finish.


Like Hangtown, Jessy Nelson had a stronger second moto than first. At Glen Helen he showed considerable endurance in the second 250 moto to finish 3rd. However, he was 13th in moto one.
Photographer Debbi Tamietti grabs an interesting angle of Austin Forkner. See her photos here.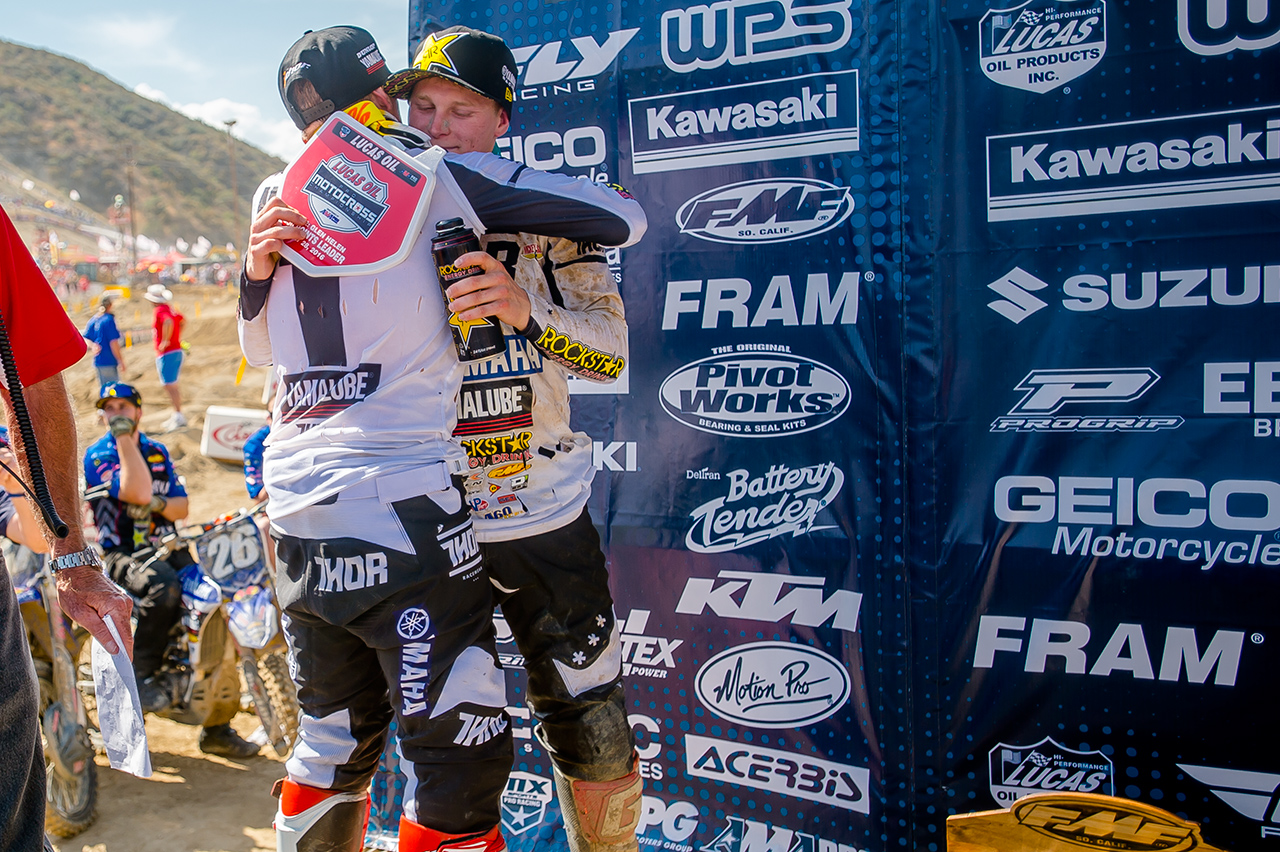 The Martin brothers (A-Mart and J-Mart) hug on the podium. It was Alex's first National win and the first time brothers ever stood on the podium together.


Joey Savatgy just couldn't get going on the brutally rough and rugged Glen Helen dirt. Joey slipped to third in 250 National points, but is only 3 points behind leader Alex Martin and 1 point behind second place Jeremy Martin.


Justin Barcia roosted the crowd on the outside lane of Glen Helen's two-lane section. The two lanes were identical in time. Ken Roczen and Ryan Dungey preferred the inside lane most of the time. Justin had a DNF-8 day.
Although not as dominant as Eli Tomac was at the start of the 2015 AMA 450 National Championship series, it's obvious that Ken Roczen is on a different level in 2016. Here, Ken wins the second moto after his heartbreaking fork failure in moto 1.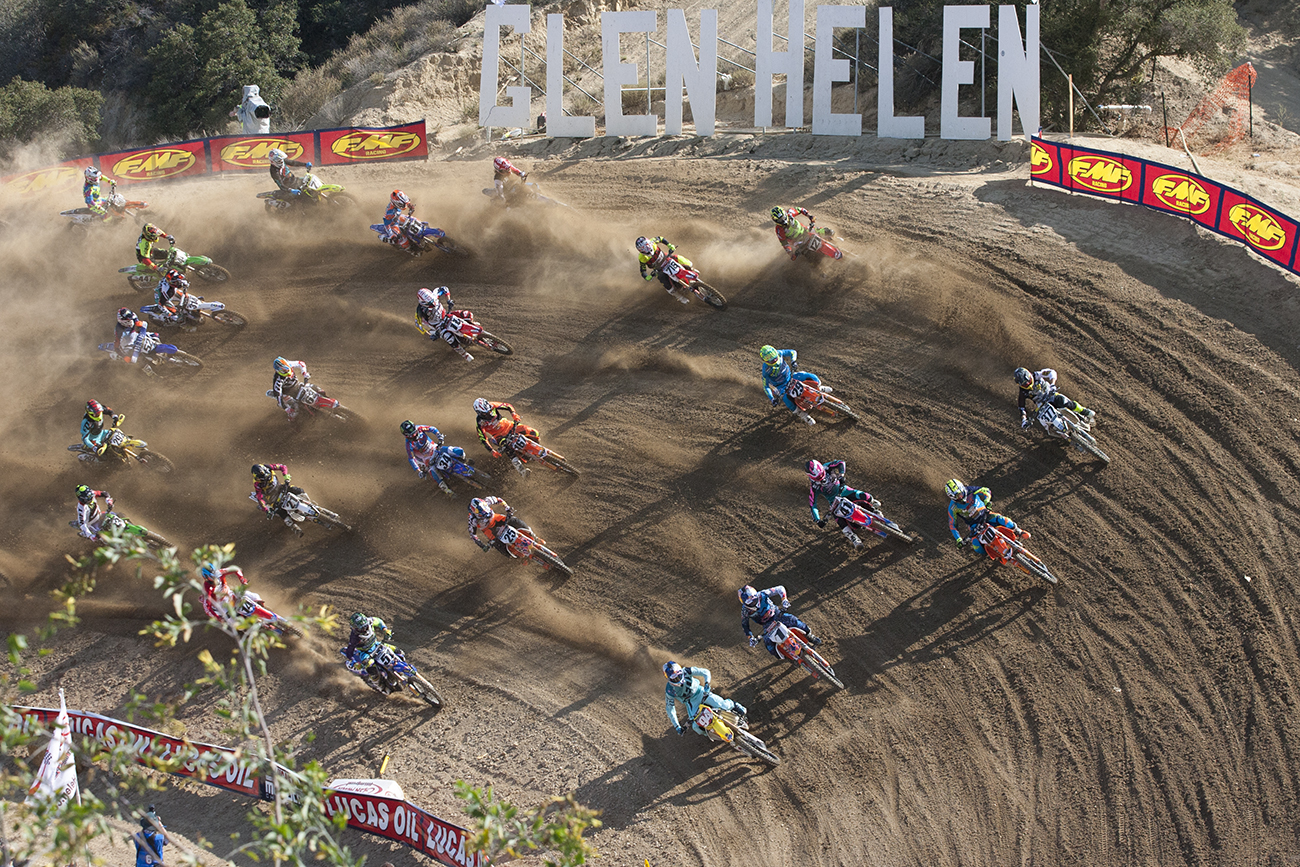 At the start of the second 450 moto you can spot Ken Roczen (94), Ryan Dungey (1), Trey Canard (41), Justin Brayton (10) and Christophe Pourcel (377) in the first wave, but Eli Tomac is not in the top 20. Eli would come through to finish 3-3 for the day.


Have you ever had a side panel come loose? Adam Cianciarulo (44) spent 30 minutes dealing with a flapping piece of plastic in the second moto. The bad news? Adam went 11-14 for 11th. The good news? He didn't hurt his shoulders.


Trey Canard (41) and Marvin Musquin (25) do a little bar banging.
GLEN HELEN RESULTS: 250 CLASS
1. Alex Martin…2-2
2. Jeremy Martin…4-1
3. Cooper Webb…1-4
4. Austin Forkner…3-5
5. Aaron Plessinger …5-6
6. Jessy Nelson…13-3
7. Joey Savatgy…9-7
8. Zach Osborne…8-8
9. R.J. Hampshire…6-11
10. Martin Davalos…14-9
11. Adam Cianciarulo…11-14
12. Arnaud Tonus…10-15
13. Mitchell Harrison…18-10
14. Shane McElrath…12-16
15. Tristan Charboneau…7-30
16. Colt Nichols…19-13
17. Alex Frye…15-17
18. Mitchell Oldenburg…37-12
19. Kyle Cunningham…16-19
20. Justin Hill…17-36
GLEN HELEN RESULTS: 450 CLASS
1. Ryan Dungey…1-2
2. Ken Roczen…4-1
3. Eli Tomac…3-3
4. Jason Anderson…2-5
5. Trey Canard…7-4
6. Josh Grant..6-6
7. Cole Seely…5-10
8. Phillip Nicoletti…10-9
9. Marvin Musquin…9-11
10. Broc Tickle…8-13
11. Justin Brayton…11-12
12. Fredrik Noren…12-14
13. Christophe Pourcel…29-7
14. Justin Barcia…37-8
15. Andrew Short…14-15
16. Benny Bloss…13-16
17. Justin Bogle…15-36
18. Toshiki Tomita…20-17
19. Blake Baggett …16-39
20. Jesse Wentland…17-30