THE AFTERMATH: MILLVILLE NATIONAL MOTOCROSS
Photos by Scott Mallonee
Marvin Musquin's wife, Mathilde, gives him a thumbs up while cruising in the lead.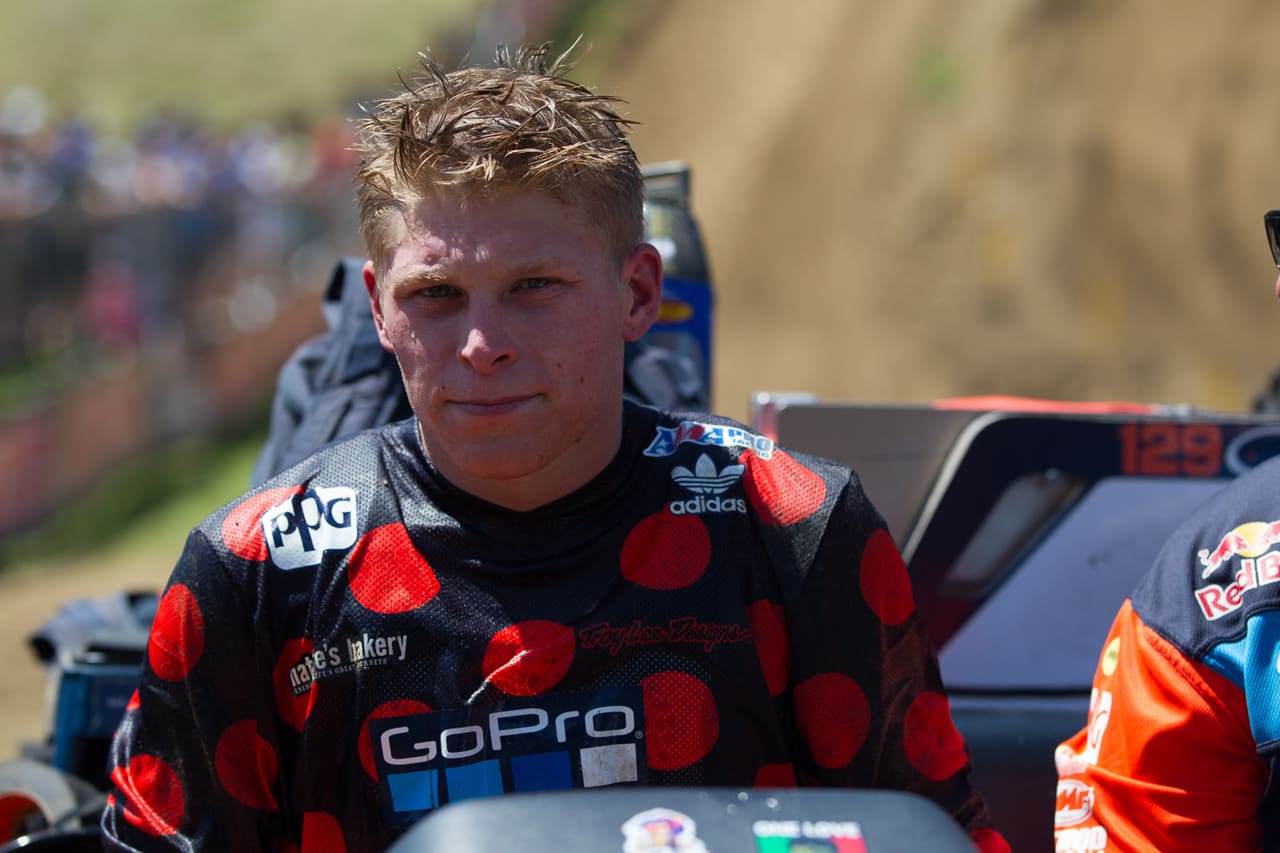 Alex Martin after a hard fought moto.
Joey Savatgy gets his first win of the season. 
Aaron Plessinger overheating after a moto.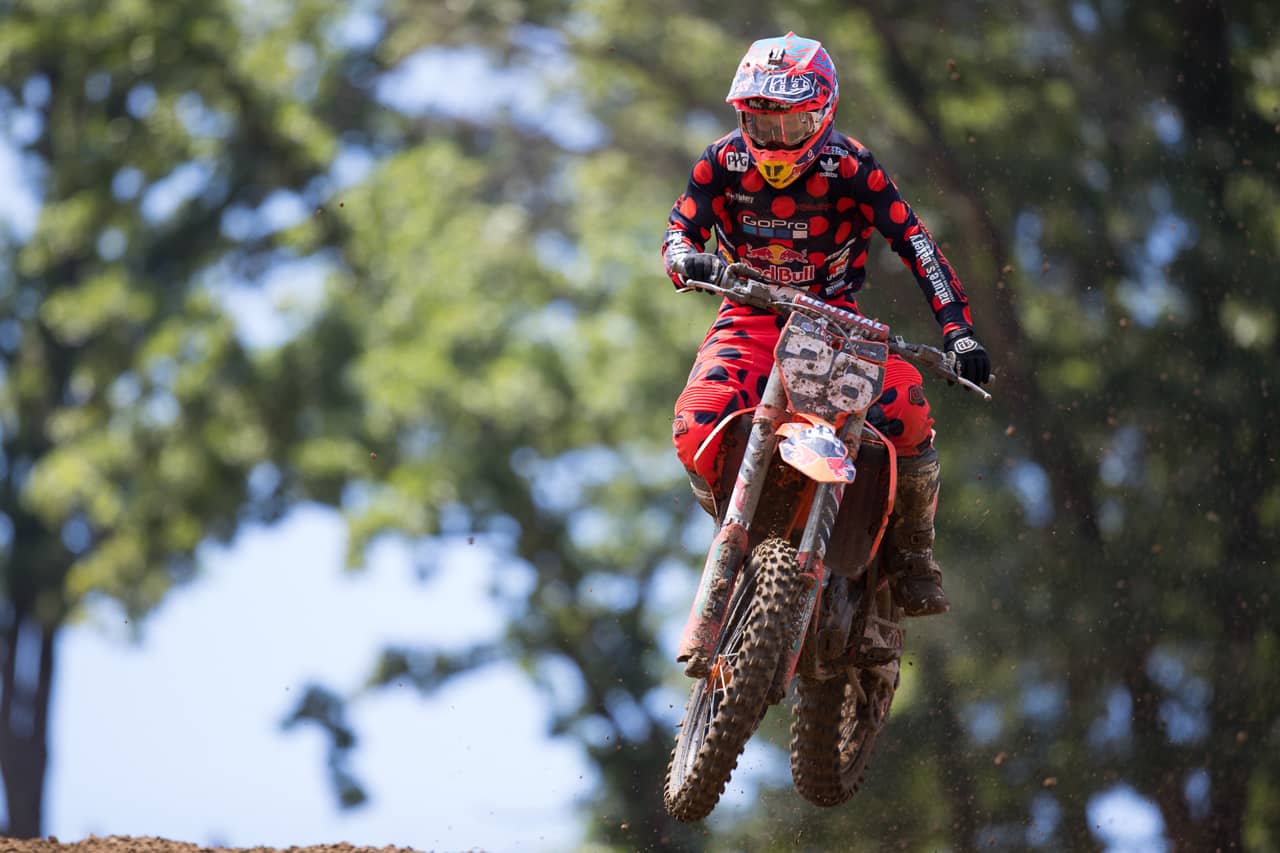 Alex Martin finishes 2-4 for another second overall. He still hasn't been able to pull off an overall win this season.
Joey Savatgy lead every lap of the first moto, but got run down by points leader Zach Osborne in the second moto. 
Aaron Plessinger got on the podium the first moto but went down in the second salvaging a 12th for 7th overall.
RJ Hampshire captured the first moto holeshot and ended up 5th for the moto and 6th overall.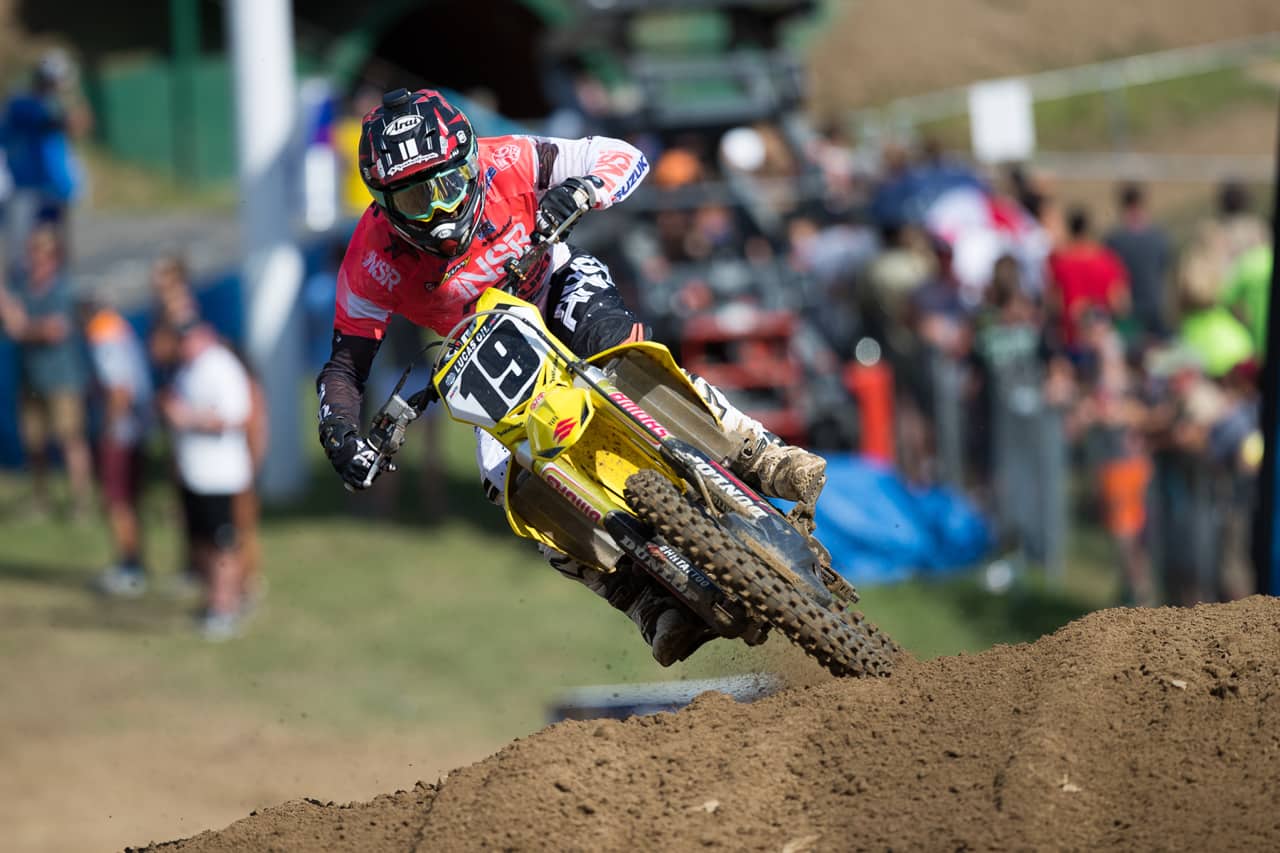 Justin Bogle came around the first lap of the second moto in the lead but went down. He ended up 19th overall.
An overview of the Spring Creek National track.
Start of the 450 first moto. 
The 450 podium from left to right: Eli Tomac, Marvin Musquin, Dean Wilson.
Champagne shower anyone?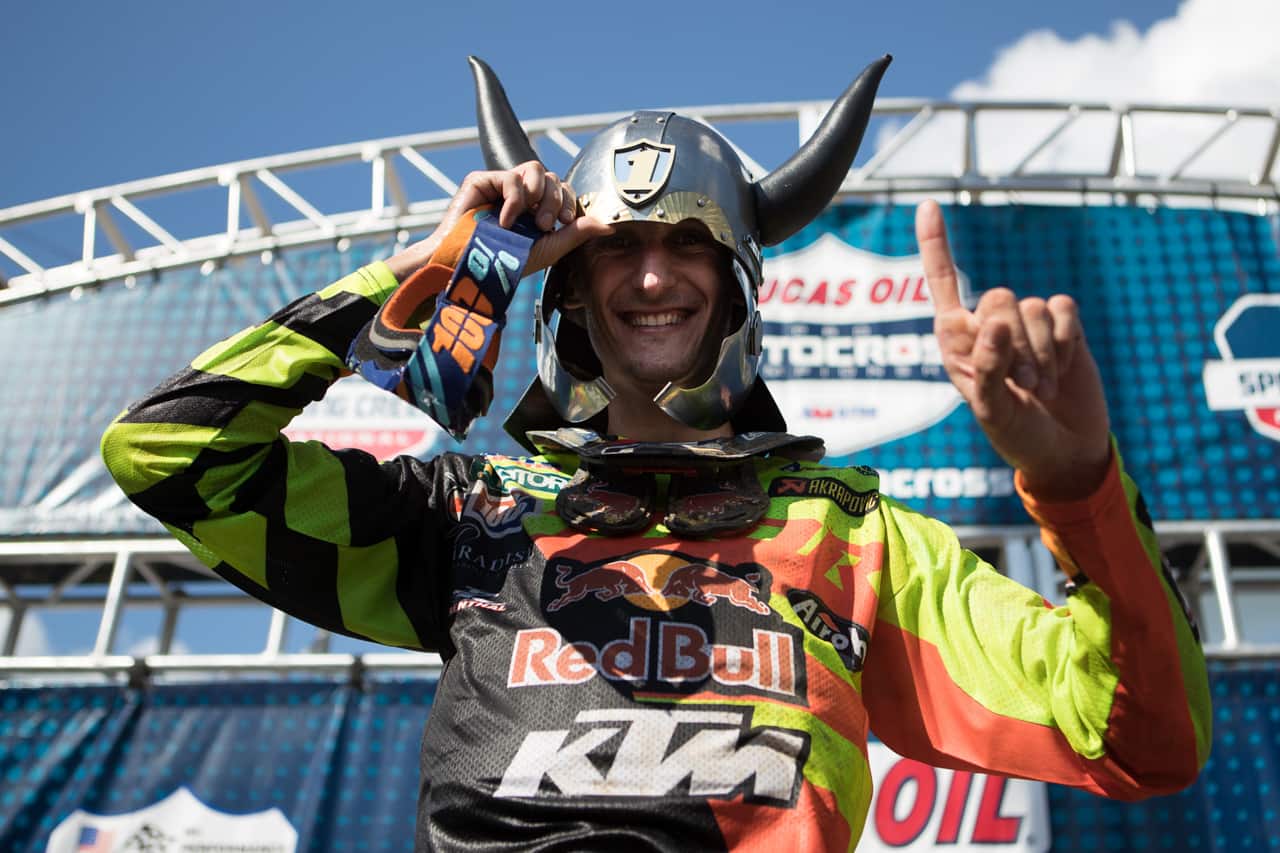 Marvin likes the Viking helmet.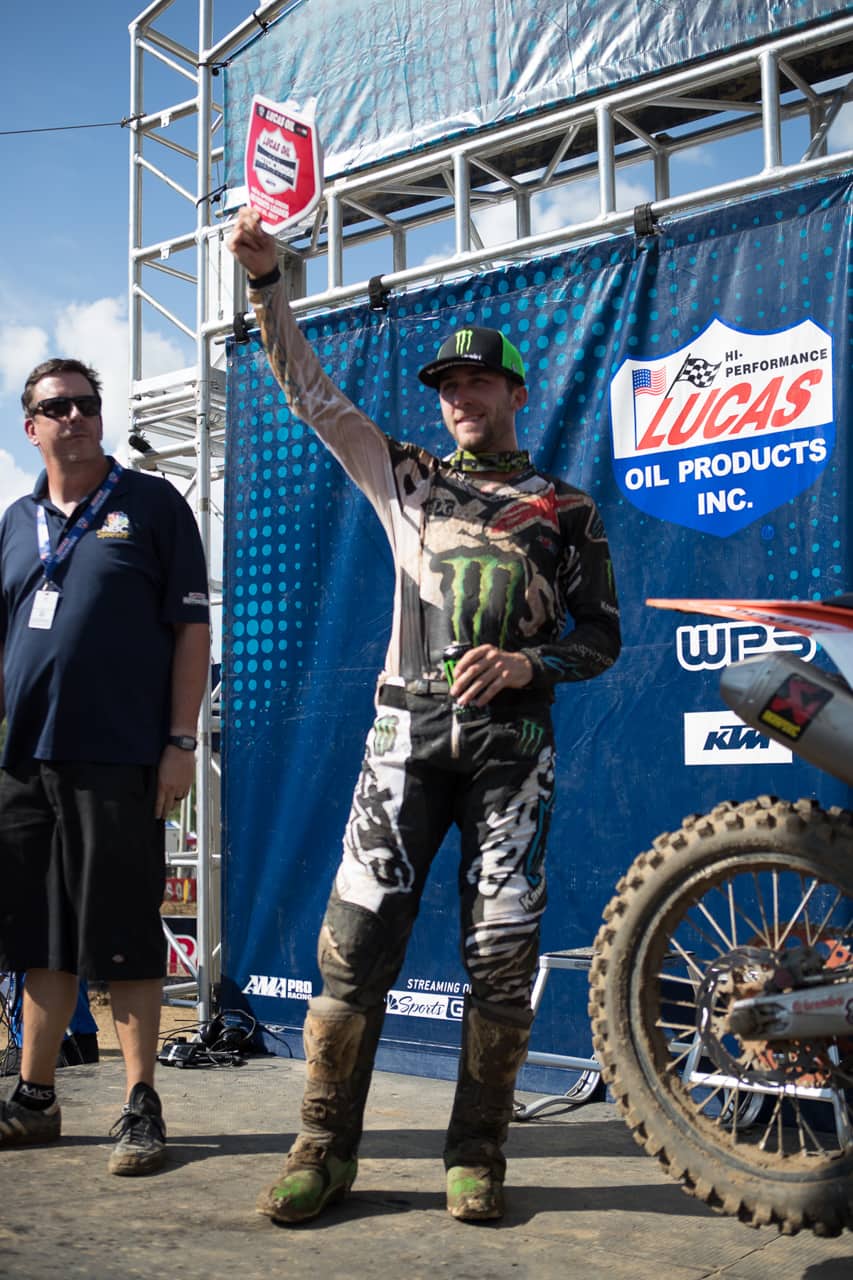 Eli gets to keep his red plate. He has a 20 point lead over Blake Baggett.


Marvin got a bit exited for his win and burns some rubber.
Benny Bloss finished 17th overall. 
Justin Barcia went 5-8 for 6th overall.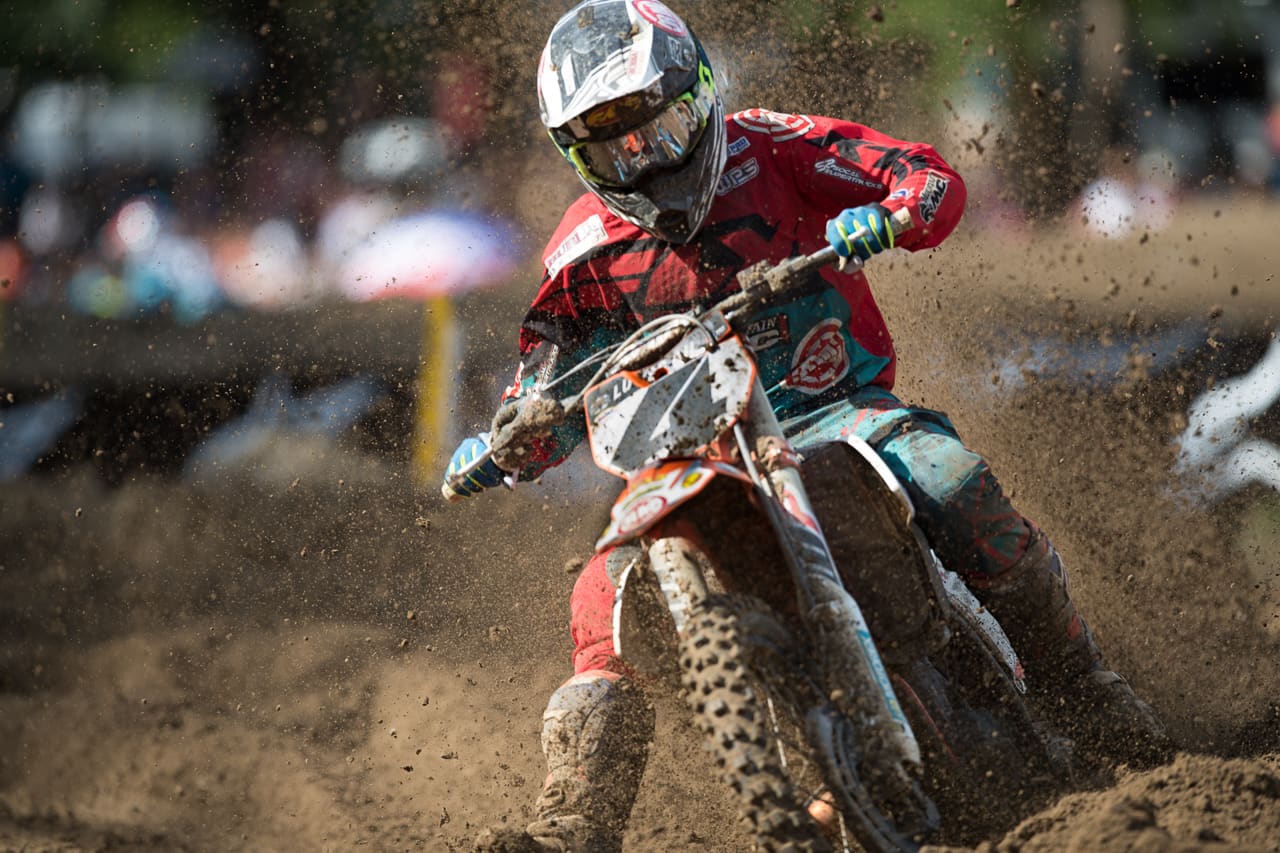 Is Blake Baggett losing steam in the championship race? Only four rounds to go to bridge the 20 point gap between Tomac.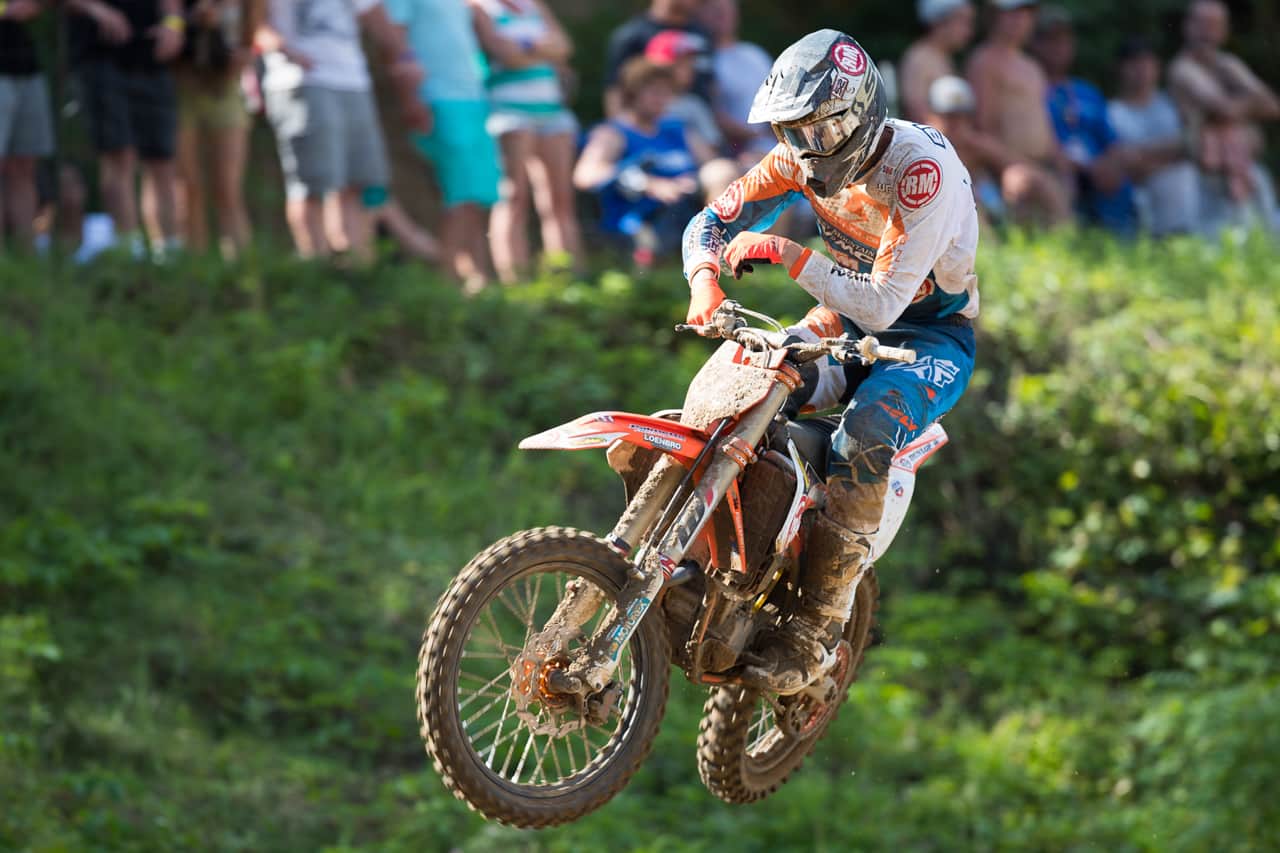 Benny Bloss pulls a tear off.
Marvin looked good.


Tomac's second moto crash cost him a podium in the second moto. To see the crash click HERE. 
Henry Miller (#81) captures the second moto 450 holeshot but crosscuts and goes over the bars just a few moments after the first turn.
Zach Osborne loses 2 points to Alex Martin. Zach still has a 43 point lead.
Jeremy Martin was fast, very fast. But mistakes and a crash cost him a podium spot.
Adam Cianciarulo had the fastest time in practice and finished 5th overall on the day.
Marvin Musquin was first to get the checkers in both motos.
Is is awesome to see Dean Wilson get a 3rd last week now a 2nd this week.


Cooper Webb finished 5th on the day and sits 8th in points.
Roost from Fredrik Noren rear tire.
Weston Peick hit Henry Miller's bike on the start of the second moto. He got up and charged to 11th.


Dean Wilson sits 4th in points. 
250 RESULTS: MILLVILLE NATIONAL
1. Joey Savatgy (Kaw)…1-2
2. Alex Martin (KTM)…2-4
3. Zach Osborne (Hus)…(8-1
4. Jeremy Martin (Hon)…4-5
5. Adam Cianciarulo (Kaw)…6-6
6. R.J. Hampshire (Hon)…5-7
7. Aaron Plessinger (Yam)…3-12
8. Dylan Ferrandis (Yam)…7-8
9. Shane McElrath (KTM)…16-3
10. Colt Nichols (Yam)…9-13
450 RESULTS: MILLVILLE NATIONAL
1. Marvin Musquin (KTM)…1-1
2. Dean Wilson Hus)…3-3)
3. Eli Tomac, (Kaw)  (2-5
4. Blake Baggett (KTM)…6-2
5. Cooper Webb (Yam)…4-9
6. Justin Barcia (Suz)…5-8
7. Martin Davalos (Hus)…11-4
8. Cole Seely (Hon)…8-6
9. Christian Craig (Hon)…7-7
10. Fredrik Noren (Hon)…13-10