OAKLAND SUPERCROSS THE AFTERMATH // WHOOPS EARNED THEIR NAME FOR A REASON
THE AFTERMATH // OAKLAND SUPERCROSS
Round 2 was one not to miss. Heading into the second round of the 2022 Monster Energy Supercross series, Ken Roczen and Christian Craig led the championship. However, that would not be the case heading into the third round of the season, San Diego. Despite several riders knocking themselves out before the season started and at round 1, Christian Craig would not have his work cut out for him when it came to qualifying, having to battle a handful of riders for the top spot. In the premier class, it would be a Star Yamaha show as Eli Tomac and Dylan Ferrandis would dominate the lap time leaderboard.
Scroll down below to find out what happened after the riders qualified for the night show in MXA's The Aftermath.
Photos by Travis Fant and facts by Ben Bridges
---
450 SX CLASS REVIEW // ANDERSON RETURNS TO VICTORY
After getting a great start behind Shane McElrath and Adam Cianciarulo, Jason Anderson would make the pass for the lead after the two front runners ran out of steam, and eventually win the race.
Jason Anderson wins Oakland.  It was his 8th win in 103 starts.
It had been 60 rounds since Anderson had won an SX.  His last win was at Atlanta 2018.
Anderson gives Kawasaki their 170th SX win.
Anderson is the 18th different rider to win a SX on a Kawasaki.
Kawasaki has now won at least one SX for 17 consecutive seasons.  It's the longest active win streak.
Anderson becomes the 1st rider to win Oakland on two brands.
Kawasaki now has 6 wins in Oakland.
Aaron Plessinger would follow Jason's lead, making his way up to second place after the rest of the competition started to slow down.
Aaron Plessinger, making his 46th start,  gets 2nd place in a career best.
It was his 2nd career podium.
Justin Barcia puts his Gas-Gas on the podium with a 3rd place finish.
Barcia was making his 118th start.  He got his 53rd top 5.
1st time since 2020 Barcia has had back-to-back podiums to start the season.
Eli Tomac, making his 133rd start, got his 95th Top 5 finish, when he came in 4th.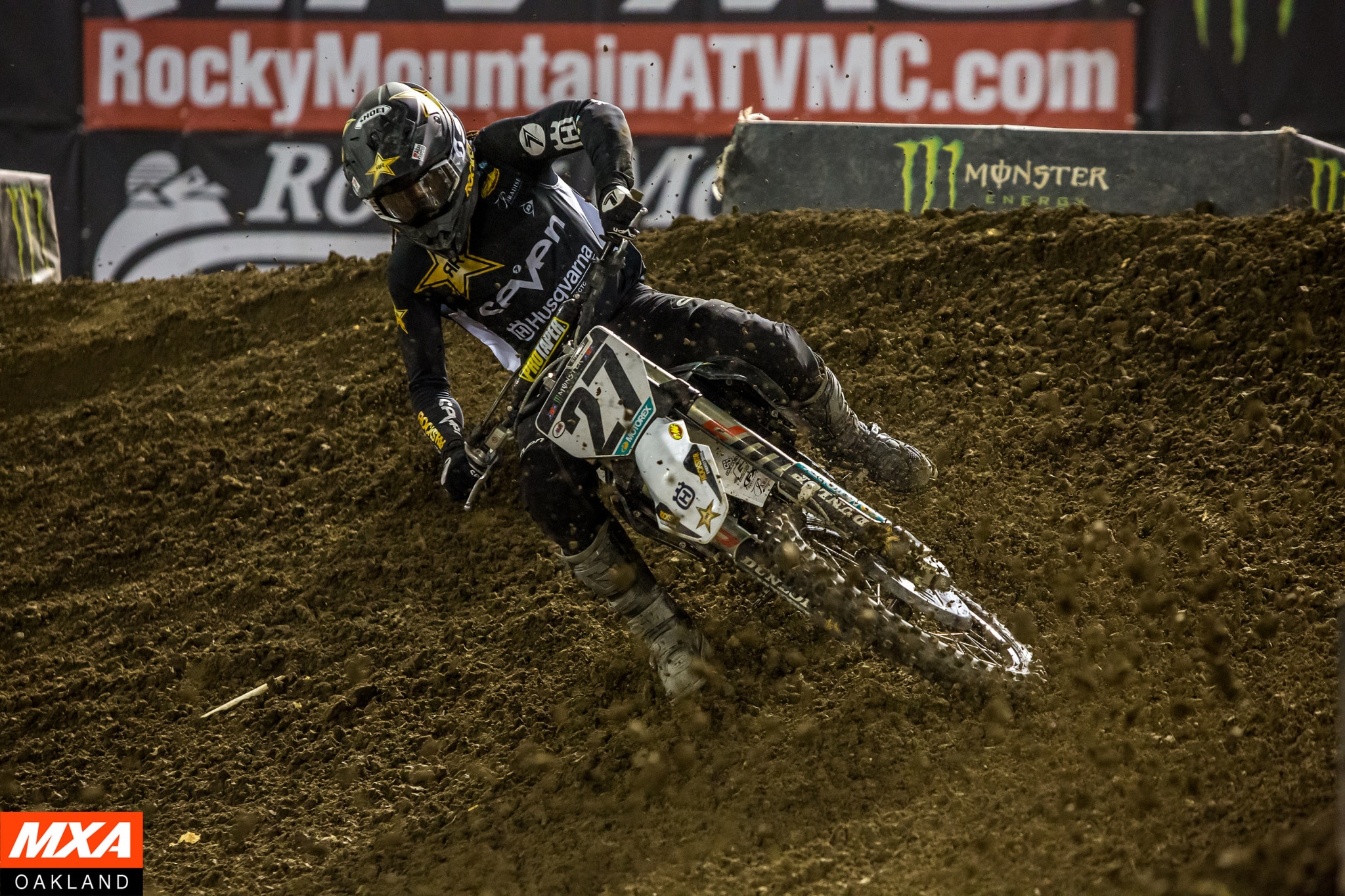 Malcolm Stewart got his 9th career Top 5 finish with a 5th place in Oakland.

After 2 rounds the points are very tight.  The Top 5 are separated by 6 points.
The Top 5 riders were on 5 different brands.
250SX CLASS REVIEW // CRAIG GOES BACK TO BACK
Christian Craig would grab the fastest lap time out of all of the 250s. He would then proceed to win his Heat race and eventually the Main Event. The rest of the 250 field spent the majority of their Main Event picking their bikes up making it easy for the 250 veteran.
Christian Craig got his 5th career 250SX win.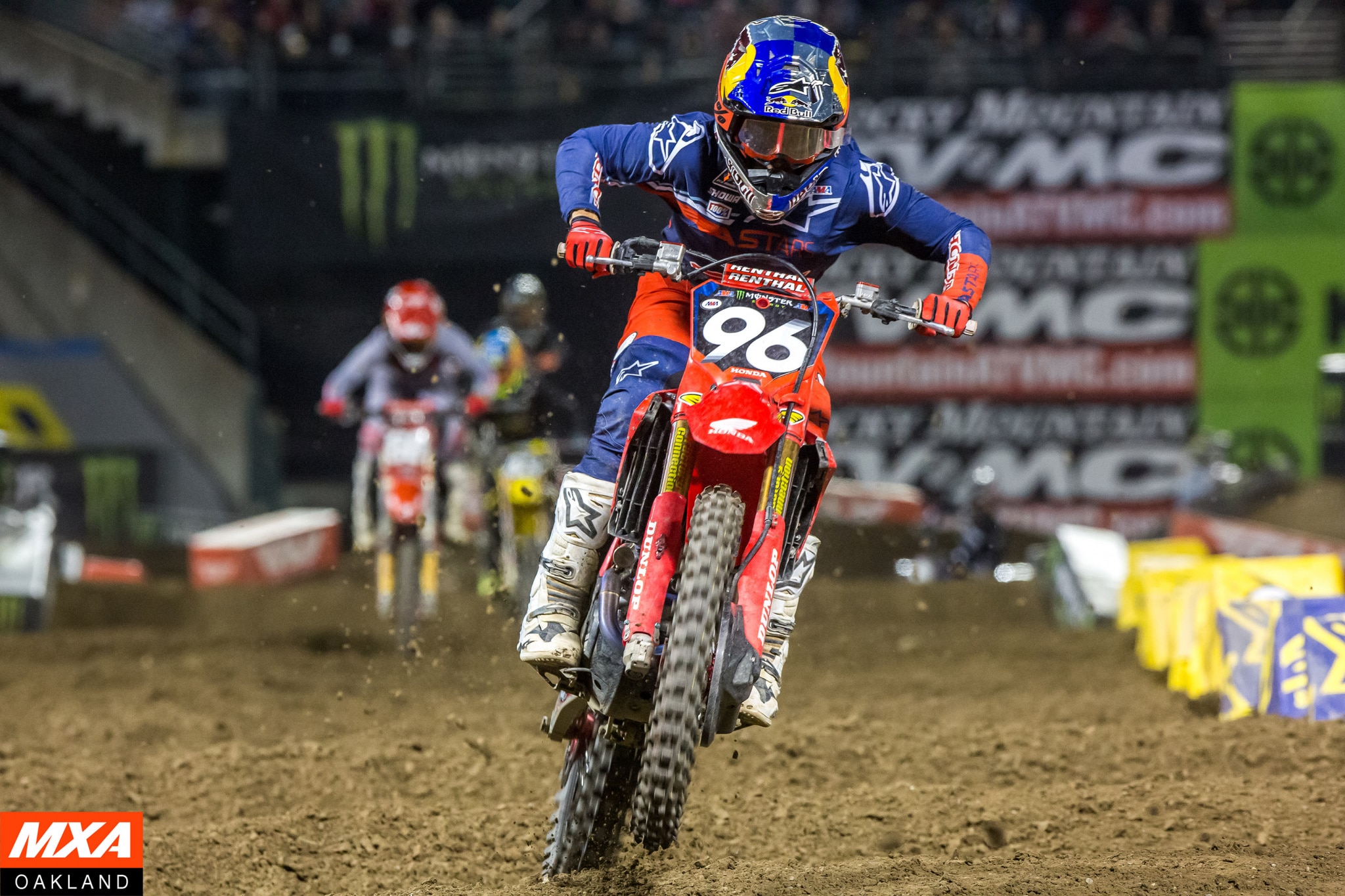 Hunter Lawrence would make quite the comeback racing up to second place.
Seth Hammaker put his Kawasaki on the podium with a 3rd place finish.
WHAT WENT ON IN OAKLAND
The beginning of the end for Jo Shimoda for Round 2.
This was the story of the 250 class that night. Riders like Jo Shimoda, Michael Mosiman, Carson Mumford, and more spent their night tumbling across the Oakland stadium. However, this was the most impressive crash by Jo Shimoda. Jo missed a whoop landing his front tire into the face of the following one, sending the 30 over the bars. Jo rolled out of the crash perfectly and got to his bike near instantly.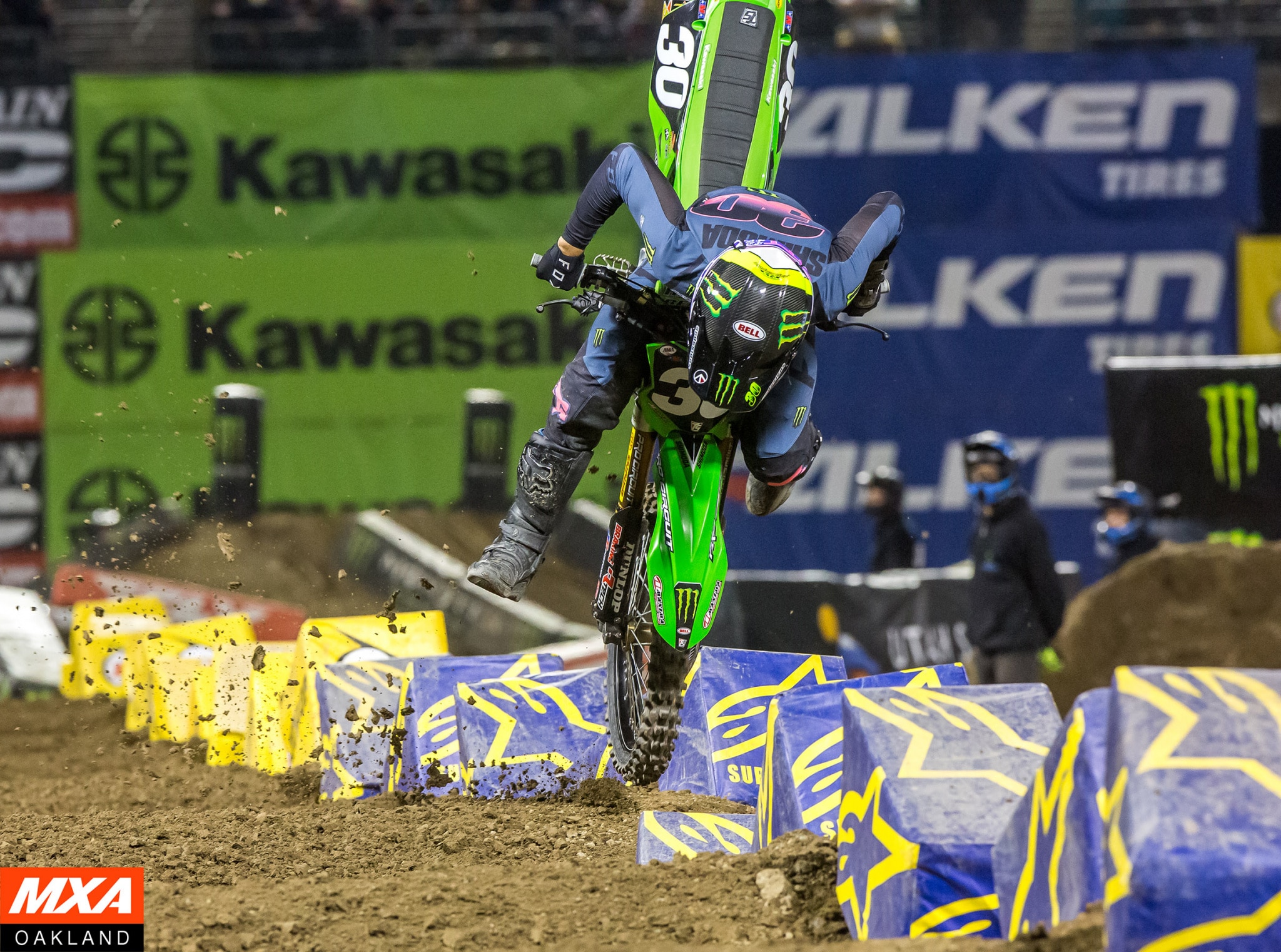 Here's Carson Mumford getting a little buck-wild in the whoops.
Amazingly he's still holding onto the handlebars.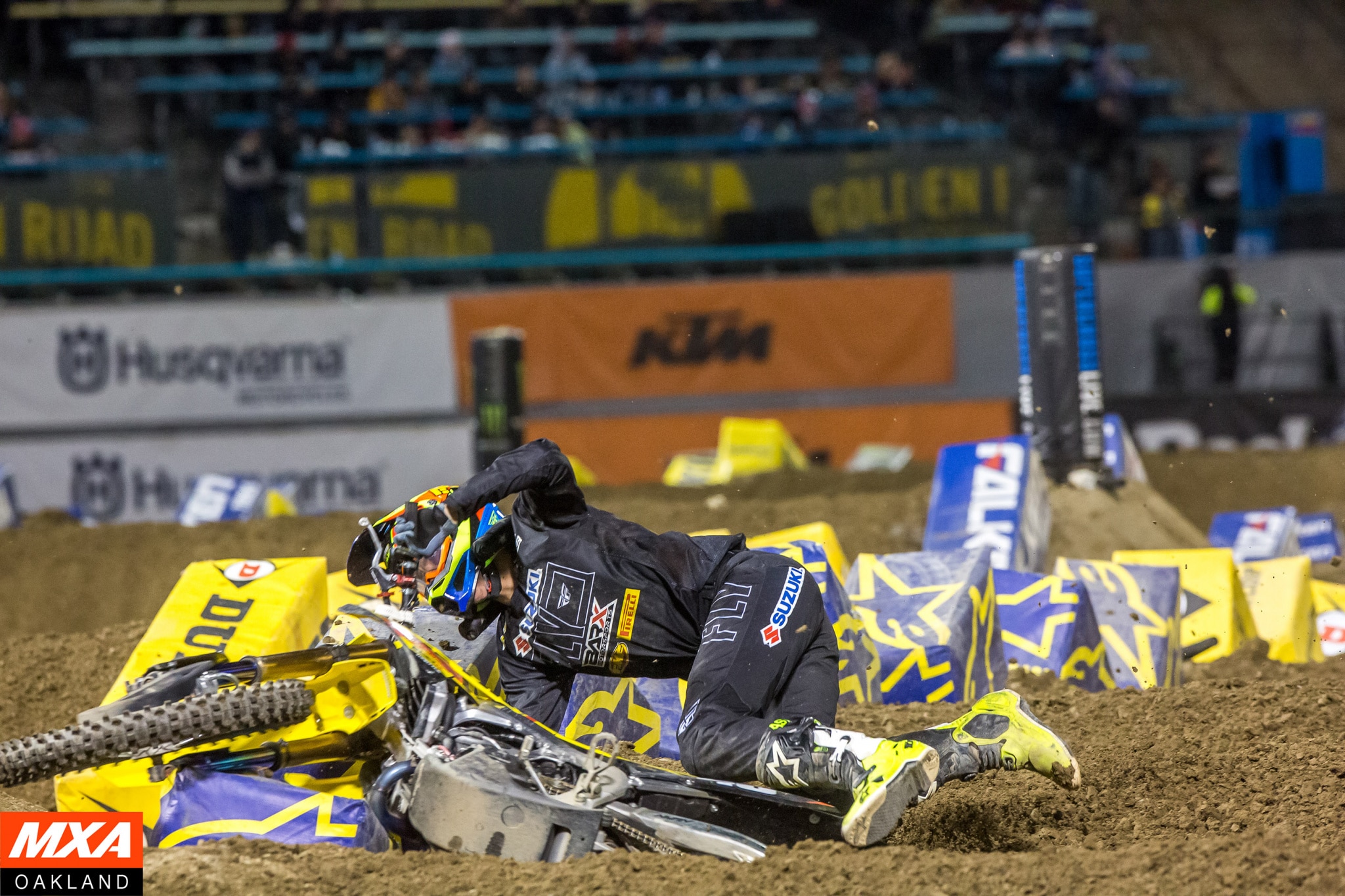 Adam Cianciarulo would have a bummer of a night as his injury would hold him back from getting a top 10 after grabbing a very impressive holeshot. Adam shows to have the speed but we wonder if these results will be the theme of the season if his injury continues to diminish his returns.
Ken Roczen entered Oakland with red plate however he would lose it heading to San Diego. Ken Roczen had a near-scare crash in qualifying when he would go down in the whoops and his teammate Chase Sexton would nearly take his head off. But then in the Main Event, he would go down again at the end of the whoops and lose valuable spots in the race. Now, Justin Barcia is in possession of the valuable red plate.
 450 LCQ MADNESS: RYAN BREECE VS. ADAM ENTICKNAP VS. HIMSELF
If you missed the 450 LCQ, you may have missed one of the most frustrating/entertaining LCQs this season. Adam Enticknap rode in third place after making a close pass on Ryan Breece. Several turns later Ryan Breece would absolutely ram into the side of Adam, sending the Suzuki rider off the bike and into a tuff block. Mind you, this was for third, not even the fourth place transfer position. A lap later, Breece wads himself in front of the competitor that he just took out.  Then on the final lap karma would show its hand once again literally launching the 200 into the face of the final turn just before the finish line, in the corner of the camera pan. Funny? Maybe. Bummer for Adam? Possibly. Hotel? Trivago.
Garrett Steinke took his 125 all the way to the Main Event, no LCQ required. We would share his words for his fans but we like to keep it family-friendly here.
450 POINT STANDINGS AFTER ROUND 2 – RACE RESULTS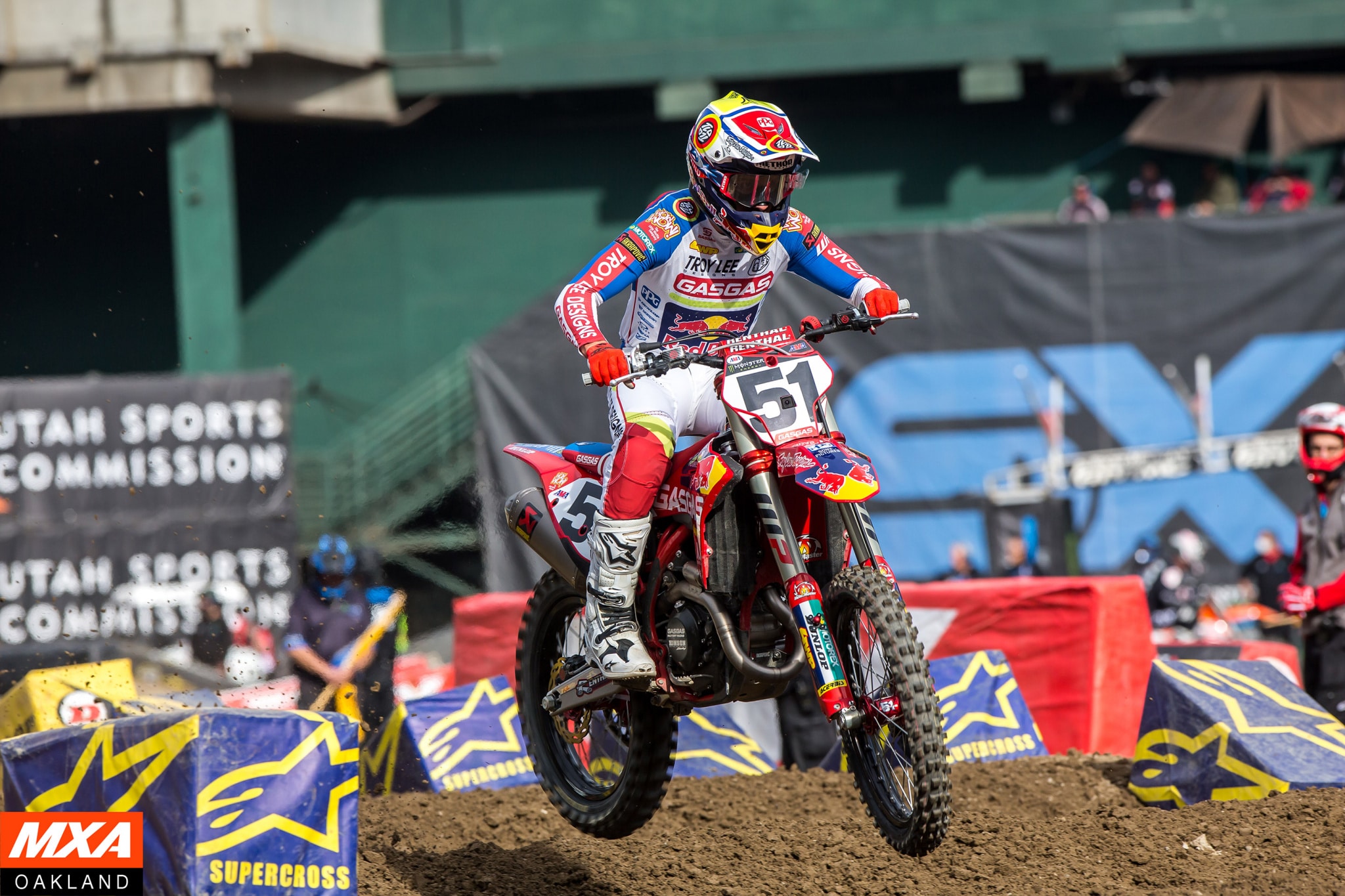 Justin Barcia's GasGas will now be really red for San Diego.
| | | | |
| --- | --- | --- | --- |
| POS. | # | NAME | Total Points |
| 1 | 51 | Justin Barcia | 42  |
| 2 | 21 | Jason Anderson | 39  |
| 3 | 1 | Cooper Webb | 39  |
| 4 | 7 | Aaron Plessinger | 37  |
| 5 | 94 | Ken Roczen | 36  |
| 6 | 3 | Eli Tomac | 36  |
| 7 | 25 | Marvin Musquin | 34  |
| 8 | 27 | Malcolm Stewart | 34  |
| 9 | 23 | Chase Sexton | 32  |
| 10 | 17 | Joey Savatgy | 27  |
If you told us at the beginning of the season that Justin Barcia and Jason Anderson would be leading the points by round 2, we may have doubted you. But this proves that anyone in the top 10 of the 450 class has the potential of winning.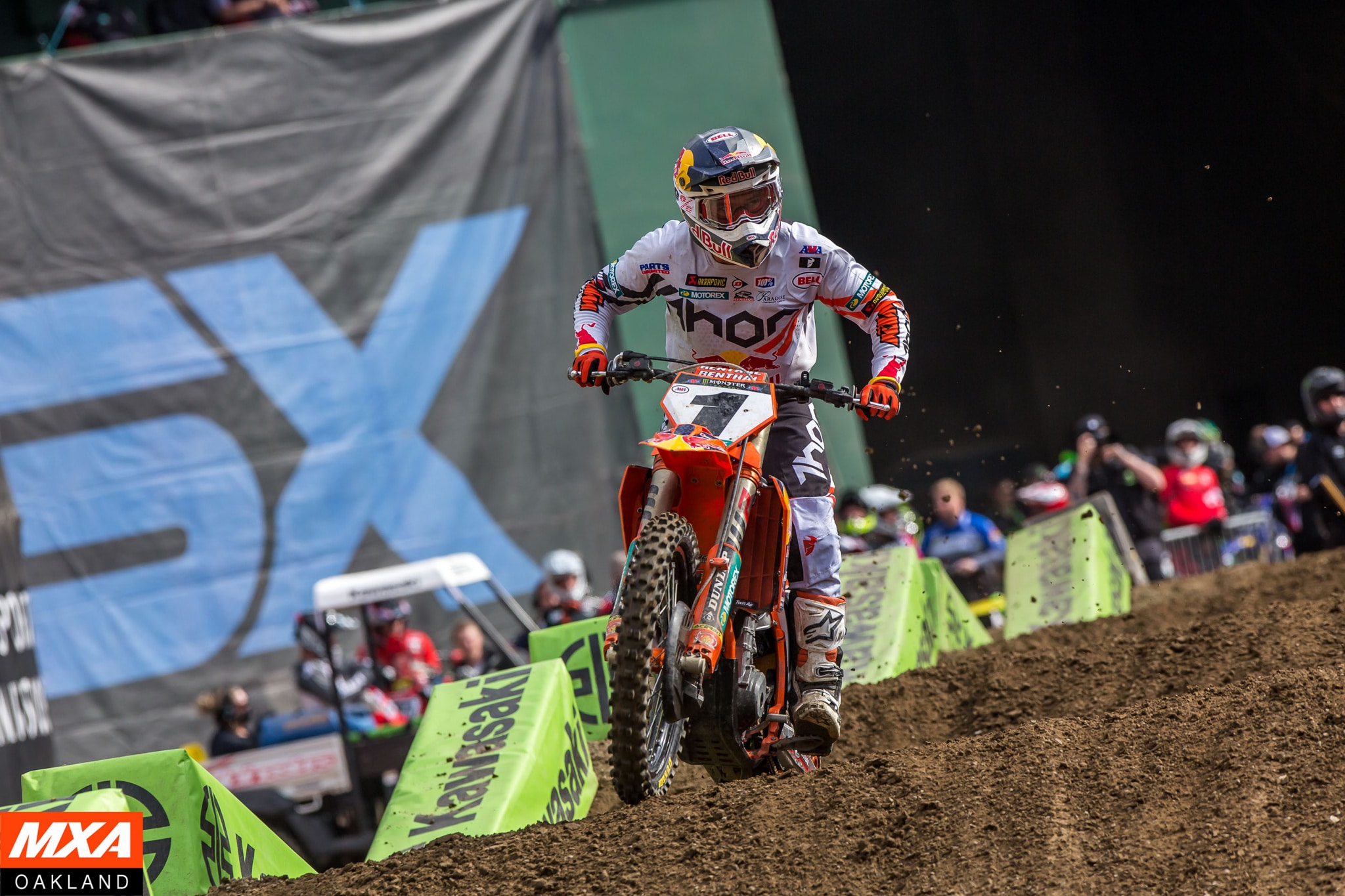 Cooper Webb now sits in third place after performing very consistantly.
250 WEST POINT STANDINGS AFTER ROUND 2 – RACE RESULTS
Christian Craig has a solid lead on the 250 field after round 2.
| | | | |
| --- | --- | --- | --- |
| POS. | # | NAME | Total Points |
| 1 | 28 | Christian Craig | 52  |
| 2 | 96 | Hunter Lawrence | 44  |
| 3 | 47 | Seth Hammaker | 44  |
| 4 | 29 | Michael Mosiman | 36  |
| 5 | 62 | Vince Friese | 35  |
| 6 | 35 | Garrett Marchbanks | 34  |
| 7 | 30 | Jo Shimoda | 32  |
| 8 | 49 | Nate Thrasher | 29  |
| 9 | 69 | Robbie Wageman | 28  |
| 10 | 66 | Chris Blose | 26  |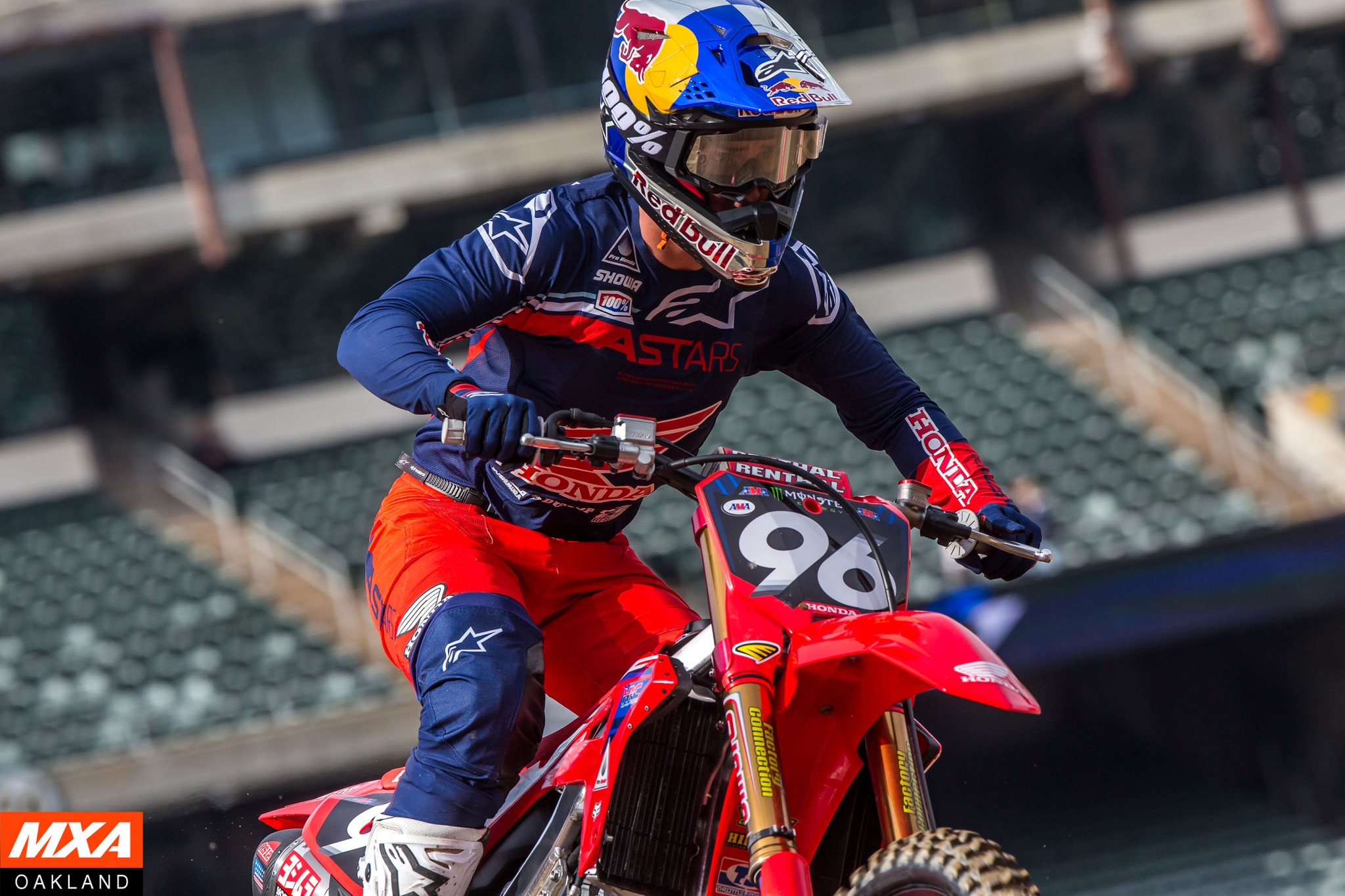 Hunter Lawrence and Seth Hammaker are both tied for second in the points after round 2.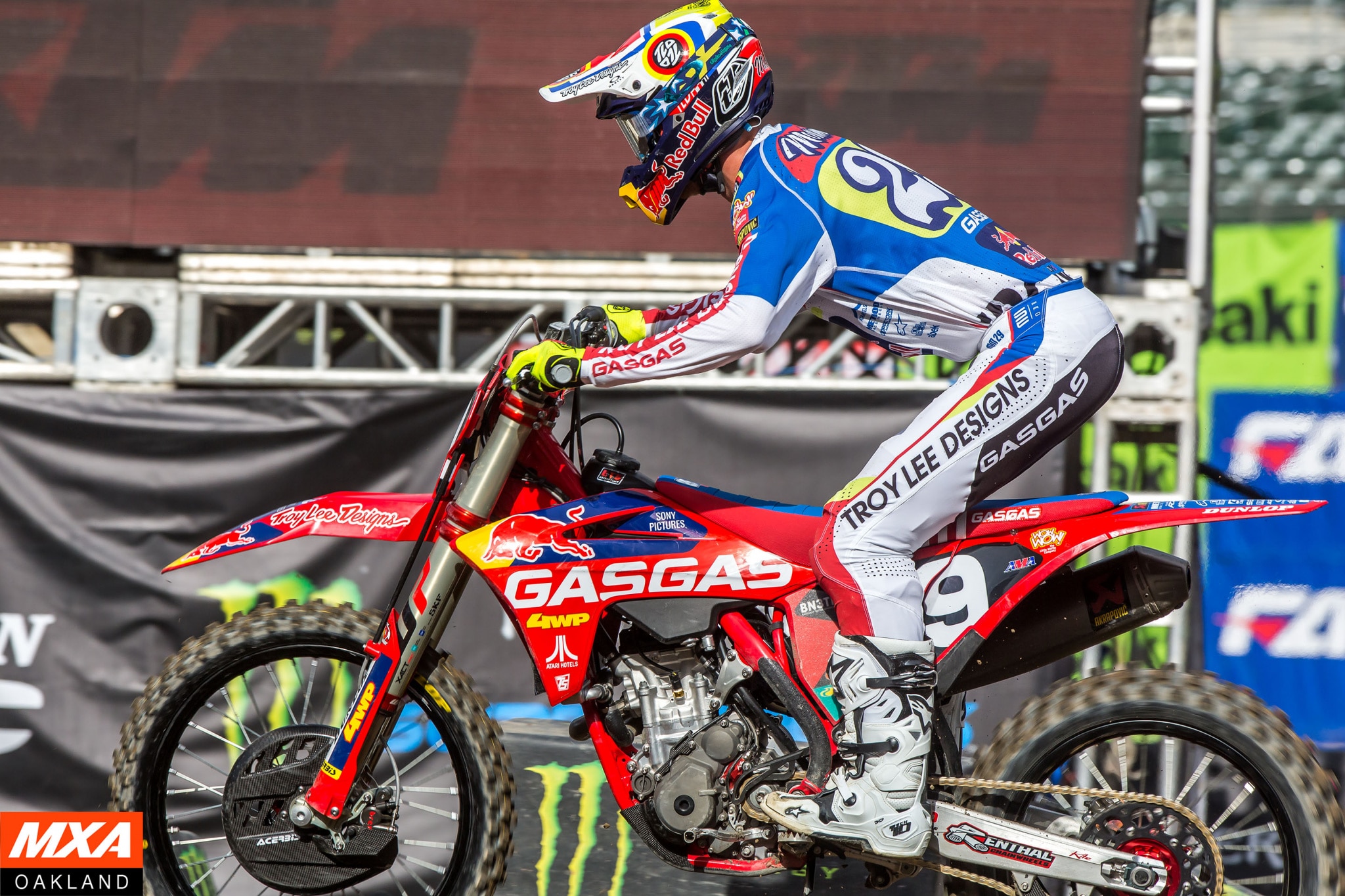 Michael Mosiman is technically fourth in the championship after Oakland.