THE AFTERMATH: ROCZEN EXPLAINS MORE ON SHINGLES | 2020 SALT LAKE CITY SUPERCROSS ROUND 15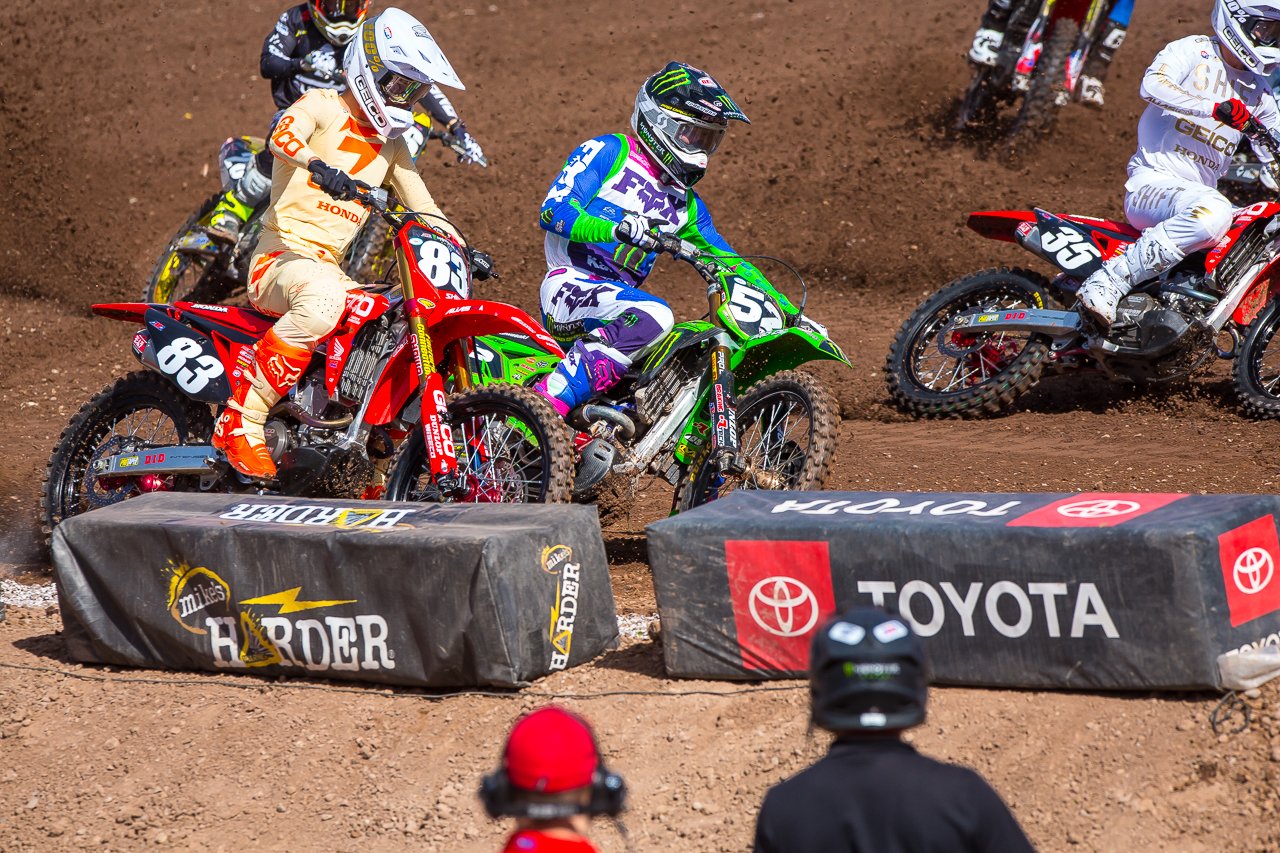 2020 SALT LAKE CITY SUPERCROSS ROUND 15 | THE AFTERMATH: KEN ROCZEN EXPLAINS MORE HIS EXPERIENCE WITH SHINGLES
The 2020 Monster Energy Supercross season has provided exceptional racing action and Round 15 in Salt Lake City was no different. Just when you think Ken Roczen is down and out, he came back and dominated the 450SX Main Event to silence the critics and catch his competitors by surprise. The 250 West class was exciting once again as Austin Forkner ran Dylan Ferrandis off the track to pass for the lead and win the 250SX Main Event. Austin also gained an extra 3-points in the Championship with that pass as well. Now only two rounds of racing are left for the 450 Class and one round remains for the 250 West riders. The stakes are high with pride, money, factory rides and more on the line. Our own Travis Fant was on hand inside the Rice-Eccles Stadium to capture the action and in MXA's The Aftermath we dive into the talking points from Round 15 of the 2020 Supercross season and share our favorite photos from the event.
Photos by Travis Fant
Words by Josh Mosiman

KEN ROCZEN SPEAKS ON HIS EXPERIENCE WITH SHINGLES
Ken Roczen rebounded after three bad races in SLC to commandingly win the 450 Main Event at Round 15.
During the virtual Post Race Press Conference, Ken Roczen was asked about his experience with shingles after he just announced on Friday before the race that he was dealing with it. During the TV broadcast, Ralph Sheheen brought up the topic and expounded on what he had heard about shingles from a medical specialists. He explained that it felt like a blow torch burning the tips of your nerve endings. Luckily, Ken's experience hasn't been that bad, although, after reading about it online, it seems like it can get to that point eventually. Ken stated that he was able to treat it quickly and get it under control. Read it in his words below:
Ken Roczen: "It was crazy, because I woke up, in the morning you know, you wake up and you take things slow and whatever. And then I went out for practice and came back in and got changed and my wife was actually like, what do I got? I had it right on my tailbone, that's where I got a read mark, it wasn't that big, it was about this big (larger than a quarter), it wasn't huge but it was starting to blister. So I was like man, what the heck. I had Doctor Bodnar (Alpinestars Mobile Medical Doctor) look at it. I actually, after the race went got a blood test done to see if that was what it was and I did test positive for it. The good thing was that as soon as that started and Doctor Bodnar put me on some medication. We caught it right away, right, it popped up and that same afternoon after the race we could go and get the medication. I think it's an immune system problem again, right. So, I just felt super lethargic. Obviously, you could see how I was riding out there, I've never seen anything like it. I just had no aggressive, I felt tired and it was like I was out of my body, it was crazy. I didn't really get too much pain. I mean, when I was touching it, it definitely was sensitive, but didn't really get any crazy pains, like some people said it was supposed to do. But I think it's because we caught it super early. It started opening up a little bit, like the blisters started opening. But we got lucky that we caught it right away and now it's starting to go away."
KEN ROCZEN TALKS ON HIS WIN
Ken Roczen was ecstatic as he flew across the finish line in the 450SX Main Event.
After scoring two 5th place finishes and a 10th since so far in Salt Lake City, Ken Roczen's win at Round 15 was even more impressive. Ken was asked in the post race press conference about how he was able to turn his luck around and push through the fatigue to win the he race.
Ken Roczen: "You know, after those last races, of course, this came as a little surprise. My Dad actually messaged me this morning and wished me good luck and everything and I told him I'm winning today. I kind of just put it out of my head. It's hard to judge because even on the races I didn't do good the heat race was fine. But, I always feel throughout the day that there's something that's lingering. And still to this point. I don't know. There's something that makes you tired and makes you feel weird, like you just know. And it's really hard to describe. I think only people who have experienced you know the Epstein-Barr and shingles and the whole immune system problem that I have I guess. But, having said that and having these few extra days, I've struggled with this before and I've managed just fine. I think I just got to point right now to where it's backed off enough, or suppressed enough to where I can handle it."
450SX MAIN EVENT: 
The 450 Main Event start wasn't without carnage. 
Cooper Webb and Eli Tomac came into the first corner at the front of the pack, but it wasn't a smooth first turn by any means. Cooper drifted outside to block Eli's line and then he slid his rear into Eli's front wheel, almost causing him to go down. Luckily for Eli and the rest of the pack, he was able to stay on two wheels, but he dropped back a few positions in the process. Meanwhile, Jason Anderson crossed the holeshot line first with Ken Roczen to his left and Cooper Webb to his right. Cooper was then able to slide up the inside and make the pass on Jason in the second corner. Ken Roczen also got around Jason and left him only a small gap on the edge of the track. Jason jumped a little too far to the left and landed on a tough block and went down.
Cooper Webb led early in the 450 Main Event with Ken Roczen, Zach Osborne, Martin Davalos and Malcolm Stewart behind. Eli Tomac was 7th after Jason Anderson went down and allowed everyone to jump up a position. 
Ken Roczen was all over Cooper Webb at the beginning of the race. 
The beginning of the Main Event looked like a copy of Round 14 on the Wednesday before. Cooper was in front, Ken was all over him in second and Eli Tomac was buried in the pack. Only this time, Ken was able to make the pass for the lead on lap four and Tomac wasn't as far behind.
Ken Roczen navigated the hard packed corners perfectly at SLC.

The track conditions seemed to play into Ken Roczen's favor on Sunday evening in Salt Lake City. Ken's technique on the motorcycle is always superb and he is the master at riding low in the RPM, not slipping the clutch too much and finding traction where others are slipping and sliding. Round 15 provided a track with two very hard packed, 180-degree corners, with zero traction. While Cooper and Eli were charging hard around the rest of the track, Ken was able to pull away from them in the tough corners with extreme patience. Ken even said in the post race press conference that he was worried about stalling his bike in those corners because he was lugging his HRC Honda so low in the RPMs. Ken was also extremely fast in the whoops and in the rutted corner after the whoops, but it seemed like he made the most time in the sharp and slow corners.
After his first lap crash, Jason Anderson was up to 13th on lap eight before he got caught up in a pile up with Vince Friese. After he got untangled from the wreck, he pulled off the track and DNF'd the race on lap nine. 
Martin Davalos ran in 4th until lap four when he crashed off the dragon's back. Unfortunately his bike was bent up and he had to make a pit stop in the mechanics area to straighten it up. He finished 19th.
Zach Osborne held 3rd place until he was passed by Malcolm Stewart and Eli Tomac on lap eight. He dropped back to 5th, but then passed Malcolm Stewart later in the race to finish 4th.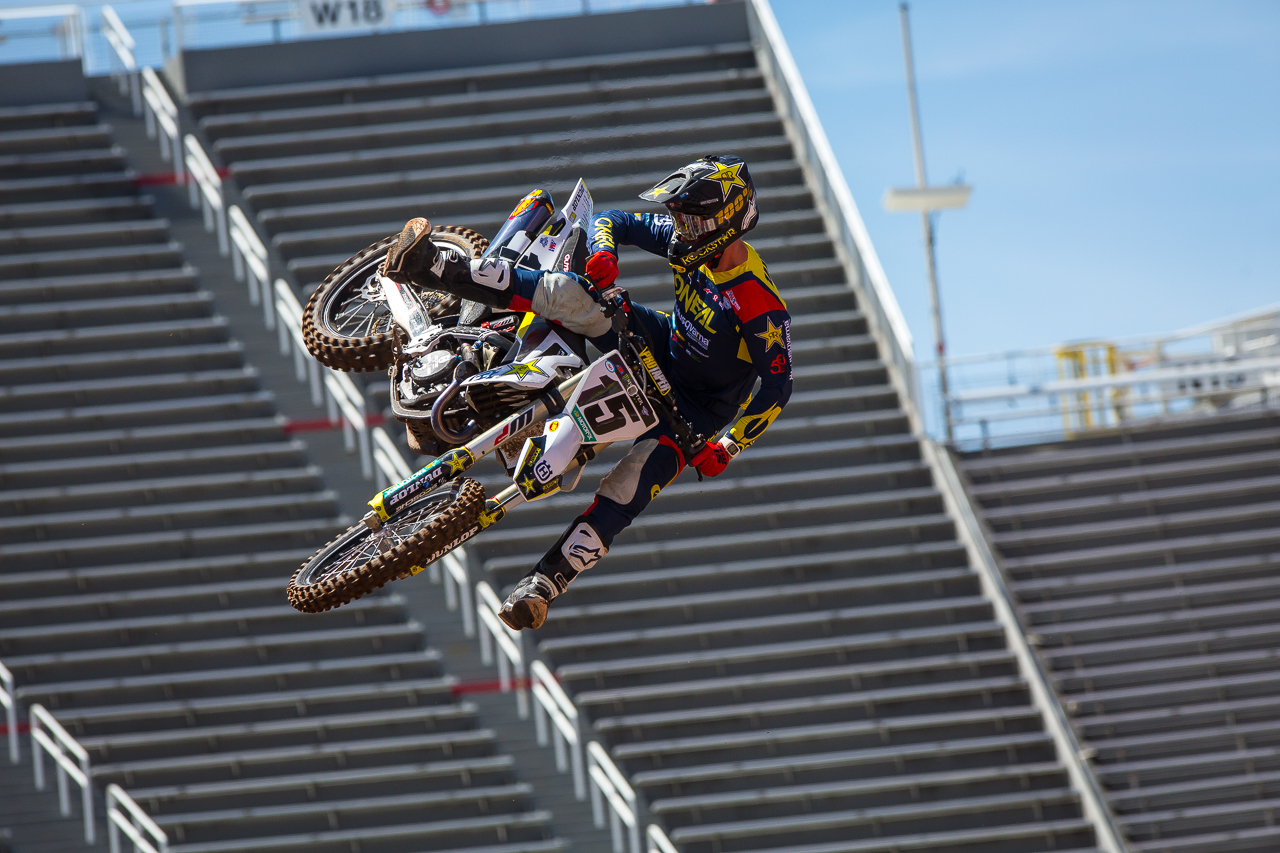 Dean Wilson rode well at Round 15. He qualified fastest in the first qualifying session and finished 6th in the 450 Main Event.
The corner after the whoop section had deep ruts all day long and Daniel Blair explained why during the NBCSN broadcast. The Dirt Wurx crew had this dirt left off the track in a pile after it got soaked with water just one week prior. It didn't get used at Round 14, and it still was wet with moisture. So when the track was laid out for Sunday, they made this corner into an elevated, flat turn and with that, the dirt was deeper and softer. This allowed for deep ruts to form and it was in complete contrast with the other flat and hard packed corners on the track.
Malcolm Stewart tied his best 450 Main Event finish which he earned just one-week prior when he finished 5th. Malcolm has been fast since the series resumed in SLC.
Chad Reed grabbed the holeshot in his 450 and finished 4th in his Heat race. In the Main Event he finished another 11th place for the second time in the row. 
Broc Tickle finished 12th in the Main Event while riding with a injured hand.
450 SUPERCROSS POINTS ROUND 15 OF 17
Eli Tomac lost a few points finishing third at round 15, but he still has a 24 point lead. 
| | | | |
| --- | --- | --- | --- |
| POS. | # | NAME | POINTS |
| 1 | 3 | Eli Tomac | 343 |
| 2 | 94 | Ken Roczen | 319 |
| 3 | 1 | Cooper Webb | 318 |
| 4 | 51 | Justin Barcia | 255 |
| 5 | 21 | Jason Anderson | 246 |
| 6 | 27 | Malcolm Stewart | 217 |
| 7 | 15 | Dean Wilson | 208 |
| 8 | 16 | Zach Osborne | 205 |
| 9 | 10 | Justin Brayton | 199 |
| 10 | 46 | Justin Hill | 188 |
250SX WEST CLASS
Austin Forkner had the holeshot in the first 250 West Heat race of the night, but he decided to ride wide and run Jett Lawrence off the track in the first turn.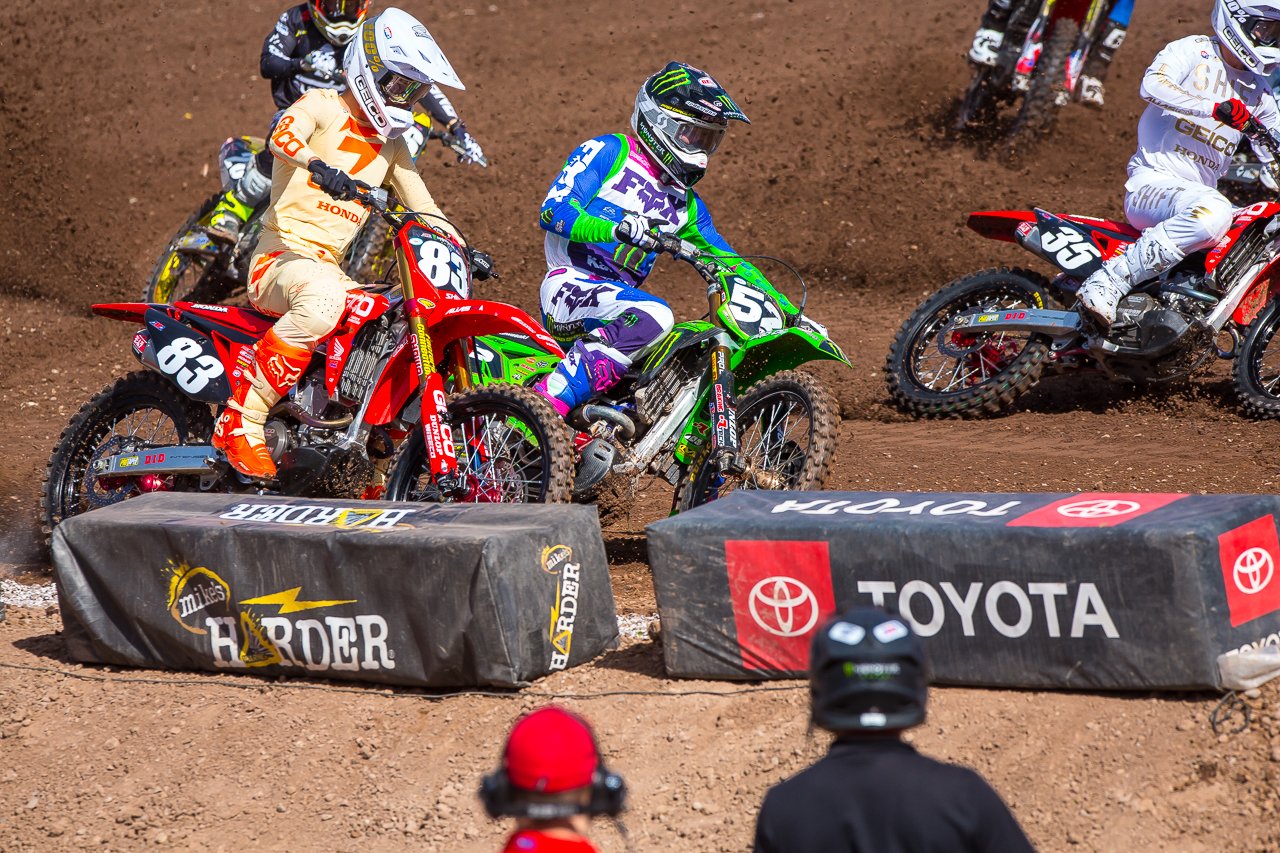 Unfortunately for Forkner, after he ran Jett into the tough block, Austin ran into Jett's older brother's rear tire and went down himself in the same corner. Later, Jett passed Austin and ran him off the track in the same Heat race. Austin Forkner and the Lawrence brother's haven't been racing together long and they've already traded paint multiple times. 
Dylan Ferrandis isn't known for being the best at starts, but he grabbed the holeshot and early lead at Round 15 in SLC.
It's unusual for Dylan Ferrandis to be up front on the start of a race and it almost seemed like he wasn't used to it. Dylan even eluded to that in the post race press conference, that being up front early could've played into the end result with him being passed by Forkner. Dylan isn't used to running away from the pack, he's usually the hunter.
Austin Forkner was 4th on the first lap behind Christian Craig and Hunter Lawrence. 
Dylan Ferrandis led for for the firsth fourteen laps, but Austin Forkner led for the last eight. 
Christian Craig was second until he crashed in this corner on lap five.
Michael Mosiman was fourth after Christian Craig fell. Then he passed Cameron McAdoo to get into third on lap 14. He held onto the third place position until Jett Lawrence got by him. Michael tried to get back around Lawrence, but he made a mistake and let Cameron McAdoo get around back him late in the race. 
Justin Cooper won his Heat race, but he could only managed a 6th in the Main Event. 
Jett Lawrence rode very impressive at Round 15. In only his fifth Supercross race ever, he landed on the podium in third place.
Dylan Ferrandis wasn't happy with his performance at Round 15, but he was respectful on the podium. He owned his mistakes and didn't complain about Austin Forkner's block pass on him.
Hunter Lawrence finished 7th at his second ever Supercross.
Austin Forkner won the race with Dylan Ferrandis second and the rookie, Jett Lawrence third.
250 WEST POINTS AFTER (ROUND 8 OF 9)
Dylan Ferrandis has a 7-point lead going into the 250 East/West Shootout.
| | | | |
| --- | --- | --- | --- |
| POS. | # | NAME | Total |
| 1 | 1W | Dylan Ferrandis | 181 |
| 2 | 52 | Austin Forkner | 174 |
| 3 | 32 | Justin Cooper | 164 |
| 4 | 30 | Brandon Hartranft | 141 |
| 5 | 28 | Michael Mosiman | 118 |
| 6 | 26 | Alex Martin | 117 |
| 7 | 101 | Luke Clout | 106 |
| 8 | 57 | Derek Drake | 106 |
| 9 | 40 | Mitchell Oldenburg | 96 |
| 10 | 45 | Jacob Hayes | 89 |