THE AFTERMATH | SALT LAKE CITY SUPERCROSS ROUND 14
THE AFTERMATH | SALT LAKE CITY SUPERCROSS ROUND 14
Photos by Travis Fant
Story by Daryl Ecklund
We are more than halfway through the seven Salt Lake City rounds in order to finish up the 2020 Monster Energy Supercross season. This was the fourth straight round in Salt Lake and the second week of having two Supercross races per week. This round was different as it brought the 250 West Coast riders into the new elements of Supercross. Meaning another wave of riders, mechanics and family that had to get screened for COVID-19. So far, there has been no cases that came from the 450 and 250 East group. However, we did hear a rumor that a 250 West Coast rider and mechanic did test positive for COVID-19 and was not allowed to race or be on the Rice Eccles premises.
What does that mean? Well, if it is true that someone tested positive, which we are fairly sure of, then the screening process worked. Hats of to Feld for that.
---
250 WEST COAST CLASS 
Justin Cooper started the day off right by being the fastest man in qualifying.

The 250 West riders haven't lined up in four months. Their last round was February 8th in San Diego. That is a long time to not be racing. Which is why we thought it would lead to some interesting racing. Unfortunately, one guy ran away with it.
Starting the day off it was the two Star Racing Yamaha teammates of Justin Cooper and Dylan Ferrandis that were one and two in 250 qualifying. Austin Forkner was fifth in qualifying. Austin hasn't topped pole position all year, however fifth was the second-lowest he has been this season.
Ferrandis was where he wanted to be in qualifying. 
On a side note: There was some serious drama between Austin Forkner and Hunter Lawrence in qualifying. Austin came over on Hunter, then in the next corner, Hunter cleaned Austin and himself out. See below.
Christian Craig was the 250 heat 1 winner. 
Dylan Ferrandis got the holeshot in the first 250 heat race. Right behind him was Cameron McAdoo who gave Ferranids a taste of his own medicine when he went inside on Ferraris and McAdoo's rear-wheel got in-between Ferrandis' bike making him go over the bars.
Michael Mosiman tried to make the pass for the lead on McAdoo but they both went down. Mosiman got up to still get second in the second heat race. 
With McAdoo in the lead, he started to get pressure from Michael Mosiman. Mosiman went for the pass in a left-hand bowl corner but McAdoo lost his balance and fell on Mosiman taking them both out. All this carnage allowed  Christian Craig to get in front and take the win.
Austin Forkner dominated his heat race by winning over 9 seconds. 
When the heat race came around it was a whole new Forkner. He got the holeshot and had some pressure from Jett Lawrence, but the rookie went down allowing Forkner to dominate the race by winning over 9 seconds to  Lawrence. Austin was also more than a second faster than any 250 riders in either heat race. We knew from here on out he was going to be a true threat in the main event.
The kid from Australia, Jett Lawrence has some serious speed and talent. He might have crashed in his heat race trying to pass Forkner for the lead, but he managed to finish second.  
All the players in the 250 West were at the front of the pack off the start in the main event. We can see Austin Forkner in the perfect position to take charge of this race. 
If you watched the race you would know that Forkner leads all the 20 laps from start to finish. Justin Cooper actually crossed the line first off the start but Austin protected the inside for the lead and the rest is history. He raced his own race with no pressure from the competition. Dylan Ferrandis had to fight his way into second, but he kept on making mistakes and was unable to catch Forkner. Austin gained 3 valuable points on Dylan, however, with only two rounds left in the 250 West series, Ferranids still leads the points race by 10 points. The next two rounds will be interesting to see how it plays out.
Alex Maritn fought hard at the beginning but settled for 6th on the night. 
Jett Lawrence was up to 5th in the main, but another crash set him back to finish 11th overall. 
Austin Forkner won his third race of the season. 
The top three riders at their first-round back were Austin Forkner (middle), Dylan Ferrandis (left) and Cameron McAdoo (right). 
450 CLASS
Blake Bagget topped 450 qualifying. 
Blake Baggett has had some great rides in Salt Lake over the last four rounds, however about halfway through the main events he has seemed to drop anchor. He let us know that he has been dealing with a bit of altitude sickness as well as his hands going numb about halfway through the main events. At round 14 in SLC Baggett got on the pole in front of the big hitters.
The first 450 heat race was an incredible battle between Cooper Webb and Ken Roczen. 
Ken Roczen had great speed but just couldn't make the pass stick on Webb. 
In the second 450 heat it was Martin Davalos that got the holeshot and led 7 out of the 9 laps until Eli Tomac finally got him. 
Eli Tomac took the heat race win, but not without a fight from Davalos. 
The ruts coming out of the start were deep when the mains came around. 
On the main event start Zach Osborne got the jump. 
Zach looked as if he had the holeshot, but Cooper Webb and Roczen slingshotted in front of him from the outside.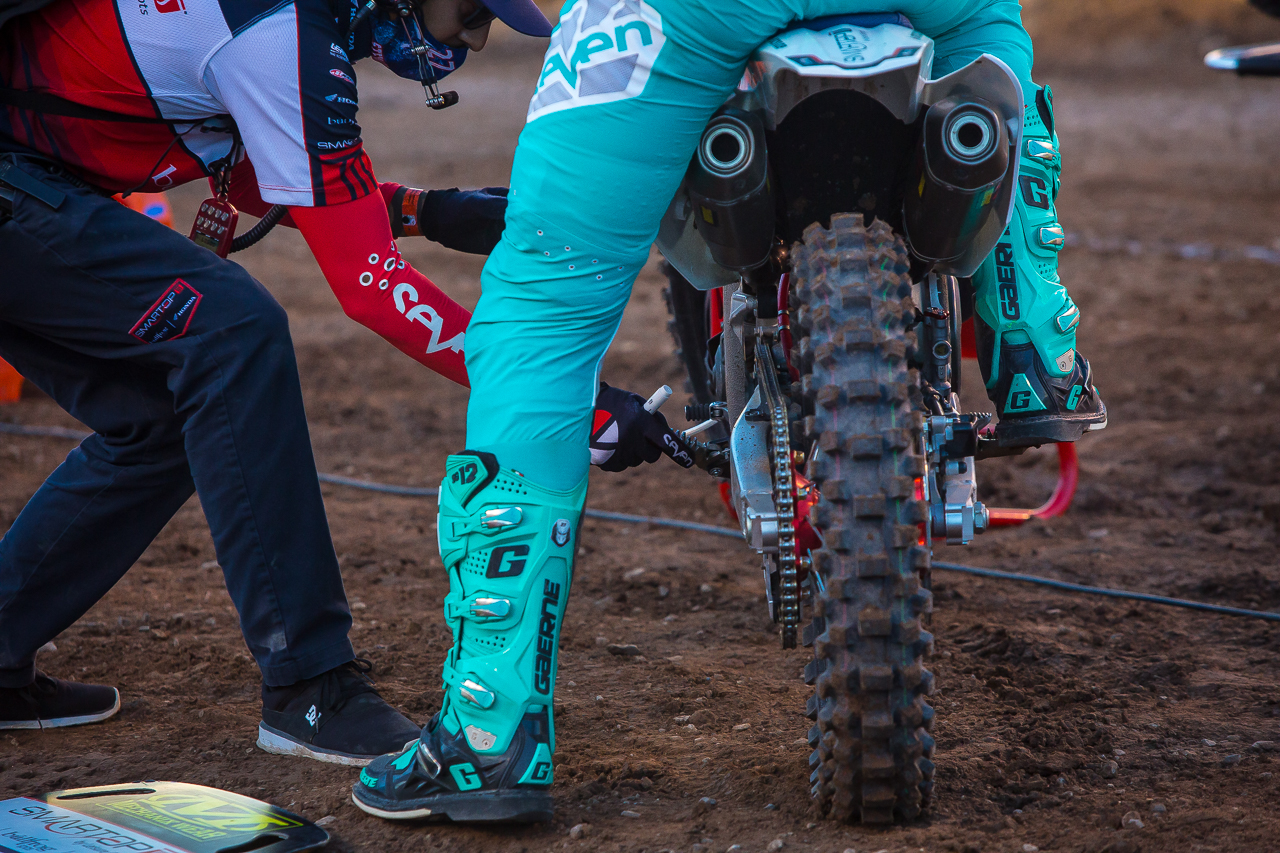 Malcolm Stewart had a bike issue early on in the race that put him out. 
It was a Webb/Roczen battle again just like the heat race. These two were going at it, however, Roczen started to drop back like he has the last few races in Salt Lake due to his breathing issue. 
It was good to see Chad Reed getting a good start for once. Chad started 5th and ended up 11th.
On lap 20 of the 26-lap Salt Lake City Supercross, Justin Barcia flew off the track and center-punched the retaining wall on the side of the track. The TV cameras got there in time to show Justin struggling to get his bike up and running again. But it was no go.
Here is a closer look. 
Zach Osborne has been riding great in SLC and finished 2nd to Cooper Webb
It didn't look good for Eli Tomac as he had a horrible start at around 15th. He could have lost valuable points, but he put his head down and charged to finish 3nd only losing 5 points to Cooper Webb. 
Cooper's win bumped Roczen out of second in points and Cooper into it. 
Cooper has a 27 point deficit to make up over Tomac in order to be a two-time champion.