THE AFTERMATH: TOMAC NEED ONE MORE | SALT LAKE CITY SUPERCROSS ROUND 16
THE AFTERMATH: TOMAC NEEDED ONE MORE PASS | 2020 SALT LAKE CITY SUPERCROSS ROUND 16
In a line up full of former Champions, race winners and podium finishers, there's only one Eli Tomac and only one Cooper Webb. Eli has proven time and time again that he can slice through the pack unlike any other 450 rider on the startling line right now and Cooper has displayed that he can increase his speed to hold off a hard charging Eli Tomac when the pressure is the highest. The 250SX East  Round 16 of Supercross in Salt Lake City, Utah, is in the books and now we only have one more race left in the 2020 Supercross season. In MXA's The Aftermath, we dive into the talking points from the races and share our favorite photos from the event.
Photos by Travis Fant
Words by Josh Mosiman
ELI TOMAC'S LAST PLACE START: 4-PHOTO SEQUENCE
Eli Tomac and Malcolm Stewart tried hard not to hit each other, but they weren't successful. 
Tomac and Stewart definitely weren't social distancing, but at least they had masks on.
At this point, Eli Tomac and Malcolm Stewart had rubbed elbows enough to slow both of them down and hurt there starts dramatically. Eli Tomac seemed to shut off even more than Malcolm coming into the first turn and he rounded the corner in dead last.
Eli Tomac was last place around the first turn after rubbing elbows with Malcolm Stewart.
In years before, Eli Tomac has been fast, but he hasn't been able to acquire the consistency needed to secure a 450 Supercross Championship. Many critics said that if he didn't beat Cooper Webb in 2019, he would never get the title. However, Eli Tomac has made it through the 2020 season as a new racer and his raw speed coupled with newfound consistency has given him a 22-point lead going into the season finale. Now, he only needs to finish 18th or better to secure the 2020 Supercross title.
Eli Tomac crossed the finish line in 12th on the first lap.
Zach Osborne was up front on the first lap with Justin Brayton in second. 
Neither Zach Osborne or Justin Brayton is fighting for the 450SX Championship in 2020, but they are still fighting to score season best finishes. Justin also explained in an NBCSN interview earlier in the day that he wanted to get up front and help his teammate Ken Roczen earn a win. Brayton successfully got up front and ran in second place for four laps before Cooper Webb got around him. We assumed that he would pull over right away for Roczen and it looked like Ken thought so too, but he didn't realize his teammate was behind him until Ken showed him a wheel after the finish line in the 180-corner. Then, Brayton looked back, pulled over and let him by. Justin then held off Eli Tomac for two laps before Eli was finally able to sneak up the inside and get around Brayton.
Justin Brayton in front of Cooper Webb. The veteran held off the 2019 Champ for three laps. 
Justin Hill was third on lap one, but he was passed by Ken Roczen and Cooper Webb on the second lap and dropped to fifth.
Cooper Webb held off Ken Roczen for 11-laps before Eli Tomac got around Ken. Then Cooper had to hold him off for 13-laps to win the race. 
Zach Osborne was extremely impressive. He held onto the lead for 22-laps before Cooper Webb made the pass.
Zach Osborne (bottom of the picture), with Cooper Webb, Eli Tomac, Kyle Chisholm (lap down) and Ken Roczen following close behind. 
Cooper Webb pushed hard to get around Zach Osborne and he was finally able to make an aggressive pass in the corner before the whoops as he felt Eli Tomac closing in on him. 

Cooper Webb was patient behind his friend and training partner, Zach Osborne. It looked like he was trying with everything he could to pass Osborne, but then when Eli Tomac closed in on Webb, he was able to find another level of speed. Cooper ran out of patience and dove to the inside of Zach Osborne in the corner before the whoops. He didn't make contact, but it did through Osborne out of wack and caused him to make a mistake. This mistake also allowed Tomac to sneak by in the same corner.
COOPER WEBB'S PASS ON ZACH OSBORNE
The whoops were unique at Round 16 because they weren't built completely new for the Wednesday race. Instead, the Dirt Wurx crew just groomed the same whoops that were raced with on Sunday. They broke down and were challenging because they were hard packed and slick, with some whoops smaller and others bigger.  
Eli Tomac right behind Cooper Webb in the late stages of the 450SX Main Event.
Eli Tomac was faster than Webb through the whoops for most of the race. Most riders get comfortable with their line and they have a hard time changing it up in the middle of the race, especially in the whoop section. But Cooper Webb's race craft is one of the best of all time and he was able to find more speed in the whoops to fend off the hard charging points leader.
Cooper Webb and his mechanic Carlos Rivera were making suspension adjustments earlier in the day and they paid off at the end of the night when Cooper grabbed the Main Event win.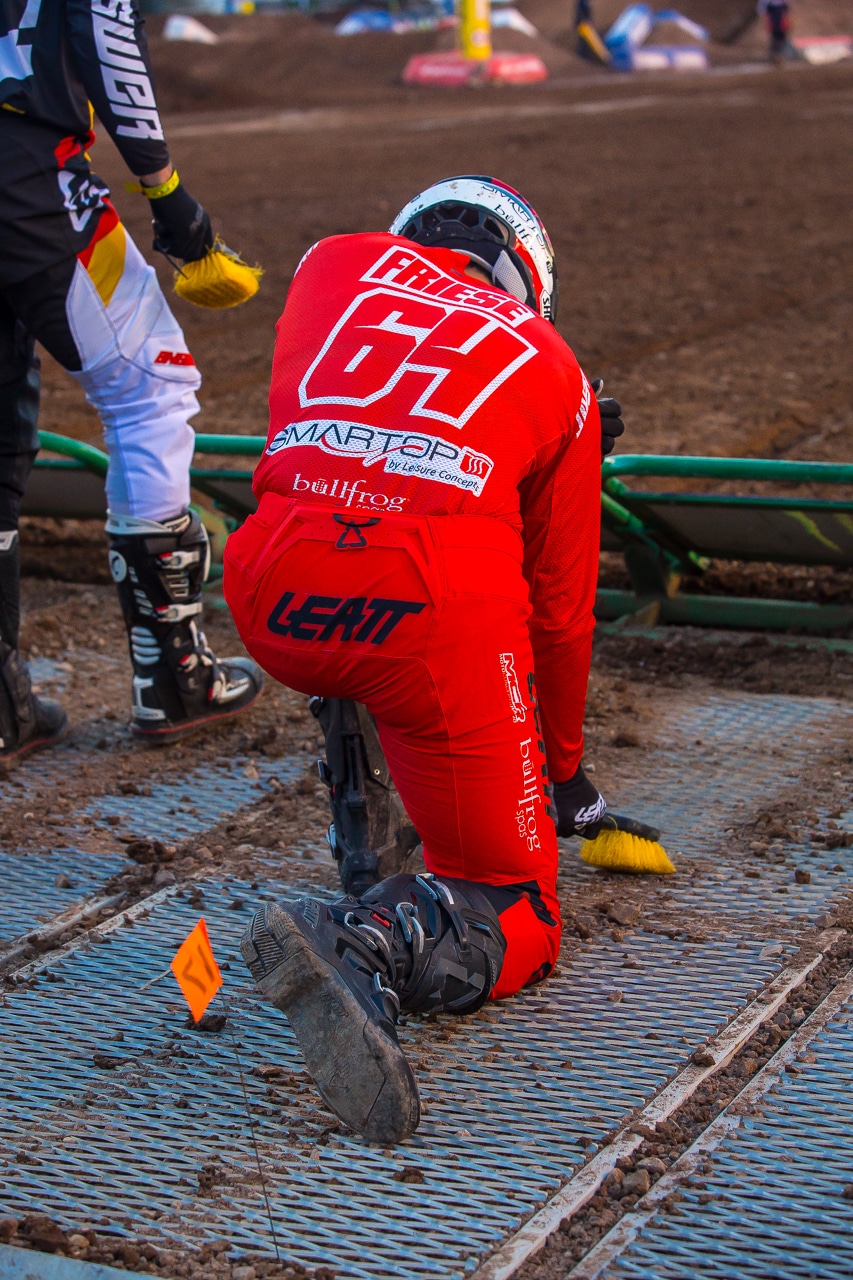 Vince Friese cleaning his starting gate before the Main Event. 
Eli Tomac and Cooper Webb sharing airspace. 
The start straightaway was hard packed and slick on Wednesday which brought out the riders flat track skills.
Cooper Webb posted via instagram:"Another amazing Wednesday night race for me being able to get the win at SLC 6! Tight racing til the very end! Glad I could atleast take the championship to Sunday Thanks team"
450 SUPERCROSS POINTS ROUND 16 OF 17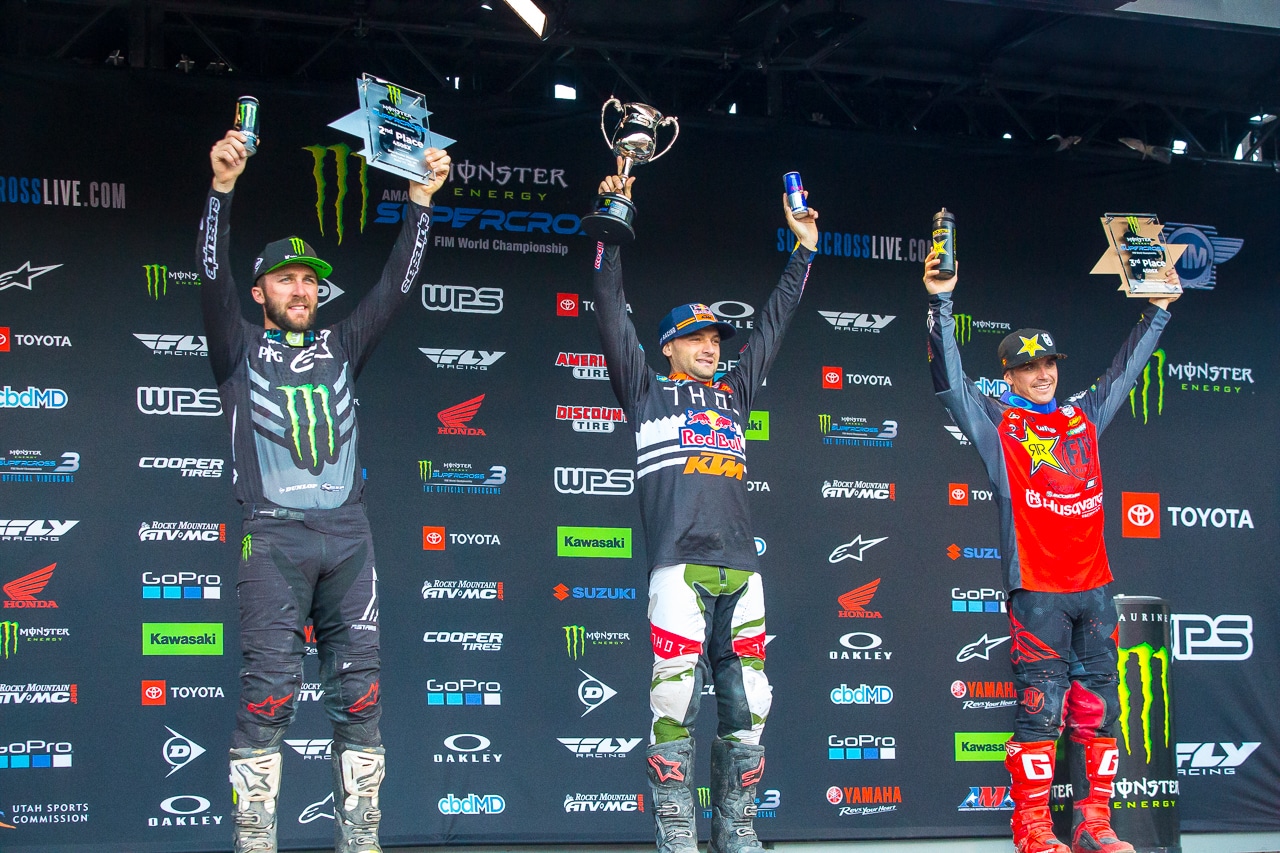 Eli Tomac was one pass away from winning his first 450SX Championship, but now the show will go on to the finale. 
| | | |
| --- | --- | --- |
| POS. | NAME | POINTS |
| 1 | Eli Tomac | 366 |
| 2 | Cooper Webb | 344 |
| 3 | Ken Roczen | 338 |
| 4 | Justin Barcia | 269 |
| 5 | Jason Anderson | 264 |
| 6 | Malcolm Stewart | 233 |
| 7 | Zach Osborne | 226 |
| 8 | Dean Wilson | 218 |
| 9 | Justin Brayton | 216 |
| 10 | Justin Hill | 199 |
Eli Tomac will have to wait a few more days before he can clinch his first-ever 450 Supercross Championship.
250SX EAST MAIN EVENT
The 250 Main Event started with Supercross rookie, Darian Sanayei grabbing the holeshot. Shane McElrath was in second, Coty Schock was third and Sexton was fourth. 
Shane McElrath and Chase Sexton both passed Darian Sanayei on the first lap to get into the first and second positions. 
Colt Nichols was sixth on the first lap behind John Short (43), Darian Sanayei, Pierce Brown, Chase Sexton and Shane McElrath who had the early lead. 
Utah native, Pierce Brown is the only rider representing the factory Troy Lee Designs Red Bull KTM team on the East Coast now after his teammate Brian Moreau was injured at the first round. Pierce held onto the third position until Colt Nichols got around him on lap 11.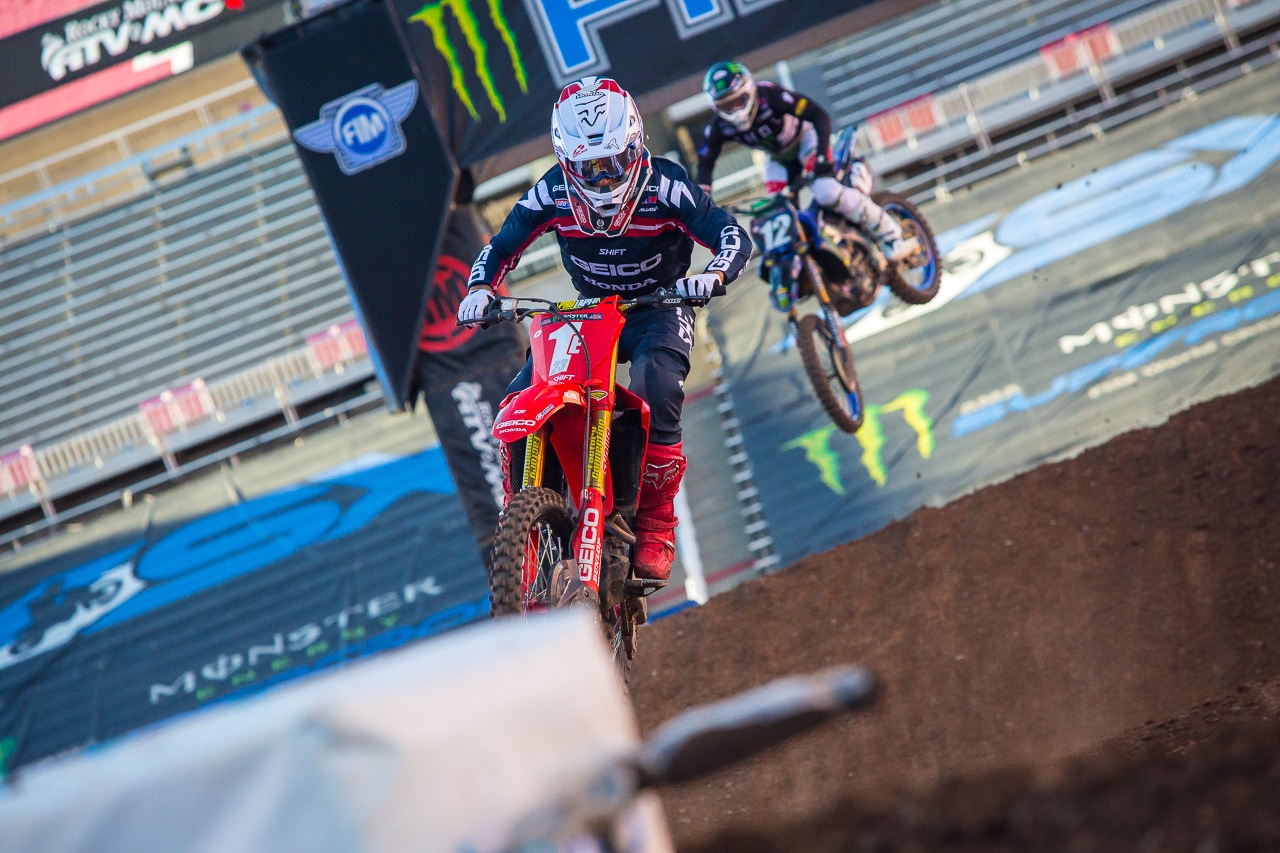 Chase Sexton wasn't patient one bit, he closed in on McElrath and pounced on him on lap five to take over the lead. 
After the race, Chase explained that he didn't want to settle in and get comfortable with Shane's pace. He knew he was faster than the Star Yamaha rider and he wanted to get around him quickly. In the rhythm section after the first turn, Chase had more momentum than Shane and he launched to the inside of the next corner, ran into Shane and kept going to make the pass. Shane didn't go down, but he lost all of his momentum and Sexton was able to get a small gap in-between the two for some breathing room. Chase also explained that he wanted to disrupt Shane enough so that he couldn't retaliate in the next corner. Sexton was successful in this and he pulled away afterwards.
Shane wasn't able to keep up with Chase early, but then he strung together a few laps where he was able to gain time on the points leader. 
Unfortunately for Shane and the fans watching the race, we didn't get to see an battle between the two front runners as Chase Sexton made it a pretty boring race. Sexton had a 3-4 second lead and held it steady until the checkered flag. We thought things might've tightened up once the lap riders starting getting in the way, but that wasn't the case. Both Chase and Shane seemed to equally be slowed down by the riders they caught up to, so Shane was never able to get close enough to pressure Sexton.
250 EAST COAST POINT STANDINGS (AFTER ROUND 8 OF 9)
Chase Sexton grabbed the win and extended his lead to 6-points going into the finale. 
There were two scenarios that could've played out in the 250 East class at Round 16. Either Shane McElrath would win, Sexton would be second and they'd head into the finale tied in points, or Chase would win and pull a 6-point gap on Shane with one round left. As race fans, it would've been great to see a tie going into the 250 East/West Shootout, but 6-points and extra riders on the track is still enough to make it interesting.
| | | |
| --- | --- | --- |
| POS. | NAME | POINTS |
| 1 | Chase Sexton | 192 |
| 2 | Shane Mcelrath | 186 |
| 3 | Garrett Marchbanks | 119 |
| 4 | Jo Shimoda | 107 |
| 5 | Jeremy Martin | 105 |
| 6 | Jalek Swoll | 100 |
| 7 | Enzo Lopes | 97 |
| 8 | Pierce Brown | 92 |
| 9 | Kyle Peters | 86 |
| 10 | Rj Hampshire | 80 |