BEST MOTOCROSS BIKES OF THE PAST 37 YEARS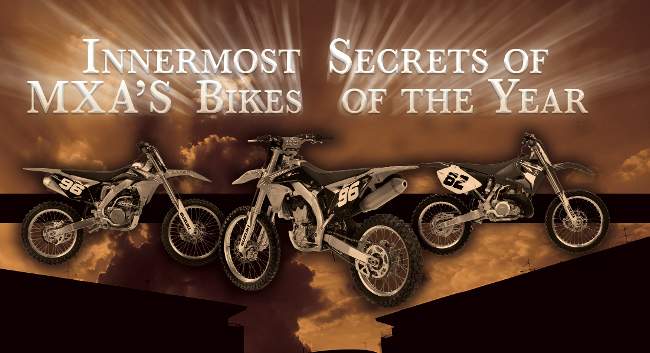 No one on the planet has tested as many motorcycles as the MXA wrecking crew. Motocross Action is a motorcycle magazine — plain and simple. We aren't a fan magazine or aimed at the teenybopper crowd. We are about machinery and how to make them better. We have ridden every machine made, and some that shouldn't have been made. Nothing engenders as much interest and controversy as the "MXA Bike of the Year" awards. We have been handing them out for 37 years (MXA has actually been testing bikes for 44 years, but in the '70s we weren't smart enough to comprehensively rank them).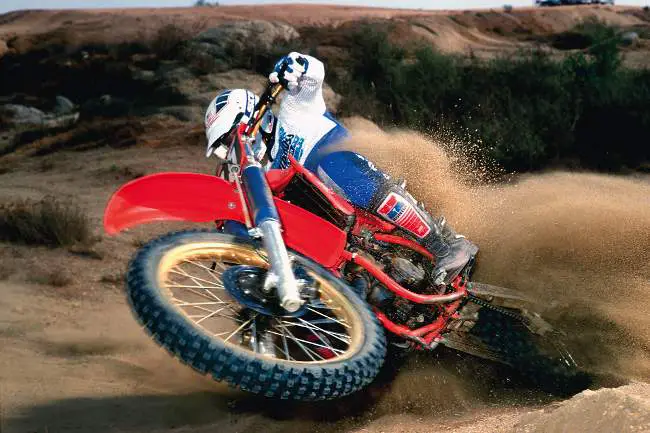 1986 Honda CR125.
The MXA test crew understands that when a consumer plunks down nine grand for a new bike, he doesn't want to hear that he bought the wrong machine. We sympathize, but our job is to report the facts as accurately and consistently as possible. It isn't uncommon for us to get angry emails from owners of a brand that didn't do well. The complainers have a litany of reasons for why we didn't choose their brand as the best. Here are the most commons whines.

1993 Honda CR250. 
The "Yamaha Action" complaint: When Yamaha started winning back-to-back shootouts 15 years ago, the red, green, yellow and orange fans claimed that we showed favoritism to YZs. We found it amusing, because we got the same letters when Honda won the 250 Shootout for five straights years (1983-1987) — except back then they called us "Honda Action." Plus, if you carried our critic's logic up to today, we should have been called "Kawasaki Action" when they won 7 shootouts in 10 years. So, now that we are called "KTM Action" it appears as though the circle of life keeps going to the companies that make the best product.  We can assure you that we don't have favorite companies—we reward excellence in machinery.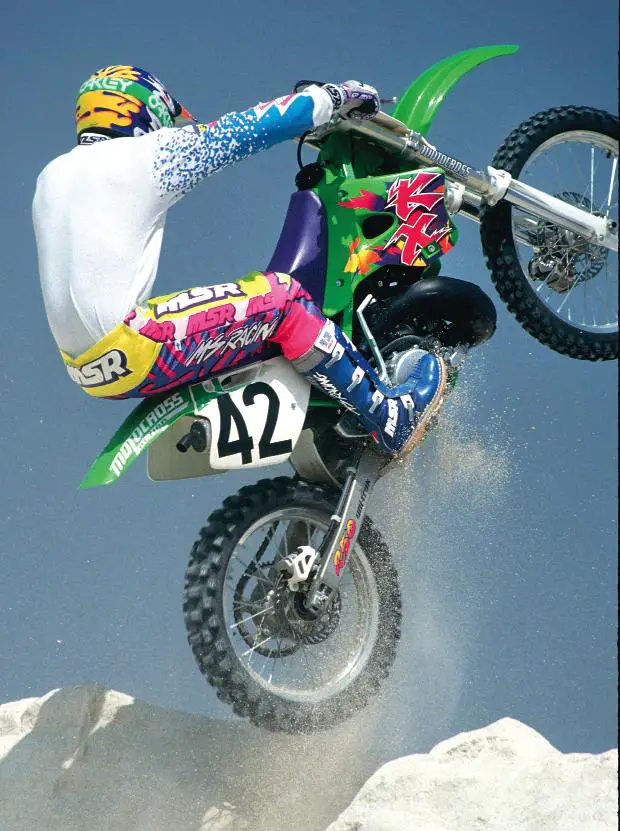 1994 Kawasaki KX250. 
Advertising trumps integrity: One of the old saws pawned off by morons is that the manufacturer that advertises the most wins the shootouts. Hogwash! Need proof? The Suzuki RM250 won the 250 Bike of the Year award in 2004-2006 and the 2011 RM-Z 250F four-stroke award. Suzuki doesn't run enough advertising with MXA to buy the test riders lunch. Additionally, KTM won the 2004 125 shootout, had a nod at 250 two-stroke shootouts for a few years and took the 2010, 2011, 2015, 2016 and 2017, 2018, and 2019 450 shootouts, and KTM is definitely not MXA's largest advertiser. Advertising dollars can't make a bad bike good…at least not at MXA.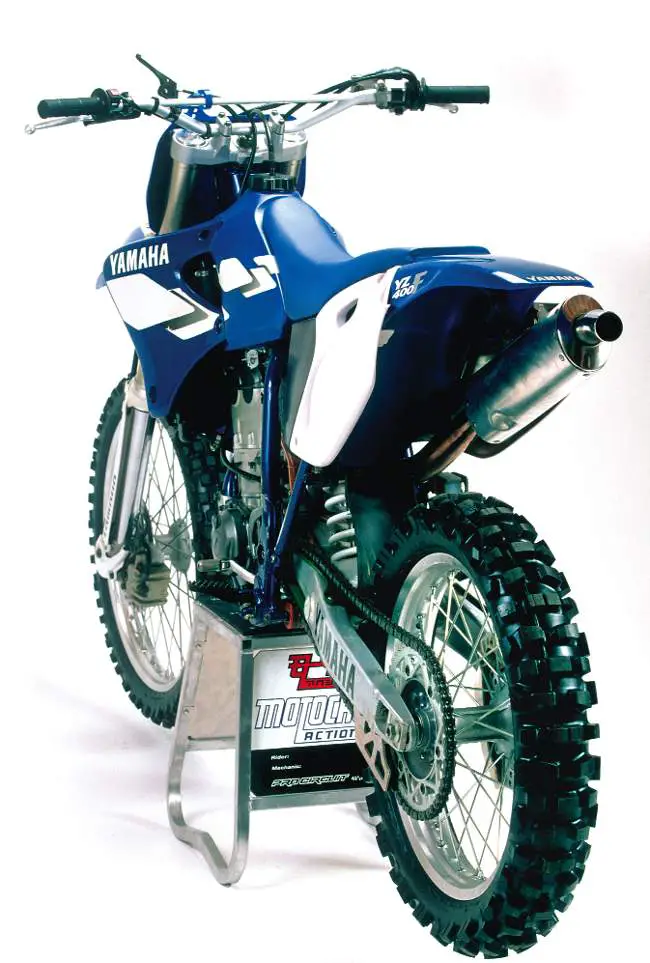 1998 Yamaha YZ400F. 
Different mags; different winners: It's not uncommon for other magazines to choose different shootout winners. More power to them (and their flawed methodology). But, history almost always proves that the MXA wrecking crew is right. Need examples? Every magazine raved about the 2002 Honda CRF450 — except MXA. We thought it had a serious handling flaw and a mellow engine. Who was right? Honda's engineers spent the next three years working on the handling and beefing up the bottom end. When they got it right, they got the top spot. Then, in 2009-2012, the other mags raved about the weirdly configured Honda CRF450. We didn't. We said it was "a mess." Who was right? This was followed by Honda's disastrous foray into their mellow engine phase from 2013-2016 — where they voluntarily gave up 4 to 5 horsepower to their competitors (and somehow still managed to do well in other magazine shootouts — other than MXA that is). Let's not even mention the 2001 Cannondale MX400 which one magazine named the "Bike of the Year."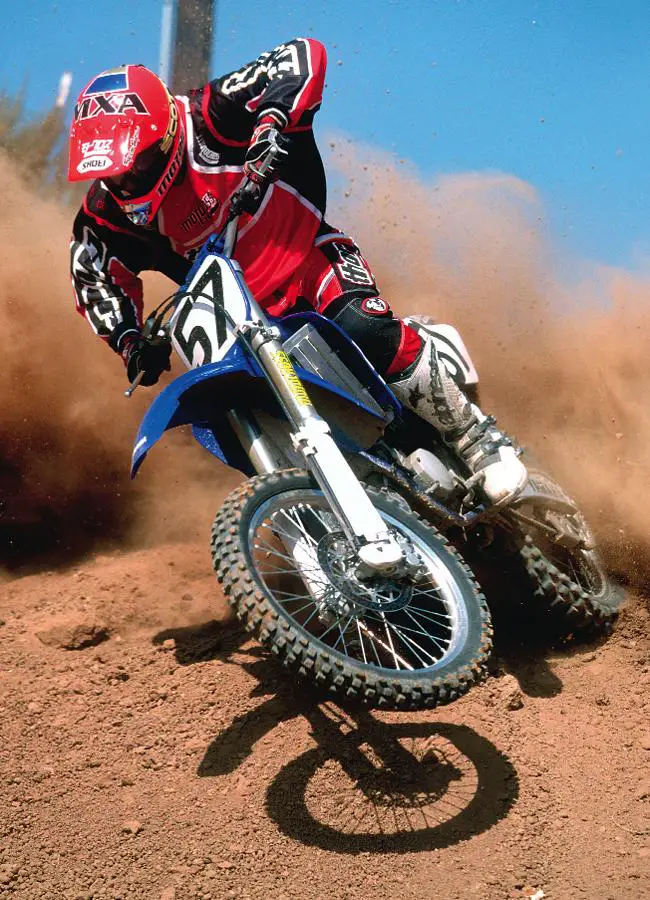 2000 Yamaha YZ125.
Anti-Euro faction: In the last 32 years, only a handful of European bikes have made the MXA Best Bike list (all KTMs). To our critics' way of thinking, MXA never gave European bikes a fair chance. To our way of thinking, European bikes came up short in their approach to handling for the better part of the last 30 years. Once they got it right, they got credit.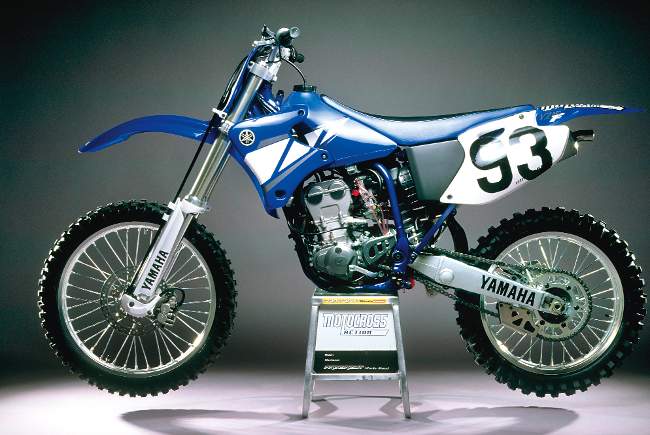 2001 Yamaha YZ250F. 
The winning margin: There are over 100 bikes listed in MXA's best bikes list between 125 two-strokes, 250 two-strokes, 250 four-strokes and 450 four-strokes. Yamaha has won the most crowns. Yamaha's last big wins as a of late have been in the 250cc two-stroke and four-stroke classes. Kawasaki is second on the all-time list with 22 Best Bike wins. Kawasaki racked up almost half of those over the last nine years with the KX250F and KX450F. Honda is third on the all-time list with 17 Best Bike awards. Four of their 17 came with the 2003-2004 and 2007-2008 CRF450. But, the majority of Honda wins came during the hey-day of the CR250 from 1983 to 1987 when they won 5 straight years. Suzuki has 11 wins (with five 125 two-stroke wins, five 250 two-stroke wins and one RM-Z250 win in 2011). KTM has scored bonus points with their 450SXF four-stroke over the last 8 years — winning 5 times. KTM also took one 125 class award back in 2004 and a couple of 250 two-strokes wins. But KTM has never won the 250 four-stroke class category until 2017. In the 19 years since the 450 four-strokes came on the market Yamaha has won the class 7 times (but some of those wins were because they built the first modern four-stroke motocross bikes and had a several year lead over the other brands), Honda four times, Kawasaki four times and KTM four times.


2005 Honda CRF450.
There have been lots of chances for your favorite brand to make the list. So, love us or hate us, we aren't telling you what to buy…we are just giving you the tools to make an informed decision.
125/150 TWO-STROKES

1980 …Yamaha YZ125
1981 …Suzuki RM125
1982 …Suzuki RM125
1983 …Honda CR125
1984 …Kawasaki KX125
1985 …Kawasaki KX125
1986 …Honda CR125
1987 …Honda CR125
1988 …Kawasaki KX125
1989 …Honda CR125
1990 …Kawasaki KX125
1991 …Kawasaki KX125
1992 …Suzuki RM125
1993 …Kawasaki KX125
1994 …Suzuki RM125
1995 …Suzuki RM125
1996 …Yamaha YZ125
1997 …Yamaha YZ125
1998 …Yamaha YZ125
1999 …Yamaha YZ125
2000 …Yamaha YZ125
2001 …Yamaha YZ125
2002 …Yamaha YZ125
2003 …Yamaha YZ125
2004 …KTM 125SX
2005 …Yamaha YZ125
2006 …Yamaha YZ125
2007 …Yamaha YZ125
2008 …Yamaha YZ125
2009 …Yamaha YZ125
2010 …Yamaha YZ125
2011 …KTM 125SX
2012 …KTM 125SX
2013 …KTM 125SX
2014 …KTM 125SX
2015 …Yamaha YZ125
2016 …KTM 125SX
2017 …KTM 125SX
250 TWO-STROKES



2013 KTM 250SX.

1980 …Yamaha YZ250
1981 …Suzuki RM250
1982 …Suzuki RM250
1983 …Honda CR250
1984 …Honda CR250
1985 …Honda CR250
1986 …Honda CR250
1987 …Honda CR250
1988 …Yamaha YZ250
1989 …Honda CR250
1990 …Kawasaki KX250
1991 …Yamaha YZ250
1992 …Yamaha YZ250
1993 …Honda CR250
1994 …Kawasaki KX250
1995 …Yamaha YZ250
1996 …Suzuki RM250
1997 …Kawasaki KX250
1998 …Kawasaki KX250
1999 …Kawasaki KX250
2000 …Yamaha YZ250
2001 …Yamaha YZ250
2002 …Yamaha YZ250
2003 …Yamaha YZ250
2004 …Suzuki RM250
2005 …Suzuki RM250
2006 …Suzuki RM250
2007 …Yamaha YZ250
2008 …Yamaha YZ250
2009 …Yamaha YZ250
2010 …Yamaha YZ250
2011 …KTM 250SX
2012 …KTM 250SX
2013 …KTM 250SX
2014 …KTM 250SX
2015 …Yamaha YZ250
2016 …KTM 250SX
2017 …KTM 250SX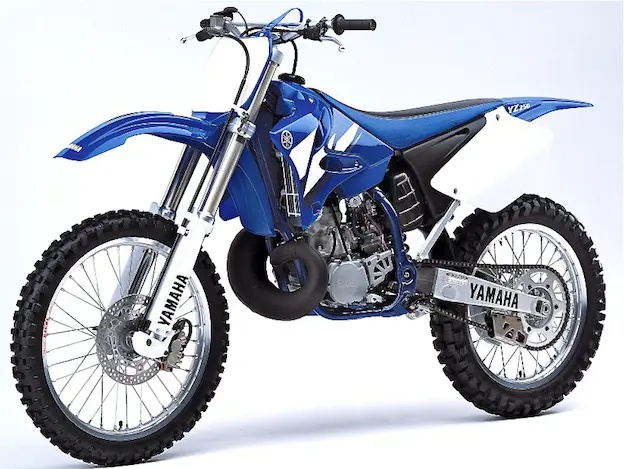 2003 Yamaha YZ250. 
250 FOUR-STROKES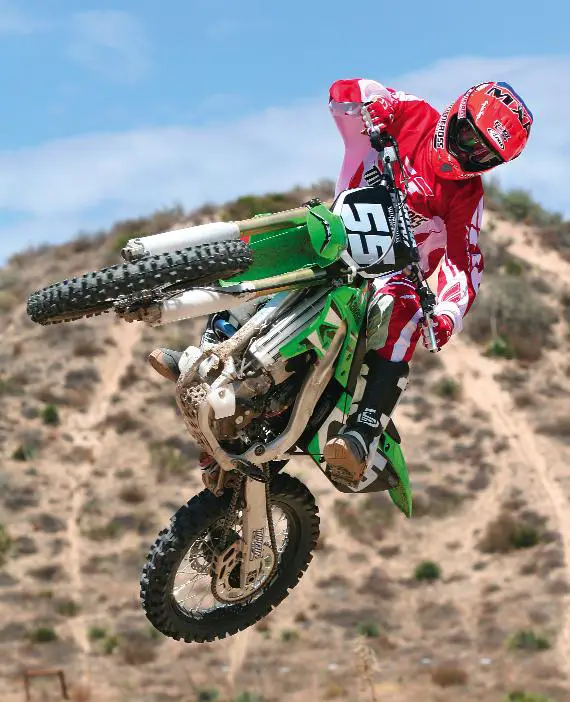 2008 Kawasaki KX250F.
2001 …Yamaha YZ250F
2002 …Yamaha YZ250F
2003 …Yamaha YZ250F
2004 …Yamaha YZ250F
2005 …Yamaha YZ250F
2006 …Kawasaki KX250F
2007 …Kawasaki KX250F
2008 …Kawasaki KX250F
2009 …Honda CRF250
2010 …Kawasaki KX250F
2011 …Suzuki RM-Z250
2012 …Kawasaki KX250F
2013 …Kawasaki KX250F
2014 …Kawasaki KX250F
2015 …Yamaha YZ250F
2016 …Yamaha YZ250F
2017 …KTM 250SXF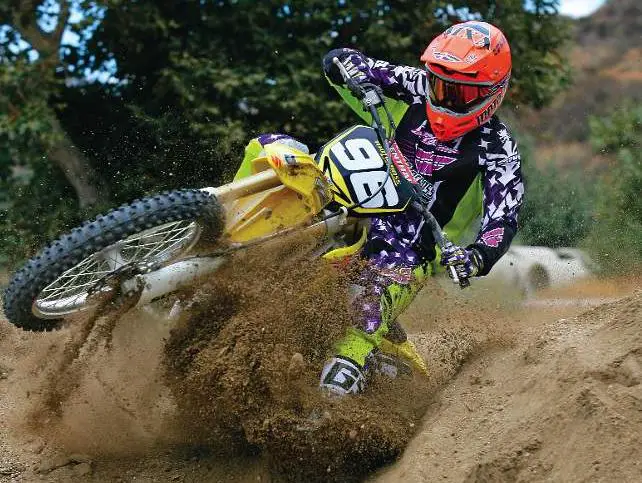 2011 Suzuki RM-Z250.
450 FOUR-STROKES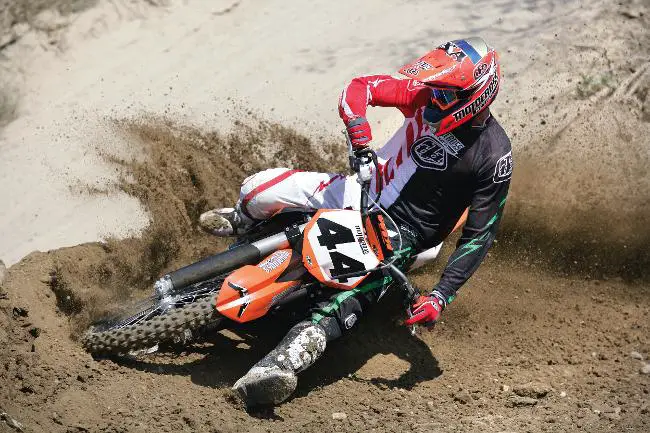 2010 KTM 450SXF.
1998 …Yamaha YZ400F
1999 …Yamaha YZ400F
2000 …Yamaha YZ400F
2001 …Yamaha YZ426F
2002 …Yamaha YZ426F
2003 …Yamaha YZ450F
2004 …Honda CRF450F
2005 …Honda CRF450F
2006 …Yamaha YZ450F
2007 …Honda CRF450
2008 …Honda CRF450
2009 …Kawasaki KX450F
2010 …KTM 450SXF
2011 …KTM 450SXF
2012 …Kawasaki KX450F
2013 …Kawasaki KX450F
2014 …Kawasaki KX450F
2015 …KTM 450SXF
2016 …KTM 450SXF
2017 …KTM 450SXF