THE BEST OF JODY'S BOX: AVOIDING THE "TELL LAURA I LOVE HER" MOMENT
BY JODY WEISEL
I didn't set out to become a motocross racer. It wasn't my top priority. Actually, it wasn't anyone's top priority back in the mid-1960s, because motocross didn't exist. If you wanted to race motorcycles where I lived in Texas, you could only choose between dirt track, enduro, trials and road race. Although I ended up as a road racer, that also wasn't my top priority. I had been bitten by the motorcycle racing bug, and my top priority was going fast, hanging it all out and working on high-tech machinery, whether it was on dirt or pavement.
When I look back on that era's speed, derring-do and the high-tech machinery with today's eyes, it all seems so quaint and simple. But it wasn't. If a bike cost $850 back then, that would be the equivalent of $7000 today. I eked 20 horsepower from my E.C. Birt-tuned 125 road racer with a total-loss ignition, no flywheel, serious porting, dimpled pistons and bronze bushing in place of the top end rod bearing. I didn't need more than 20 horses, because that was already more than my competition had. Looking back, it seems so antiquated, but it wasn't. It was dead serious.
Dirt track was the easiest path to motorcycle stardom, because every hick town in America in the 1960s had a dirt track, usually used for jalopy races, demolition derbies and Joie Chitwood thrill shows. It was all very much like "Tell Laura I Love Her," which was a very popular song about dirt-track stock car racing. It was sung by Ray Peterson, who came from my small Texas hometown, and was full of tragic lyrics. The lyrics went, "The crowd roared as they started the race. 'Round the track they drove at a deadly pace. No one knows what happened that day, how his car overturned in flames. But, as they pulled him from the twisted wreck, with his dying breath, they heard him say, 'Tell Laura I love her.'"
My girlfriend knew all the words to "Tell Laura I Love Her" and was suddenly very interested in dirt track racing. She never had any interest in anything I did before dirt track, but I think she visualized herself as Laura. It wasn't lost on me that her fantasy ended in my death. Worse yet, I was a terrible dirt track racer. I hit the wall in every heat race and never made it to the main. I couldn't slide the rear wheel of my bike to save my life—if you didn't count sliding on my butt into the wall. I improved the more I raced, but only to the point where I was going faster when I hit the wall. I knew that I needed to switch sports and girlfriend before I had a "Tell Laura I Love Her" moment,
My friends rode enduros, so I joined them, but I got easily bored with the idea of time-keeping and began getting to every checkpoint early with the ultimate goal of getting to the final checkpoint before the course workers got there. Next, I bought a trials bike (before I ever entered a trials). I sold it the week after I entered a trials. That sport made no sense, and I didn't like having to wear that silly hat. If a sport isn't dangerous enough to require a helmet, it isn't really a risk sport.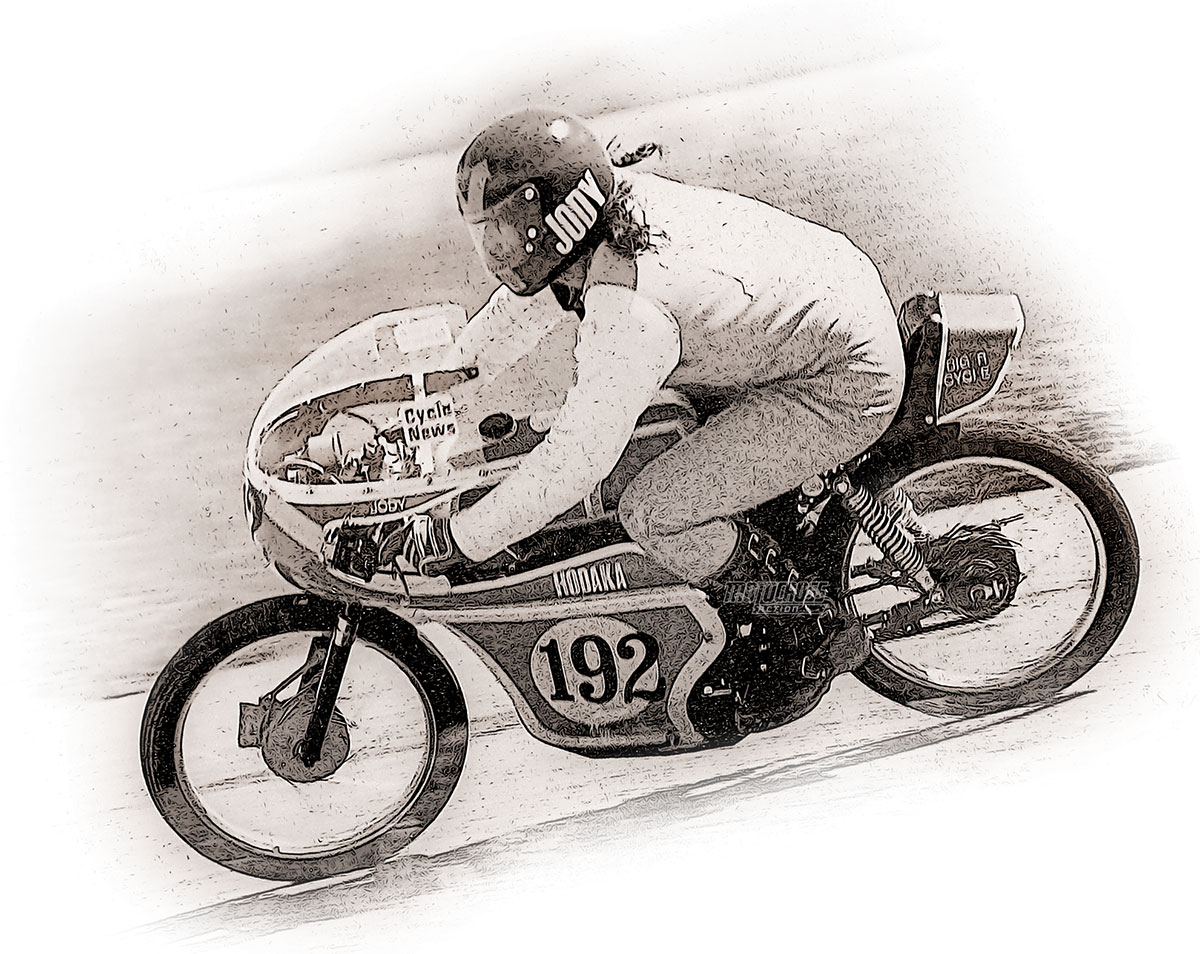 Jody at the Austin Aqua Fest Road Race on a Hodaka road racer.
My dirt track buddies were going to a road race, and they said I should try it since I could use my dirttrack leathers and there weren't any walls. I had a used 1963 Bultaco Metralla street bike and entered the 250 Production class. I loved road racing instantly. Amusingly, Metralla, when translated from Spanish, means "shrapnel," which was very apropos for a Spanish transmission. It didn't take long for me to have a fleet of road race bikes for both production and Grand Prix classes. I focused on 100 GP, 125 GP and 250 GP classes. I got Hodaka's Daytona road race bike from Majors Distributing for the 100s, had E.C. Birt build me a 140cc Hodaka for the 200s class and bought Bubba Byars twin-cylinder Suzuki T200 for the 250s.
I loved road racing, but you could only road race six times a year in Texas. There were races at the Austin Aquafest, Fort Hood Army base, Greater Southwest International Airport, Tulsa drag strip, Dallas Motor Speedway and Green River Raceway. I went back and forth between road race and this new thing called "motocross."
If I switched to motocross, I could race four times a month. After my first motocross at Forest Glades, I was hooked. I still dabbled in road racing, famously ramming Freddy Spencer at the Austin Aquafest when he bogged his Yamaha TA125 from his front-row starting spot. It didn't take long before I considered myself to be a motocross racer only.
Strangely, I never had a "Tell Laura I Love Her" moment in motocross, thanks to getting a new girlfriend named Lovely Louella.
"TELL LAURA I LOVE HER" BY RAY PETERSON