THE BEST OF JODY'S BOX: EVERYBODY IS SOMEBODY, OR THINKS THEY ARE, IN SOCAL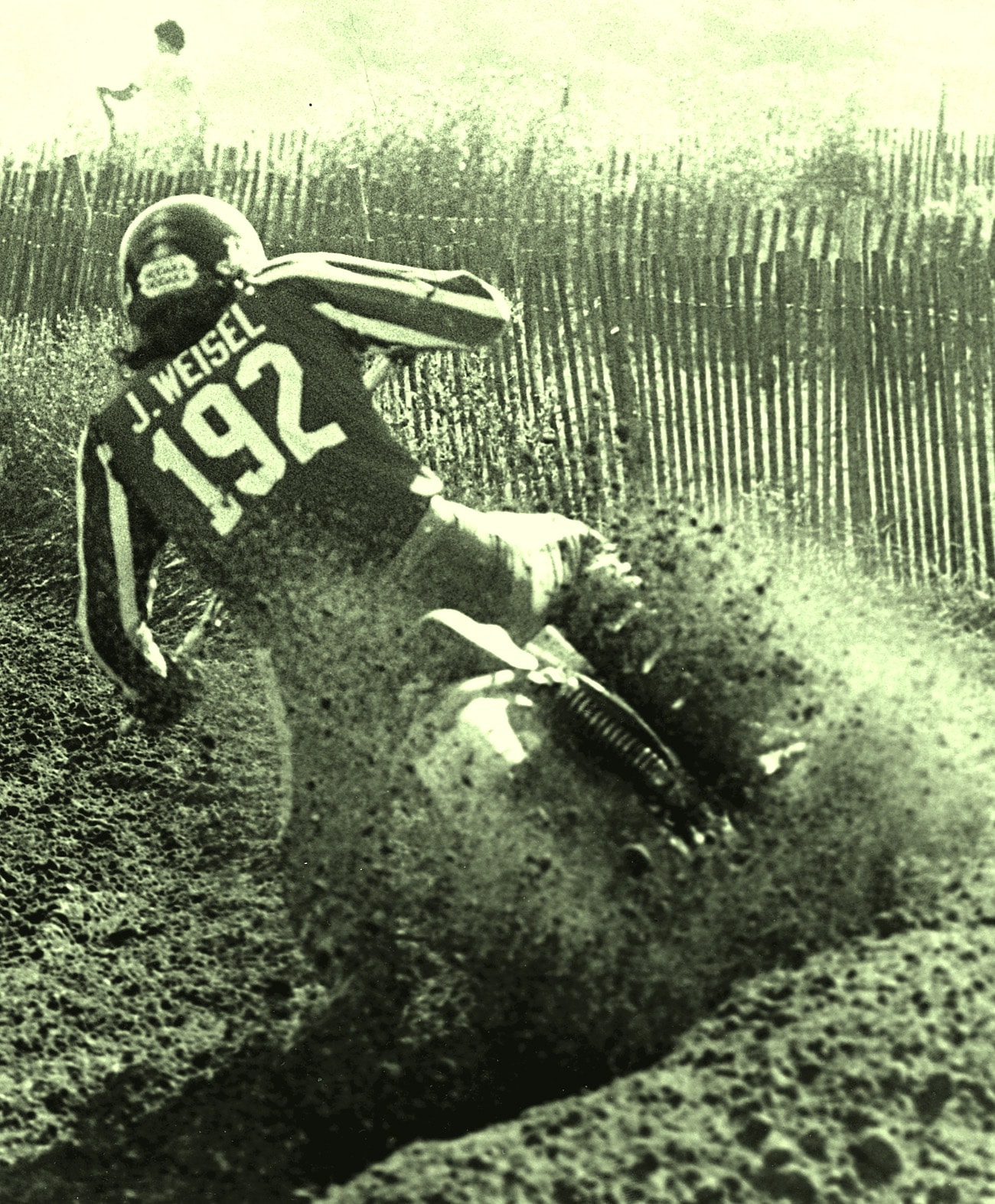 Jody on a Maico working his way through a snow fence forest at Lake Whitney in the '70s.
By Jody Weisel
Most of people in SoCal aren't from SoCal. But they are no less Californians than I am a Texan. Surprisingly, I didn't start out as a SoCal racer. I started my racing career racing at Mosier Valley, Lake Whitney, Paradise Valley, Rio Bravo, Lockhart, Strawberry Hill and Pecan Valley. I loved racing in Texas. In comparison to SoCal, the tracks were better, weather more interesting and people more authentic. But, like it or not, when the time came to get out of Texas—I got out. SoCal represented a shot at the golden ring of motocross stardom, so I grabbed for it.
IF I SCHEDULE A TEST SESSION WITH TEAM KTM FOR THREE MONTHS FROM NOW, I CAN GUARANTEE IT WILL BE SUNNY AND WARM. IT'S MONOTONOUS. IT'S ARTIFICIAL. BUT, PERFECTION MEANS NEVER HAVING TO CANCEL A TEST BECAUSE OF RAIN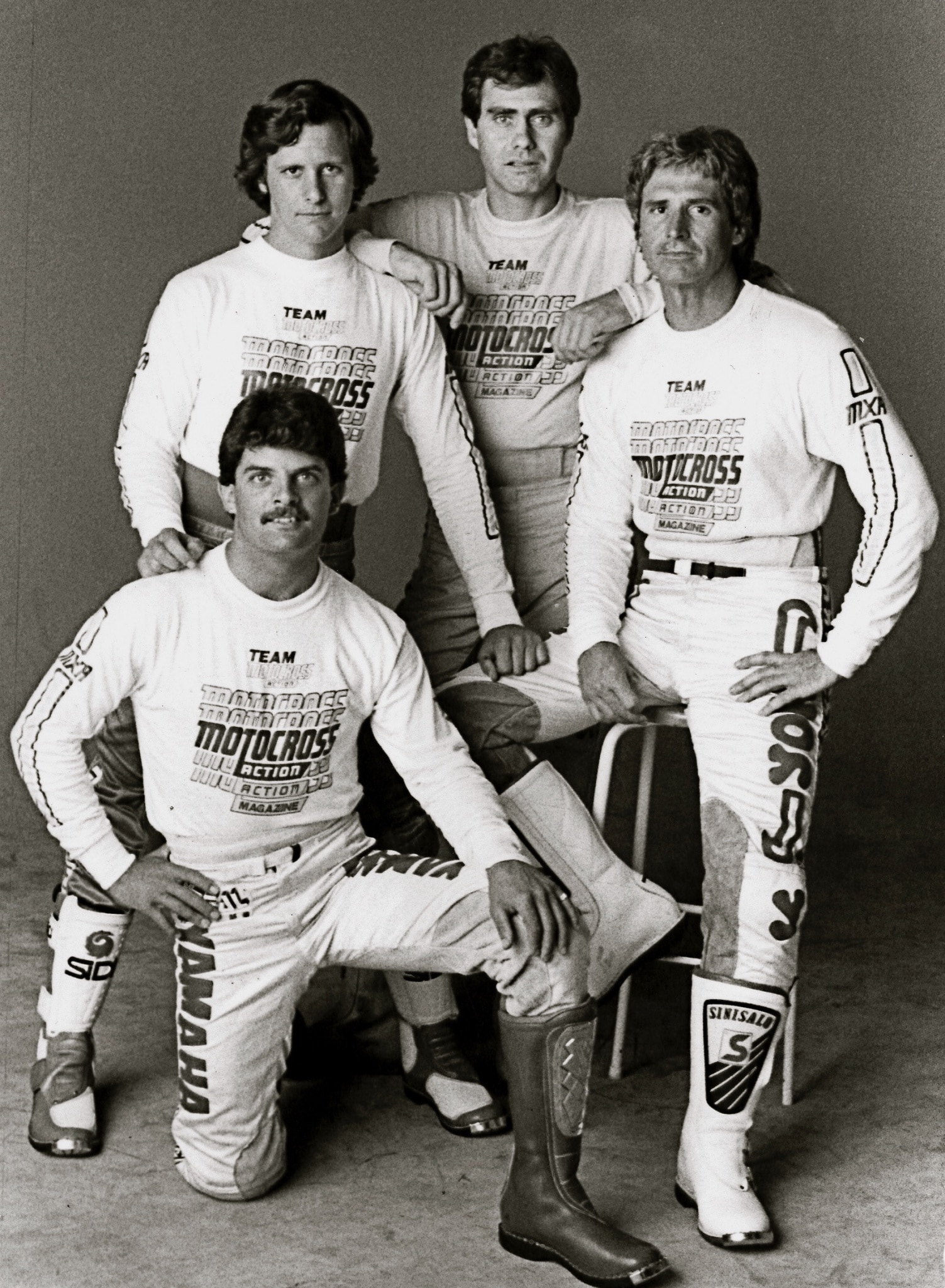 How we dressed in 1982—Lance Moorewood, David Gerig, Gary Jones and Jody Weisel.
I'm not an apologist for being a SoCal motocross racer because I was born in San Francisco, California, and moved to San Antonio, Texas, when I was 15. I always thought I'd return to Texas when the time came. After all, my family lives there, but, now that I've lived in SoCal for the majority of my life I don't want to leave. Yes, I know that every motocross star picks up stakes and moves to Texas or Florida as their base of operations, but that's just because those two states don't have income taxes (which is really important to millionaires). I'll pay California its 10 percent of flesh, for the weather, the race tracks, the flying, the surfing and, of course, my job as an MXA test rider.
As much as I hate to say it, I've been '"Californized." Perhaps "Plasticized" would be a better word. I'm glad to be a Californian and when disgruntled Eastern, Midwestern or Northwestern racers say, "I don't care how they do it in California," I'm probably the guy they are blaming for their view of SoCal racing.
For a test rider SoCal is the only place to be. It's the center of the motocross universe when it comes to motorcycle manufacturers, aftermarket companies and race teams. I never have to take the weather into consideration. If I schedule a test session with Team KTM for three months from now, I can guarantee that the day will be sunny and warm. Everyday is the same. It's monotonous. It's artificial. But, perfection means never having to cancel a test because of rain.
SoCal is a land of status—where social stratum determines who talks to who. And what determines social strata? Clothes, of course. Think about the clothing brands and who they appeal to. Choosing to wear FXR over Thor, or Fox over Fasthouse,  O'Neal over Fly or Alpinestars over Shift doesn't say as much about the clothes as it does the person. In Southern California, clothes don't cover your body as much as they assuage your fears of inadequacy.
IN SOCAL EVERYBODY IS SOMEBODY, WANTS TO BE SOMEBODY, KNOWS SOMEBODY OR HAS A FRIEND WHO KNOWS SOMEBODY WHO WANTS TO BE SOMEBODY. NOBODY, BUT NOBODY, IS NOBODY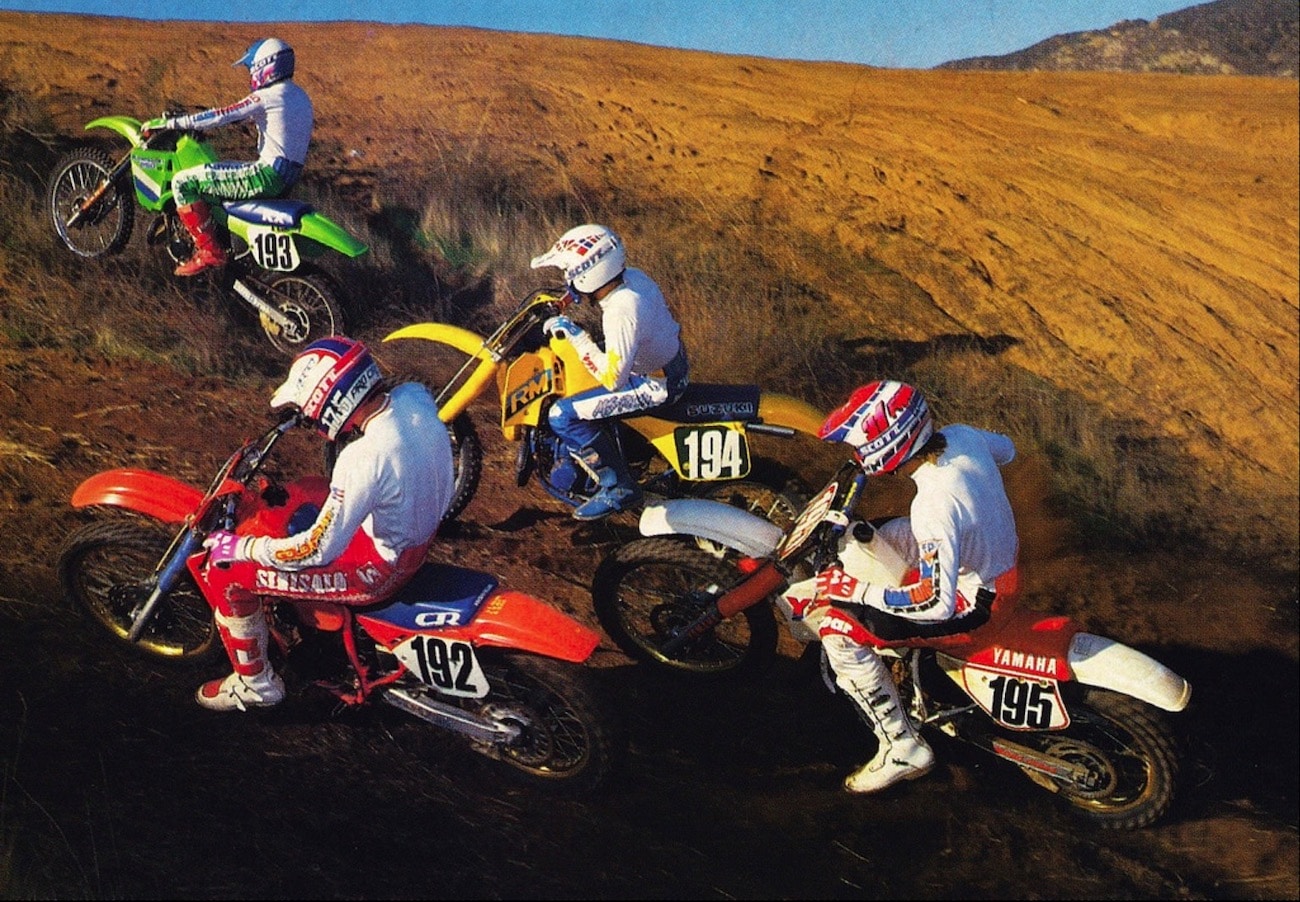 How we dressed in 1987. Whatever happened to Sinisalo, MSR, EP Performance and Gear?
I'm not deluded about SoCal. It's a petty, bourgeois, materialistic, name dropping, back stabbing environment where what passes for motocross is adulterated by the fact that everybody is either somebody, wants to be somebody, knows somebody or has a friend who knows somebody who wants to be somebody. Nobody, but nobody, is nobody in SoCal. Don't get me wrong, I'm as judgmental as the next guy. I hate much faster than I love, deride quicker than I praise and snub more than I embrace. For these reason I fit in really well.
I like knowing that there are ten tracks waiting for me (which means that if I don't like one, I don't ever have to go back). I like that I can ride every day of the week (on every imaginable track configuration). I like that I can tell at a glance what a person is into by the stickers on his bike (and by whether they are on straight or crooked). I like that I could be somebody different with a simple switch of clothing brands (coming soon "freestyle Jody"). I like that the guy next to me in the pits could be Ken Roczen's neighbor (isn't everybody). Or that the guy next to me is Ken Roczen (happens all the time).
In Texas I would drive 100, 200 or 300 miles to that week's race (except for the long forgotten Pecan Valley Raceway, which was 5 minutes from the house). Not so in SoCal. I can get up at 7:00 in the morning and make it to any one of ten tracks in time for practice (and still have time to stop at Starbucks on the way). My luxurious hacienda is within an hours drive of Perris, Pala, Cahuilla Creek, State Fair, Comp Edge, Lake Elsinore and Glen Helen.
How we dressed in 2021—just as quaint as all the other decades.
What do I miss about Texas motocross? In my day, it had a down-home atmosphere to it. I knew everybody in my class (and their mothers, brothers and Aunt Clara). We shared parts, tales and barbecue on a weekly basis. Nobody was too cool to say hello. Nobody was too famous to lend a hand. Nobody was a stranger.
It's not like that in the land of fruits and nuts. SoCal is the breeding ground of strangers. It is possible to pit between two guys at a SoCal race and never say a word to either one of them—exchanging only glares if they encroach on my 200 square feet of land. But, that's okay because I didn't like the gear they were wearing anyway.