BEST OF JODY'S BOX: "FAIR TO MIDLAND AND HALFWAY TO ODESSA"
BY JODY WEISEL
Not every motorcycle racing career starts off on a good note, mine included. Back when I started applying myself to the trade, if you wanted to get known, find sponsors and make money, you had to race dirt track. The word "motocross" was not in the lexicon back then. These were the days of Mert Lawwill, Gene Romero and Dick Mann. I was lucky. I had lots of dirt track friends who were willing to show me the ropes, and I didn't live far from the famous Ross Downs short track.
And, seriously, how hard could it be to go in a circle? Actually, it turned out to be incredibly easy—if you didn't want to go fast. When I walked the track looking for tacky spots or potholes, the wooden wall seemed like it was way out there; but, when I was on my bike, it got a lot closer—fast. I often looked like a cue ball from corner to corner. My short-track career can be summed up in one short phrase: "One minute my hands were full, and the next minute they were empty."
My friends told me, "Maybe you ought to try road racing. There aren't any walls there." So, I embarked on my second racing career. I wasn't a bad road racer, but I wasn't a great one, either. The thing I was really good at was jumping the start. You would think that the AMA would have penalized me for the number of times I got the holeshot from the second row of the grid. And I'm sure they would have, but by the time the pack came around on the first lap, I was already in fifth, and by the end of the race, I was in ninth.
I JUMPED THE START AT THE AUSTIN AQUAFEST ROAD RACE AND RAMMED FREDDIE SPENCER, WHO WAS IN THE FIRST ROW, SO HARD THAT MY FRONT WHEEL WEDGED BETWEEN HIS SWINGARM AND PIPE'S STINGER. I NEVER LET OFF AND PUSHED FREDDIE FOR 50 FEET UNTIL HIS BIKE CLEANED.
The only time I was ever talked to about my starting technique was when I jumped the start at the Austin Aquafest road race and rammed Freddie Spencer, who was in the first row. I hit him so hard that my front wheel wedged between his swingarm and pipe's stinger. I never let off and pushed Freddie for 50 feet until his bike cleaned out and he popped loose. By that time we were in the back of the field. He didn't stay there long, while I raced to a very consistent ninth place.
I loved road racing, partially because I was better at it than I was at short track. I had a bevy of bikes in all sizes that I could race in 125 GP, 250 GP, 350 Cafe and 250 Production. I still have a couple of them in my barn, because the market for a used road race bike is nil.
My last road race was at Talladega Motor Speedway. I got to the two-mile oval track a couple days early, and they were using the two-mile, steeply banked, super speedway for Closed-Course World Land Speed Record runs, which they couldn't do in Europe because the continent didn't have a 45-degree-banked paved oval big enough. World sidecar road race champion Rolf Steinhausen was scheduled to set the record on a four-cylinder Yamaha TZ500 rig, but the FIM had a problem with Steinhausen racing in America without clearing it with them first. He pulled out. A German sidecar racer, who had retired a few years earlier, agreed to drive Steinhausen's Yamaha—if he could find a passenger. I must have looked like a monkey standing in the pits, because the German asked me to do it. I think I was chosen because I had all the gear and had said "howdy" to him earlier in the day.
I foolishly agreed on the spot. I put my leathers on, got five minutes of instruction and found myself plastered to the amazingly steep Talladega banking sharing my cramped quarters by kneeling on three gallons of gasoline. The sound was deafening, and I'm sure that if I had opened my eyes, it would have looked death-defying. I didn't have a clue what the previous closed-course record for two men on a 500cc road race sidecar was, largely because they kept telling me our speed in kilometers per hour, which sounded really fast.
We did 5 four-lap speed runs, and after every run the driver had to go get his arms bandaged for the burns he received from the exhaust pipes that exited the rig by his left arm. His body was compressed against the pipes by the incredible G-forces on the banking so hard that he couldn't lift his arm off the pipes. All I remember was that on the banking the sidecar was skewed sideways by the asymmetrical wheel layout, and off the banking, my feet, which hung out the back when I laid flat under the cowling on the straights, hit the pavement every time the rig hit a bump.
When it was over, they handed me a slip of paper that said 229.97 km/h, shook my hand and bid me Auf Wiedersehen. The next day, my Suzuki twin-cylinder two stroke blew up in the 250 GP heat race and I drove back to Texas—and never raced my road race bikes again.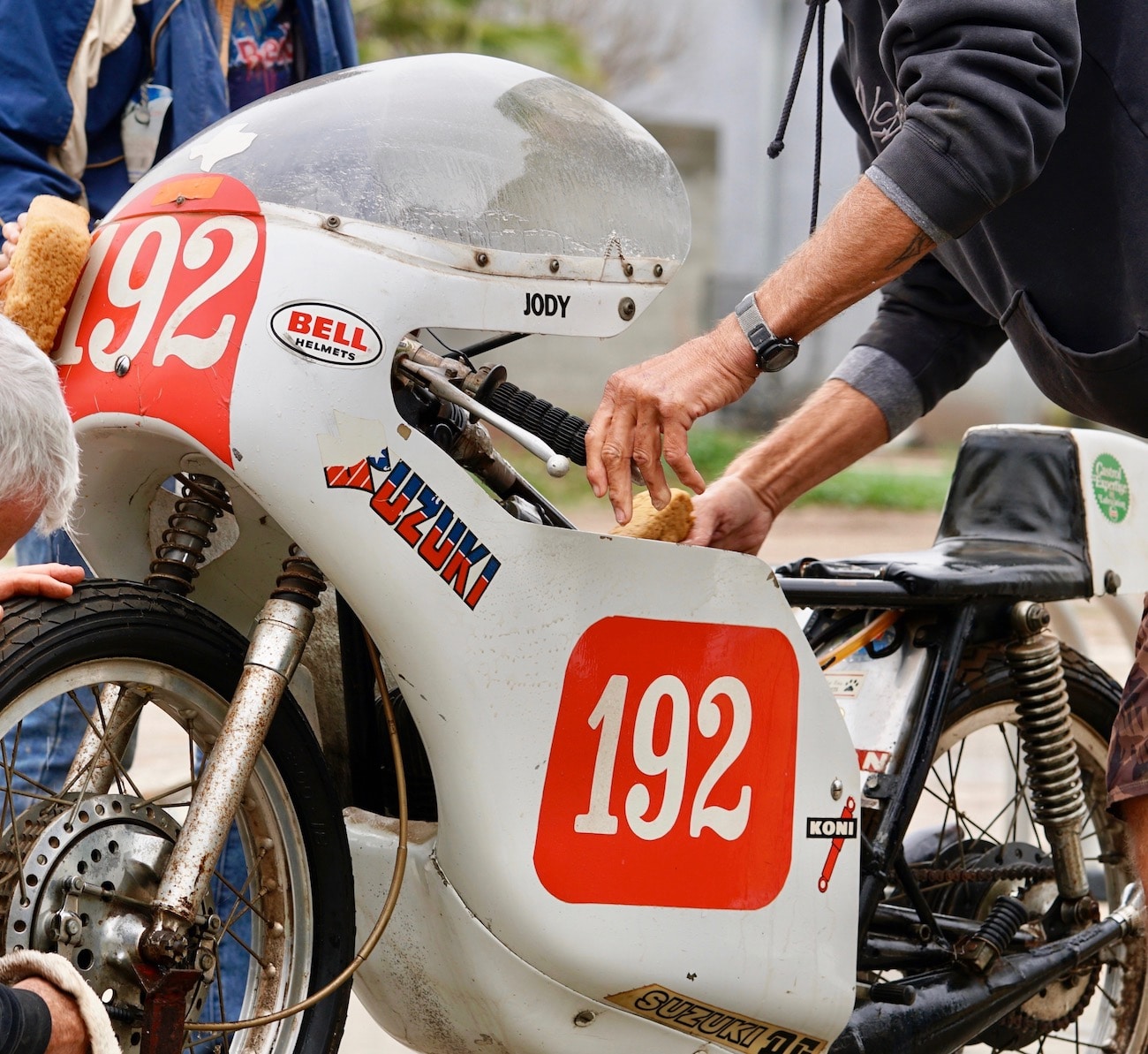 I was ready to embark on my third racing career as soon as motocross came along. I could race motocross at a different track every week, and compared to dirt track and road racing, I was fair to middlin' at it, which I always pronounced as "fair to Midland," because there was a track that I went to on occasion in the west Texas town of Midland. It's a Texas joke, folks. The rest of the joke is "Fair to Midland and halfway to Odessa." It's a lot funnier with a Texas accent.
I found my true calling. I was more than happy to become a full-time motocross racer, and I'm pretty sure that Freddy Spencer was very happy too.