THE BEST OF JODY'S BOX: HOW TO BE THE COOLEST GUY NOT IN A ROCK BAND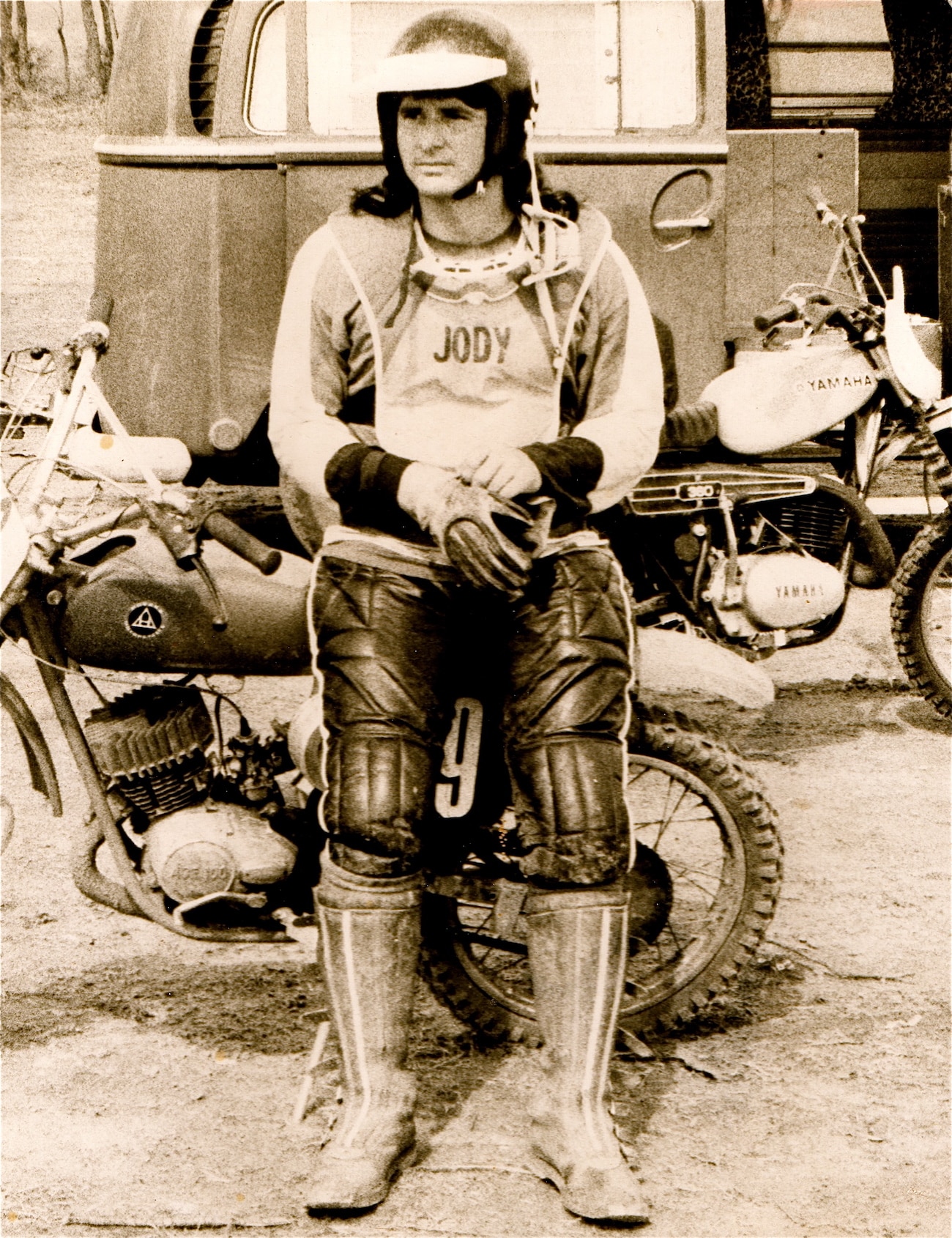 By Jody Weisel
Fashion is a strange thing — proven by the weirdness of the things that people put on, in or through their bodies. Lots of hard-core motocrossers are down on the goofy fashions of the newcomers. Not me! I have always been a fugitive from the fashion police. Here are a few examples from my past.
Real leathers: In the '70s, I wore leather pants. The rules of coolness in the age of cowhide were not simple. The basic ensemble was black pants with a white stripe down the side, but if you were a fan of the Swedish motocross heroes (or rode a Husqvarna or Monark) you wore blue pants with a yellow stripe. The "hip" pants were Hallman GP pants, but if you owned a pair of GP pants you were required to cover the knees of your expensive goat skin pants with silver duct tape. I didn't wear GP pants, I chose instead to wear a style called "Chicken Leathers." They had quilted padding which made you look like a biker version of Chairman Mao.
It's embarrassing to say that we never washed our leathers in the '70s. We just hung them up to dry. Hanging on the patio they were more effective at killing flies than one of those electric, blue light, bug zappers.
Baggy pants: I'm not one of those guys that hates the baggy freestyle look. How could I? I wore boot gators and a JT rainsuit in the early 1980s. However, I don't choose to wear baggy gear, even if it would be flattering to my figure, because I am an admirer of the traditions and history of our sport. I see baggy clothes as an offshoot of the hip-hop, skateboard, urban street scene, which is about as far removed from motorsports as you can get. Plus, I adhere to something that Steve Stackable once told me years ago, "If you can't be fast, at least look it."
This is like a time capsule of the coolest 1970s stuff: (1) Open face helmet, (2) Hallman Flip Visor, (3) white Carrera goggles, (4) Face Fender, (5) Hallman GP chest protector with your name on the front, (6) goat skin gloves with sewn-on rubber strips on the fingers, (7) quilted Chicken Leathers, (8) seven-strap Full-Bore boots, (9) leading link forks, (10) rubber flap on the front fender, (11) radial head, (12) down pipe, (13) Akront shouldered rims, (14) Preston Petty fenders and (15) a fiberglass gas tank.
Visors: The coolest visor ever made was the Hallman Flip Visor. It had a clear plastic lens on the end of it that could be flipped down to protect your goggles from roost. Most motocross racers are addicted to interactive devices. If you can take a simple product and find a way to make a piece of it move, you have a hit product. Over the years I have only wore four types of visors: Duckbill (the longer the better), Flip Visor (even after the flipper flew off), Bell Bubble visor (only because DeCoster wore one) and Troy Lee visor (from the original to the StingRay). In the process I skipped over the vented visor (it was slotted like a car grille), clear visor (it defeated the purpose), winged visor (aerodynamics require more speed than I'm capable of), Visor-Vu (you couldn't see anything out of those mirrors) and Mor-Vue (Lance Moorewood's curved visor that supposedly let you duck roost, but still see).
Boots: Years ago Jimmy Button looked at my boots and said, "Man, those boots are old school." I guess they are, but in the past I was very avant-garde in my boot choices. Like everybody who started racing in the hey-day, I wore Full Bores (the one with the three sewn-on stripes). That was pretty "Old School" even for the '70s, but then I went hog wild and switched to Heckels. The innovative blue and yellow boots were so far ahead of their time that their time still hasn't come. If they weren't brightly colored, you could have swore that the monster wore them in "Son of Frankenstein." In 1978 I returned to "Old School" boots. They were Esprit boots. My conservatism didn't last long. I quickly switched to Scott plastic boots and wore the painful, uncomfortable and unreliable red and blue boots until they went out of business. I still have a brand new pair (and the spare parts it takes to keep them running). After Scott, I went "Old School" and for the last 25 years have worn the same boot that Jimmy Button thought were uncool or cool — I couldn't tell by his tone.
Goggles: I wore Carreras (who didn't in the '70s), but switched to Scott 83 in the mid 1970s and then to Oakley. But I jumped between goggles all the time and admit to wearing Barrufaldi (the DeCoster thing again), Skyway Foam Fits, JT and Smith electric fan goggles). Nothing overtly fashion conscious in my current choice, I like EKS Brand because they fit tight, have a small air space and remind of the original Scott 83s that I wore decades ago. My only haute couture choices have been a long term committed to using clear lenses regardless of how sunny it is and putting black electrical tape (in the fashion of 1940's Indy 500 drivers) on the top and bottom of the lens to stop me from looking around. Then, just as suddenly I dropped the black tape and clear lenses to wear EKS's Brand Amber Afterburner lens in on cloudy days, bright days and foggy mornings.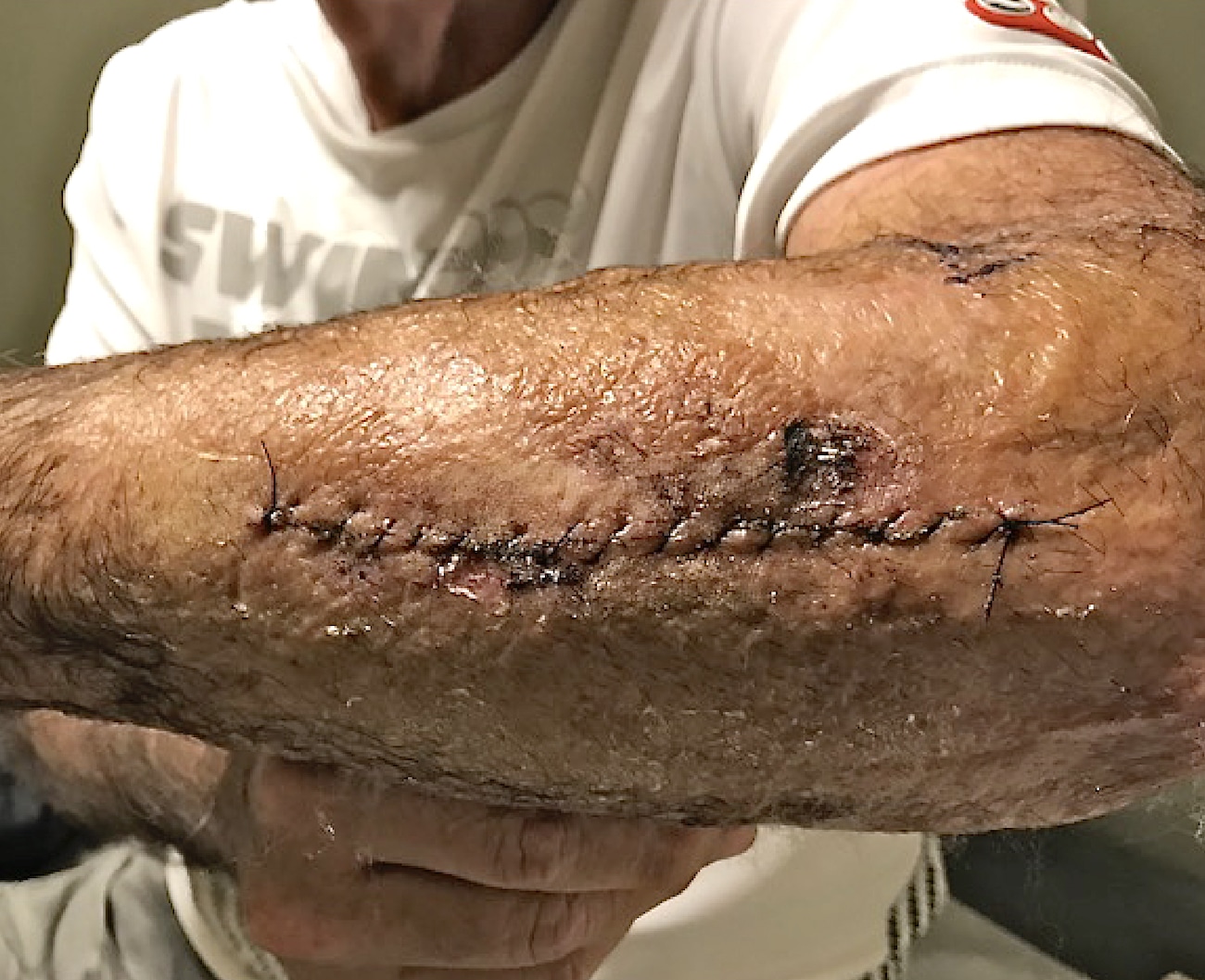 This a much better than some meaningless tribal tattoo because I did it myself.
Tattoos: The only tattoos on my body have involved Novacaine, doctors, cat gut and bandages. The best? I cut my thumb off in Jeff Hick's rear wheel — they sewed it back on leaving a pink tattoo in the shape of Indiana. I think that scars earned in moto combat are the only body piercings worth having — plus, they come as a surprise. The only other tattoo that makes any sense for a motocrosser is having your name tattooed across your back so that when the ambulance guys roll you over they don't have to asked who you are.
Things I miss: I miss JT gloves that you could have custom-printed words put on — "left" and "right" were my favorite. I miss Daytona boots (the ones with the molded rubber front that looked like a rubber baby buggy bumper). I never owned a pair, not even when I raced a Maico. I miss open-face helmets, but only because it gave room to run face fenders, goggle masks and Jofas. I miss under-the-jersey chest protectors. But I don't miss them when I hit the ground hard. I miss having "Whoop-de-Chews" written on my chest protector. I miss putting duct tape on my visor to keep the flimsy three-snap visor from flying off. I miss thin goggles straps—the wide ones cover up too much of that $1000 helmet paint job. I miss the "White Look." Dressing in one color from head to toe is inherently simpler. I miss local shop jerseys (whatever happened to local involvement in motocross?) I miss the Jofa. It was the ultimate object of MX coolness.