THE BEST OF JODY'S BOX: ICONOGRAPHY ENCOURAGES SOCIAL STRATIFICATION
BY JODY WEISEL
"Hey, Jody," asked Jimmy Mac one afternoon at Glen Helen. "Why don't you have any stickers on the back window of your truck?"
"Because iconography encourages social stratification by ascribing social values to both the stickee and the viewer," I replied.
"No," said Jimmy. "I'm not asking you to put your college degrees on the back window of your truck. I mean, motorcycle stickers."
"That's what I was talking about," I answered.
"Fine," said Jimmy. "Now, give it to me in English."
"Iconography is the use of a symbol to represent something sacred to the wearer," I replied. "For example, if I wore a St. Christopher medal around my neck and had a statue of the Virgin Mary on my dashboard, I would be signaling my values to the outside world."
"What? Are you a Catholic or something?" asked Jimmy.
"And, by making you aware of what I value, you immediately pigeonhole me into a social strata," I said.
"Oh," said Jimmy. "Don't get me wrong; some of my best friends are Catholic."
"Don't you see that a St. Christopher medal or an FMF sticker represents a hierarchical relationship in which individuals, groups and even nations rank each other?"
"WHERE DOES THE POPE GET THOSE RED PATENT LEATHER SHOES?"
HE ASKED.


"I understand perfectly, but there's one thing you could explain to me," said Jimmy.
"What is that?"
"Where does the Pope get those red patent leather shoes?" he asked.
"Jimmy," I said, "forget about the Catholic thing. It would be no different if I had a Star of David and wore a yarmulke. It is the negative effects of iconography that we're discussing."
"You don't look Jewish."
"Let's say that you were driving down Interstate 15 and saw a lowered Chevy Bel Air with dingle balls in the rear window and skinny tires. Who's driving?"

"A Chicano," he said immediately.
"The next car is a Lexus with a bumper sticker that states 'Impeach Trump.' Who's driving?"
"A Democrat," said Jimmy without hesitation.
"Okay, now as you are going down the highway, you come up on a beat-up Ford Ranger with a 'Seth Lives' sticker in the window. Who's driving?"
"One of those guys with black plastic on his YZ250, the decals on sideways and a tattoo in Chinese on his arm."
"The next truck on the road has CZ and Maico stickers in the window. Who's driving?" I asked again.
"Some vintage guy who isn't old enough to have owned a real CZ and isn't brave enough to race a modern bike," replied Jimmy.
"YOU SHOULD NOT BE SO JUDGMENTAL ABOUT PEOPLE IN YOUR OWN SUBCULTURE. AS MOTORCYCLE RACERS, WE SHARE
MORE TRAITS IN COMMON THAN WE DIFFER ON."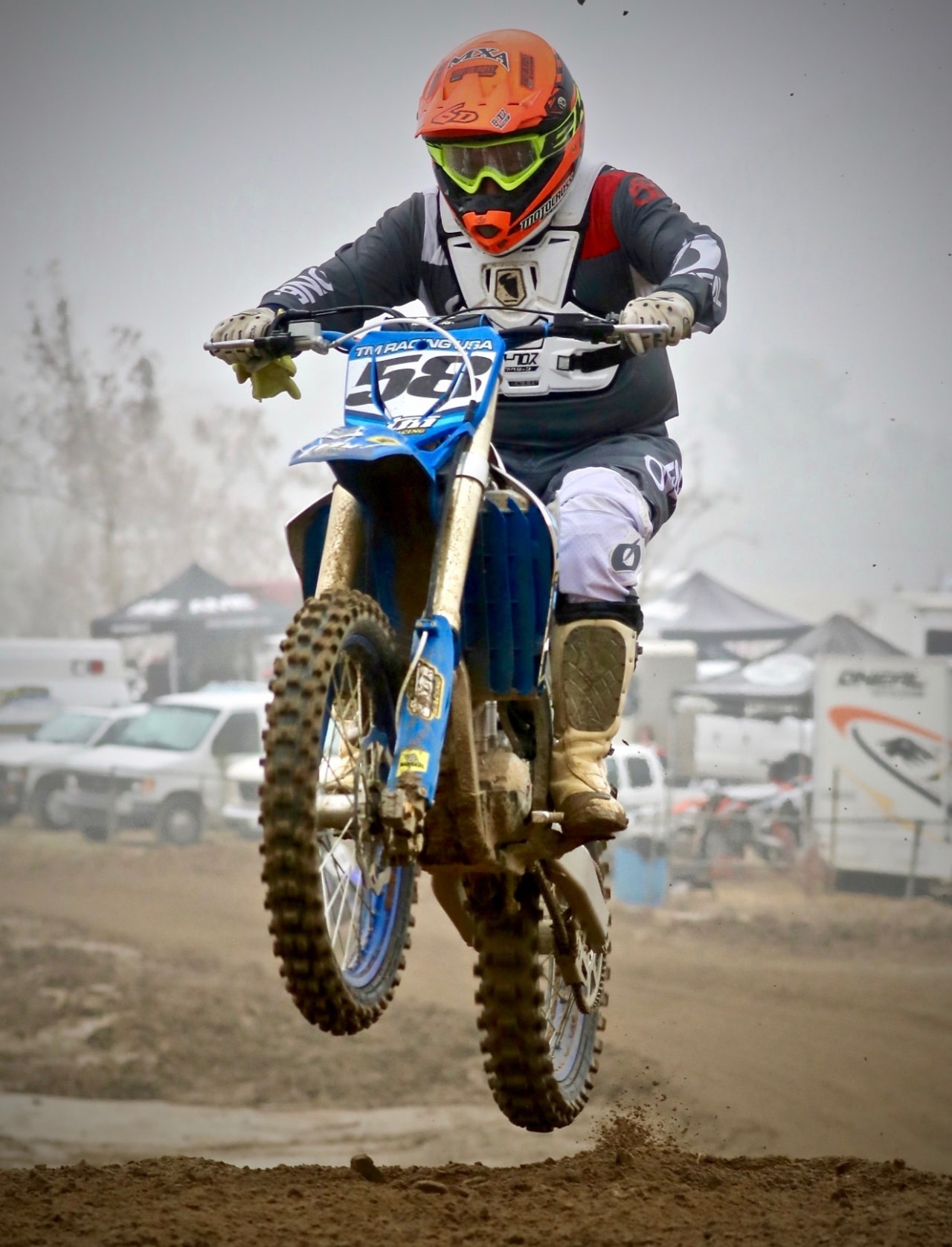 "The next truck is a brand-new Ford F-150 with 22-inch wheels, a giant Oakley sticker that is just the 'O,' and small decal behind the driver's seat with his personal number on it. Who's driving?"
"Some yuppie swine with more money than he knows what to do with," stated Jimmy.
"In the window of the next truck you spot Wiseco, Hot Cams and Cometic stickers. Who's driving?"
"A poor sap who just blew his bike up the week before and got the stickers out of the parts boxes he used to rebuild his engine," said Jimmy with rare insight.
It was predictable that Jimmy could artfully categorize people into closely defined niches, bordering on a caste system, based solely on the icons they displayed in the windows of their trucks. Jimmy proved that even in the communal society of motocross, we can't stop judging each other by the symbols we use.
"Jimmy," I said earnestly. "You should not be so judgmental about people in your own subculture. As motorcycle racers, we share more traits in common than we differ on. It's logical that as a group grows larger, it will break up into subgroups and different statuses will be assigned, but there aren't enough motocrossers in the world for us to encourage more stratification."
"I understand perfectly, but there's one thing you could explain to me," said Jimmy.
"What is that?" I asked.
"Why don't you have any stickers in the back window of your truck?"