THE BEST OF JODY'S BOX: THE EFFECTS OF SELECTIVE MEMORY ON A RACER'S EGO
I have an amazing memory. I can reel off World War I aces and their number of kills like a Barrett-Jackson auctioneer rattles of mega dollars for a Talbot-Lago. Just ask me about Charles Nungesser or "The Arizona Balloon Buster" Frank Luke. And I know the names of surfing champions as far back as Duke Kahanamoku and Tom Blake. And don't get me started on motocross stars of the 1960s and 1970s.
What I can't remember is what happened in any of the races I've been in. I don't remember races I've won. I don't remember races I've lost. I don't remember races I got hurt in. I don't remember races I rode in Sweden, Austria or Germany. I don't remember my first race. I don't remember my last race and I don't remember the last moto I was in yesterday.
I would chalk it up to early onset Alzheimer's disease, but that doesn't account for the fact that I remember the formula for weights and balances from my pilot training years ago, the formula to convert Centigrade into Fahrenheit from my European days and the formula to turn a 308 lb/inch spring into 5.5 kg/mm spring and a kg/mm spring into N/mm (even though spring rates haven't been measured in pounds in 30 years). If you name an old movie from the 1940s I can tell you who was in the cast, who directed the movie and the plot line.
SOMETIMES I'LL BE SITTING IN A LAWN CHAIR AFTER A MOTO AND A GUY WILL WALK UP AND SAY TO ME, "MAN, WE HAD A GREAT BATTLE IN THE FIRST MOTO." TO WHICH I REPLY, "ARE YOU SURE IT WAS ME?"
What I can't tell you is what happened on the race track. Sometimes I'll be sitting in a lawn chair after a moto and a guy will walk up and say to me, "Man, we had a great battle in the first moto. We passed each other back and forth a couple times. I thought we were going to go down when we crossed handlebars in the sand."
To which I reply, "Are you sure it was me? I was number 192 on a Kawasaki."
"Yeah," he said, "It was you and it was great. I'll see you in the second moto."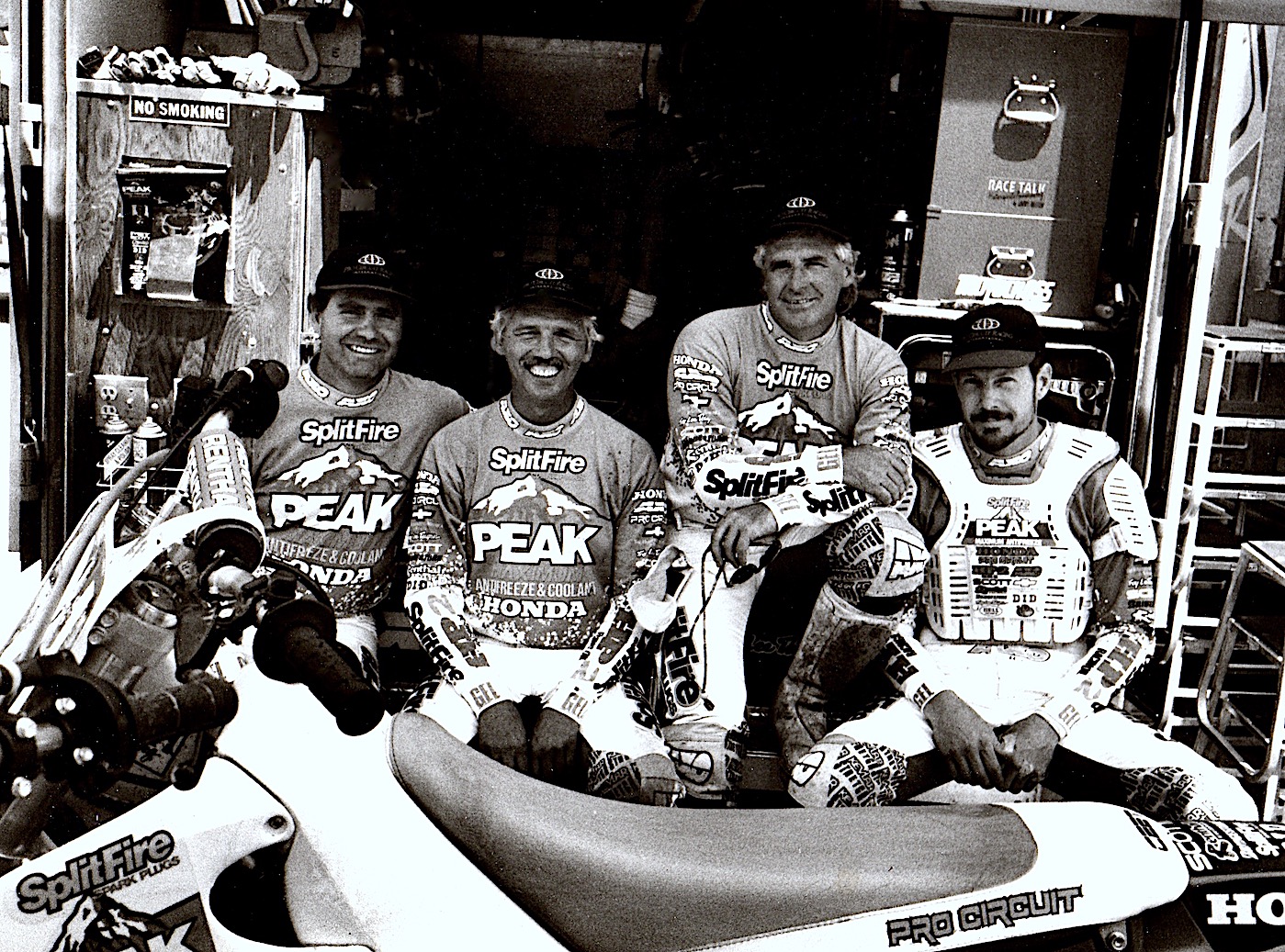 The Team Peak Honda Vet team in 1992. Gary Jones (left), Alan Olson, Jody Weisel and Geoge Kohler. I wish I remembered how I did.
Unlike lots of old racers, I don't have any racing tales to bore people with. A couple years ago Tony DiStefano, Gary Jones and I were sitting in my living room when Gary started telling us how he won the $100,000 Evel Knievel Snake River Canyon race in 1974 race. He embellished the story with a tale about how he drove to the bank early the next morning in case Evel bounced the check.
It was a great story, but it wasn't true. Tony and I laughed like hyenas as Gary insisted that it was, but we assured him that Pierre Karsmakers won the 500 class, Marty Tripes the 250 class and Marty Smith the 125 class. Gary looked at us like we were crazy until we found an old magazine and showed him the results. "Oh, that must have been some other race that I won," he said without missing a beat.
Maybe if I had won more races during my career, I'd have some memorable victory to mistake for some equally memorable victory. I have raced approximately 3000 races since I started my career in 1968. My victory total is less than one percent, but you could tell me it was 67 percent because I don't remember any of my glorious wins.
After the second moto last week, some guy came over to my pit and started yelling at me. His wife was also screaming at me and if I'm not mistaken the three-year-old baby in her arms may have uttered a few four letters words in my direction. It seems that I had knocked him down and cost him the win, but if his memory was as bad as mine maybe I cost him seventh place. Either way, as he and the brood stomped off he yelled back at me, "Don't ever do that again or you'll be sorry."
I should have replied that I was sorry. That would have been the gentlemanly thing to do, but instead I asked, "Do what?"