THE BEST OF JODY'S BOX: THE FINE ART OF BEING STUPID
By Jody Weisel
When my mother passed away, I was heartbroken and forbade Lovely Louella to mention it to me. Louella made the flight, hotel, rentacar, flower and funeral arrangements for me—without ever saying what they were for. Louella also made sure that her mother and brother didn't say a word about it to me in the days after my mom's death. She hid all of the condolence cards that came in the mail. As for my part, I told no one—friend or enemy. I was coping with the loss by acting like a baby—but coping was my goal.
I wanted to avoid the pain of such a tremendous loss by pretending that it didn't happen. I was in distress and Louella did everything in her power to assuage my feelings. She was an angel and willingly took on the burden that I had abdicated. On the weekend of my mother's funeral, I raced in SoCal on Saturday, drove straight to the airport and caught a red eye to the funeral in Pennsylvania. That was stupid.
I can justify it after the fact because there were no flight delays, everything went off like clockwork and the service was beautiful. Yet, it could have gone all wrong, and my mother, who often came to watch me race, deserved much more than my weird psychological mumbo-jumbo. I should not have raced—I should have given my all to being as strong for my family as Louella was for my tender psyche. In retrospect, I feel embarrassed by my selfishness.
I'VE ALWAYS BEEN STUPID AND SELFISH—AND PROBABLY ALWAYS WILL BE. I DIDN'T ALWAYS THINK I WAS SUCH A NINCOMPOOP, BUT A QUICK GLANCE BACK THROUGH TIME HAS CONVINCED ME OF THE SURETY OF IT.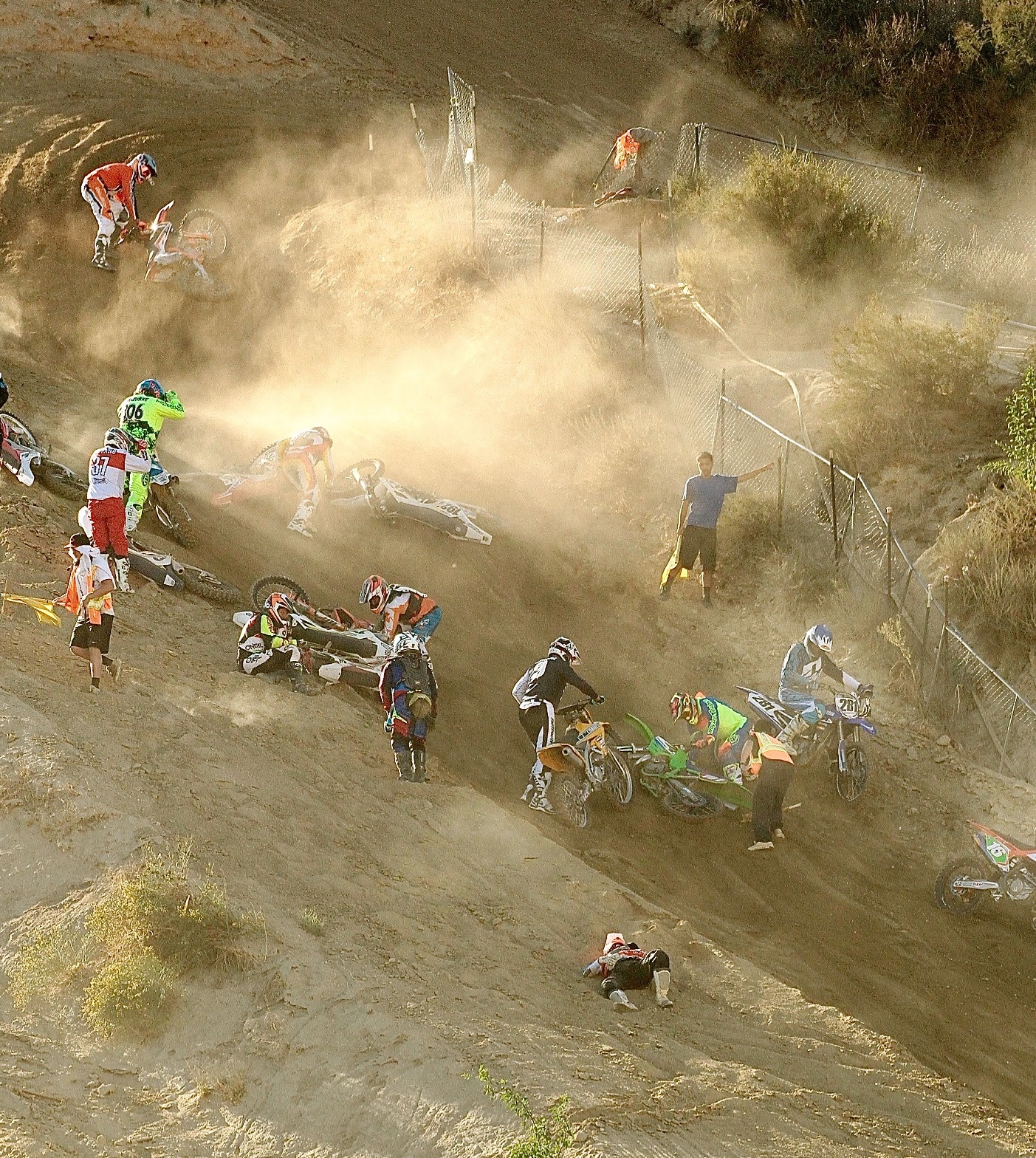 "I caused this 16-bike crash at the top of Mount Saint Helen, so its fitting that I was the only one hurt. That's me in the bottom of the photo resting before walking down the hill with a broken arm."
But, I've always been stupid and selfish—and probably always will be. I didn't always think I was such a nincompoop, but a quick glance back through time has convinced me of the surety of it. I used to believe that my acts of stupidity were acts of bravery. However, I've come to believe that I have been wrong for most of my life.
I'm famously stupid. When I mangled my right thumb in the rear wheel of Jeff Hicks' Honda CR250, I told the doctor in the emergency room to cut it off because I wanted to race the next weekend. He ignored my medical advice, and 164 stitches later he had repaired my thumb well enough that I was able saw the cast off three weeks later and race again. That was stupid— because I spent the next two years in utter pain after every race (and to this day my thumb does not bend).
I'm not so stupid as to avoid going to my doctor—I just don't listen to his advice. When I crushed a vertebrae in my lower back in a stupid crash at Carlsbad, my doctor, the sports medicine doctor of the rich and famous, asked me what I wanted to do. I said, "I want to race the Mexican Supercross Championships this weekend in La Paz."
He said, "I can make that possible, but it will extend the healing time." So, he shot me full of cortisone and xylocaine and I went to Mexico. My back still hurts 35 years later.
When I tore my medial collateral ligament, I asked trainer Jeff Spencer to fix me up so I could race. He showed me how to tape it and advised me not to put my foot down in the corners. Jeff said, "It will heal in six months without surgery, if you don't twist it again, but it will hurt so much that I doubt you will be able to race. I'm betting that you'll be back to see me again on Monday to have the surgery."
He might as well have waved a red flag in front of a bull. I raced in pain so intense that I wanted to cry—not the Mike Alessi type of crying, but manly sobbing in the back of the truck when no one was around. But, I never went back for the surgery—nor ran, played tennis or jumped off a curb ever again.
When I had my wisdom teeth pulled, I had to have oral surgery and stitches. I asked the surgeon if it would be okay if I rode my motorcycle over the weekend.
He said, "Sure, I don't see how that could hurt anything."
When I came in on Monday with all of the stitches torn out," he said. "What did you do?"
I said, "I raced my motorcycle like you said I could."
He replied, "I thought you had a Harley-Davidson."
I would love to take the time to apologize to all the people I've inconvenienced with my stupidity over the years, but right now I feel a fever coming on. I need to load my bike up and head out to Glen Helen to try to blow it out before it gets worse.