MARK BLACKWELL: THE FIRST AMERICAN COWBOY REALLY WAS THE FIRST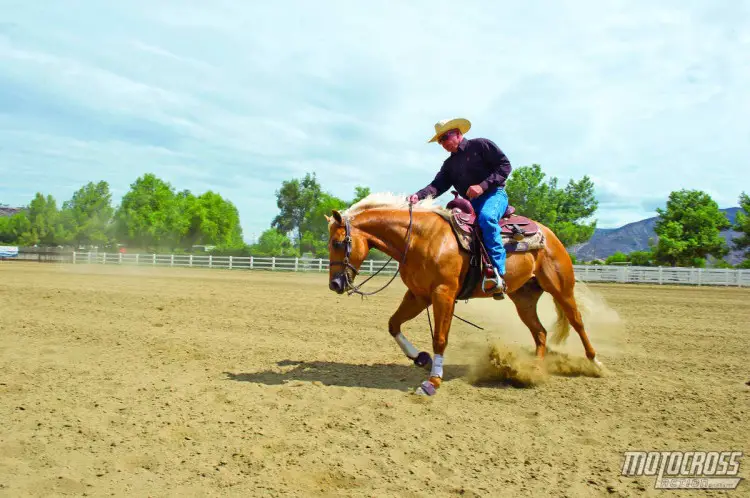 By Jean Turner
Before Americans dominated the sport of motocross in terms of talent, prestige and money, American riders on the Grand Prix circuit were second-class citizens. But one lone American cowboy decided to do something about it. Mark Blackwell was that man! But, he was so much more.
Few motocross racers can lay claim to a successful Pro career on both sides of the industry. Mark Blackwell was not just the first AMA 500 National Champion, but also the only professional motocross racer to work his way from the dirt tracks to the office of president of a major motorcycle company.
Mark's journey began with a tragedy, but Blackwell called it a "new beginning." Being forced off the bike proved to be the start of an even more fulfilling career for the man who left his mark in both the record books and the sales charts. MXA sat down with Mark at his sprawling California horse ranch to discuss the past, the present and the future.
Mark Blackwell has replaced racing motorcycles with riding horses.
TELL US HOW YOU GOT YOUR START?
In those early days, I would read everything I could get my hands on about motocross. And even before motocross actually arrived in America, I became really enchanted with what was going on in Europe. Around 1966, Edison Dye brought the first European riders over here to race. I used to ride my bicycle to Redondo Beach, which was where the closest Husqvarna dealer was, and look in the window at the bikes. I remember just drooling and dreaming that maybe someday I could have a bike like that, but then I saw the price tag—it was $1000. As a young kid, it might as well have been a million dollars. It was like, "I'll never have a thousand dollars."
WHO WAS THE FIRST REAL MOTOCROSS RACER YOU EVER SAW?
The first European rider I ever saw was Torsten Hallman at Saddleback Park on July 4, 1967. I'll never forget it as long as I live. I watched his every move. When the race started, Torsten got the lead and disappeared around the back of the track. When he came back into sight, it looked like he was in slow motion. He came over a big jump and he was floating. Then, 30 seconds later, the next rider came by. It was Preston Petty, who was one of the best American racers, and he looked like he was going 1000 miles an hour. He was on the ragged edge of disaster, trying as hard as he could to keep up with Torsten, and it was only the first lap. The idea that you could go fast and be smooth at the same time was very powerful.
BUT IT WASN'T LONG BEFORE YOU WERE RACING AGAINST TORSTEN HALLMAN. WHAT WAS THAT LIKE?
When I first saw Torsten ride, I was a young pup still riding around in the oil fields of El Segundo. I had just started racing TT and flat track, but I wanted to race motocross. Torsten Hallman, Joel Robert and Roger DeCoster were like gods to me. Pretty soon I was identified as one of the up-and-comers on a CZ. Motocross Action's Dick Miller introduced me to Husqvarna importer Edison Dye, and I switched to Husqvarna. In 1970, Edison Dye sent me to Sweden to learn about the sport of motocross from the European point of view. He told me, "I want you to bring that knowledge back and share it with the other riders."
HOW OLD WERE YOU?
I was 16 at the time. After I came home from Sweden, Edison Dye called and said, "I want you to go back to Sweden and be on the American Motocross des Nations team." I only had two days' notice. I had just turned 17 and I was headed to the MXDN. We didn't have a clue about what we were doing and did awful. We all crashed. It was really muddy, and we were sliding down the hills. Literally, they were going up the hills and we were sliding down them.
WHO WAS ON THAT TEAM WITH YOU?
Bob Grossi and a gentleman from Michigan named Dick Robbins. His family owned a Husqvarna dealership. The 1970 MXDN thing came together so quickly that Edison was desperate to find a third rider, and Dick Robbins volunteered to go.
YOU WERE THE FIRST AMERICAN RIDER TO SEE THE VALUE OF UNDERSTANDING ALL THE ASPECTS OF THE SPORT.
I was very fortunate. First off, the people at the Husqvarna factory—like Bror Jauren, a high-level manager, and Ruben Helmin, the head of engineering—took me under their wings. They assigned me to certain mechanics and engineers and said, "Work with these guys; you'll learn from them." I also was welcomed into a club called the Eksjo moto club. I spent a lot of time in the factory working on bikes, learning from the engineers and touring the factory. I spent the rest of the time hanging out with the club guys and racing that summer in Sweden.

DID THE SWEDISH RIDERS TEACH YOU A LOT OF TRICKS?
At first I just did what they did and tried to emulate them, but I also showed them some things. I had developed a riding style that focused on squaring the corners. Billy Grossi and I would go into a corner and square it. We'd get really good traction and shoot out of the corner. The European riders said, "Where did that come from?" They were all about being smooth and flowing.
YOUR SWEDISH EXPERIENCE QUICKLY MADE YOU ONE OF THE TOP AMERICAN RACERS.
I felt like I was reaching my prime in the USA, but in Europe I still had a long way to go. When I raced in the GPs, all I wanted to do was get one Grand Prix point. At the last race of the 1972 season in Luxembourg, I got a really good start. I was in the top 10. Midway through the first lap, I had used all of my tear-offs in the mud, and as I came over the top of a hill, I got hit in the eye by a rock. It hit me so hard I thought it was a bullet. The crowd control was done by the military, and they all had rifles. I thought, not that someone had shot me on purpose, but that one of the guns had gone off accidentally or something like that.
After a year of work, I was finally running in the top 10, and on my way to earning a GP point and I had to drop out.
DID YOU KNOW HOW BAD THE INJURY WAS?
I made it back to Sweden before it dawned on me. My eye had been bleeding internally, and the pressure was building up because there was nowhere for the blood to go. I was lying in my hotel room screaming in pain. American journalist Terry Pratt rushed me to the hospital. I was in the hospital for about two weeks, and when I came home I could only see out of one eye.
BUT YOU KEPT RACING?
I raced the 1972 Trans-AMA series, but I couldn't see well and I struggled. I had no depth perception, but I didn't realize what was happening. I started making mistakes and crashing. I was never a big crasher, but I started hitting stuff and losing my confidence. Finally, after trying to overcome the injury, I realized that maybe it was time to move into something else. I hung up my boots in 1975.
YET YOU BELIEVE THAT YOU WERE LUCKY?
Yes, I do. I got lucky because, to be honest, I was very interested in other things. I wanted to go back to school. I wanted to learn about engineering. Torsten Hallman had a huge influence on my life in many different ways. I found out he was an engineer and I found out Gunnar Lindstrom was an engineer, and that made me immediately start thinking about how I wanted to be more than just a motorcycle racer from Southern California. Those guys inspired me, particularly Torsten, because he won four World Championships, and my understanding is he would have won a fifth but he skipped the last few GPs to finish his engineering degree. Torsten went on to start Torsten Hallman Offroad Racing, which today is known as THOR. He was also the Yamaha importer for Sweden. I found that really inspirational.
DID YOU GO BACK TO SCHOOL?
I did go to school. I started seeing the marketing side and the business side of the sport. Figuring out price points, gross margins and production volumes became very interesting to me. I gradually transitioned from racing to product development to race-team management to product management and ultimately to running a motorcycle company.
I was able to move up from running the Suzuki School of Motocross to running Team Suzuki. While I was there, we won six championships. You might think that being the Suzuki team manager was being on top of the world, but I felt that the longer I stayed there, the more I was going to be branded as a race guy. If I stayed at Suzuki, I knew I would never get out of the race shop.
So, I quit and took a job at Husqvarna. It was my first big move to the front of the business. I'd been a racer, a test rider and a team manager, but I call those jobs the "back of the business." I wanted to move closer to the "front of the business"—the sales, accounting and marketing departments.
AND HUSQVARNA GAVE YOU THAT OPPORTUNITY?
To be honest, Husqvarna was struggling at this point because the Japanese had taken over and pushed the Europeans back. That was the position Husqvarna was in when I went there, but it was a fun time—very challenging, but I learned a tremendous amount. At that time Husqvarna was owned by a Swedish conglomerate called Electrolux, so there was a lot of opportunity to learn about how companies were run.
BUT YOU LEFT HUSQVARNA AND RETURNED TO SUZUKI IN A MANAGEMENT POSITION THIS TIME.
I felt an attachment to Husky because I won Daytona on a Husky. I taught the motocross schools with Rolf Tibblin, and there was loyalty that I felt even when I went back to Suzuki.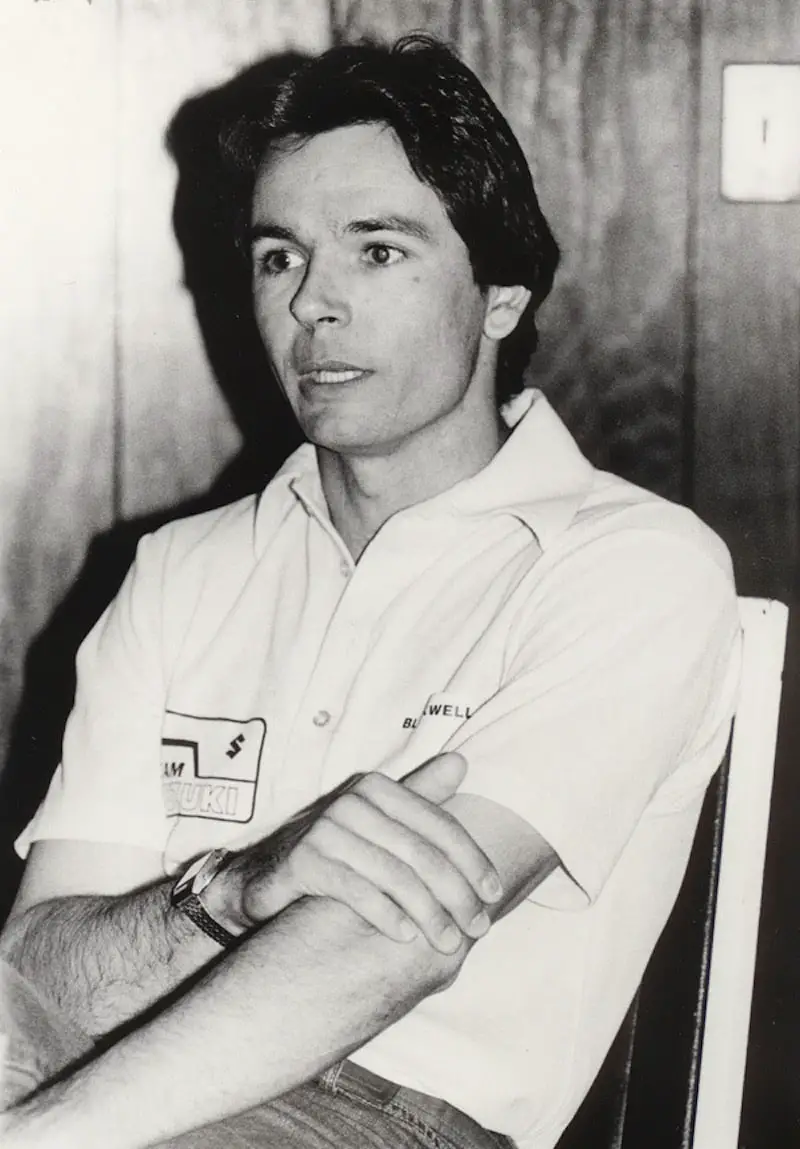 After hanging up his boots, Mark worked at the Husqvarna and Suzuki Schools of Motocross and eventually became Suzuki's team manager.
HOW DID THE SUZUKI JOB COME ABOUT?
Electrolux's goal was to get the motorcycle business profitable so they could sell it. And because we were hitting Electrolux's targets of profitability, they had the opportunity to sell the business to Cagiva. Electrolux wanted to use the Husqvarna motorcycle plant to make riding lawnmowers.
The chairman of the board said, "You've got three days to put a pitch together. These guys want to buy the business. Do your best job." It was kind of sad. I was literally sitting at my desk the day after the presentation when I got a call to meet with the president of Suzuki. It was very sad, but I knew I had to move on. It was time to go.