THE FOOLISHNESS OF MEN OF A CERTAIN AGE
"Hey, I think I see my dentist on the red bike."
HOW MUCH LONGER CAN THE SPORT OF MOTOCROSS GO ON WITHOUT NEW BLOOD? THE ANSWER? AS LONG AS THERE ARE OLD CODGERS WITH MONEY TO SPEND ON THE SPORT OF THEIR YOUTH.
BY JODY WEISEL
In a parallel universe, I would be a gray-haired college professor teaching gerontology to a bunch of students more interested in doing Jagerbombs than learning the importance of chi square in a scientific survey. I'd probably be wearing a cardigan, peering over reading glasses and attending staff mixers at the University of Texas. One thing for sure, in that alternative reality, I wouldn't be taking any chances (save for flirting with the occasional young coed). That is life for men of my era, age, education and mindset. It was the life I was prepared for.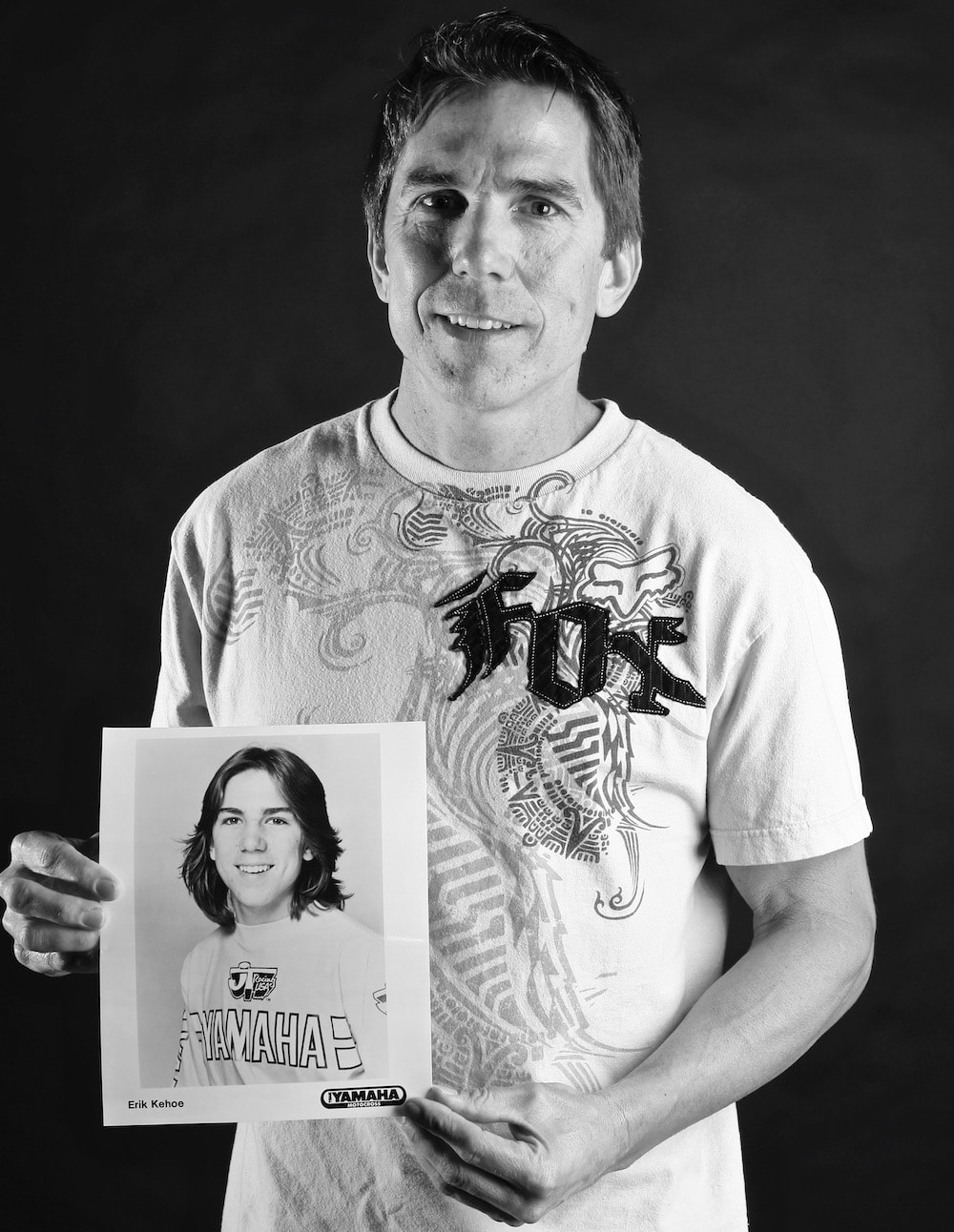 1996 World Vet Champion Erik Kehoe holding a photo of someone you might recognize as the 1979-1980 NMA Race of Champions winner.
To me and my colleagues in the academic wonderland, the riskiest thing I would do was fail to publish an updated version of my seminal work on the "Local/Cosmopolitan Orientation Of Aged Blacks And Whites." It would be a staid life made all the more secure by tenure and Social Security. When it comes to taking chances, the biggest risks people of my potential ilk take is to play poker, parasail at Sandals or take the Atlantis Submarine ride at Waikiki.
So here I am, barreling down a long, fast, steep and bumpy downhill on a 58-horsepower motorcycle chasing a bunch of men of a certain age. They could be dentists, insurance agents, car dealers or plumbers—but to me they are arch-rivals; enemies; competitors; and soon to be the honored dead (if only I can catch up to them).
In the parallel universe, we'd be sharing cocktails at the country club between a round of high-handicap golf—instead we are racing motorcycles at the highest level possible and at the oldest age imaginable.
THRILL WISE, WE ARE GETTING MORE THAN ENOUGH OF AN ADRENALINE RUSH TO POWER 100 DEFIBRILLATORS (WHICH THE GUY WE JUST
PASSED ON THE UPHILL LOOKS LIKE HE WAS GOING TO NEED
AFTER THE MOTO WAS OVER).
When Ty Davis turned 50 the first thing he did after blowing out the candles was to go  to the 2019 World Vet Championship.
How did it come to this? For me it was a simple transition from future somber college professor to maniac motocrosser—I got paid to do it. And, there was a point where the money from racing motorcycles was greater than what North Texas State University was willing to pay me to teach Social Research Methods 101. So, I know why I'm still racing motocross when men of my age are busy groaning every time they get up off the couch. I'm a mercenary (a hired gun), but what is that 67-year-old Volvo dealer doing next to me? We are locked in combat with little to gain and a lot to lose.
Talent wise, Vet motocross racers are to Ken Roczen what the Mexican Air Force is the Blue Angels. But thrill wise, we are getting more than enough of an adrenaline rush to power 100 defibrillators (which the guy we just passed on the uphill looks like he was going to need after the moto was over).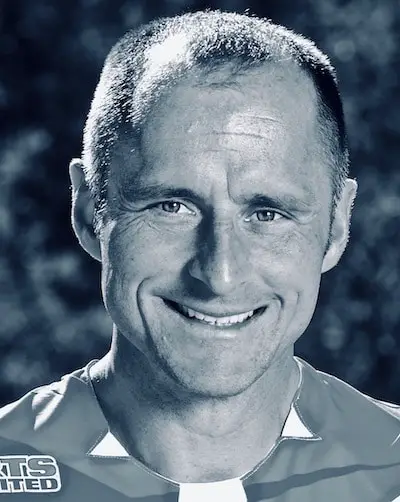 Mike Brown was the 2001 AMA 125 National Champion, but he is also a two-time Over-40 World Vet Champion (2017-2019).

Andy Jefferson made history by being the first black racer to make a Supercross main. He also won the Over-40 World Championship in 2002 and is still racing 18 years later.
Old guys going fast…that may sound good, but it isn't exactly true. Perhaps, old guys going too fast is more accurate. We, and by that I mean every motocross racer over the age of 30, are the saving grace of American motocross. Think of it this way, in a motorcycle market where bike sales have gone down almost every year since the baby boomers turned 21—how much longer can the sport of motocross go on without new blood. The answer? As long as there are old codgers with money to spend on the sport of their youth. With $9500 motocross bikes, $130 tires and $600 helmets this isn't a sport for the young at heart (and weak of pocketbook). Nope, you gotta be old to afford to race motorcycles, or cars, or airplanes, or offshore boats or just about anything short of strollers. The best thing about motocross is that it is cheapest Grand Prix-level sport in the world. For $10,000 men of a certain age can race on the same equipment as the high-paid stars of the sport and on the exact same courses. You couldn't buy the tires for one pit stop in NASCAR for what it cost to do a full season of motocross.
MEN OF A CERTAIN AGE ARE VIRTUALLY POWERLESS IN OUR
YOUTH-OBSESSED CULTURE. TIME IS NO LONGER A FRIEND
AS MUCH AS ENEMY IN A SOCIETY THAT
FAVORS ABS OVER EXPERIENCE.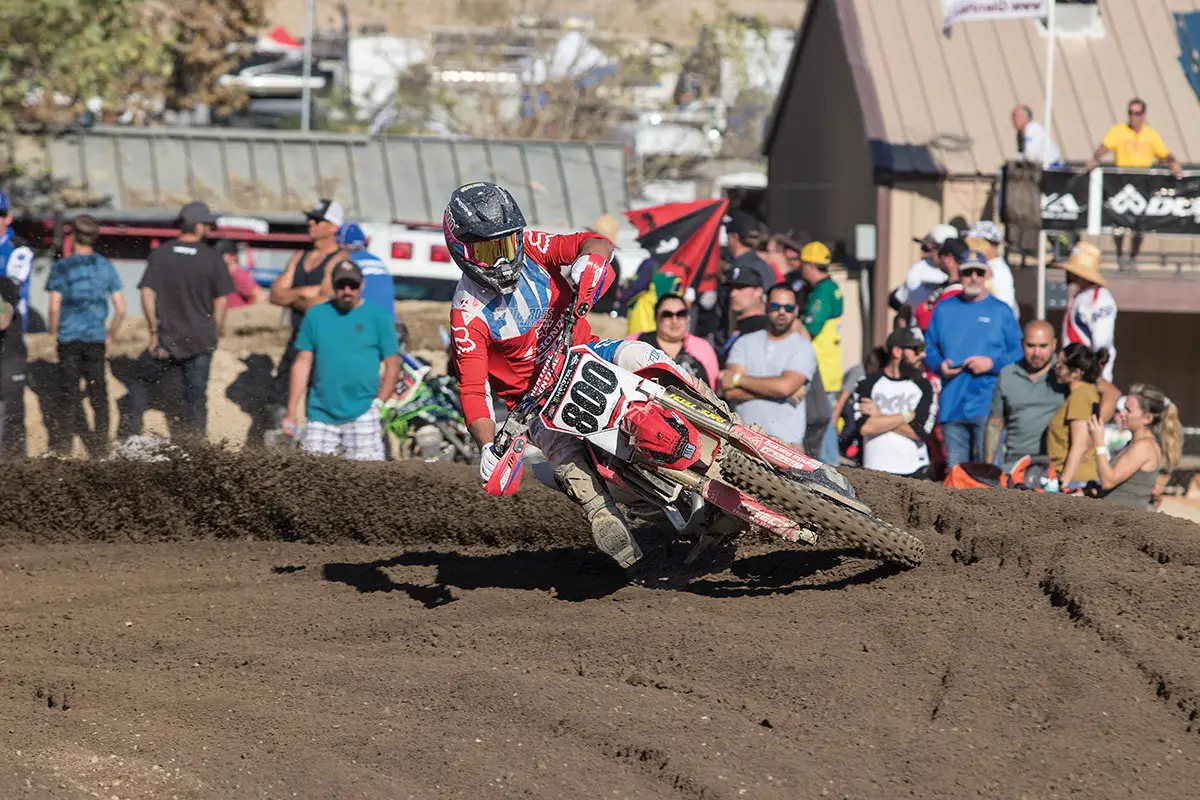 Mike Alessi (800) took the prestigious Over-30 World Vet Championship in 2019.

Men of a certain age are virtually powerless in our youth-obsessed culture. Time is no longer a friend as much as enemy. The psychological factors of growing old in a society that favors abs over experience can only lead to what is euphemistically called a "mid-life crisis." There comes a time when knowing how to fix a washing machine means little in a consumer society where they just thrown broken things away and buy new ones. You know when you buy something that has electronic controls that there is no way you can ever fix it—that is something that your grand dad or father never had to consider. Things were never truly obsolete back in the good old days—now, not only are things obsolete but so are men of a certain age. They have skills, but no place to use them.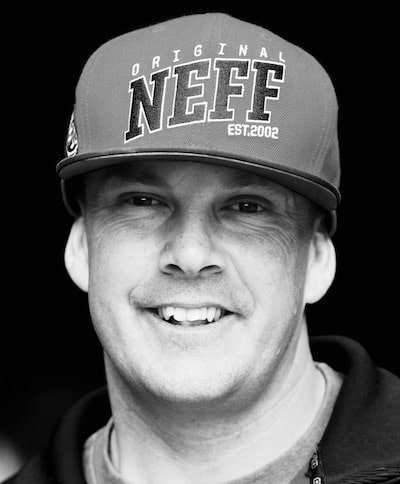 MXA's Dennis Stapleton is proud to have made the top ten in the Over-30 Pro class 6 times.

Ryan Hughes won the Over-30 World Vet Championship five times—those trophies sit on his mantel next to his 2000 Motocross des Nations award.
For most of the men racing in the Vet class there is always a moment when they think back to 30 years ago when they were 18-years-old and had scraped up enough money to buy a used RM125 two-stroke. They fondly remember the joy of working on it, jetting it, changing the fork oil and racing it with the reckless abandon that is normally only reserve for a night on the town with Charlie Sheen. They remembered how their mother felt when she found out that they were racing motorcycles. She cried. Somehow, when she cried they knew that they were on to something really fun. I think Sigmund Freud wrote that anything that makes your mother cry is worth doing.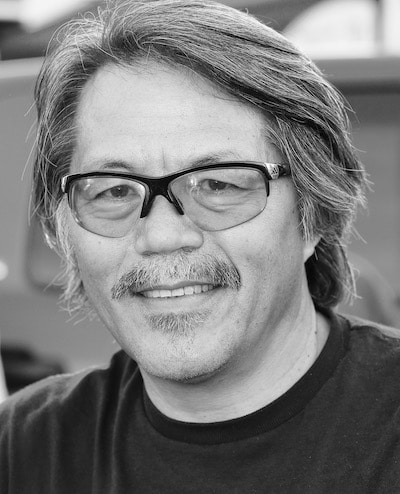 Chuck Sun won the AMA 4500 National Championship in 1980, the 1981 USGP and 1981 Motocross des Nations, but the World Vet Championship has escaped him.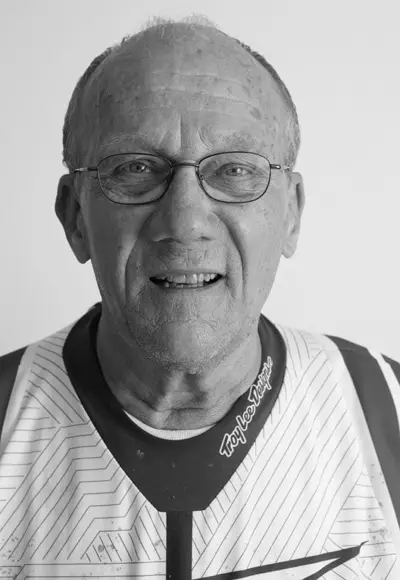 Lars Larsson is 78 years young. Lars was the first European rider to move to America to race when Edison Dye brought him over to demonstrate the new Husqvarnas. He is the only racer to have ridden for three different nations at the ISDT and he won the 2001 Over-60 World Vet Championship and backed it up with the 2011-2012 Over-70 World Championships.
Maybe it's just me, but I think it's a shame to waste young lives in the meaningless pursuit of motocross stardom—because when young people achieve something they don't know enough about life to appreciate it. To me it is much cooler to waste old lives in the pursuit of motocross stardom…at least the Vet motocross version of it. There is nothing like the head rush that a 54-year-old, dressed a cosmic yellow nylon, gets from stuffing a chiropractor from Atlanta at speeds approaching 13 mph.
Motocross racing is lost on the young. There is nothing sadder than some 12-year-old minicycle racer showing up at the races with a bevy of bikes, a 54-foot motor coach and a middle-aged dad sweating in the sun. For this picture to come into proper focus, Junior needs to be sitting in the motor home playing "Fortnite" for the tenth straight hour, while dad gets dressed for his moto. If Junior wants to race, he can get a paper route and pay for it himself.
THERE ARE THOSE WHO SAY THAT MOTORCYCLE RACING IS TOO DANGEROUS FOR MEN OF A CERTAIN AGE. WHAT ARE THE DANGERS LEFT
FOR A 63-YEAR-OLD?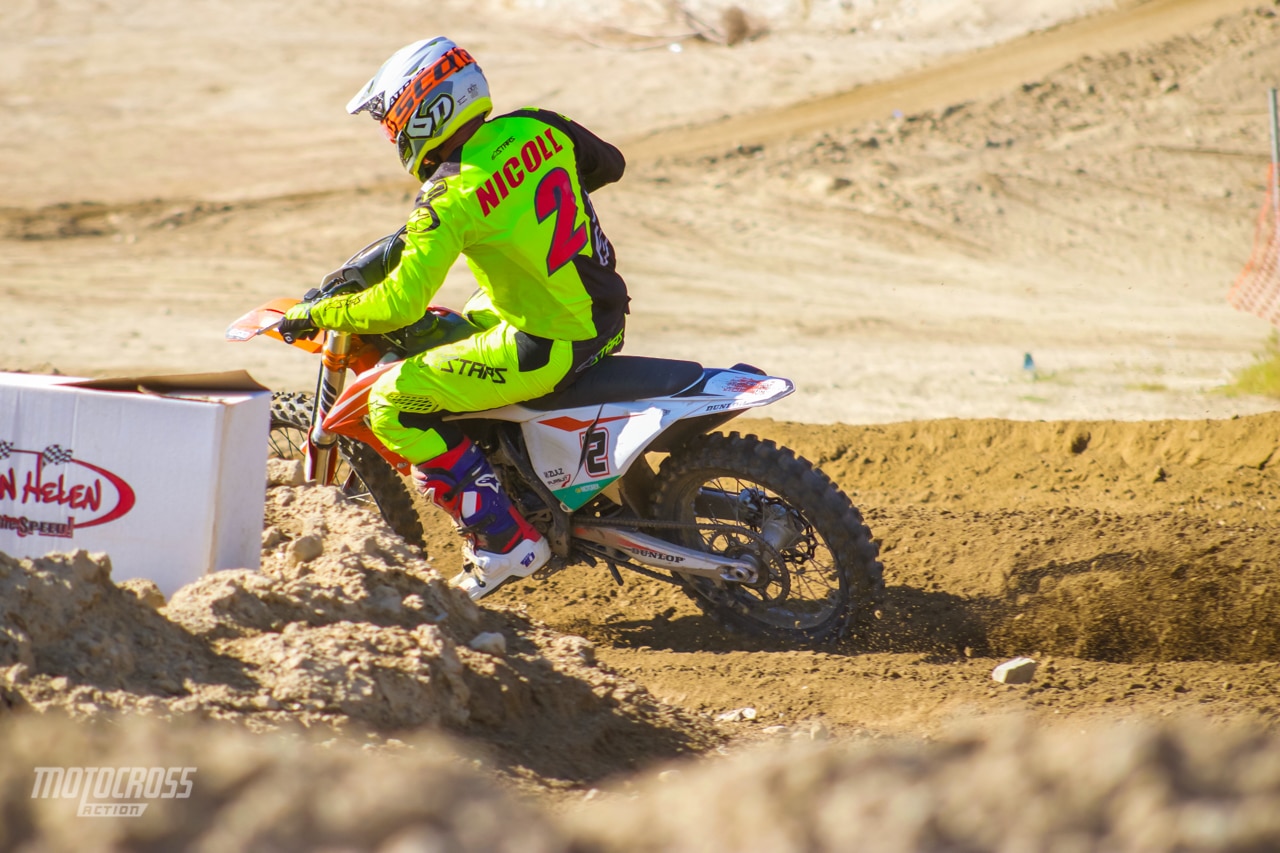 Kurt Nicoll finished second in the FIM 500 World Championships four times and he thought that was going to be his fate at the World Vet Championship until he won the Over-40 title in 2015 and the Over-50 crowns in 2016, 2018 and 2019.
There are those who say that motorcycle racing is too dangerous for men of a certain age. That's stupid. What are the dangers left for a 63-year-old…after all he's really just marking time until his oncologist tells him what kind of cancer is going to get him in the end. It's sad that old people don't risk their lives more often—it would make living a few more years seem more precious.

Four-time 250 National Champion Gary Jones is the only rider to have won World Vet Championship in four different age groups. He won the Over-30 title in 1987, the Over-40 crown in 1992-1993, the Over-50 Championship in 2002-2003 and 2004 and the Over-60 title in 2012-2013.
Over 35 years ago, Tom White asked me, "Why don't we hold a motorcycle race and only invite guys over the age of 30?" It seemed like a good idea at the time, largely because both of us were over the age of 30. The World Vet Championships is, in essence, an event that wouldn't have happened if Mrs. White's mother had believed in birth control back in 1950.

Former Team Yamaha rider and AMA Supercross winner Doug Dubach has won 26 World Vet Championships. His streak started in 1993 and continued on in 1994, '95, '97, '98, '99, '00, '01, '02, '03, '04, '05, '06, '07, '09, '10, '11, '12, '13, '14, '15, and ended in 2017. Doug won 11 times in the Over-30 class,  11 times in the Over-40 class, 4 times in the Over-50 class and won two different age groups in the same year 4 times.
Where does it all end? Where does a crazy life like this lead? Motocross is hard work—even at reduced speeds. Obviously, you can't keep going on forever. The World Vet Championship grew to become the biggest, baddest and funnest Vet race in the world. I was lucky enough to be at the first one—and am pretty sure that Vet racing will continue long after I've achieved room temperature—but I'd like to keep racing until that day.
I always remember what former BSA factory rider Feets Minert told me the year he became the inaugural winner of the Over-70 Expert class in 2001. Feet said, "Back when I turned 40 years-old, the AMA told me that I was too old to keep racing in the Pro class. I didn't listen to them. I suggest that you never let anyone tell you that you are too old to do what you love."
I hope you never listen either.