THE HALL FALLS DOWN: DICK MANN & KENNY ROBERTS RESIGN IN THE WAKE OF THE KNOBBY CLARK INCIDENT

Kenny Roberts (left) and Nobby Clark (second from right) will not be in the AMA Hall of Fame together… along with a lot of supporters.
The AMA has not be forthcoming with their reasons for a withdrawing road race mechanic Nobby Clark's induction into the AMA Hall of Fame (and doing it unceremoniously and without explanation only one month after making a big deal about his induction). An organization cannot callously and publicly dump a man without explanation. Let's hope that when the AMA official responsible for this organizational travesty is forced to resign that he is given better treatment by the AMA.
MXA wrote a week ago that the AMA "should have sucked it up. Given their questionable choices in the past, the AMA should have followed through and inducted Nobby Clark…(as opposed to passing the embarassment of their mistake on to the inductee and his family). Oh well, it is the AMA."
If, in fact, Nobby Clark's induction was derailed because he had a misdeameanor conviction on his record, it is less of a crime than besmirching a man's reputation because some high-profile complainers have personal issues with Nobby Clark. If criminal records, even misdeameanor ones, can be used to drum a person out of the AMA Hall of Fame then we can name a lot of people who will have to have the buttons cut off their shirts and their swords snapped in half as they are escorted out of the Hall.
The merits of Nobby Clark have been proven by his work for Giacomo Agostini, Jim Redman, Mike Hailwood and Kenny Roberts. Thus, the thing that is besmirched most in this incident is the reputation of the AMA and the AMA Hall of Fame.
Now, Dick Mann and Kenny Roberts have joined Dave Despain in resigning from the AMA Hall of Fame in the wake of what happened. And they may just be the first wave.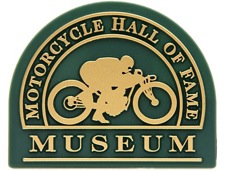 DICK MANN'S RESIGNATION LETTER
Enclosed is the medal I received when I was inducted in the AMA Hall Of Fame in 1998. This is in response to the mismanagement of the HOF Directors of the induction/non-induction of Nobby Clark.
I was one of the original committee members involved in organizing the current Hall of Fame. Lately, I have watched this organization slide into mediocrity, apparently from the lack of leadership and knowledge of the history of our sport.
Due to Nobby Clark's contributions to the sport of motorcycles, it is my opinion there is no one more deserving of being inducted in the HOF. Since that is not going to happen, I no longer want to be considered a part of the Hall of Fame.
Sincerely,
Dick Mann
AMA #59858