THE HARD FACTS DAYTONA: FASTEST LAP TIMES, BROKEN BONES AND THE RED PLATE
Click on images to enlarge

By Kyoshi Becker
PRE-DAYTONA ROUNDUP
Florida is the mecca of top pros. Both Ricky Carmichael and James Stewart are from there and 16 of the current Supercross riders reside there including Ryan Dungey, Ken Roczen, Chad Reed and Mike Alessi. Daytona also has the distinction of being one of the first artificially built motocross tracks being added to the attraction of Daytona Beach Bike Week in 1971 . Atlanta was one of the most interesting events this year with high profile crashes, new controversies and fresh faces in the 250 class. While Dungey took the win extending his points lead even more, everyone thought Marvin Musquin was going to be the race winner until the last lap.
BASIC STATS

Race number 9 of 17, we are officially past the halfway mark at 52.9% in the 2016 Supercross season.
The motocross race at the 1971 Daytona Beach Bike Week was considered to be the precursor to the first true Supercross race in 1972 at the Los Angeles Coliseum.
The first privateer to win a Supercross race did so in Daytona. Rick Ryan took the win in 1987.
In 1984 it was a photo finish between Rick Johnson and Johnny O'Mara in Daytona. Way before the time of digital transponders. The photo showed Rick Johnson ahead by a hair.
Daytona is the only track on the Supercross circuit to also host an AMA motocross event. It was the season opener for the AMA outdoor nationals in 1973.
Another distinction of Daytona is that it is one of the few, if not only stadium that hasn't been changed, rebuilt or moved since Supercross was started in 1974.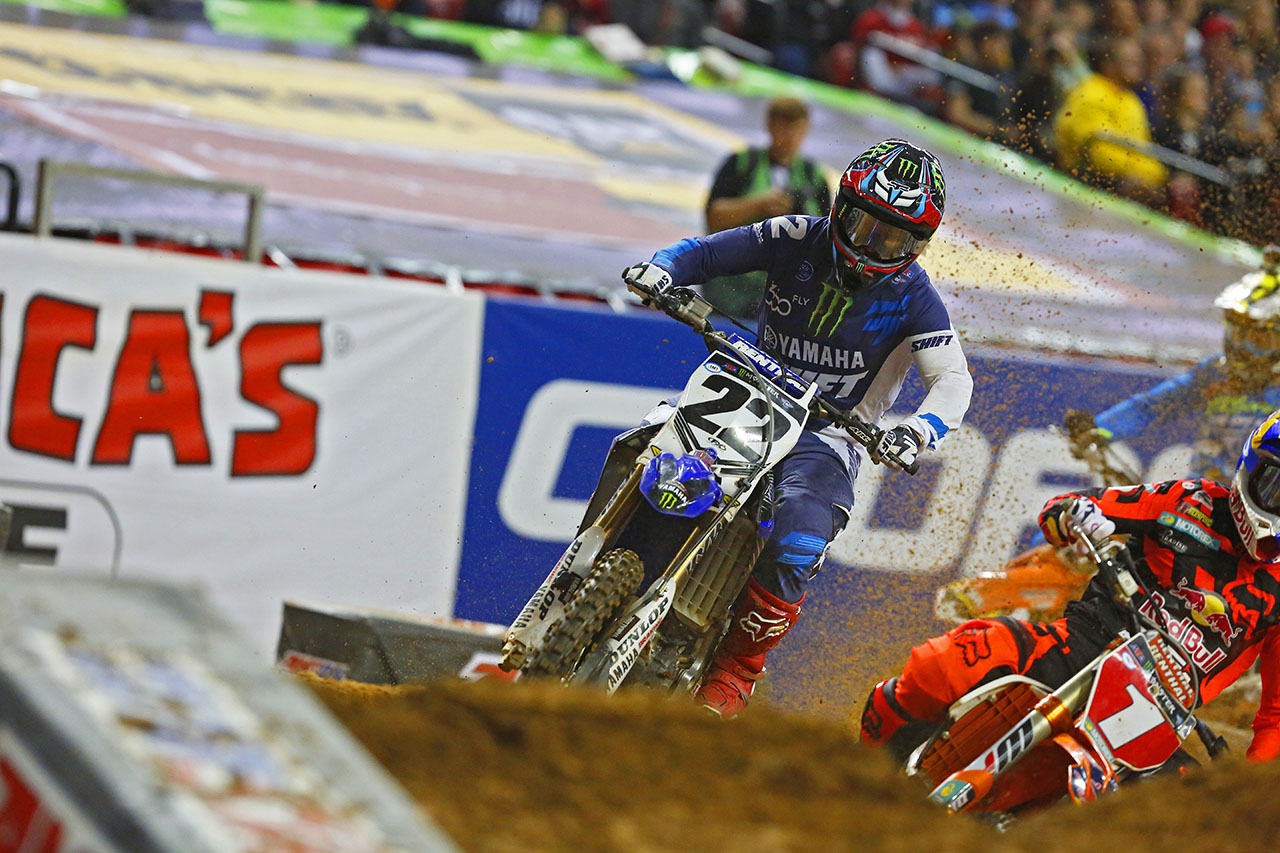 Chad Reed pulls a solid third in Atlanta.
 450 CLASS NOTES
2008 in Daytona was known as one of the muddiest races in history where Chad Reed suffered a devastating loss to Kevin Windham after his bike blew up on the 19th lap.
On the subject of the 19th lap, it was a small mistake that cost Marvin Musquin the top spot on the podium in Atlanta where he landed a triple in a bad spot avoiding the lapped James Stewart. This gave teammate Ryan Dungey the chance to grab the win.
It was the season opener (A1) where controversy flared between Weston Peick and Vince Friese. While this past weekend there were no punching or crashes, but hostility was high between Cole Seely and Jason Anderson. While Anderson admitted to some hard riding and has apologized both in person and on Instagram, it may make for a interesting race in Daytona between the two.
Of the top five 450 riders in points, three reside in Florida; Ryan Dungey, Chad Reed and Ken Roczen. Combined they have a total of 481 points.
Josh Grant is back on the Supercross circuit starting this weekend aboard his RM-Z450. It's strange, he lives close to Anaheim, San Diego, Phoenix and Oakland and could have raced those races out of his pickup truck—but decides to show up in Daytona—3000 miles away from home.
FASTEST 450 LAP TIMES
Anaheim 1 – Tomac 1:01.954.
San Diego 1 – Dungey 48.794.
Anaheim 2 – Tomac 57.202.
Oakland – Dungey 53.229.
Phoenix -Tomac 1:02.602.
San Diego 2 – Dungey 57.995.
Arlington – Dungey 50.754.
Atlanta – Dungey 45.943.
Can Martin Davalos keep his momentum going?
250 CLASS NOTES
Husqvarna is no stranger to winning in Daytona. In 1973, Bob Grossi won the 250 class during the outdoor season.
Of the nine riders who beat Martin Davalos in 2015 at Daytona, two moved to the 450 class and four raced the Western 250 series.
Ricky Carmichael not only has won back to back in the 250 class at Daytona, but has also won back to back on different brands. He won on a Kawasaki in 2000-2001 and on a Honda in 2002-2003. He also has an 125 win in 1998, a 450 win in 2006 and has designed the track layout from 2008-2013.
FASTEST 250 EAST LAP TIMES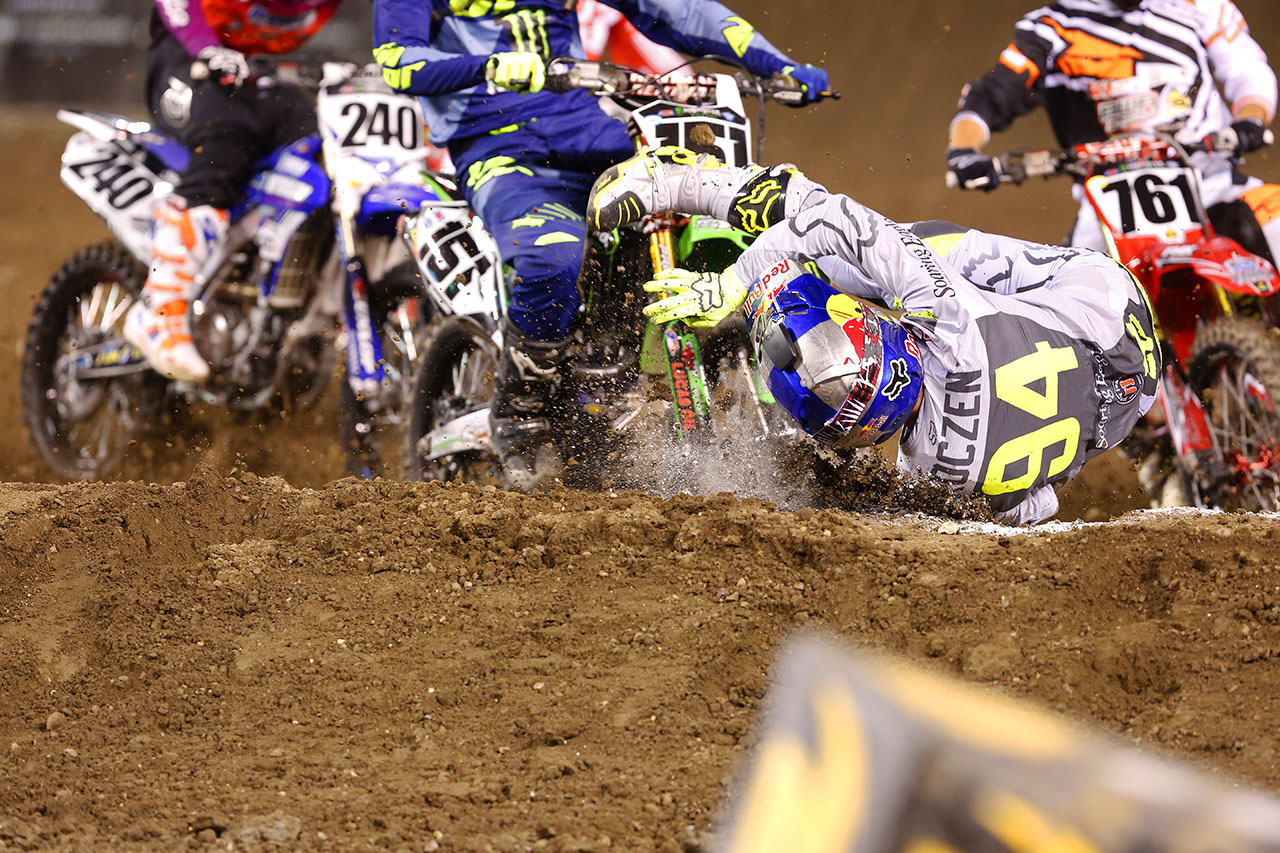 Ken Roczen takes a dive in the season opener.                                                                                                  
450 Class
Will Hahn – Broken collarbone, torn labrum, broken scapula.
Andrew Short – Concussion from the three way crach between him Will Hahn and Phil Nicoletti.
Phil Nicoletti – May not race if knee isn't 100%.
Justin Barcia – The pins are out of his thumb, but he has yet to start riding.
Broc Tickle – Recovering from a broken wrist.
Ronnie Stewart – Also recovering from a broken wrist. Should return in St. Louis.
Kyle Chisholm – Recovering from a broken humerus, dislocated shoulder and concussion.
Dusty Pipes – Like Chisholm, he is recovering from both a broken humerus and dislocated shoulder.
Tyler Enticknap – Broke his thumb at the first San Diego round. May return in Toronto.
Dean Wilson – Out for the 2016 season with a torn ACL and meniscus.
Adam Enticknap – Out for the season due to a broken femur.
Tevin Tapia – Broken wrist from preseason still healing.
Coming off the couch –Blake Baggett.
250 Class

Dakota Tedder – First casualty of 250 East. Got a concussion, broken scapula  and fractured ribs.
Luke Renzland- Second 250 casualty of the 250 East division. Broken collarbone.
Nick Gaines – Out of the 2016 Supercross season with a broken femur.
Adam Cianciarulo – Still recovering from a broken wrist.
Jordan Smith –  Injured shoulder.
Zach Bell – Still healing from a broken collarbone, but may not finish the Western SX if his infection isn't taken care of.
Jessy Nelson – Out of Supercross with a shoulder/back injury and concussion.
Luke Clout – Out of with a broken femur.
Mark Worth – He dislocated a hip and broke his elbow on the first lap of practice at Anaheim 1.
Daniel Baker – Done for the 2016 Supercross season after tearing his ankle.
Josh Osby – Broke some ribs and punctured a lung.