THE HOLLYWOOD STUNTMEN OF MOTOCROSS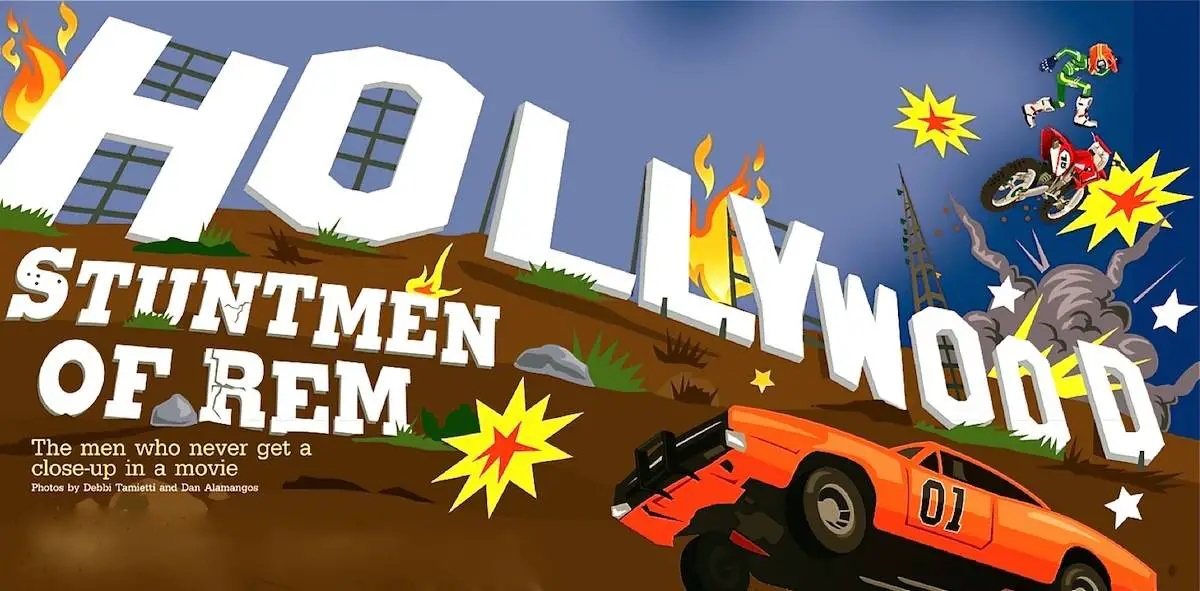 The Hollywood stunt community has always had a need for active, risk-taking, skilled athletes to pull off the wild and woolly action scenes in movies and TV shows. Additionally, stuntmen are often hired to be body doubles for major stars. The skills needed by Hollywood vary with the genre of film and the popular movies of the day. There was a time, in the 1950s, when riding a horse was the most called-for skill. Then, in the 1970s, motorcycle skills became coveted. Today, there are more car-related stunts than in the past.
Of course, the bread and butter of stunt work has always been made up of falls, crashes, high dives, fire suits and fight scenes. To be a successful stuntman in Hollywood, you have to be proficient in all types of stunt work, not just your specialty.
Stuntmen have always been prevalent in the SoCal motocross community, and many of the most famous stuntmen got their start as motorcycle racers. But, if you are looking for the most stuntmen per square inch, you need go no further than Glen Helen's weekly REM motocross series. The MXA wrecking crew took a stroll through the pits on a casual Saturday to chat with the men who make the movies move. Meet the Hollywood stuntmen of REM.
MIC RODGERS
When Mic does his job right, you never see him. Stuntmen are an invisible but crucial part of movie making.
HOW DID YOU GET STARTED RACING MOTORCYCLES? I was riding a Taco mini bike at 5 years old, discovered motocross a few years later and started racing CMC in 1971.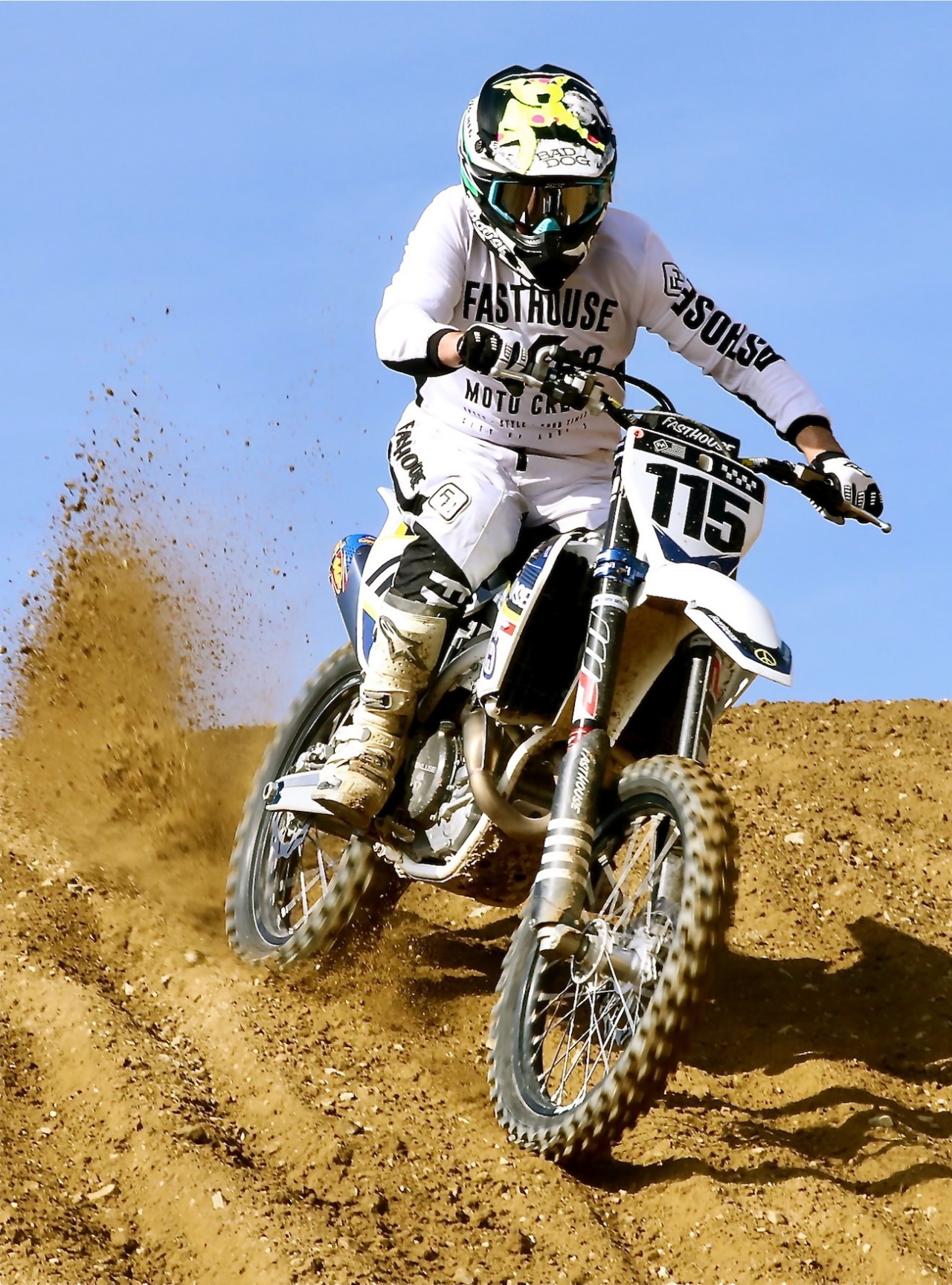 Mic Rodgers (115) was  loyal to Suzuki, but switched to Husqvarna.
HOW DID YOU GET YOUR START IN HOLLYWOOD? In high school, it was easier to make student films than write English papers. In the process, I met someone who pointed me in the right direction. When I started in Hollywood, I was lucky to work with some motorcycle greats like Steve McQueen (on Towering Inferno), Bud Ekins (Megaforce, City Heat and others) and J.N. Roberts (Dukes of Hazzard, Rocketeer and more). There's nothing like hearing about McQueen's motorcycle jump in The Great Escape from the guy who actually did it (Bud Ekins).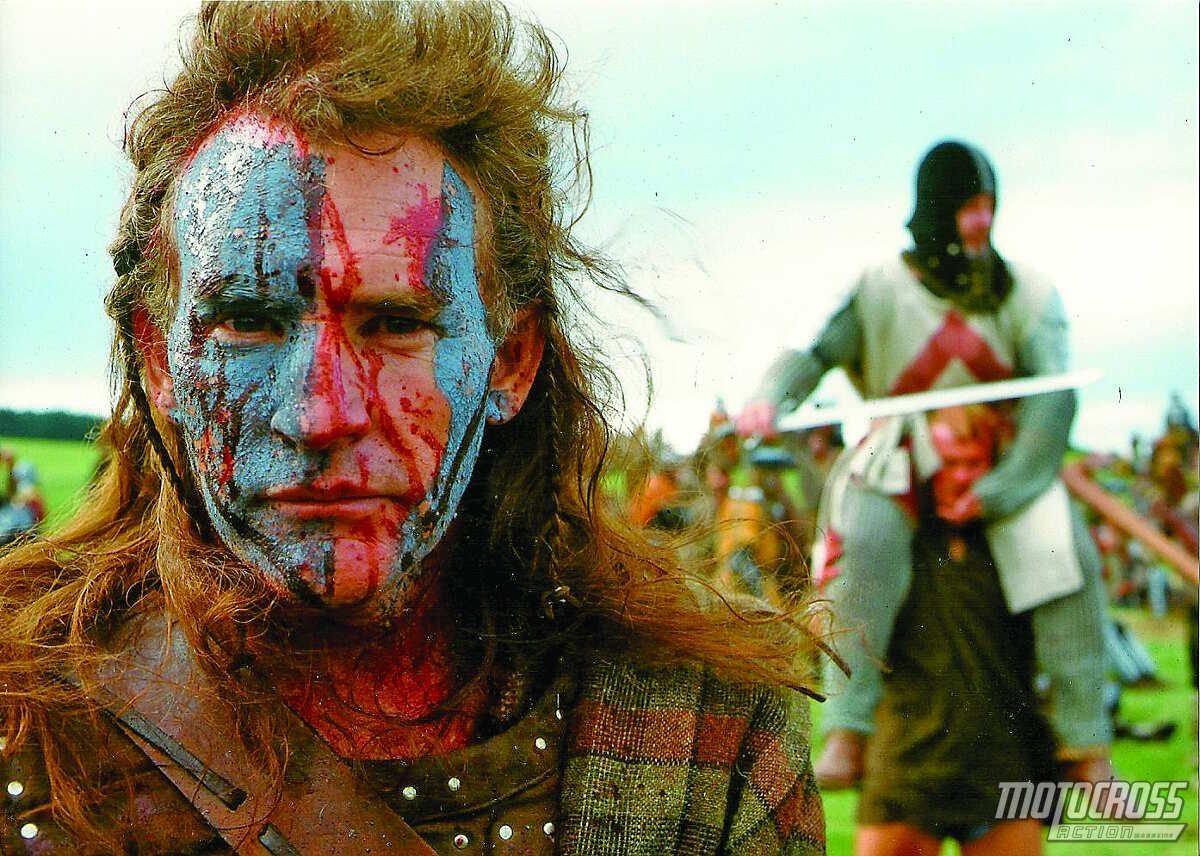 Mic Rodgers doubled for Mel Gibson in "Braveheart," which gave him the opportunity to get all painted up before going out for a night on the town.
WHAT HAVE PEOPLE SEEN YOU IN? I've been in the business for 40 years; I've done over 150 shows. I doubled Mel Gibson for 25 years, so I worked on the Lethal Weapon movies, Braveheart, Maverick and all of his stuff. I did a lot of 1970s TV, including episodes of "The Incredible Hulk," "Wonder Woman" and "Airwolf." There were lots and lots of movies in the '80s and '90s: 1941, Roadhouse, The Rock, Terminator 2, Waterworld, Batman & Robin and Gettysburg. I've been a second unit director and stunt coordinator since the 1980s, but I have kept doing stunts. A bunch of us came up in the business together, and we still call each other for work. It's a great way to hang with friends. I've had the pleasure of working for buddies on movies like Django Unchained, Ironman, Bad Neighbors and The Hangover. I doubled for Ron Perlman on a couple of seasons of "Sons of Anarchy," did the big racetrack cannon crash on Final Destination 4, and you can catch the "Drift Mob" commercial I directed for BMW on YouTube. There's a good "Making of" video for that BMW piece also. My most recent job was in the remake of Point Break.
This crash from "Final Destination 4" was achieved using a cannon charge under the car to make it flip. Once the cannon fires, Mic goes along for the ride.
WHAT ARE YOU RACING NOW? I have Husqvarna that I race in the Over-60 Expert Class at REM and with the SoCal Old Timers Club.
TONY PASHA PANTERA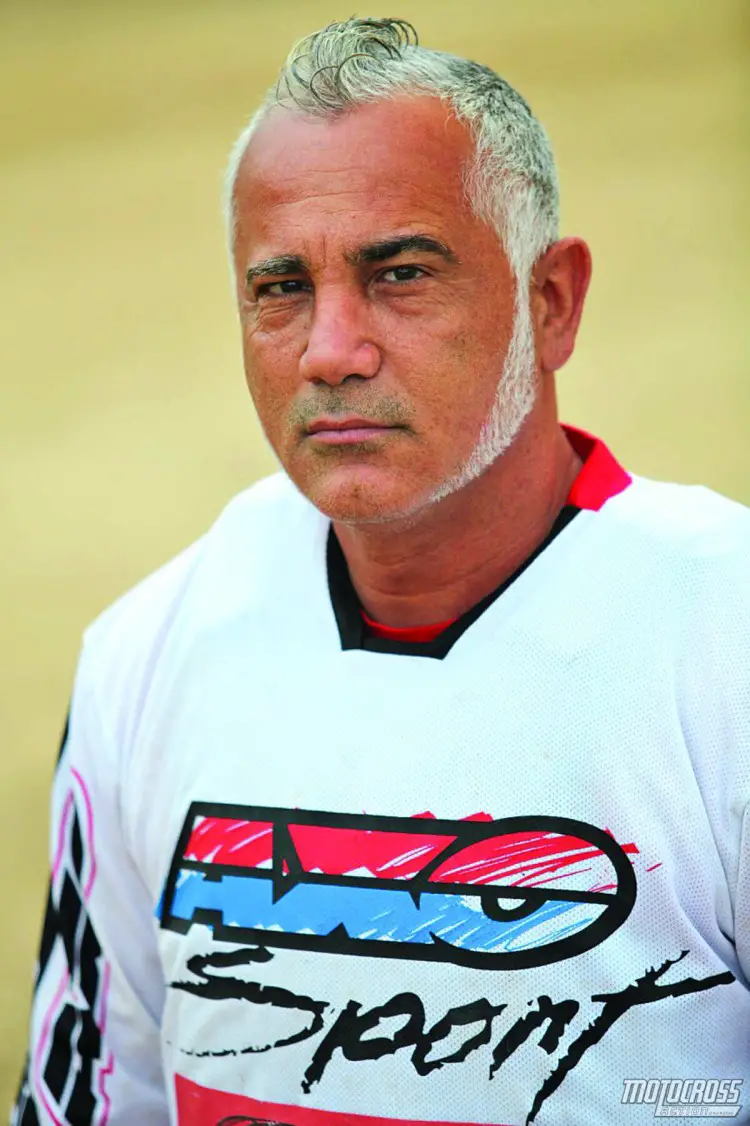 HOW DID YOU GET STARTED RACING MOTORCYCLES? I actually started racing really late in life. I was 29 years old when I took up motocross. My first race was at SoCal's LACR raceway in the summer of 1995. It was their Dunestown series. Before that, I was an offroad rider in the desert and mountains. My buddy told me about LACR, and off we went for a Saturday-night party. The rest is history. I had been riding all my life but never raced at a closed-course sanctioned race like motocross until 1995.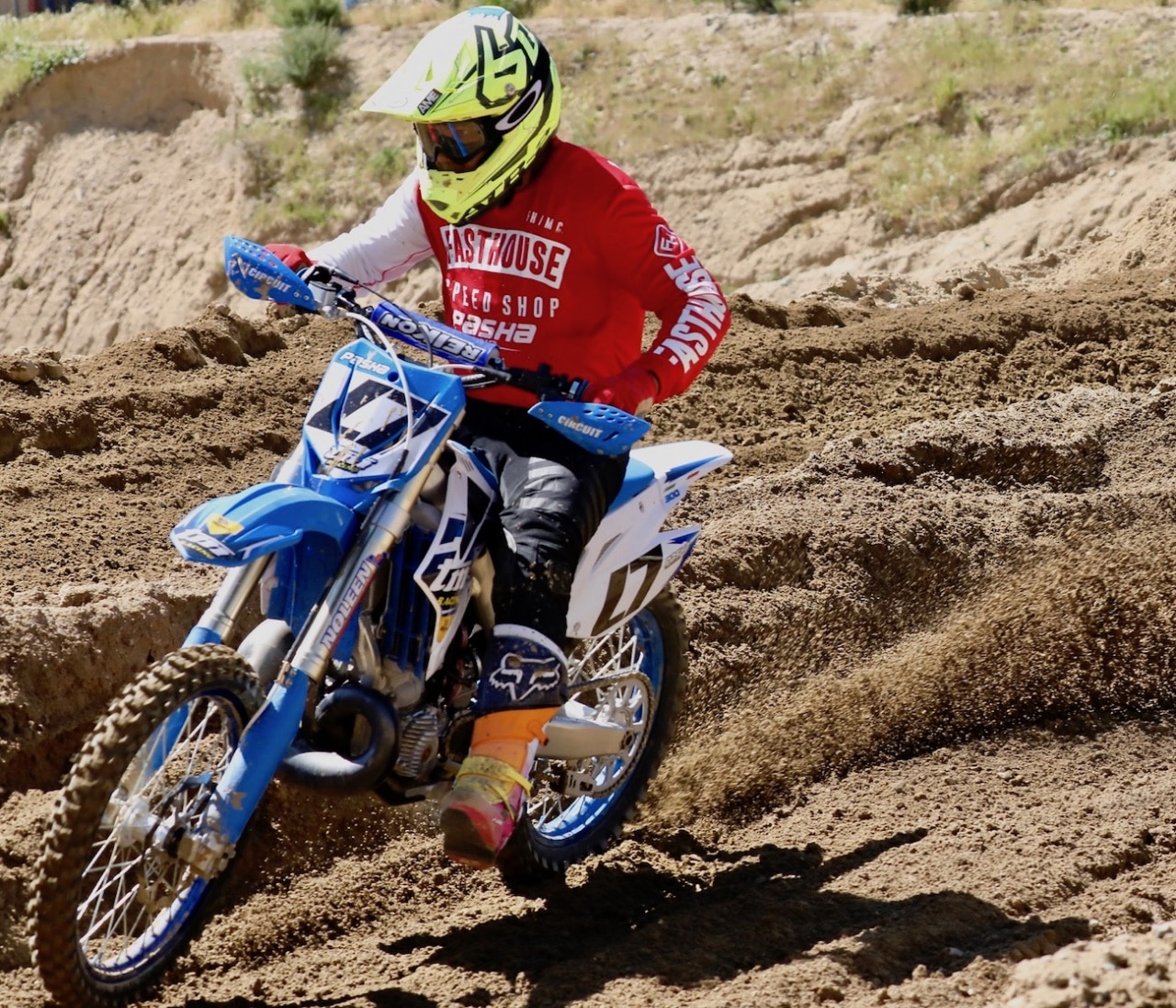 Pasha switched over to the two-stroke team early in 2019 TM 300MX, but….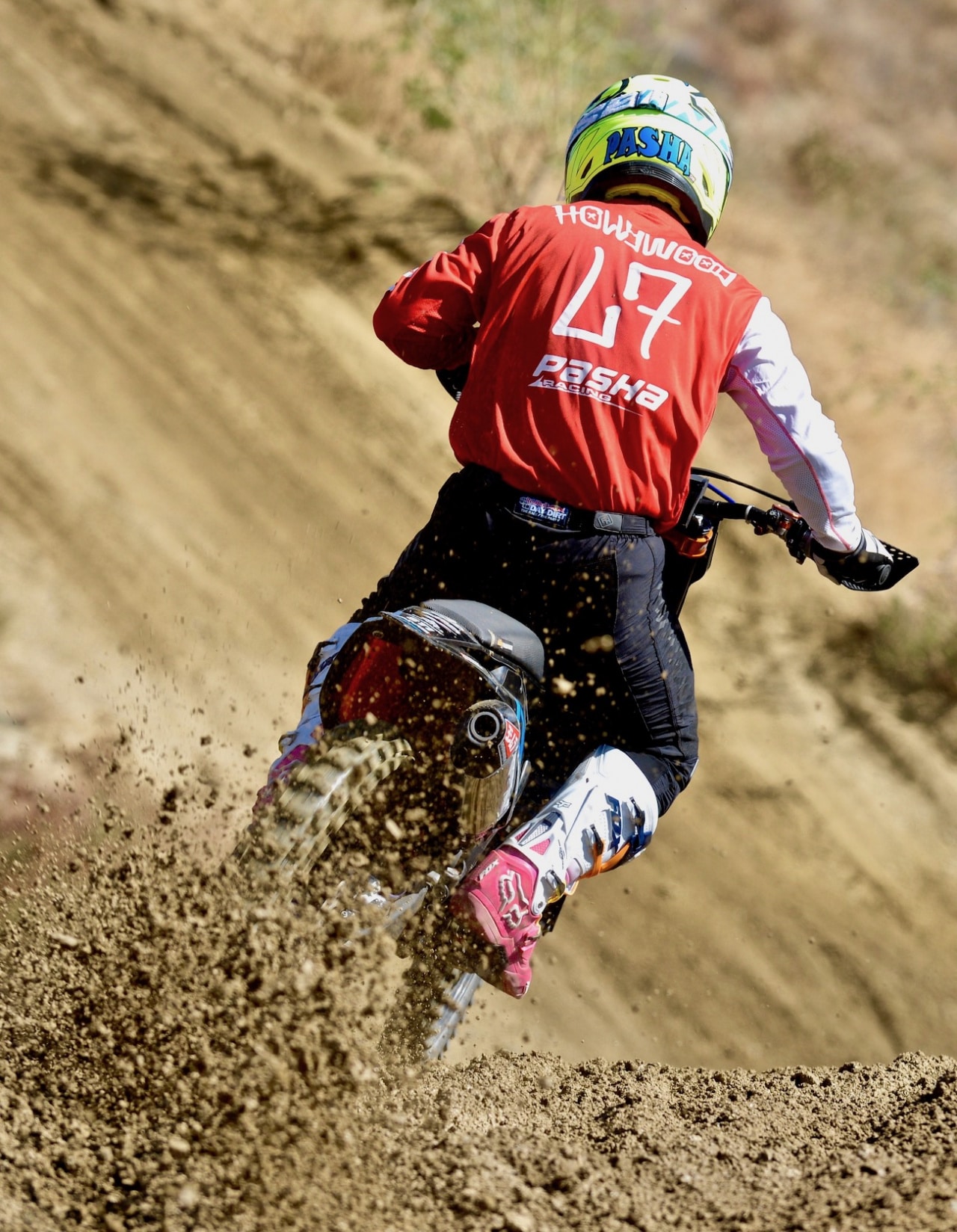 …Later in the year he returned to his KTM 350SXF.
HOW DID YOU GET YOUR START IN HOLLYWOOD? After moving to Los Angeles from my hometown in San Francisco, I was looking in the "help wanted" section of the Los Angeles Times and found an ad for work as a movie extra. Once I got on the set as an extra, the directors on the movies I worked on were constantly picking me to do special features. Finally, in 1990, director James Cameron took a liking to me and my stunt life began. I did the motion acting for both the Terminator and the liquid mercury cop in Terminator 2. Lately, I've focused much more on acting and producing than stunt work.
Although the Terminator looks real, it needs a stuntman to make it move on screen.
Pasha not only did "Terminator" and "Terminator 2," he did the motion acting for the liquid Mercury cop.

WHAT HAVE PEOPLE SEEN YOU IN? I've been in Terminator 2, Terminator 3D, Heat, Live Wire, Three Kings, "Young and the Restless," True Lies, "American Wrestler" and over 40 other shows and projects. After "American Wrestler," I worked on the "Bennett's War" motocross movie.
Pasha played the bad guy in 2019's "Bennett's War" movie (you can't miss his signature haircut in the movie). His film credit name is Tony Panterra.

WHAT ARE YOU RACING NOW? I've always been a Yamaha man. I own 15 Yamahas, both vintage and new, but, I got caught up in the KTM craze and still have my KTM 350SXF, which I love, but early in 2019 I race a TM 300MX two-stroke. I hated it at first, but I love it once I got used to two-stroke power. However, when I doubt I race my 350SXF.
WILL HARPER


HOW DID YOU GET STARTED RACING MOTORCYCLES? My dad had Triumphs and Harleys back in the 1960s. I started riding a Triumph in the field across the street from our house in Encino, California. In 1968, I watched Joel Robert in a Trans-AMA race at Saddleback Park, and I knew that's what I wanted to do for the rest of my life! By 1970, I had saved up enough to buy an American Eagle 125 and went to Bay Mare for my first race. I was hooked!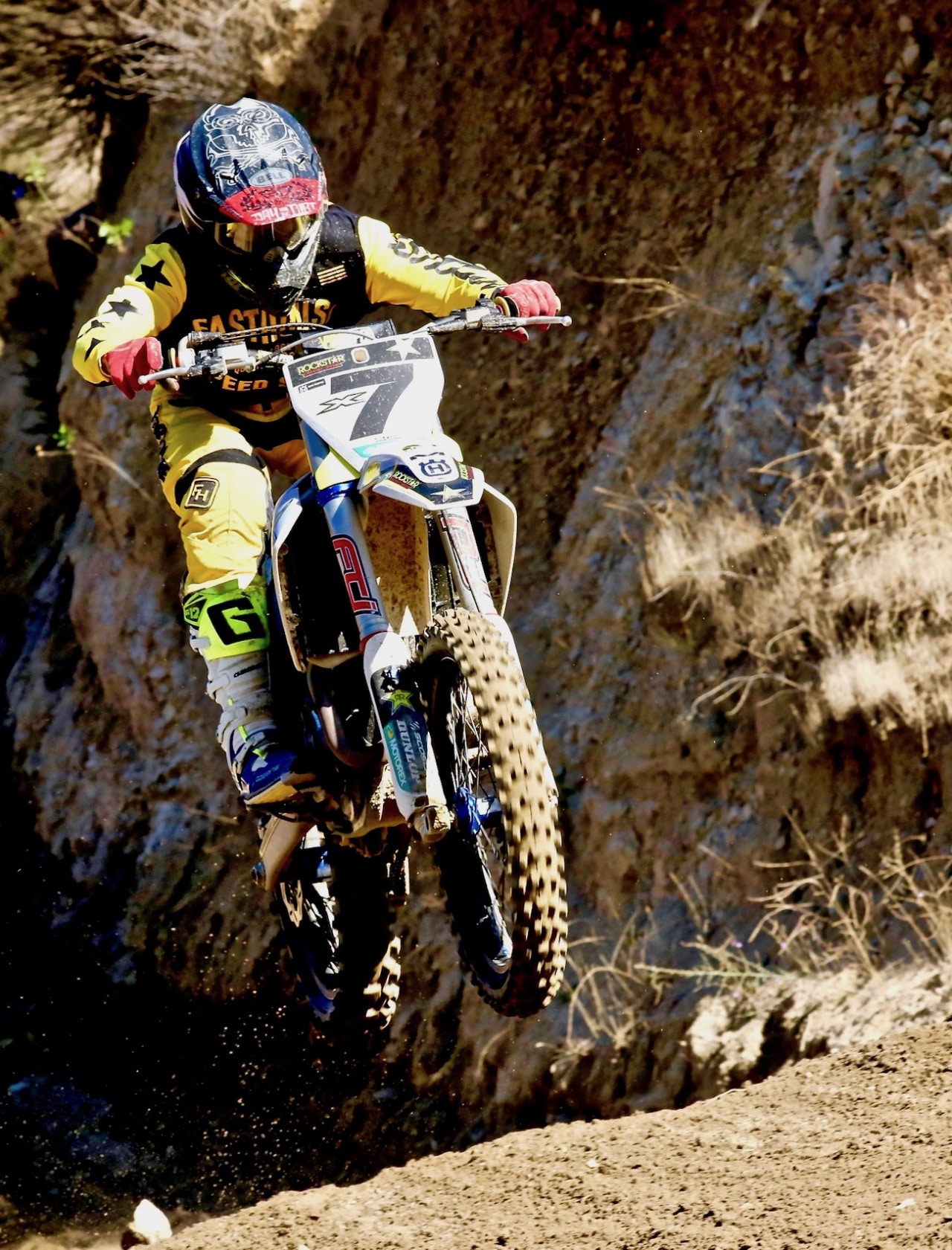 Will races a KTM 250SXF, 350SXF and 450SXF.
HOW DID YOU GET YOUR START IN HOLLYWOOD? I did well as a professional motocross racer, winning two Pro championships with AME, but injuries plagued my career, and by 1981 I was done. A friend of mine named Rich Humphreys told me that if I helped him with his moto skills he would get me into the stunt business. He introduced me to legendary stunt coordinator Alan Gibbs. Alan hired me to do some motocross scenes for the The Devil and Max Devlin. With two bad shoulders and knees, I couldn't race Pro anymore, but I was able to do stunts.
Although there aren't as many Westerns being filmed today, Will managed to work on both "Cowboys and Aliens" and "The Lone Ranger."
WHAT HAVE PEOPLE SEEN YOU IN? Most people would remember the motorcycle chase scene from First Blood, but I was also in The A-Team, Ironman 2, Ironman 3, Cowboys and Aliens, The Lone Ranger, Captain America 2, Guardians of the Galaxy, Horrible Bosses 2 and Dinner for Schmucks.
Will Harper did the stunt riding for Sylvester Stallone (shown) in "First Blood."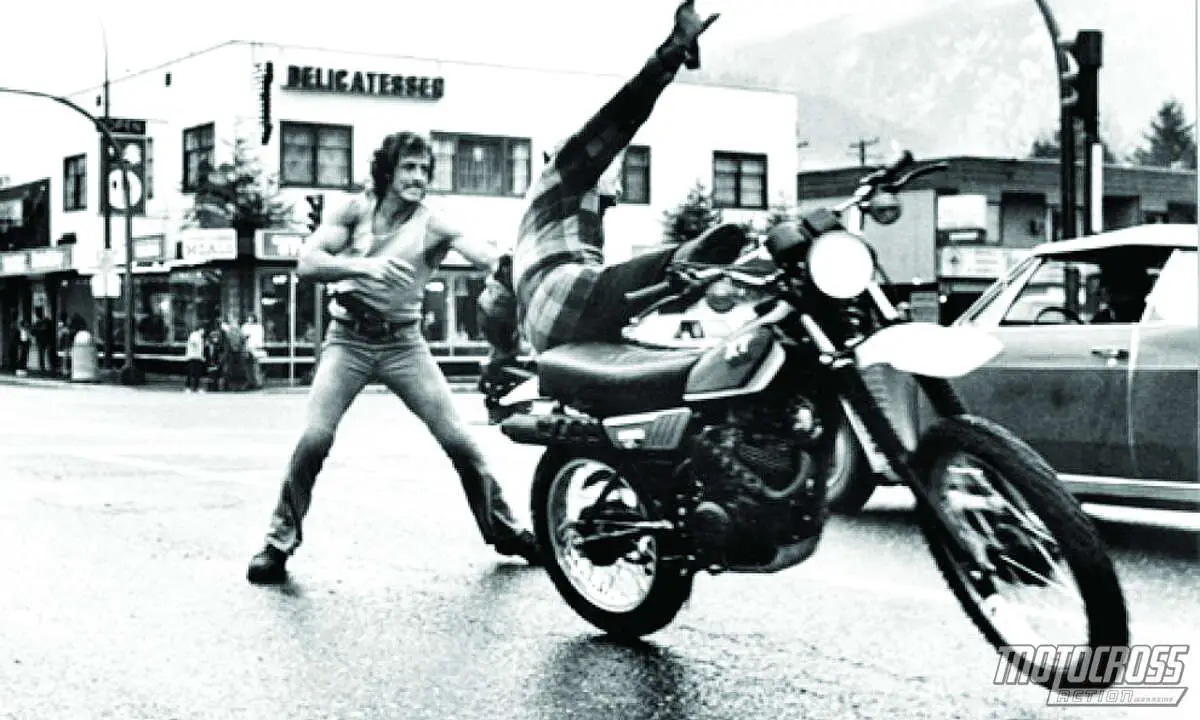 This is the opening stunt from "First Blood."
WHAT ARE YOU RACING NOW? After 25 years of not racing motocross, my brother called me in 2008 and said that I should start racing again. I started racing again at the 2008 Day in the Dirt. I currently have KTM 250SXF, 350SXF and 450SXF.  REM Saturday at Glen Helen is my favorite place to race when I'm not on location for a movie. I try to race the Over-60 and Over-50 Experts classes every week.
BRYAN FRIDAY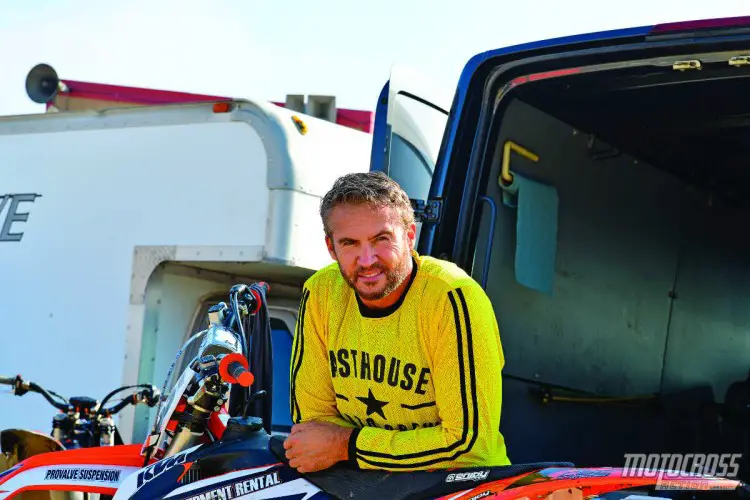 HOW DID YOU GET STARTED RACING MOTORCYCLES? I grew up in Ohio. My dad had some buddies who raced. We watched them and then went to see On Any Sunday. I was hooked.
HOW DID YOU GET YOUR START IN HOLLYWOOD? After getting my degree in business, I moved to Hollywood to study acting. While trying to get started in the business, I met a bunch of stunt guys at the local track who told me I should get into stunts. My first gig was Batman at Six Flags of Dallas. I moved here full-time in 1998 and have been fortunate to make my living solely in front of the camera. I now make about 75 percent of my income from acting and 25 percent from stunts.
Bryan is transitioning from stunt work to acting. This is his look on "Banshee."
WHAT HAVE PEOPLE SEEN YOU IN? I have had acting roles on TV shows like "CSI," "Criminal Minds," "NCIS," "Revolution," "CSI NY," "Chuck," "Castle," "NCIS LA," "CSI Miami," "Banshee," "General Hospital," "Days of Our Lives" and films such as The Amazing Spider-Man, Captain America 2 and many others. I'm currently booked for the lead roles in a Western and a TV pilot being filmed in North Carolina.
Bryan races the Over-50 Expert class at REM Glen Helen. He has been a regular winner on his KTM 450SXF…between injuries.

WHAT ARE YOU RACING NOW? Growing up, I was usually a top-three guy in southern Ohio. I raced until my junior year and had to make a choice to get a degree or pursue racing. Back then, it was rare to "make it" as a racer, so I got a business degree from Ohio University and played basketball there. I took six years off from racing and tried to come back. But, my knees were shot. I've had a grand total of 26 surgeries due to mostly motocross or stunts. The worst is a fused right wrist. I started racing again in 2009 at REM. Having never been a real Pro, it's really cool to line up in the Over-50 Expert class with guys I've read about or seen on TV back in the day.
JOHN ALDEN


HOW DID YOU GET STARTED RACING MOTORCYCLES? I rode the desert a lot in high school, which led me to working for a Maico shop in El Monte, California. One of the owners, Ed Williamson, was friends with Brian from Maico West. Ed also was a friend of Don Jones, and I got to ride one of Gary Jones' early YZ250s. This spawned my interest in motocross; however, I didn't get bit by the motocross bug until I went to a CMC night race at Lions Drag Strip. I raced my square-barrel Maico 400 and got third in the 500 Juniors in my first race.
John Alden at speed on his sweet 2008 Honda CRF450.
HOW DID YOU GET YOUR START IN HOLLYWOOD? I worked at Yamaha from 1980 to 1984 under Ted Otto. He loaned a lot of Yamahas to stuntmen. Through my job at Yamaha, I met some of the top stuntmen, like Mike Runyard, Jack Gill and the late David R. Ellis. I became friends with former Suzuki factory rider Mike Runyard, who was best friends with Mic Rodgers, who would become a top stunt coordinator. I asked Mike to help me get into the business. I left Yamaha in 1984 and started my journey to be a stuntman.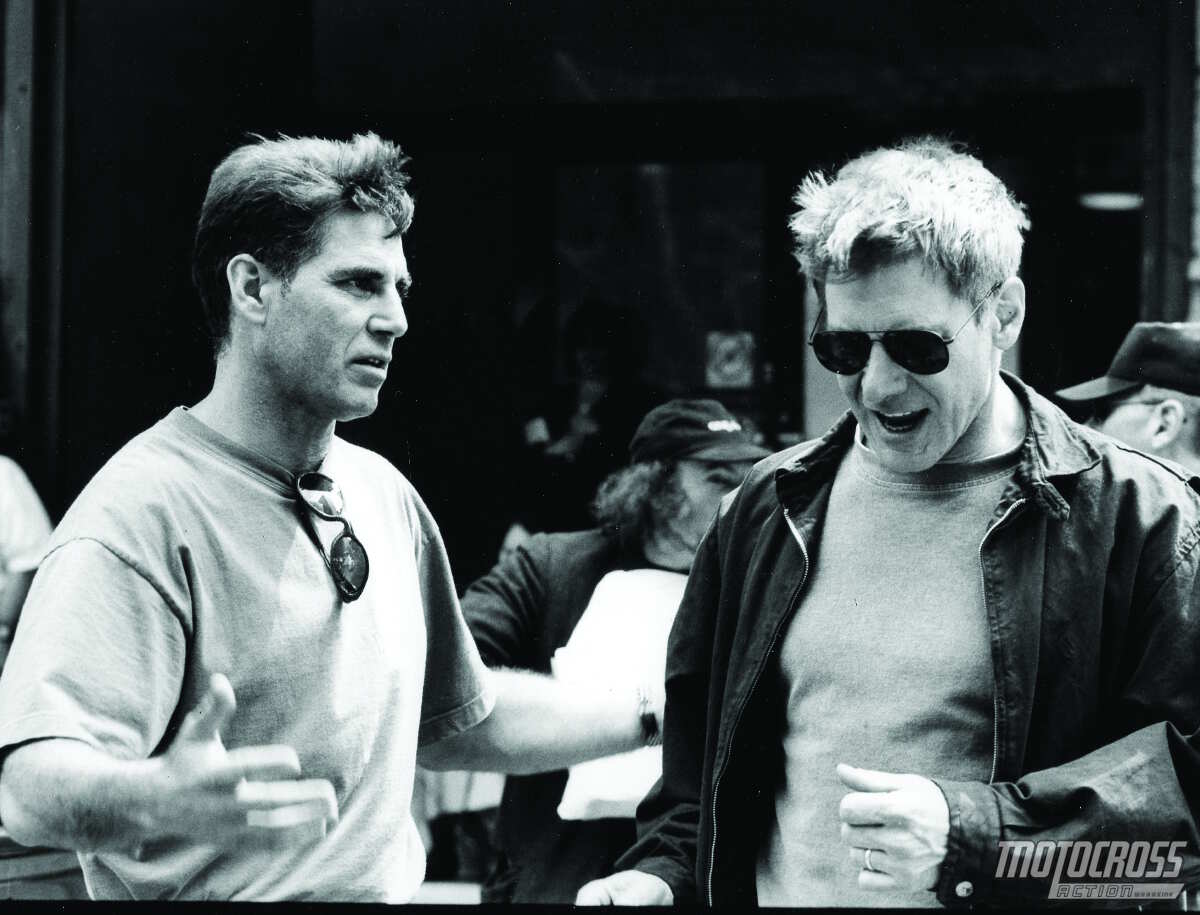 John Alden (left) on the set with Harrison Ford for "The Devil's Own."
WHAT HAVE PEOPLE SEEN YOU IN? I was Harrison Ford's stunt double in Clear and Present Danger, The Devil's Own, Air Force One and Six Days Seven Nights. I doubled for Burt Reynolds in four Turner Cable Movies. I was Tommy Lee Jones' double in the flush sequence of Men in Black II. I also worked on The Italian Job, Star Trek: Nemesis, Independence Day, Lethal Weapon, In the Line of Fire, The Rookie, Pink Cadillac, Under Siege ll and Crocodile Dundee ll. Plus, TV shows like "X Files," "JAG," "Walker Texas Ranger," "Numbers," "The A-Team," "Knight Rider," "The Fall Guy" and "Baywatch."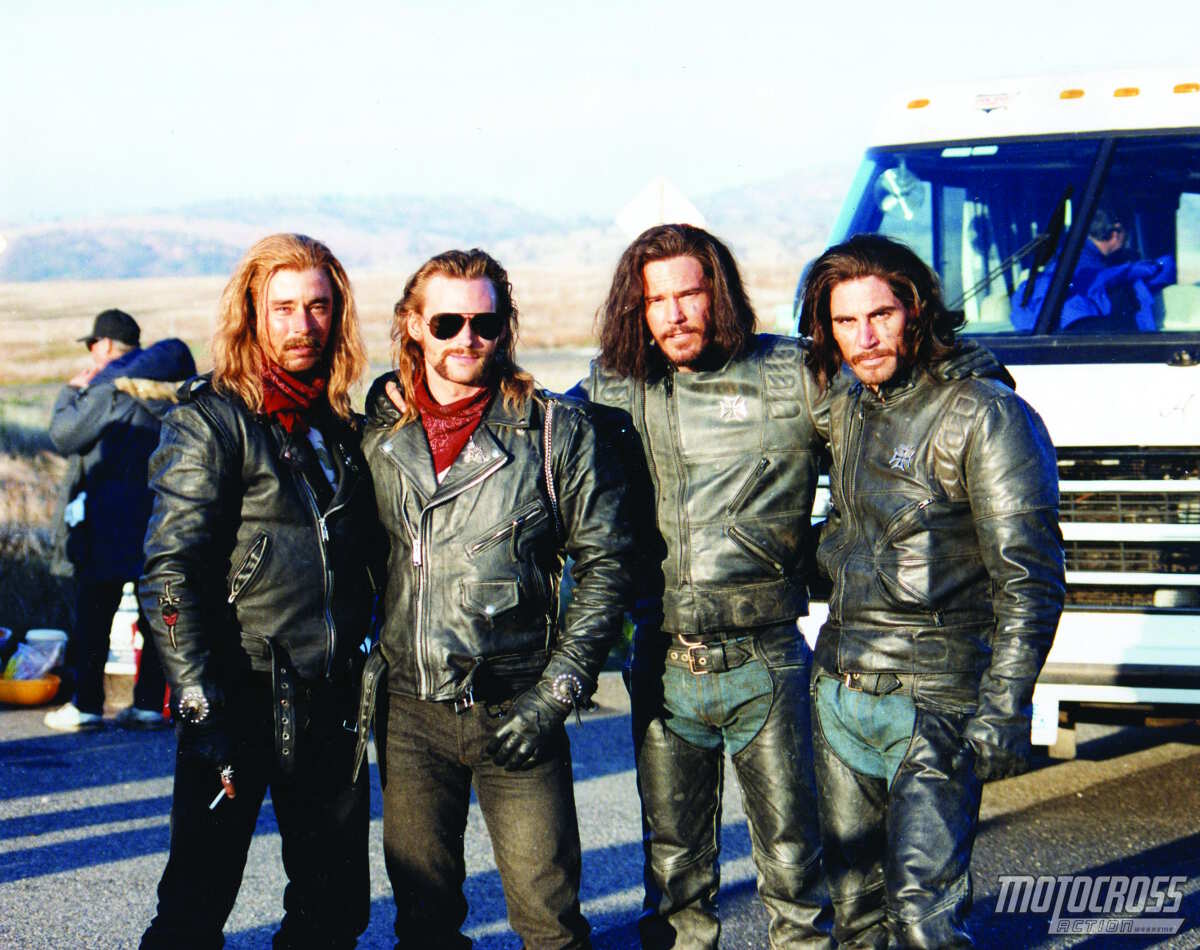 John (right) played a member of a motorcycle gang in Eddie Murphy's "Another 48 Hours."
WHAT ARE YOU RACING NOW?
I race a 2008 Honda CRF450, which I try to race as often as I can. I have some injuries from my stunt work that have curtailed my movie work.
MARK DONALDSON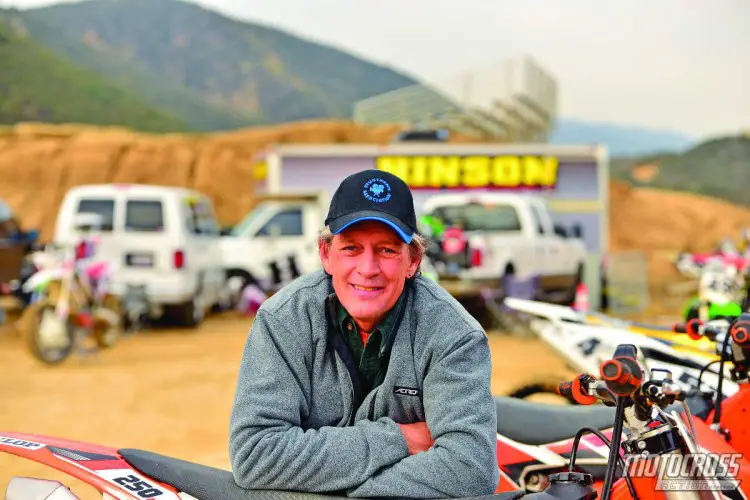 HOW DID YOU GET STARTED RACING MOTORCYCLES? My racing career started at age 14 on a 1972 Honda SL125. I found my passion in life. Little did my parents know that my first motorcycle purchase would set me on a lifetime love affair and a career.
As with many Hollywood stuntmen, Mark Donaldson was a motorcycle racer before making a living in Hollywood. This is Mark racing at the 1977 Houston Astrodome Supercross. Mark went on to become the president of the Stuntmen's Association.
HOW DID YOU GET YOUR START IN HOLLYWOOD? From a very early age I had an inner drive that I would never work at a "normal" job. I learned about the stunt profession, did my research and then moved to California to pursue a dream. I started out in the movies as a background artist, and as I learned the movie business, I met lots of working stunt professionals. My motorcycle skills were at a high level, and I was invited to start riding with those guys. That grew into building relationships that have lasted my whole career.
As with all stuntmen Mark Donaldson only gets to race when he isn't working on a TV show or movie.
WHAT HAVE PEOPLE SEEN YOU IN? At times, people could have seen me wearing almost nothing! I've worked on National Treasure, Air Force One, Fast and Furious 7, Independence Day, GI Joe, The Road, all of the Pirates of the Caribbean movies and numerous television shows. For many years I did all of Kawasaki's Cruiser commercials and industrial films—that was one of my favorite jobs.  I've been very fortunate to have had a very long career. I was the president of the Stuntmen's Association of Motion Pictures. I worked on some very high-profile movies and television series. One highlight was performing the sword-fight episode in the movie The Artist, for which star Jean Dujardin won the Academy Award as the Best Actor in 2011.
WHAT ARE YOU RACING NOW? I'm finally healthy now. I had a very hard practice crash a couple years ago months ago that cracked my Arai helmet and broke my Leatt neck brace. I'm all good now  and my bike of choice is a 2020 KTM 250SXF.
Photos by Debbi Tamietti and Dan Alamangos