THE LI$T: FORBE$ TOP TEN HIGHE$T PAID MOTORSPORT$ RACER$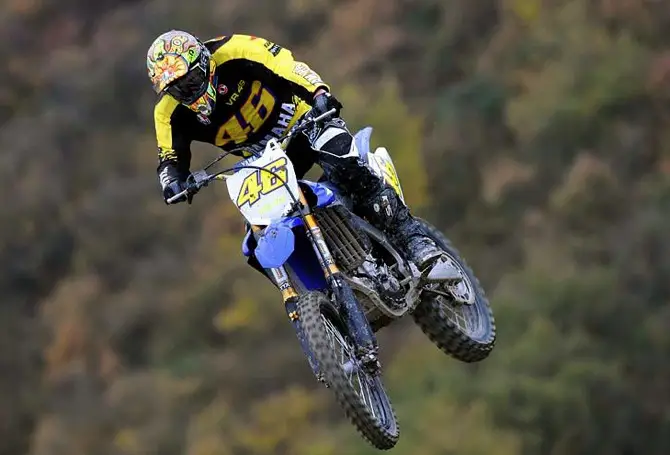 Valentino Rossi (46) isn't a motocross star, but he has his own track and holds a special motocross for his road race buddies every year.
Valentino Rossi is the only motorcycle racer to make the Forbes top ten list for the highest paid motorsport competitors. Rossi earned $22 million in a year, ahead of F1 world champion Sebastian Vettel by $4 million. Rossi was fifth on the new Forbes list, also above F1 star Jenson Button, who earned $14 million.But seven-time former MotoGP champion Rossi was behind Lewis Hamilton, who was in second place with $27.5million.
First place also went to an Formula 1 star Fernado Alonso with $30 million. Rossi has made more money in the past, but took a pay cut to return to Yamaha for 2013.
TOP TEN EARNERS
1. Fernando Alonso (F1)……………..$30,000,000
    (salary $28m; endorsements $2m)
2. Lewis Hamilton (F1)………………..$27,500,000
    (salary $26m; endorsements $1.5m)
3. Dale Earnhardt Jr. (NASCAR)….$26,000,000
    (salary $13m; endorsements $13m)
4. Jimmie Johnson (NASCAR)……. $24,000,000
    (salary $17.3m; endorsements $6.7m)
5. Valentino Rossi (MotoGP)………..$22,000,000
    (salary $12m; endorsements $10m)
6. Tony Stewart (NASCAR)………….$18,500,000
    (salary $12.5m; endorsements $6m)
7. Jeff Gordon (NASCAR)……………$18,200,000
    (salary $12.7m; endorsements $5.5m)
8. Sebastian Vettel F1…………………$12,000,000
    (salary  $17m; endorsements $1m)
9. Danica Patrick (NASCAR)………..$15,000,000
    (salary $6m; endorsements $9m)
10. Jenson Button (F1)………………….$14,000,000
    (salary $14m)